Diese Juwelen der Natur machen die Region zu einem magischen Ort. Hier findet jeder seinen kleinen Lieblingsort, an dem er sich gerne aufhalten möchte.
Waterfalls & waterholes near Darwin
Berry Springs Nature Park – just 50km from Darwin, is an idyllic spot for a swim and an ideal destination for a day trip during the dry season. The park has barbecue facilities, picnic tables, manicured lawns and shady areas to utilise and enjoy. The various shady pools along the creek are easy to access and perfect for swimming and snorkelling. It's history as part of a World War II recreation camp - at a time when 100,000 armed forces personnel were based in the area - can be seen in the remains around the main pool.
Litchfield National Park is one of the most accessible parks in the Northern Territory. Just over an hour's drive from Darwin and boasting sealed roads, car parks and public amenities, Litchfield is the perfect spot for a day trip or a weekend getaway, making it a favourite with Darwin locals.
Wangi Falls is an easily accessed must-see for all visitors to Litchfield. Two waterfalls from the rock escarpment cascade into the plunge pool below. Surrounded by monsoon rainforest, you can enjoy a picnic, a BBQ or a snack from the nearby kiosk. There's even hot showers available if you decide to camp. Wangi Falls is closed during the wet season though, due to the potential for dangerous currents.
Florence Falls is also easily accessed via a short walk from the car park to the viewing platform. For swimming, take the stairs down to the plunge pool and cool off. This is one of the few waterholes open all year round. If you'd like to stay a little longer, there are campgrounds nearby.
Buley Rockhole is another great spot to relax and open for most of the year. A connected network of rock pools, Buley Rockhole lets you choose your own adventure. Follow the path right to the water's edge and float around in your chosen rockpool or make your way along the rocks to the next pool, all to the soundtrack of the flowing water.
Tjaynera Falls (Sandy Creek) is a little more off the beaten track with a 1.4km walk required to get to the plunge pool at the base of the waterfall. You'll need a 4WD to get to the car park and campground, but you'll be rewarded with much less traffic and a lot less people than other areas of the park.
Tolmer Falls is arguably the most spectacular waterfall in Litchfield, thundering over two escarpments into the deep pool below. Swimming is not permitted here at all however, as the bottom of the Falls is home to several colonies of rare Ghost Bats and Orange Horseshoe Bats. A comfortable 800m walk from the carpark leads to two viewing platforms and a 45 minute loop walk follows a path along Tolmer Creek and a tributary, past pristine rock pools through typical Top End sandstone country.
For more information about camping around Darwin, check out our camping guide.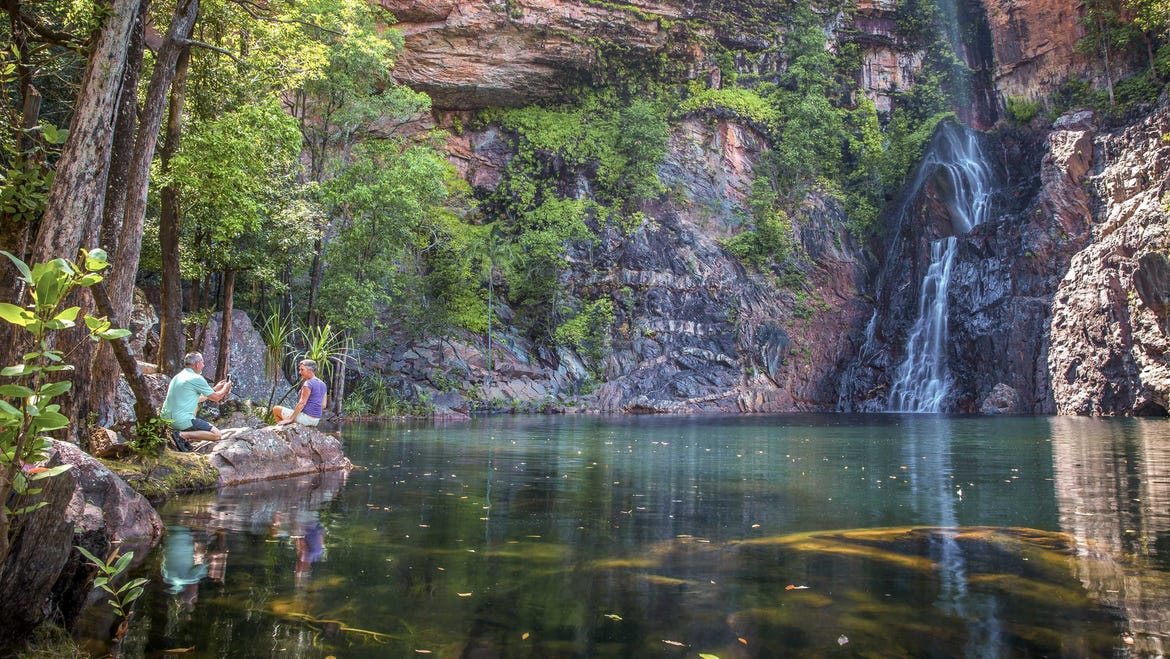 Kakadu's waterfalls & waterholes
Within the 20,000 square kilometres of the UNESCO World Heritage listed Kakadu National Park, a treasure trove of waterfalls, billabongs and waterways await.
Jim Jim Falls is an awe-inspiring 200m high waterfall with a crystal clear plunge pool at the base. It's accessible by 4WD in the dry season, but you'll need to be experienced and comfortable driving through dirt and soft sand. In the wet season, when the waterfall is at its strongest, the road is impassable so your best bet to see it in all its glory is on a scenic flight.
Just 10km from Jim Jim Falls is Twin Falls. Like Jim Jim Falls, Twin Falls is accessible only by high clearance 4WD with snorkel, due to a deep water crossing at Jim Jim Creek. During the wet season, Twin Falls is also inaccessible by road.
Jarrangbarnmi Gorge (Koolpin) is a picturesque spot with cultural importance to the Jawoyn people. A 2km walk takes you along the banks of Vegetation Pool, Pink Pool and Black Pool and through protected land with incredible biodiversity and a number of rare species. This is a crocodile management zone so there's no swimming here. Just enjoy the views from a safe distance.
Maguk (Barramundi Gorge), only accessible by 4WD and then a 1km walk is a hidden gem. A small waterfall drops into a large natural pool surrounded by tall sandstone walls. Stick close to the edge if you're an inexperienced swimmer, otherwise you can swim right up to the waterfall. Enjoy a picnic and return home or find a spot at the nearby campground to make the most of the serenity.
No trip to Kakadu would be complete with a Yellow Water Cruise. Located on the Yellow Water Billabong, dedicated cruising boats will take you through this vibrant habitat so you can get up close to crocodiles, wild horses, buffalo, birds and fish. The best time for a Yellow Water Cruise is morning or late afternoon when the wildlife is most active.
Crocodiles are a fact of life in the waterways of the Top End. Anytime you're going in, out on, or nearby the water, always be Crocwise and take notice of all warning signs.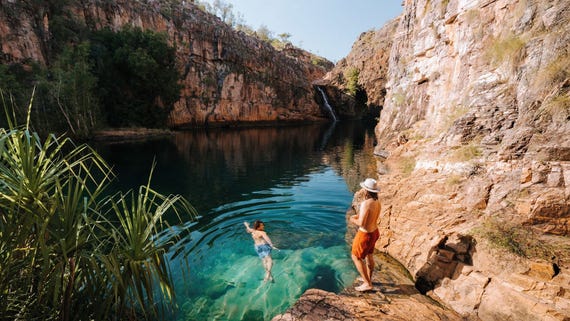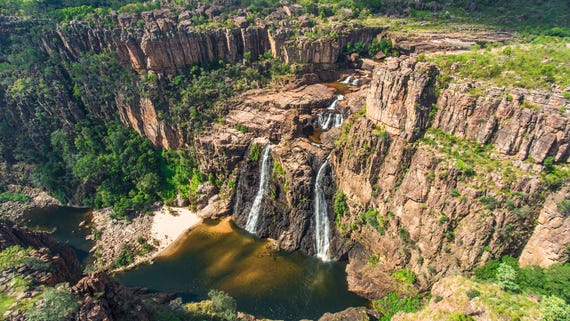 Waterfalls & waterholes in the Katherine region
One of the unique things about the Katherine region, is its network of thermal pools and hot springs. Mataranka Thermal Pool and Bitter Springs are both located near Mataranka, publicly accessible and perfect for a dip after a long day on the road. Katherine Hot Springs is just a short drive from town and is accessible with a ramp, hand rails and rock steps. Facilities offered there include picnic areas, toilets and an on-site café. These areas are closed during the wet season though, as they're subject to flooding.
Within the Nitmiluk National Park are lots of stunning waterfalls and waterholes. One of the most popular is Leliyn (Edith Falls). This stunning set of cascading waterfalls boasts a large pool at the base surrounded by paperbark and pandanus trees and is perfect for swimming. A kiosk on-site provides the option for you to enjoy a snack and a cool drink after your swim.
Also within Nitmiluk National Park is the world-famous Nitmiluk Gorge. It's actually a series of 13 connected gorges formed by sheer sandstone cliffs. Swimming is only permitted in the second and third gorges during the dry season and not allowed anywhere else in the gorge system. Other options to experience and enjoy the surrounds include hiring a canoe, taking a relaxing cruise down the gorges or the aerial view with a scenic flight.
One of Nitmiluk National Park's hidden gems is Sweetwater Pool – the final campground on the Jatbula Trail that's only accessible by foot. It's a 4.5km walk from Edith Falls but well worth the effort for those who make it, with the reward of multiple refreshing pools to enjoy after your hike.
An hour west of Katherine is Umbrawarra Gorge Nature Park, a beautiful isolated gorge and creek accessible during the dry season. From the main pool, you can only reach the other pools by swimming, wading or rock hopping. When you're done swimming, check out the incredible Aboriginal rock art on the gorge walls. Camp sites are available here but there's no fresh water so make sure you bring enough for your stay.
For more information about camping around Katherine, check out our camping guide.