From waterfalls and plunge pools to monsoon forests and wetlands, experience the diverse natural attractions in and around Darwin on a camping trip.
There's no better way to appreciate the stunning natural beauty of the Top End than by pitching a tent in one of the many campgrounds.
You can choose your level of adventure: from the most isolated 4WD-only campground to the more accessible sites near popular swimming and fishing spots.
Go bird watching at dawn, bushwalking during the day and wildlife spotting at dusk to see thousands of different species not seen anywhere else in the world.
Or just set up your camp and enjoy the silence.
No matter what you choose, the city of Darwin and its incredible wartime history, vibrant cultural scene and world-class attractions are just a short drive away.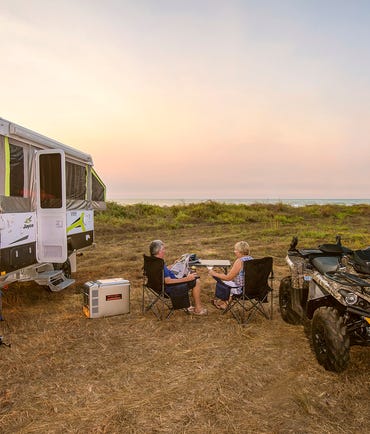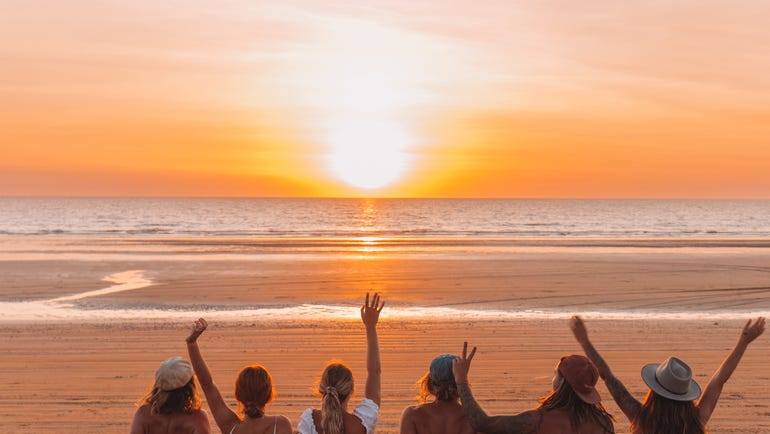 Best time to go camping around Darwin
The best time to go camping around Darwin is in the dry season, between May and September when the humidity drops, the nights can be cool and it almost never rains. Make sure to book ahead if possible as it can get busy at this time of year.
During the Build-up (October to January) and the Wet Season (January to April), you can camp if you've got a robust camping set-up and good shelter to withstand the rain and warmer days.
Can I camp for free near Darwin?
Camping or sleeping in any public place within the council areas of Darwin and Palmerston is actively discouraged with rangers regularly monitoring public spaces and issuing on-the-spot fines. This includes sleeping in a car, campervan, caravan or tent.
There are some free designated campsites outside of the city areas including Gunn Point and Robin Creek Falls – both an hours' drive from Darwin.
Most campgrounds in national parks and reserves can be booked online for a fee.
Are permits required to camp in Darwin?
Most parks and reserves across the Top End are free to enter and have designated campsites where you can camp for a minimal fee without a permit. If you're planning to camp in a national park outside of a designated campsite or bushwalk overnight, you'll need to apply for a permit.
If you're entering onto Aboriginal land that isn't within a national park, you'll need a written permit from the Northern Land Council. These are approved on a case-by-case basis and cover activities such as entering Aboriginal land or waters for any purpose, travelling by private road on Aboriginal land or entering an Aboriginal community.
Camping under the stars in Darwin
If you'd like to camp in the open air and watch the stars, it's best to do that between May and September. That's when it's coolest and least likely to rain. Outside of these times it's hot and can rain heavily so it's best to have good shelter.
Camping near swimming holes Darwin
There are limited options for camping near swimming holes within Darwin itself. Just outside of Darwin, there are plenty of great camping spots with access to swimming holes in Litchfield National Park.
Swimming is recommended only in designated safe swimming areas so look out for the signs and be Crocwise. Any body of water – including creeks and freshwater dams – can have crocodiles so play it safe and stick to approved swimming areas.
To swim safely within the Darwin City area you can take advantage of the lagoon at the Darwin Waterfront, the Wave Pool also at the Darwin Waterfront and Lake Alexander at East Point.
Lake Bennett, an hours' drive from Darwin, is under new management and they're offering camping while the rest of the resort is refurbished. Guests can kayak, fish, swim and trek surrounding bush walk trails with a day use fee of $5 to access the lake if you're not an overnight guest.
Beach camping near Darwin
While swimming at beaches in and around Darwin isn't recommended, camping definitely is. The sea breeze and stunning sunset is your reward.
Gunn Point

Gunn Point is a free camping favourite of Darwin locals and has recently undergone some road upgrades to make it easier to get there. From March 2021, camping on Murrumujuk Beach is no longer permitted, with the best camping now 10m back from the cliff edge to protect them from coastal erosion. Camper trailers and caravans are not permitted on the beach or the cliff edge.

There are no facilities at Gunn Point so you must be completely self-contained. This includes taking care of all your rubbish, human waste and making sure you have enough drinking water.

You can drive on Murrumujuk Beach but it's for registered vehicles only and at your own risk. Be considerate of other beach users and local wildlife at all times.

Just a short drive away is the Saltwater Arm and Leaders Creek boat ramps if you fancy dropping in a line. As tempting as the water is, swimming isn't recommended due to the presence of crocodiles and stingers.

Wagait Beach

Wagait Beach is a 90-minute drive from Darwin or a 20-minute ferry ride from Cullen Bay. Basic beachfront camping spots are available in limited numbers at the Beachfront Beauty starting at $10. The site welcomes camping of all types from swags through to campervans and includes a communal kitchen, shower, laundry, swimming pool and a boat ramp. It's best to book early as spots go fast.

Nearby is Cox Country Club where you can get a good meal and often enjoy bands and other entertainment. If you fancy fishing and don't have a boat, the Mandorah Jetty is well set-up for fishing at all tide levels.

If you'd like something more upmarket than camping, there are plenty of Airbnb properties available for rent nearby.

Crab Claw Resort

Crab Claw Resort is a family friendly resort offering 19 shaded and semi-shaded powered camp sites just 75m from the water edge. Power is limited to 6 amps to run your fridge and air conditioning.

Sites cost $40 per night and facilities on-site include an amenities block and laundry as well as a restaurant, boat ramp and swimming pool.

There's plenty to do at Crab Claw including bushwalking, fishing, bird watching or just relaxing. There's also cabin accommodation available with views of the water for that extra bit of comfort.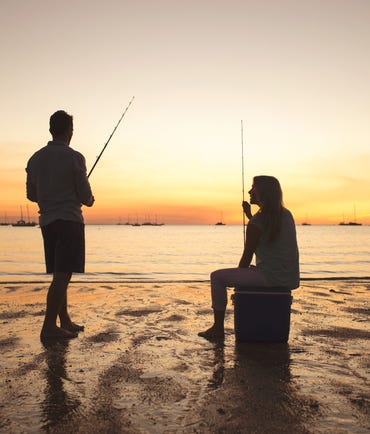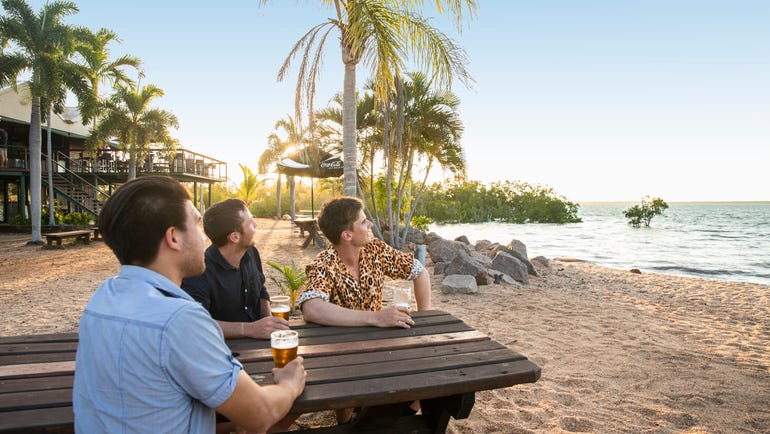 Fishing & camping near Darwin
To get the most out of your camping trip, you might want to grab a campsite that has nearby access to one of the Top End's many fishing spots. The fishing is legendary in these parts and even the most inexperienced angler can have an enjoyable day.
If you're camping near any fishing spots, make sure you stay Crocwise and follow all signs.
Camping with kids in Darwin
Camping isn't just for the adults; it can be heaps of fun for the whole family. To make your camping adventure fun for everyone, there are some tried and tested tips to live by.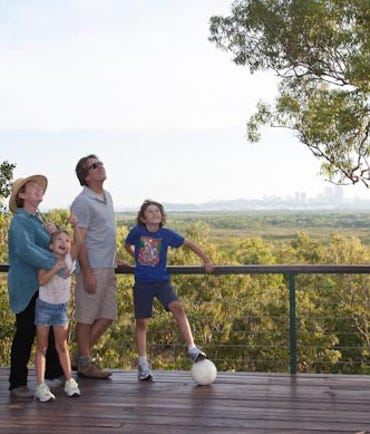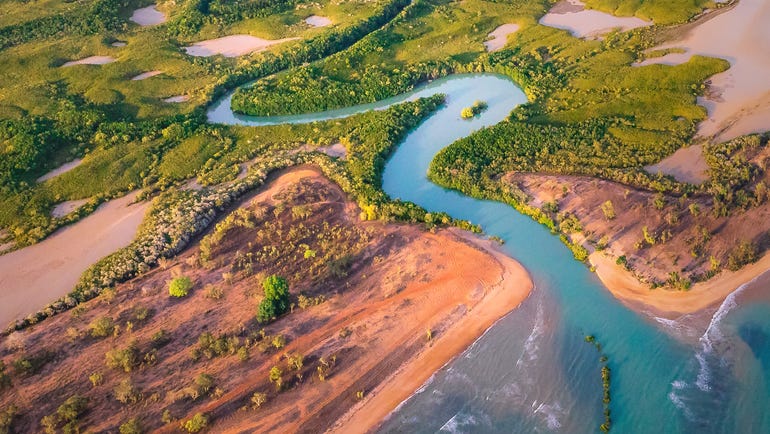 Camping in National Parks & reserves around Darwin
In the Top End, we're spoilt for choice with our access to national parks. You can try the world-famous Kakadu National Park or the more accessible Litchfield National Park for a range of great camping options. Mary River National Park – home to Couzens Lookout and Shady Camp – is an excellent base for fishing and wildlife watching.
Charles Darwin National Park, just outside of Darwin City, is a great spot to explore or use the mountain bike trails but there's no camping permitted, with the park closing at 7pm each night.
Refer to the list of NT national parks and reserves with camping areas for details.
Umbrawarra Gorge National Park

Almost three hours' drive from Darwin near the regional town of Katherine, Umbrawarra Gorge National Park is off the beaten track but well worth the drive. The road is accessible by car during the Dry season but isn't recommended for caravans due to the road corrugations, dips and creek crossings.

Camping is available at the designated campsite giving you access to a composting toilet, BBQs, picnic area, fire pits and a range of 4WD tracks. No generators or pets are permitted.

From the campsite, you can take an easy walk along the creek into the red cliffs and sandstone overhangs of the gorge and swim where it's signposted as safe to do so.

Garig Gunak Barlu National Park

Located on the Cobourg Peninsula, a 10 hour drive along an unsealed road suitable for 4WDs only, Garig Gunak Barlu National Park is home to stunning white beaches and rare wildlife you won't see closer to town.

Camping fees are charge per vehicle at $232.10 which will cover 5 adults for up to 7 nights. If you want to extend your stay, additional fees apply. At the campsite, you have access to a toilet, limited bore water, fire pit, boat ramp, showers and a ranger station. All food, water and fuel must be brought with you as there is nowhere to buy these supplies nearby.

From the campground you can go bushwalking, birdwatching, fishing or boating and there's a good chance you'll see dugong or one of the six species of marine turtles.

The road is open seasonally and isn't suitable for caravans, and off-road trailers are taken at your own risk. Roads can be closed for ceremonial reasons with limited notice.

Bookings are recommended, especially during school holidays, and permits are required.

Channel Point Coastal Reserve

Two-and-a-half hours' drive from Darwin is the Channel Point Coast Reserve. Well known for its excellent fishing, this a great place for self-sufficient campers with experience in 4WDs and unsealed roads.

A basic campground is available with toilets, picnic tables, boat ramp and fire pits. Generators are permitted.

The campground is limited to 50 people (or 10 vehicles) so bookings are essential and you'll need to arrange a permit at the same time.
Camping at events near Darwin
During the Dry season, Darwin hosts dozens of incredible events that bring visitors from across the country. The Darwin Festival, V8 Supercars, National Indigenous Music Awards, BASSINTHEGRASS, Mindil Beach Sunset Market, the Beercan Regatta and the Great Northern Cup are huge drawcards.
With such popular events, camping is a great option so if you're planning a trip to Darwin during the dry season, you need to book your spots ahead of time to avoid disappointment.
For events around Darwin, caravan parks are going to be your best option to make sure you can get around town easily. Try: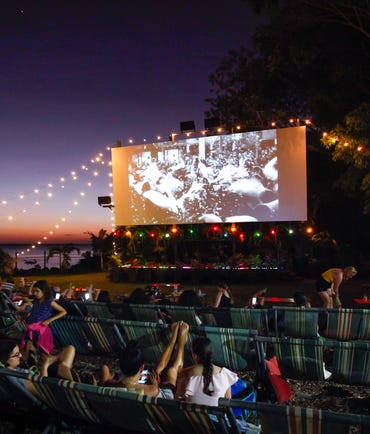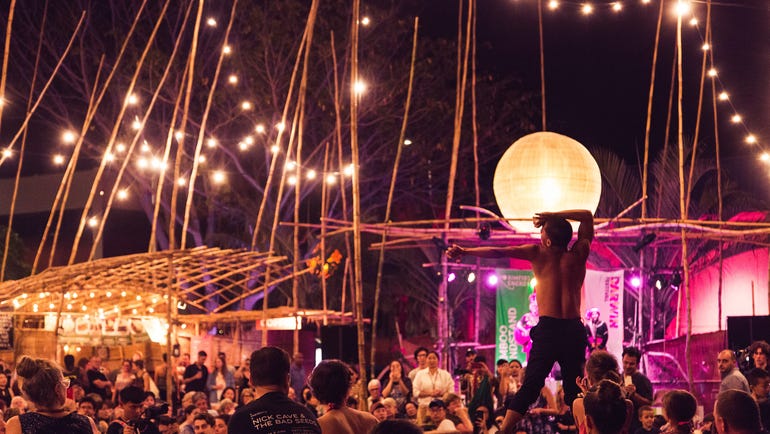 Camping near Darwin – at a glance
| | | | | | | | |
| --- | --- | --- | --- | --- | --- | --- | --- |
| | Powered Sites | Permit Required | Accessibility | Toilets | Drinking Water | BBQs | Swimming |
| Gunn Point | No | No | 2WD | No | No | No | No |
| Wagait Beach | No | No | 2WD | Yes | Yes | Yes | Pool on-site |
| Crab Claw Resort | Yes | No | 2WD | Yes | Yes | No | Pool on-site |
| Leaders Creek Fishing Base | Yes | No | 2WD | Yes | Yes | No | No |
| Shady Camp | No | No | 4WD | Yes | No | No | No |
| Couzen's Lookout | No | No | 4WD | Yes | No | No | No |
| Dundee Beach Holiday Park | Yes | No | 2WD | Yes | Yes (Powered sites only) | Yes | Yes |
| Umbrawarra Gorge National Park | No | No | 2WD (Seasonally) | Yes | No | Yes | Where signed as safe to do |
| Garig Gunak Barlu National Park | No | Yes | 4WD | Yes | Limited bore water | No | No |
| Channel Point Coastal Reserve | No | Yes | 4WD | Yes | No | No | No |
Where can I hire camping equipment in Darwin?
If you don't have your own equipment, you can hire what you need or a complete camping package from Gone Bush Camping. Their packages cover everything from basic supplies for your hire car through to the full kit for a motorhome or 4WD experience.
Hire a camper trailer from Crikey Camper Hire or grab a boat from Outback Boat Hire.
Join a camping tour near Darwin
Whether you just want an overnight camping experience or you want to take a longer tour, there's plenty of guided camping tours that can take you to some of the best camping spots around Darwin.
Far Out Adventures works with local eco-certified tour operators to tailor camping tours to you. You can check out all the wildlife, scenery and Aboriginal art and culture under the safe and knowledgeable guidance of your tour guide.
If you want to go further afield, you can check out the camping tour options at Kakadu, Litchfield and Katherine.
Camping guidelines
Darwin is an amazing place to visit and we'd love it to stay that way. When camping, make sure you leave your site as you found it.
Caravan & camping grounds around Darwin
Your search returned no results. Please try again.