Set up camp in big river country and spend your days near sparkling waterholes, majestic waterfalls and thick woodlands full of wildlife. It doesn't get better than camping in Katherine.
Katherine is a region with an extensive range of camping experiences spanning from established campgrounds to remote national parks. Whether you prefer sleeping in cabins or caravans or dossing down in a swag, Katherine has options to suit every taste and level of comfort.
For those who enjoy a bit of a trek, there are plenty of opportunities to tie this into your camping trip. Reach your campsite by 4WD-ing or camping and walking across striking terrain, or canoeing and cruising along the regions Katherine Gorge.
If you're new to camping, you might like to consider a guided tour. Experienced tour guides know all the best spots and they're all pretty handy around a campfire too. Many guided tours include cultural experiences and knowledge for you to enjoy so you can truly appreciate the sacred ground you're staying on.
While you're out in the fresh air, get amidst the incredible natural habitat. Watch for turtles at Sweetwater Pool. The Flora River Nature Park is rich in wildlife as well as featuring magnificent tufa rock formations, waterfalls, large natural springs, and Casuarina trees. Dramatic Nitmiluk (Katherine) Gorge brims with wallabies, water monitors, eagles and cockatoos.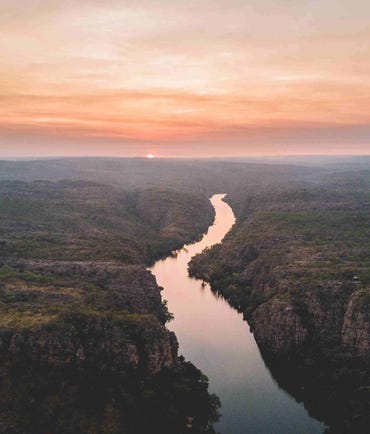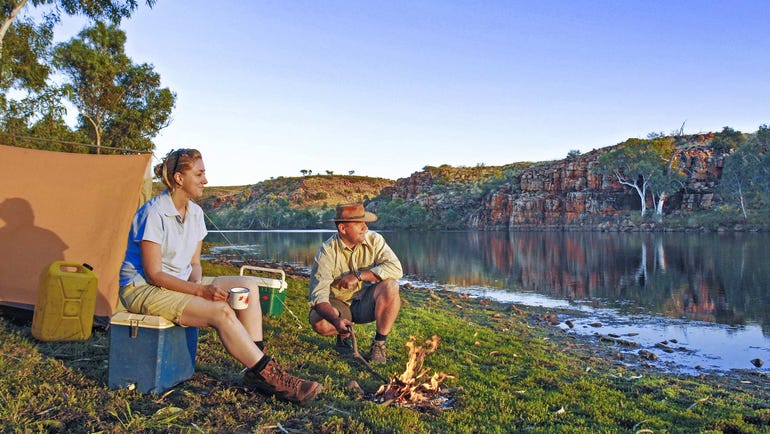 Best time to go camping in Katherine
The best time to go camping around Katherine is in the dry season between May and September when the humidity drops. The nights can be cool and there's almost never rain. It gets really popular in campgrounds during the dry season so if you can, you should book your site before your trip.
During the build-up (October to January) and the tropical summer/wet season (January to April), it's best to camp if you've got shelter as it can be warmer with heavy rainfall. It's a great time of year to see waterfalls in full flow but not always ideal for camping.
Can I camp for free in Katherine?
Just like the rest of the Territory, camping isn't allowed anywhere but in designated camping spots. This includes camping on the side of the road outside of approved areas.
There are some free campsites, but it's expected that you'll be self-sufficient, keep the area clean and tidy and take your rubbish away with you.
Kame's Campground

Just off the Stuart Highway at the turn-off to Edith Falls Road is Kame's Campground. There are no facilities here so you'll need to have all your supplies with you. It's only a 15-minute drive from Katherine where you can get everything you need.

It's flat and quiet, but there can be quite a few bugs so keep lights to a minimum, use your fly screens and think about bringing a personal bug spray.

King River South Rest Area

About half an hour south of Katherine is the King River South Rest Area. It's free to camp here and there are toilets, a water supply (not for filling caravan tanks), picnic shelters and rubbish bins.

The campground is close to the highway so it might get a little noisy.

Sterling Mill Rest Area

South of Katherine and across the highway from Mataranka Station is the Sterling Mill Rest Area. It's a small campground located just off the Stuart Highway. The entrance is on a tree lined dirt track so keep your eyes peeled to make sure you don't miss it.

The campground is small, able to accommodate up to six caravans, and there are no toilets so you'll have to take care of your waste appropriately. There's some truck noise from the highway and it can be dusty. Otherwise, it's a good spot to stay the night if you're self-sufficient.
Are permits required to camp in Katherine?
Campsites across most parks and reserves around Katherine can be booked online for a fee, without a permit. If you're planning to camp in a national park outside of a designated campsite or bushwalk overnight, you'll need to apply for a permit.
If you're entering onto Aboriginal land that isn't within a national park, you'll need a written permit from the Northern Land Council. These are approved on a case-by-case basis and cover activities such as entering Aboriginal land or waters for any purpose, travelling by private road on Aboriginal land or entering an Aboriginal community.
Camping under the stars in Katherine
If you'd like to camp in the open air and watch the stars, it's best to do that between May and September. That's when it's coolest and least likely to rain. Outside of these times, it can be hot and humid and can rain heavily so it's best to have good shelter.
Camping near swimming holes in Katherine
Camping near safe swimming holes is a great way to relax in the Katherine region.
Most waterholes are off limits to swimmers due to crocodiles so look out for the signs and be Crocwise. Any body of water – including creeks and freshwater dams – can have crocodiles, so play it safe and stick to approved swimming areas.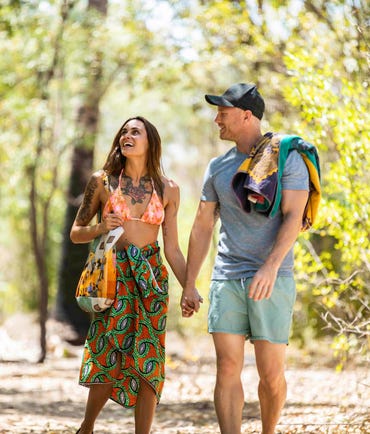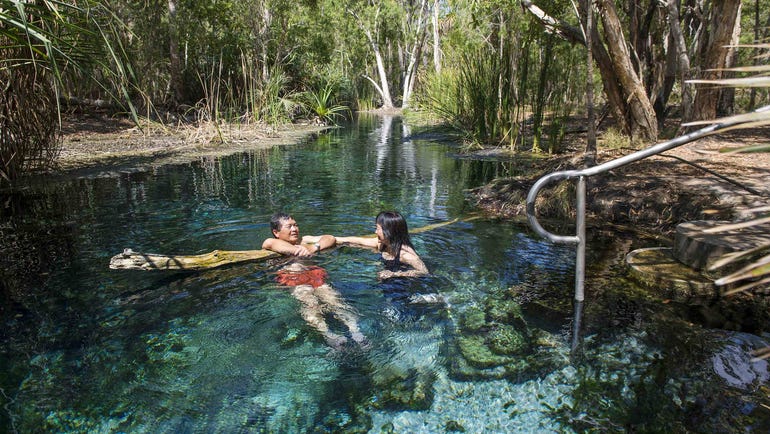 Camping & fishing around Katherine
Fishing in Katherine is by far one of the most unmatched experiences in the NT. Before you set out from your campsite, there are some rules you must abide by. To learn more about the regulations for recreational fishing, download the free Northern Territory Fishing Mate app. Remember, no fishing is allowed at any of the swimming holes.
It's essential that if you're fishing, you be Crocwise. Crocodiles are ambush predators so it's important to be aware of your surroundings and follow all signage and safety tips.
Check the government website for up to date information on camping fees in parks and reserves around Katherine.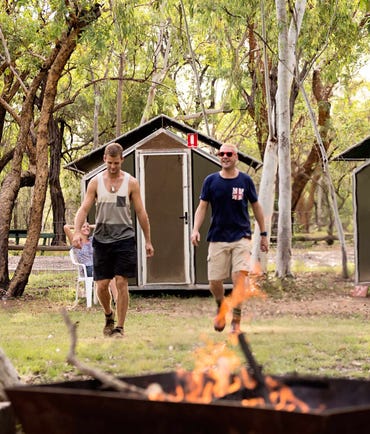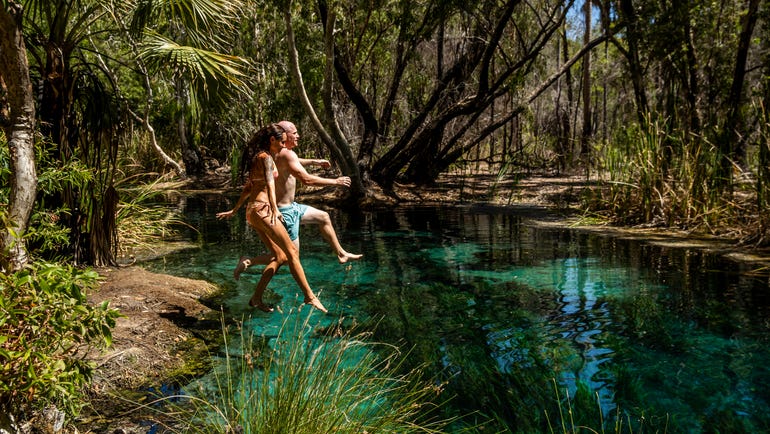 Canoeing & camping in Katherine
If paddling along streams and rivers is a hobby of yours, try canoeing through Nitmiluk (Katherine) Gorge and stay the night at the 4th, 6th or 9th gorge camping sites. All are accessible via canoe and the journey there is sure to be an adventure you won't forget.
Availability can run out fast, so to avoid disappointment make sure to book your campsite online first, then hire your canoe. This adventure requires a level of fitness as you'll have to carry your canoes over the rocks between gorges. Permits can be obtained by contacting Parks and Wildlife. For any other general enquiries before you start your journey, contact the Nitmiluk Visitor Centre.
Hiking & camping in Katherine
Hikers tackling the Jatbula Trail in Nitmiluk National Park have ample opportunity to stop for the night in places not seen by most. Idyllic spots such as the stunning Biddlecombe Cascades and Crystal Falls are an easy distance from campsites. Sandy Camp pool offers a peaceful and shady spot beside a billabong, perfect for cooling off with a swim, or cool off mid-way at 17 Mile Falls surrounded by the sandstone plateau. This hike has a 5 or 6-day option and is usually in very high demand so make sure you book your spot on the Jatbula Trail well in advance.
The Jatbula Trail is a 62km one-way walk that follows a route traditionally travelled by the Jawoyn people. Ensure you check its availability and book before departing so that you can have the chance to experience the natural beauty of the Katherine region.
The Southern Walking Trails are made up of a network of paths in Nitmiluk National Park. Starting off from the Nitmiluk National Park Visitor Centre, you'll soon be rewarded with spectacular views and secluded swimming and camping spots. Those interested in an overnight stay can camp at the Dunlop Swamp or Smitt Rock campsites. Check their availability before booking and obtain your permit through contacting Parks and Wildlife.
The rocky terrain of both the Jatbula and Southern Walking Trails calls for visitors with a moderate to high level of hiking experience.
Camping in national parks around Katherine
If fishing isn't your highest priority, then there are plenty of other camping spots within the national parks of the Katherine region.
Most camping spots can be accessed via the online booking system. A variety of facilities are provided at the camping areas and fees vary accordingly.
Nitmiluk National Park
Nitmiluk National Park is famous for its tall sandstone escarpments, beautiful natural swimming holes and rich Aboriginal history. Just minutes from the gorge are powered and unpowered camping sites available for caravans and tents which can be booked online. It's best to camp here from May through to September where the Top End heat cools.
Edith Falls

Leliyn (Edith Falls) is a set of stunning cascading waterfalls with a large pool at the base perfect for swimming. It's a lush area with beautiful native flora and fauna just 40 minutes' drive from Katherine and accessible to cars on a completely sealed road. No permit is required.

The camping site is a beautifully maintained landscaped space that is only 150m from the plunge pool. Unpowered sites are available with access to toilets, showers, gas BBQs, picnic tables and a kiosk with knowledgeable staff to help you figure out what to do.

Sweetwater Pool

One of the lesser-known campgrounds, Sweetwater Pool is the final stop on the Jatbula Trail. It's perfect for cooling off after a long hike.

The campground is accessible from the car park at Edith Falls by foot only. Facilities include toilets and drinking water. Permits are required and spots are reserved for those walking the Jatbula Trail so availability needs to be confirmed before you head off.
Umbrawarra Gorge National Park
Almost a three hours' drive from Darwin and just over an hour's drive from Katherine, Umbrawarra Gorge National Park is off the beaten track but is well worth the drive. The road is accessible by car during the dry season but it isn't recommended for caravans due to road corrugations, dips and creek crossings.
Camping is available at the designated campsite which comes with a composting toilet, BBQs, picnic area, fire pits and a range of 4WD tracks. No generators or pets are permitted.
From the campsite, you can take an easy walk along the creek into the red cliffs and sandstone overhangs of the gorge to take a swim where it's signposted as safe to do so.
Douglas River/Daly River Esplanade Conservation Area
The Douglas River/Daly River Esplanade Conservation Area is the perfect spot to camp if you love bird and wildlife spotting. The area is rich with riverine habitats, cascades and sandy river banks. It's also home to lots of crocodiles so it's important to follow the signs and continue to be Crocwise.
There are 9 campsites in the conservation area – 7 are accessible by car and 2 are 4WD accessible only. Caravans are not recommended but off-road trailers may be suitable. Unpowered sites are available from $15 per family and bookings are made through the Douglas Daly Holiday Park.
Facilities include toilets, drinking water, showers, fire pits and picnic tables. Generators are welcome in specific areas. Given the natural habitats, mosquitoes and midges are common at dusk so pack insect repellent.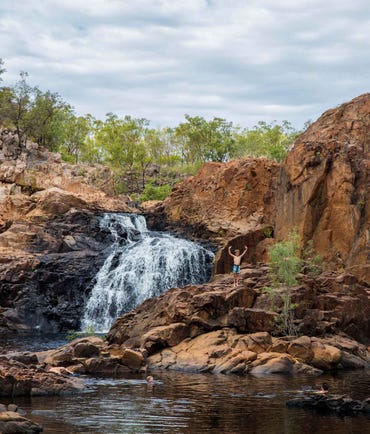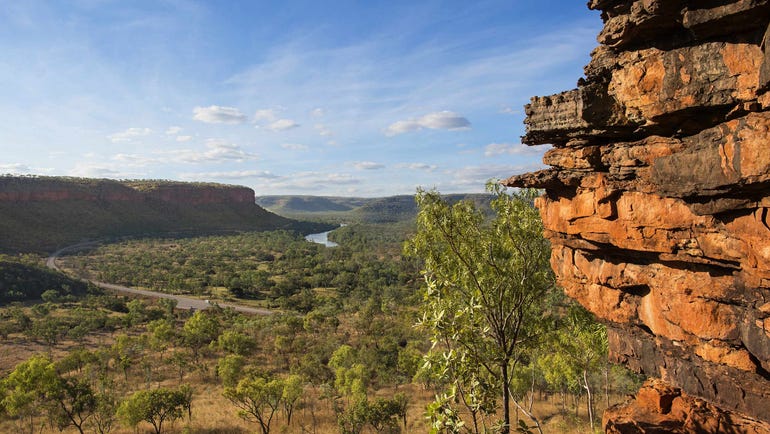 Serviced campgrounds around Katherine
If you'd prefer a serviced campground in or close to Katherine township, there are a number of options available:
All serviced campgrounds have on-site facilities, accessible by sealed road and are within a 20-minute drive of the centre of Katherine.
Camping at events in Katherine
There are lots of great events on in Katherine where camping would be a great accommodation option. Freedom Day, Katherine Regional Arts Junk Fest, Katherine Speedway events, Godinymayin Yijard River Arts and Culture Centre events, Katherine Show and Rodeo, Katherine Turf Club Racing, Barunga Festival and the NT Travelling Film Festival are the big events held throughout the year.
For the fishers amongst us, the Allure Ladies Fishing Classic Competition, Million Dollar Fish, Girls Gone Fishin', Big Horse Creek Barra Classic and the Barra Nationals are all held in the Katherine region and competitors are encouraged to camp.
Camping near Katherine – at a glance
| | | | | | | | |
| --- | --- | --- | --- | --- | --- | --- | --- |
| | Powered sites | Permit required | Accessibility | Toilets | Drinking Water | BBQs | Other accommodation on site |
| Katherine Holiday Park | Yes | No | 2WD | Yes | Yes | Yes | Yes, Safari Glamping Tents, Cabins, Bunkhouse |
| Boab Caravan Park | Yes | No | 2WD | Yes | Yes | Yes | Yes, boutique cabins, family cabins |
| Knotts Crossing | Yes | No | 2WD | Yes | Yes | Yes | Yes, Executive rooms, Deluxe rooms, Executive unit, family rooms, motel room, cabins |
| Riverview Tourist Village | Yes | No | 2WD | Yes | Yes | Yes | Yes, family ensuite cabins, ensuite cabins, standard cabins, motel units |
| Manbulloo Homestead | Yes | No | 2WD | Yes | Yes | Yes | Yes, cabins, deluxe cabins, two bedroom cabins, motel, group accommodation |
| Shady Lane Tourist Park | Yes | No | 2WD | Yes | Yes | Yes | Yes, wheelchair accessible cabin for 2 people, budget motel rooms, ground level studio, ground level 2 bedroom cabin, elevated studio, elevated 1 bedroom, elevated 2 bedroom. |
| Katherine Gorge / Nitmiluk Campground | Yes | No | 2WD | Yes | Yes | Yes | Yes, unpowered comfortably clean permanent safari tents with their own fire pit, 1 and 2 bedroom cabins, luxury rooms at Cicada Lodge |
| Leliyn (Edith Falls) | No | No | 2WD | Yes | Yes but bringing your own is recommended and treat all drinking water from natural sources. | Yes | No |
| Sweetwater Pool | No | Yes | 2WD sealed road, walking access only | Yes | Yes | No | No |
| Crystal Falls | No | Yes | 2WD sealed road, walking access only | Yes | Yes | No | No |
| Jalmurark Campground - 12 mile yards | No | No | 2WD | Yes | Yes | Yes | No |
| Lorella Springs | Yes | No | 4WD strongly encouraged | Yes | Yes | Yes | Yes, deluxe bedrooms, ensuite cabins, |
| Southern Lost City | No | No | 4WD strongly encouraged | Yes | No | Yes | No |
| Butterfly Falls | No | No | 4WD strongly encouraged | Yes | No | Yes | No |
| Towns River | No | No | 4WD strongly encouraged | Yes | No | Yes | No |
| Limmen River | No | No | 4WD strongly encouraged | Yes | No | Yes | No |
| | | | | | | | |
| --- | --- | --- | --- | --- | --- | --- | --- |
| Big Horse Creek | No | No | Generally accessible 2WD in dry season only | Yes | Limited | Yes | No |
| Sullivan Creek | No | No | Generally accessible 2WD in dry season only | Yes | No | Yes | No |
| Bullita Homestead and Campground | No | No | 4WD with high clearance recommended and access is unsuitable for caravans | Yes | No | Yes | No |
| Douglas River/Daly River Esplanade Conservation Area | Yes | No | 4WD recommended as 7 campsites are 2WD and 2 campsites are 4WD only. | No | No | No | Yes, Douglas Daly Holiday Park has 2 bedroom family cabins, single rooms, family rooms, twin rooms, campgrounds with water and all amenities. |
| Lee and Jenny's Bush Camp | Yes | No | 2WD | Yes | Yes | Yes | Yes, cabins, bunkhouse, barra-barn cottage, buffalo lodge with ensuite |
| Daly River Wildlife and Adventure Lodge | Yes | No | 2WD | Yes | Yes | Yes | Yes, cabins, dongas, house, high rise cabin, screened cabin, house with a view |
| Perry's on the Daly | Yes | No | 2WD | Yes | Yes | Yes | Yes, cabins |
| Woolianna on the Daly | Yes | No | 2WD | yes | Yes | Yes | Yes, fisherman's lodge, villa units |
| Daly River Barra Resort | Yes | No | 2WD | Yes | Yes | Yes | Yes, self contained units |
| Daly River Roadside Inn | Yes | No | 2WD | Yes | Yes | Yes | Yes, ensuite dongas, ensuite motel rooms, ensuite family/single/double rooms, fisherman huts |
| Banyan Farm Tourist Park | Yes | No | 2WD | Yes | Yes | Yes | Yes, cabins |
| Giwining / Flora River Nature Park | No | No | Unsealed roads high clearance 2WD accessible, but roads may be closed during wet season. Check road conditions. | Yes | Yes | Yes | No |
| King Ash Bay Fishing Club | Yes | No | 4WD only in wet season, dry season can be accessed by 2WD. 24 km corrugated dirt road driving from bitumen to King Ash Bay Fishing Club. | Yes | Yes | Yes | Yes, cabins, houseboats |
| Barranyi National Park (North Island) | No | No | Boat access only | Yes | No | Yes | No |
| Munbililla (Tomato Island) | No | No | All roads within park are unsealed and can be closed due to seasonal flooding from November to May. | Yes | Yes | No | No |
| McArthur River Caravan Park | Yes | No | 2WD | Yes | Yes | Yes | Yes, self contained budget units, self contained 2 bedroom deluxe unit |
Hire camping equipment for Katherine
If you don't have your own equipment, you can hire what you need or get a complete camping package from Gone Bush Camping based in Darwin. Their packages cover everything from basic supplies for your hire car through to the full kit for a motorhome or 4WD experience.
Outback and Beyond Camper Trailers, located in Howard Springs, hire reliable Challenge camper trailers which are built in South Australia and can handle the toughest bush tracks in the Territory. Basic supplies or some little luxuries can be included in the trailer.
If you'd like to take a boat for a spin, you can hire boats from Outback Boat Hire located in Marrakai.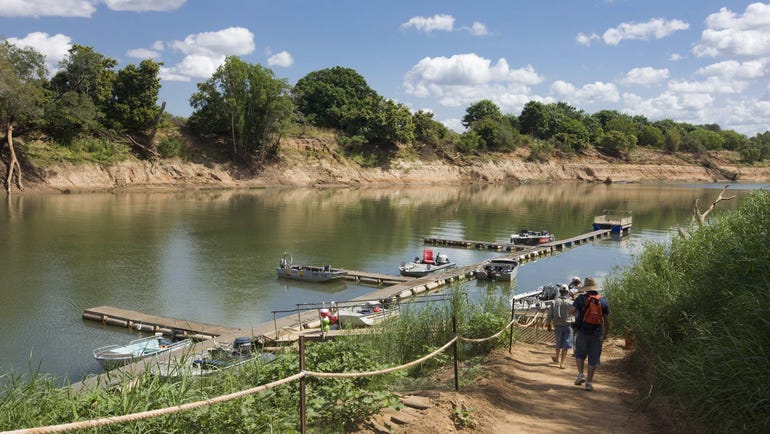 Join a camping tour in Katherine
With so many camping spots to choose from, it might seem like an impossible decision. If you want to take all the thought out of it, a guided camping tour is the perfect solution.
Gecko Canoeing & Trekking
The 3 Rivers 6 days of bliss tour is a 6-day wilderness safari beginning downstream from the crowded areas of Nitmiluk National Park. Venture through the best sections of the Katherine and Daly Rivers and privately camp on some magnificent sandy beaches.
If you don't feel like kayaking, try out the 5-day cultural beyond the Gorge (Manyallaluk to Gorge) Trail. In this trip, a knowledgeable NT Immersions Guide will walk you through a traditional hunting trail used by the Jawoyn people. The track has no public campgrounds so you won't see any other people along the highland escarpment and river country. Revel at the amazing scenery, wildlife and ancient rock art with each remote camp spot having its own water source.
The Jatbula Plus itinerary is comprised of a fully guided 6-day tour that gives you the time to discover the cultural significance of Nitmiluk Gorge and the Jatbula Trail. You can also take an optional gorge cruise when you first arrive in Katherine to get the full experience. Each day you'll sleep in a remote and private campsite that'll give you a chance to relax, swim, bird watch, encounter wildlife and appreciate the picturesque scenery.
Camping guidelines
The Katherine region is stunning and we'd love it to stay that way. When camping, make sure you leave your site as clean as you found it.
Your search returned no results. Please try again.