Treiben Sie an Flussbänken, gesäumt von Felsformationen und sandigen Stränden, vorbei und betrachten Sie Tiere wie Wallabies, Adler und Leguane aus nächster Nähe.
Canoeing & kayaking in Darwin & surrounds
With thousands of kilometres of coastline and a network of incredible lakes and lagoons, Darwin is a paddler's paradise.
Harbour & beaches
Darwin Harbour is a beautiful spot for kayaking but only for experienced paddlers with a sea kayak. The harbour is busy with both recreational and shipping traffic so make sure the area you want to explore is out of the way of the shipping channel. Darwin is also the home to crocodiles and sharks so remember to be Crocwise.
Away from the hustle and bustle of the harbour, the enticing ocean water is perfect for a paddle. Mindil Beach, Casuarina Beach and Nightcliff Beach are all patrolled by lifeguards in the dry season (May to October). If you're an experienced paddler, bring your sea kayak down to the beach. Just remember to stay between the red and yellow flags and follow all signs and directions given by lifeguards.
Kite Corner – so named because of the windy conditions ideal for kites and kite surfing – is also a popular spot for kayaking and stand-up paddle boarding on the Nightcliff foreshore. Darwin Fun Supply is a local hire company that regularly sets up-to-hire kayaks and stand-up paddle boards. Check out their timetable, call ahead to book and they'll meet you there with all the equipment you need. Lessons can also be provided individually or as a group to those with limited experience. Finish the day off with a lovely dinner from the food vans situated nearby.
For those looking to turn their paddling into a more competitive sport, Darwin is home to several canoe and paddling clubs that regularly host training sessions and come-and-try days. The Darwin Outrigger Canoe Club is based at the Ski Club while the Arafura Dragons Paddlers Club is based at the Cullen Bay Marina.
Lagoons, lakes & dams
Lake Alexander on the East Point Reserve is one of the most popular kayaking spots in Darwin. The artificial lake is big enough for an interesting paddle and it's safe to swim in so it's ideal for beginners. Darwin Fun Supply have a regular visit schedule so you can get out and about with friends or family. BBQs, playgrounds and public toilets are nearby so you can really make a day of it.
An hour's drive south of Darwin is Lake Bennett, an artificial freshwater lake surrounded by private cabins, bungalows and the De Lago Resort. It's safe to swim with access available to the public only through the resort. Canoes and kayaks are up for hire. Many of the private cabins that are available for hire come with canoes, kayaks, small boats and other swimming toys you can use during your stay if you don't have your own.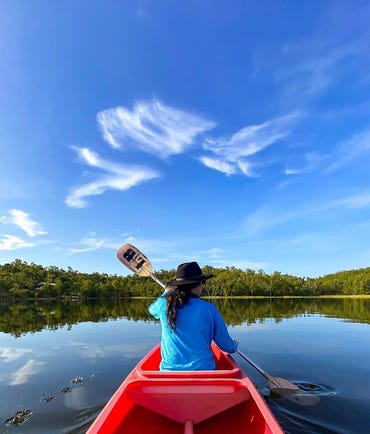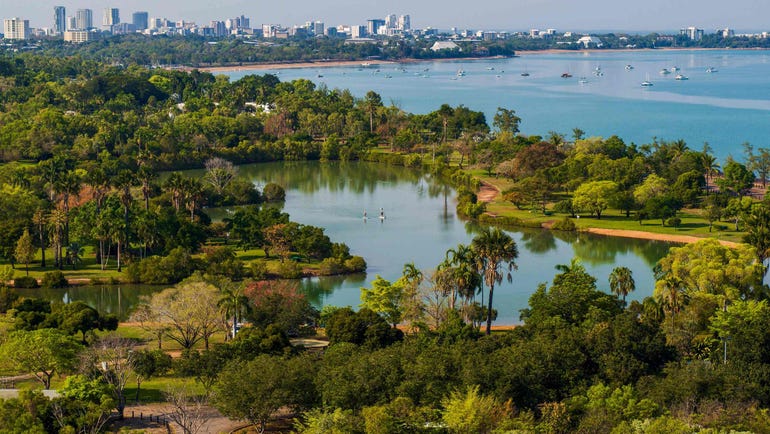 Darwin Waterfront Recreation Lagoon is also a great spot for a quick paddle. The lagoon is surrounded by a sea wall and is patrolled by lifeguards so it's safe for swimming. For parts of the year, an inflatable obstacle course is accessible in this area with kayaks and stand-up paddle boards available as part of your ticket.
Manton Dam was originally Darwin's first drinking water supply but now it's known as the place to get out on the water. It's popular with jet skiers, power boats and water skiers. The dam is split into areas for particular activities, so seek out the canoeing section in the low-speed boat zone for an enjoyable day on the water. The Manton Dam park area has BBQs, picnic tables and toilets that are open from 9am to 5pm weekdays and 8am to 7pm on weekends. Swimming isn't recommended as there's the potential for saltwater crocodiles to be present. Be Crocwise and follow all signs.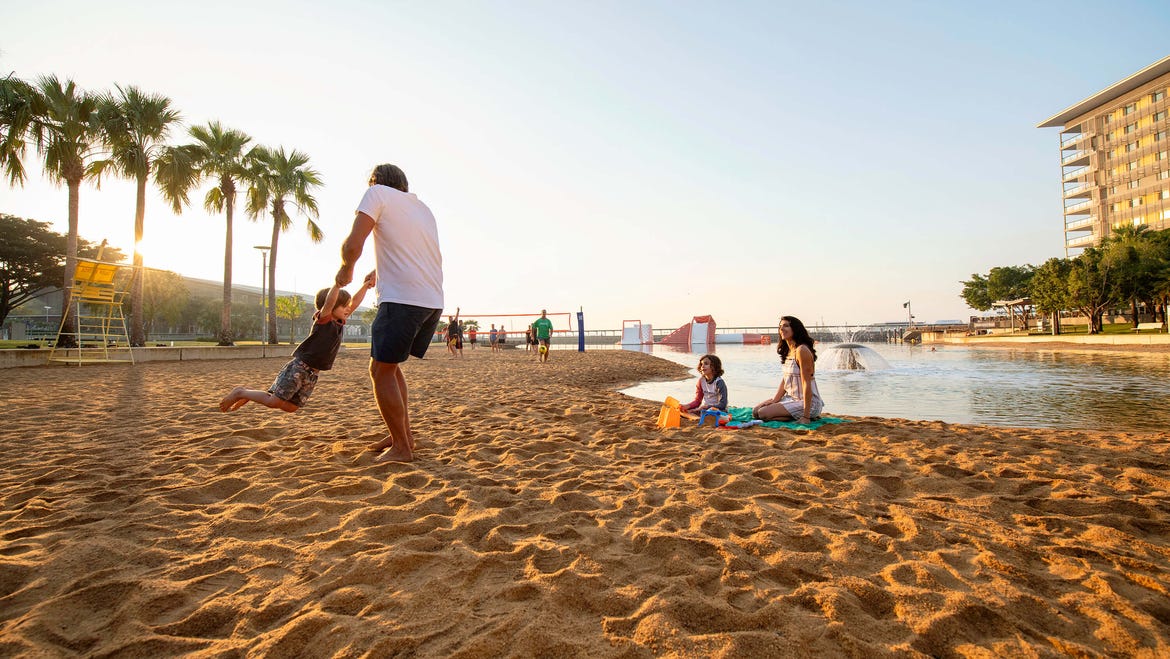 Kanu- & Kajakfahren im NT