Discover the Aboriginal desert weavers
of the Red Centre
Remote and rugged, the Red Centre has inspired Aboriginal artists for centuries. More recently it's become known all over the world for its phenomenal fibre.
Creating art from shimmering strands of native grass, silvery wisps of emu feathers and scarlet drops of ininti seeds isn't new to the Anangu and Yarnangu people of the Central and Western deserts.
The ancient art of weaving has been an important part of Indigenous culture for generations, and women of Central Australia have a long history of working with fibres for daily and ceremonial use, including making bush sandals (wipiya tjina), pouches (yakutja), hair-string skirts (mawulyarri) and head rings (manguri).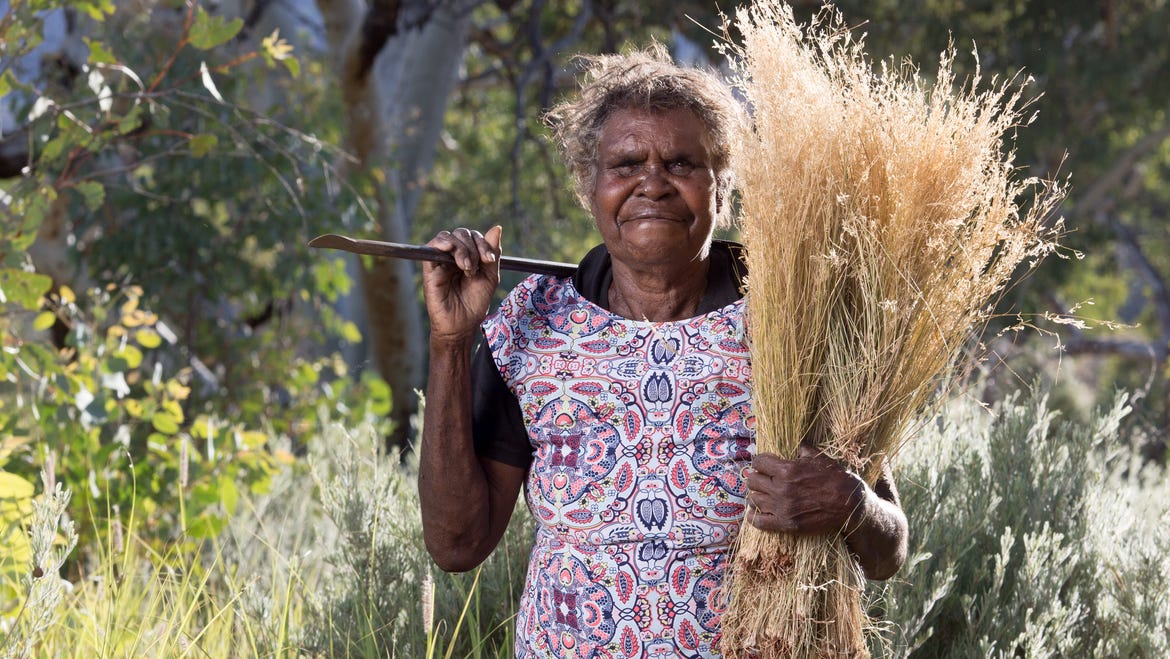 Despite the evolution of desert weaving, at its core it remains deeply knitted to Aboriginal culture. Mothers, daughters, sisters, aunties and grandmothers are the bloodline of the desert weaving phenomenon, and from the moment they begin creating their artworks, the women are undertaking important social and cultural practices.
Being out on country collecting material allows for the hunting and gathering of food, visiting sacred sites, a chance to perform cultural song and dance (inma), and an opportunity to teach the younger generations about country.
Women gather socially in groups and older generations pass on stories and skills as they weave. While weaving is a valuable source of income, allowing artists, including older women and artists with disabilities, to remain on country and support their families, it also brings the women happiness and a sense of fulfilment.
Desert weaving evolution
When the NPY Women's Council held a small basket weaving workshop in 1995, it was met with enthusiasm from its membership. From there, the council's social enterprise Tjanpi Desert Weavers was born.
Named for the Pitjantjatjara word for native grass, Tjanpi was geared at enabling women in the remote Central and Western deserts to earn an income from fibre art, and quickly grew to represent 400 artists across 26 communities and multiple generations.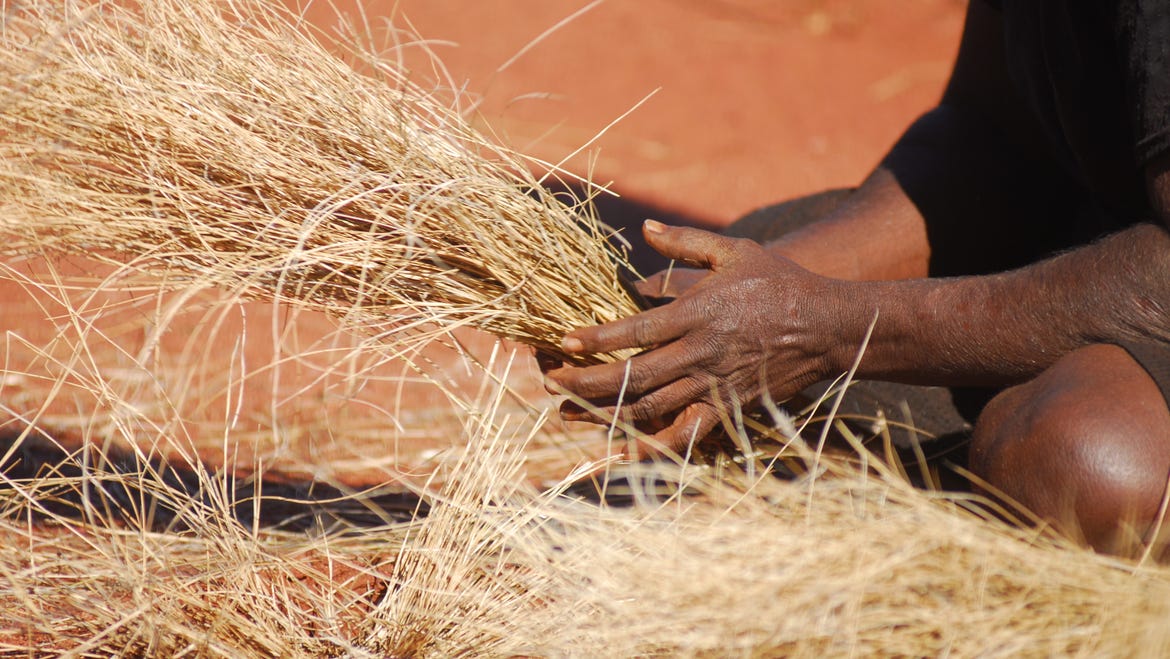 In the early days of Tjanpi, artists were mostly using natural fibres to weave baskets, but over time their practice has evolved to include the use of acrylic wool, string and, most notably, raffia. The contemporary production of brightly coloured raffia has inspired many women to push their creative practice further, culminating in the quirky fusion of natural native fibres and dyed materials for which Tjanpi has become famous.
How visitors can see these creations
Visiting the gallery and retail space of Tjanpi is an absolute must when on the Red Centre Art Trail, where every hand-made product competes for your attention, from small, tightly woven single-colour baskets, right up to enormous rainbow-coloured woven vases.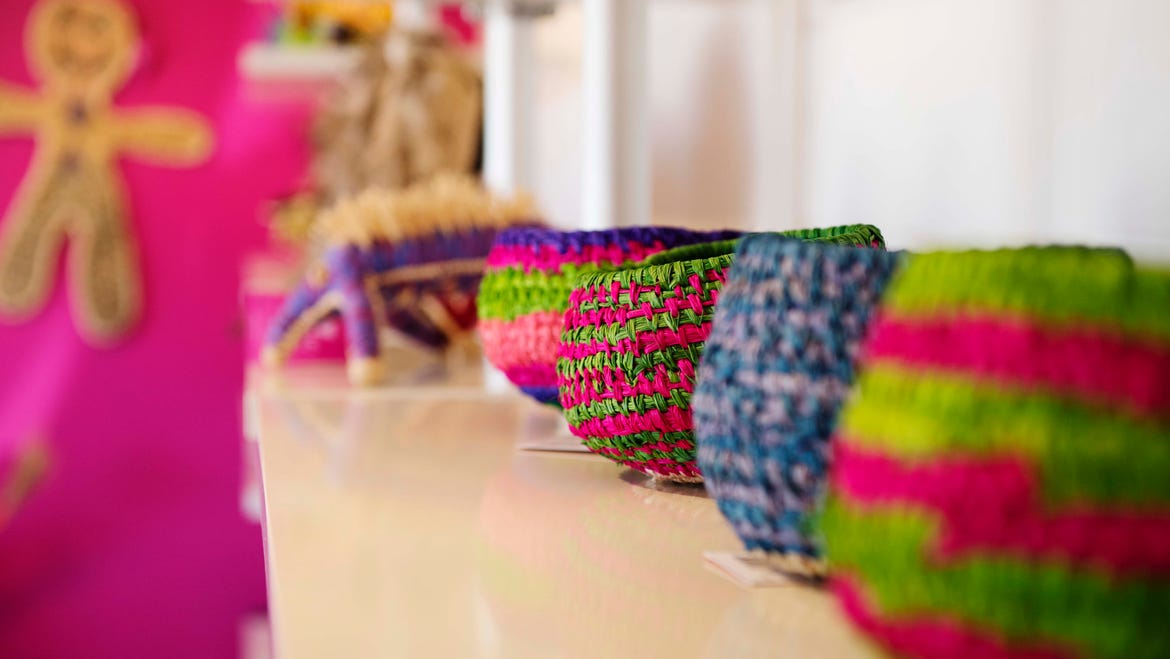 And then there are the sculptures. In addition to expanding the materials used, Tjanpi's artists have also broadened their product range. All manner of desert creatures, from camels to bilbies, goannas and birds, peek from every shelf and hang happily on the walls. Woven earrings and seed jewellery have also been added to their offerings, giving visitors the opportunity wear these remarkable artworks.
The works of Tjanpi gain recognition
Hard work, skill and creative energy go into all of Tjanpi's products, but in 2005, the Tjanpi Toyota took that to a new level. Created by 20 women, the 4m by 2m woven model of a ute took out the 2005 National Aboriginal and Torres Strait Islander Art Award. Crafted entirely from raffia, grass, jute string, chicken wire and steel, the impressive artwork took centre stage on display at the Museum and Art Gallery of the Northern Territory and was acquired as part of their permanent collection.
Many of Tjanpi's works have been acquired in public collections across Australia, including the National Gallery of Australia, the National Museum of Australia, Queensland Art Gallery, Art Gallery of Western Australia, the Western Australian Museum and the National Gallery of Victoria, as well as internationally at Foundation Opale in Switzerland. In 2015, Tjanpi Desert Weavers were part of a collaborative work with artist Fiona Hall that appeared in the 56th International Art Exhibition, Venice Biennale, and their works have also been showcased in other parts of Europe and the UK.
Buying your own piece
Entering Tjanpi's Alice Springs retail space and gallery feels like you've arrived at a cheerful party, filled with bright colours and curious creatures, baskets, vases and jewellery. Its location in the Northern Territory's Red Centre means there's no need to travel into remote communities to purchase your own unique weavings.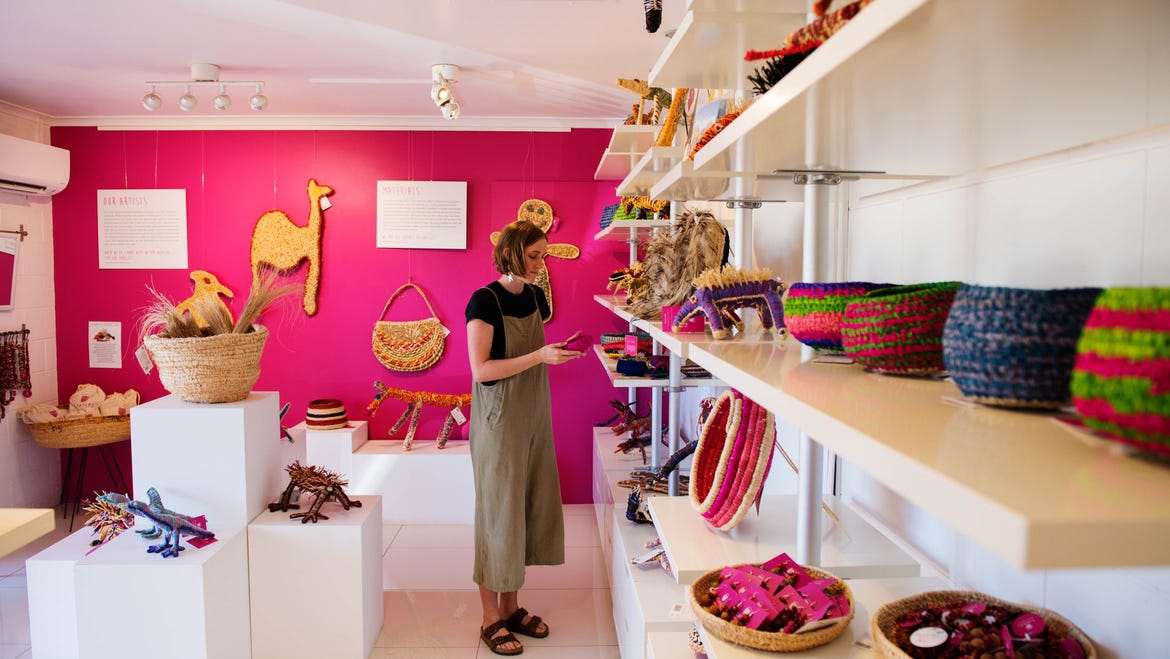 The store receives new pieces from its artists every month, which means there's always something new and fresh on offer. Tjanpi has also recently begun selling Learn to Weave Kits, which include everything you need to create your own artworks. There's an instructional video on their website, where third-generation Tjanpi artist Loria Heffernan takes you through the steps to create your own basket.
These creations delight and surprise visitors who can walk away knowing their purchases are empowering hundreds of women in remote communities, ensuring culture, country and the joy of creating remain inextricably entwined.
To uncover more art and culture in the Northern Territory, check out the Territory Art Trails.
Mehr Artikel, die Ihnen vielleicht gefallen