How to drive the Red Centre Art Trail
From the moment you set foot on the red earth, it's impossible to escape Central Australia's natural beauty. The stunning surroundings instantly invigorate you and it's immediately easy to understand why the area has inspired creativity for thousands of years.
Every experience, as you loop your way through the desert sands on this six-day self-drive tour from Alice Springs to Uluru, will connect you to the oldest living culture on Earth – starting with an art and cultural tour of Alice Springs, through to hearing the stories of Indigenous people on their homelands at Uluru and touring the area around Kings Canyon with traditional owners.
You'll even get the chance to create your own artwork, hunt for bush tucker and take part in traditional ceremonies.
Day 1: Alice Springs
There are few things more glorious than the views flying in to Alice Springs (Mparntwe), but once you touch down and take some time to appreciate the town's natural beauty, the Araluen Cultural Precinct is the obvious place to begin your art and cultural tour of the Red Centre and introduce you to Australian Aboriginal art. Home to landscapes painted by iconic Indigenous landscape artist Albert Namatjira, the gallery also features other significant works from the region and plays host to travelling exhibitions.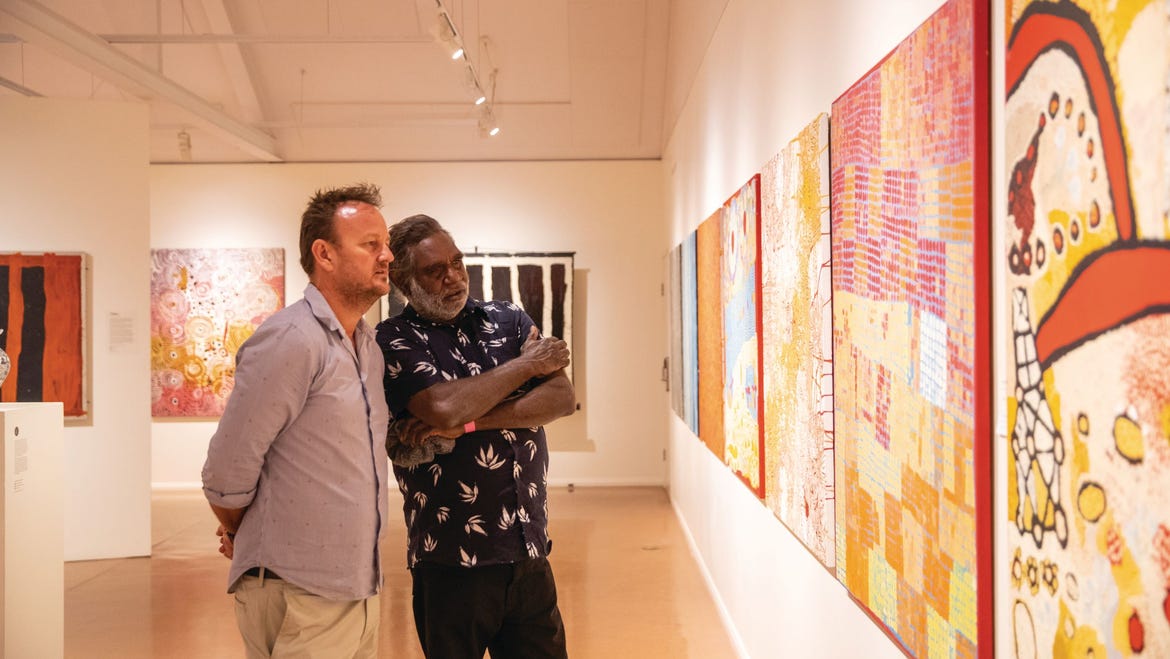 From here, venture up the road to Tjanpi Desert Weavers to marvel at (and buy) spectacular fibre art created by women of Central Australia, then on to Tangentyere Artists, home to a collection of artworks created out of town camps, where it's impossible to leave without at least one piece of recycled tin jewellery.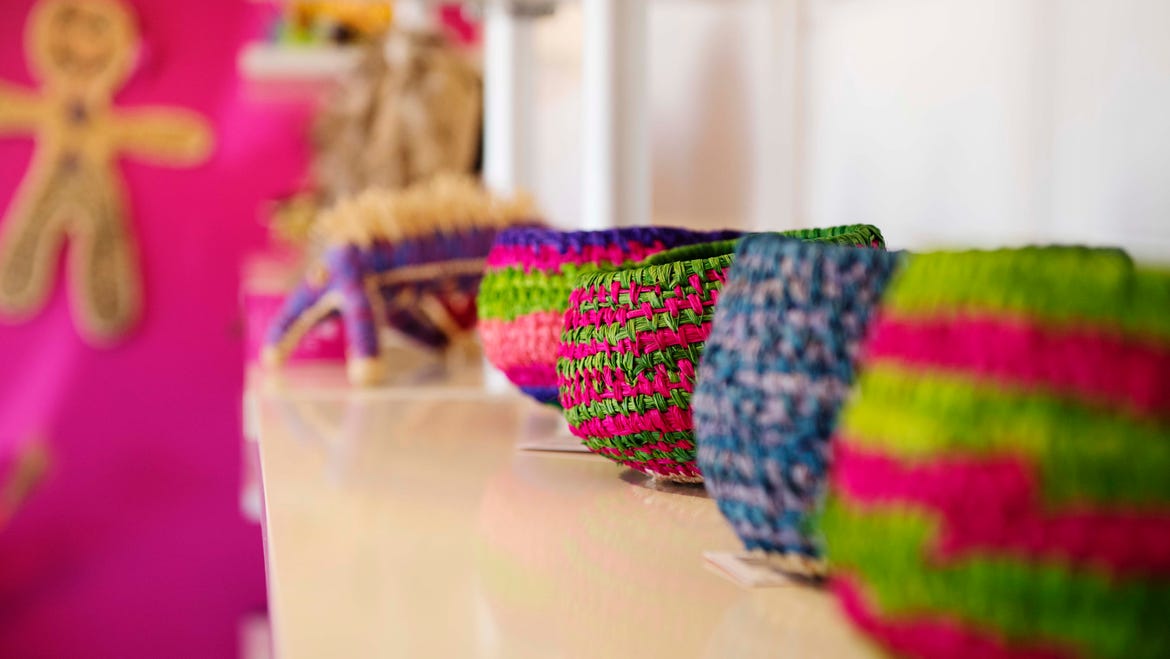 In the centre of town you'll find a myriad of creative spaces, among them Mbantua Art Gallery Alice Springs in the Todd Mall, which focuses on art from the Utopia (Urapuntja) region. If experimental art is up your alley, swing by Watch This Space, an artist-run gallery dedicated to contemporary experimental artists. Check out their program while you're in town – WTS regularly hosts outdoor movie nights in front of the gallery.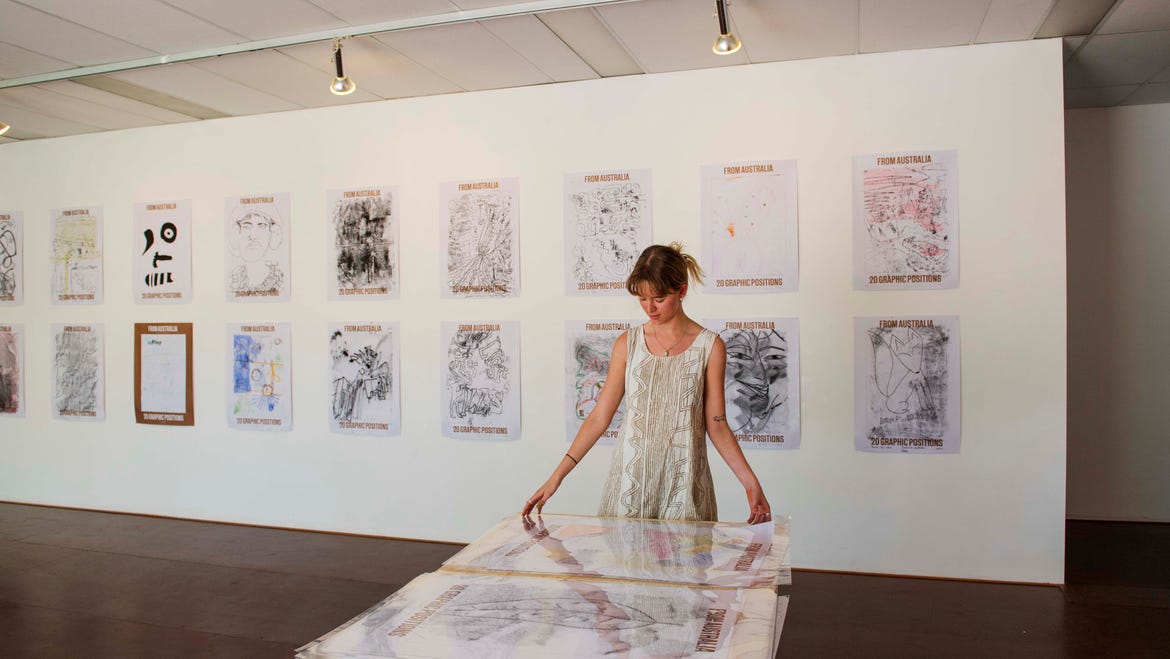 After a big day traversing the town's art scene, pull up stumps at the Crowne Plaza Alice Springs Lasseters, where you'll not only find a comfortable bed, but also a selection of restaurants and bars. Mercure Alice Springs Resort is also an excellent option, and if you're really in the outback spirit, try Squeaky Windmill – a boutique tent B&B on the edge of the West MacDonnell Ranges.
Day 2: Alice Springs to Uluru (468km)
There are several art stops on the road to the rock, including a traditional paper-making tour out of Curtin Springs. And, of course, there's an abundance of stunning landscape to capture on camera (or canvas) yourself.
Once you arrive at Uluru, there's a range of accommodation available, including Sails in the Desert (which has its own day spa), Desert Gardens Hotel (with views of Uluru), or ultra-luxury tented pavilions at Longitude 131 (where the royals stayed).
Make sure you're checked in with time to catch the sunset from one of Uluru-Kata Tjuta National Park's five viewing platforms, and once the sun has done its disappearing act, it's on to Ayers Rock Resort for the Field of Light.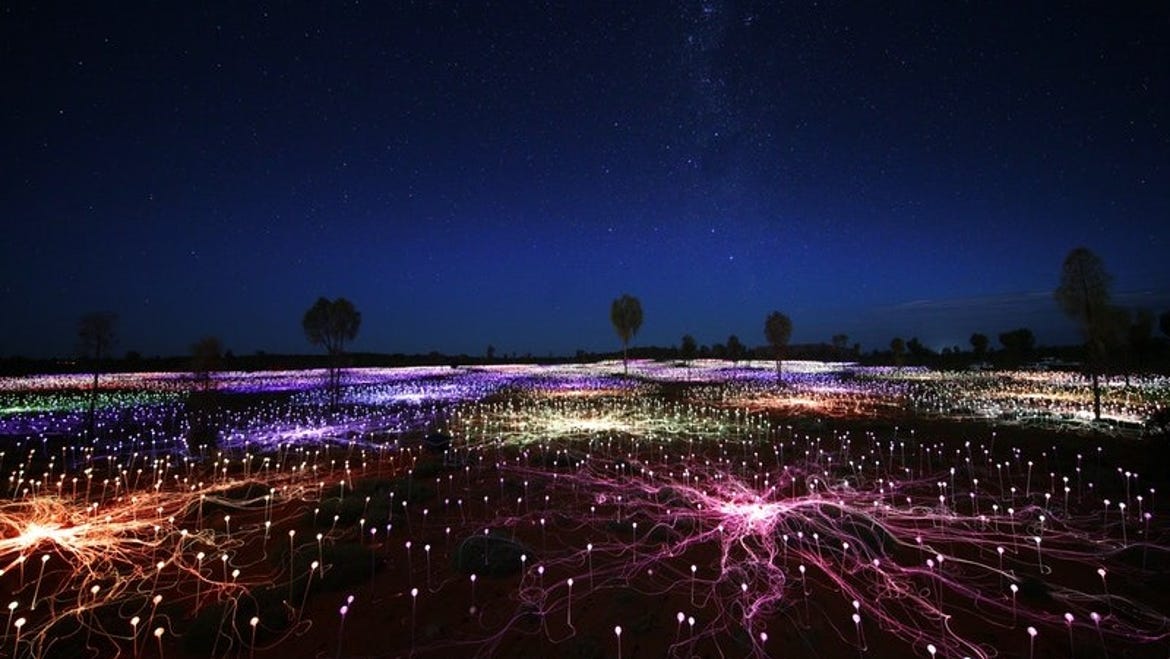 The installation by artist Bruce Munro uses 50,000 spindles of light to illuminate the desert, in what's referred to as Tili Wiru Tjuta Nyakutjaku or 'looking at lots of beautiful lights' in the local Pitjantjatjara language. You can team the experience with dinner and drinks or simply sit back at marvel at the interaction between art and nature.
Day 3: Uluru-Kata Tjuta National Park
Once you've done the mandatory exploration around the rock, make your way to the Cultural Centre in Uluru-Kata Tjuta National Park. Really immerse yourself in art and culture with Maruku Arts' dot painting, bush medicine or wood carving workshops, or by attending a dance ceremony.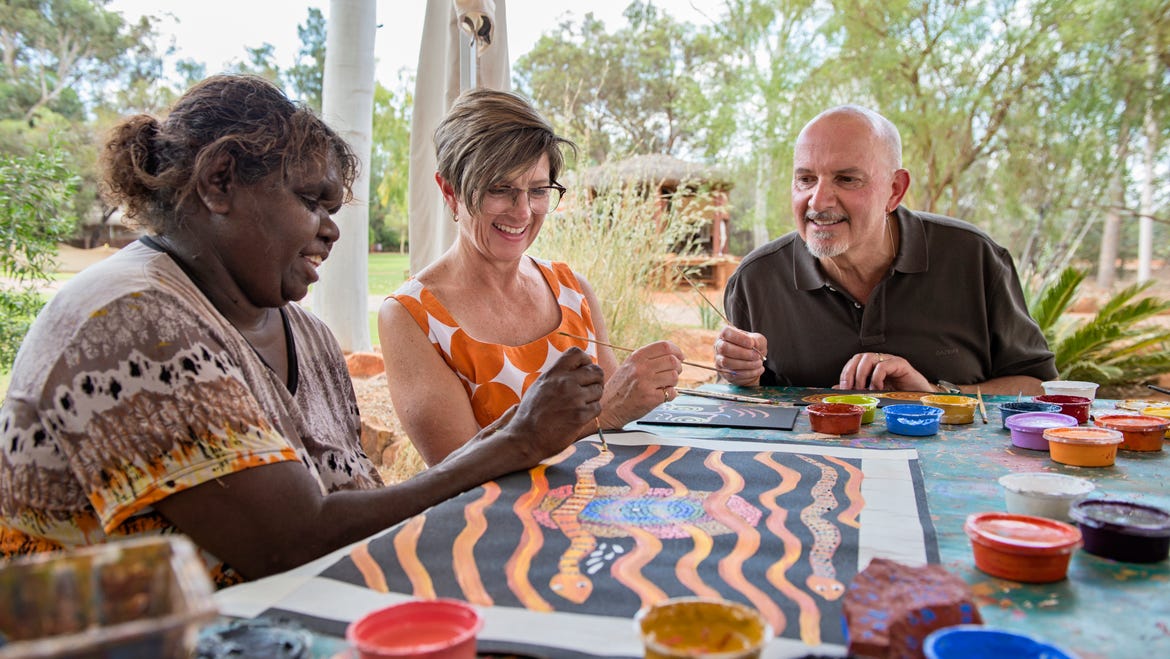 Next up, just outside the park you'll meet a traditional Uluru family on their homelands as part of the SEIT Patji Tour. As you travel by 4WD through their country, your local guide will share insights into their culture, history and personal stories – an unforgettable experience across a canvas of sand dunes.
Day 4: Uluru to Kings Canyon via Karrke (328km)
Once you've fuelled up, drive to Kings Creek Station where you'll find tasty lunch with a phenomenal outback backdrop. There's plenty of great, homemade tucker on the menu, but it's difficult to go past the café's specialty camel burger.
From Kings Creek, it's just a few minutes' drive to Karrke Aboriginal Cultural Experience & Tours, where you'll be offered a witchetty grub as part of a unique guided walk through Luritja and Pertame country. You'll learn more about bush medicine, bush tucker and the cultural significance of local art and artefacts.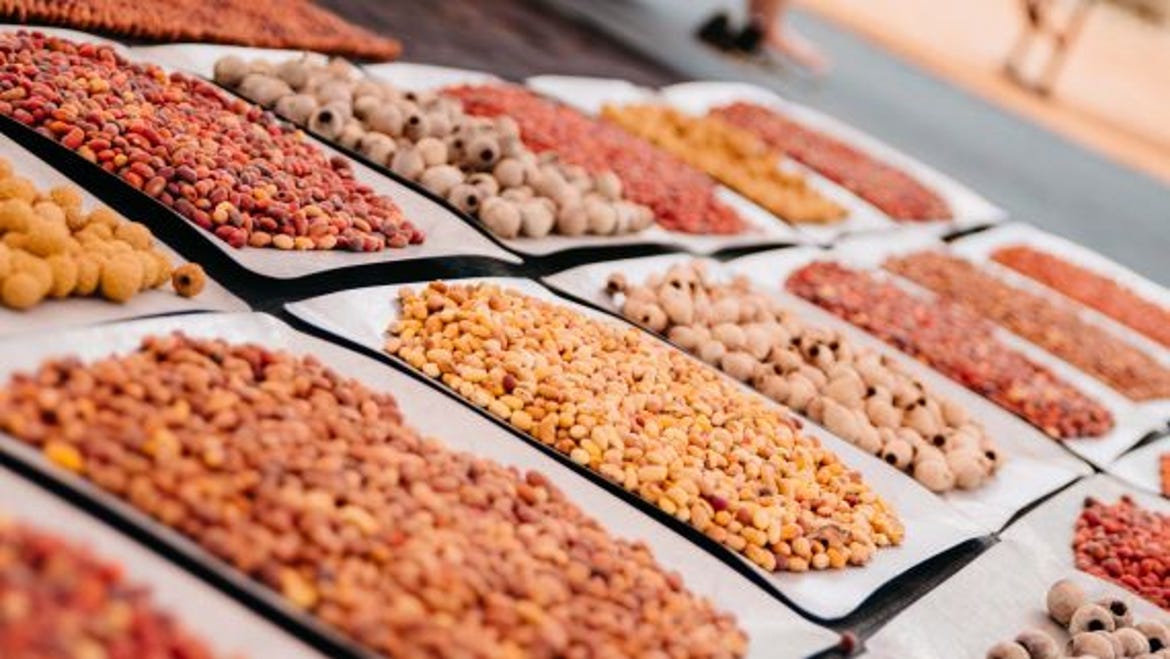 If Kings Creek Station made an impression, return there for a night in one of their luxury tents, otherwise drive on another 40km to Kings Canyon Resort. There's a choice of camping, glamping or resort rooms, and all of them put you in the heart of a staggering rugged landscape and right on the doorstep of Watarrka National Park. Remember to book accommodation well in advance.
Day 5: Kings Canyon to Alice Springs (332km)
Rise with the sun to take on the spectacular Kings Canyon Rim Walk – a challenging 6km circuit that ultimately rewards you with unparalleled views of the Lost City. Once you've recovered from the walk, it's time to hit the road.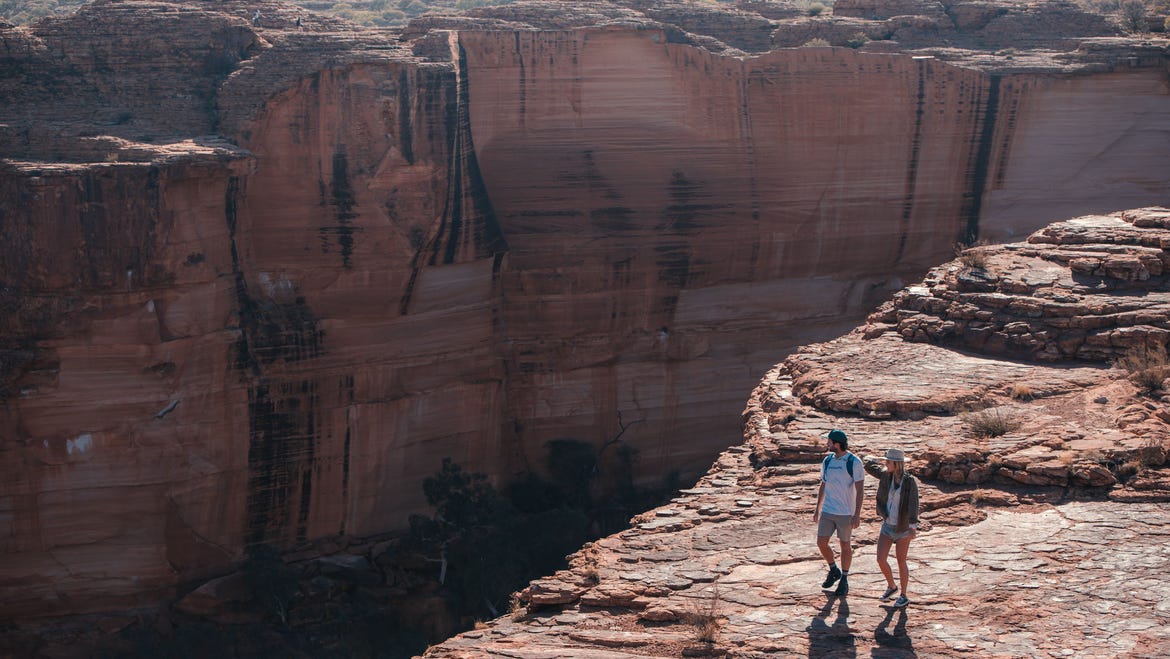 If your car is capable of taking on the unsealed Mereenie loop, strike out towards Hermannsburg, the remote community that sparked an important art movement and was home to Aboriginal landscape artist Albert Namatjira. Stop in at the Kata Anga Tea Rooms and the Namatjira Gallery in the Hermannsburg Heritage Precinct to see some of Namatjira's watercolours alongside the internationally renowned Hermannsburg Potters, whose dazzling handmade ceramics decorated with vibrant sculpted animals, landscapes and bush tucker is available for purchase.
If your car is better off sticking to sealed roads, take your time exploring Kings Canyon before heading back to Alice along the Stuart/Lasseter Highway.
Day 6: Alice Springs
Having made your way through a significant part of the Red Centre and gained a stack of art and cultural knowledge of the region, you'll find it easier to choose an artwork that speaks to you upon your return to base camp of Alice Springs.
If you plan on exploring a bit further afield, a 20-minute drive west will be rewarded not only with the scenic beauty of the West MacDonnell Ranges and Simpsons Gap, but also allows for a visit to Kathleen Buzzacott Art Studio. Make an appointment ahead of time and Kathleen will be on hand to take you through her studio and her process. Her fine Central Desert dot painting style and contemporary handmade jewellery is for sale on site.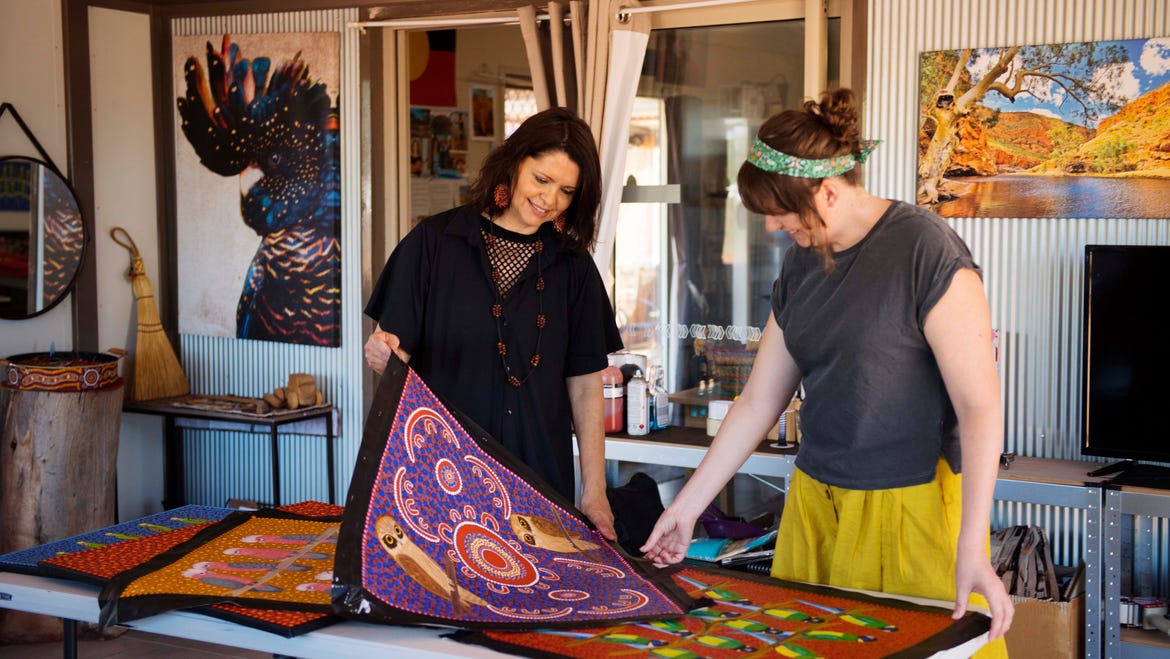 Then, set aside some time to relax by the pool at your hotel, and end your Central Australian adventure by taking in a memorable sunset over the MacDonnell Ranges from Anzac Hill.
For more travel planning ideas, check out these itineraries.