From sparkling Darwin Harbour and the Mary River wetlands to the Tiwi Islands and the Dundee Coast, the Darwin region is an angler's paradise.
Darwin bluewater
Darwin sits on a peninsula and is surrounded by seas on three sides. On the western side is the huge Darwin Harbour, on its north side is the Timor Sea; and to its east is Shoal Bay. There are numerous boat ramps that service each of these three bodies of water, providing easy access to blue water. One of the advantages of so many access points is that you can always launch or retrieve out of the wind – there's always a lee shore.
The quality of bluewater fishing out of Darwin is exciting. The annual spanish mackerel and longtail tuna run through the dry season and give anglers the chance to enjoy some wonderful light-to-medium tackle sport fishing. During the calm months of October to December, heading out to troll baits for sailfish and marlin is a serious option. And you can bottom bounce for those favourite top end reef fish, the black jewfish and golden snapper, for practically the whole year.
Darwin has a great range of facilities for visiting anglers. Daily bluewater charters depart Cullen Bay Marina, and professional fishing guides can pick you up from your hotel for a one-day or extended barra fishing tour. There are also a number of boat hire outlets and tackle shops.
Darwin estuaries
Darwin Harbour is a huge mass of water, many times bigger than Sydney Harbour, making it very easy to find your own space. It's also a vast network of prime barramundi habitat. There are three major arms attached to the main harbour and several other inlets as well. Barra, juvenile golden snapper and a variety of other estuary species can be caught in each of them.
Several sunken warships, bombed by the Japanese in air raids on Darwin in 1942, make great artificial reefs. Other shipwrecks include boats tragically sunk during Cyclone Tracy in 1974. In these areas, the harbour is blessed with excellent black jewfish.
North-east of Darwin, Shoal Bay and the Howard River are also top barra locations with boat hire and secure parking available for a fee. Large barramundi are regularly caught at 'the rock' in shoal bay during the build-up. The area is also renowned for great mud crabbing.
Guided barra and/or reef fishing trips in the harbour are available, and there's secure parking at both Buffalo Creek and Leaders Creek boat ramps to the north.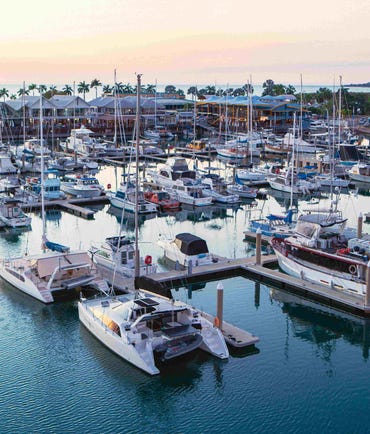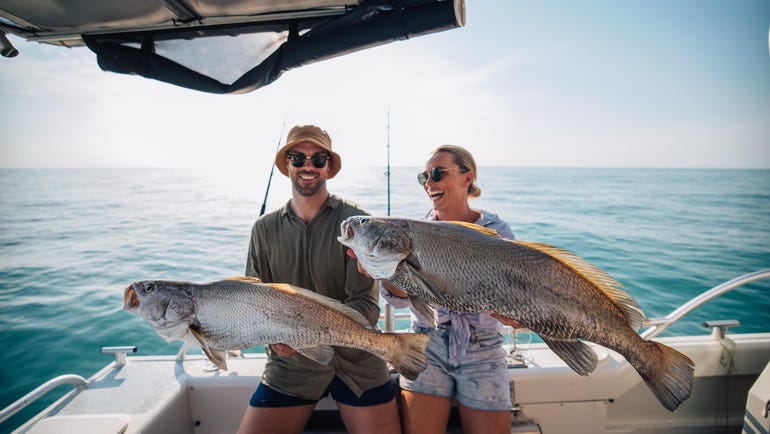 Bynoe Harbour
Less than two hours' drive south-west of Darwin is the large estuary complex of Bynoe Harbour. There are several points of access, including boat ramp access, and literally dozens of mangrove creeks, inlets and bays; all well worth a try.
Barramundi is one of the most popular target species for anglers fishing bynoe, but it's also well known for catches of threadfin salmon, mangrove jack and pikey bream, and has excellent mud crabbing.
There are several deep holes that fish well for black jewfish in Bynoe Harbour. Further out is Indian island, then a series of small islands just a bit further offshore offering a variety of sport and reef fish. The islands are also a good stepping stone to bass reef out on blue water, which is recognised in Darwin as a spanish mackerel hot spot during the dry season.
Drive-in lodge and caravan park accommodation is available, as well as guided fishing and boat hire. Darwin-based professional fishing guides also visit the area.
Dundee Coast
The area from native point to the Perron islands is referred to as the Dundee Coast. By road, it's about two hours from Darwin and by sea it's less, depending on weather conditions. The Dundee Coast has a reputation for the best bluewater fishing easily accessed from Darwin.
There's a boat ramp at Dundee Beach, and tractor hire to launch and retrieve boats. Nearby rocky points and exposed reefs are ideal for small boat fishing, and some very big jewfish get caught less than two kilometres out. Barramundi are also caught along this coast, and shore fishing at the top of a big tide is good for blue salmon.
Out wider, both coral trout and red emperor are regular catches, spanish mackerel can eat you out of the boat at times, and cobia are often prolific.
Camping, caravan and lodge accommodation are available, as well as bluewater charters and boat hire. Mothership fishing cruises are also an option in this area and further west along the coast, most providing all accommodation and meals on large, comfortable vessels.
Adelaide River
Access to Adelaide River is 70 kilometres east of Darwin via the Stuart and Arnhem Highways. The river is easily accessed from a concrete boat ramp just upstream from the Adelaide River bridge. The river has many creek mouths that can be fished for barra during both the tropical summer months and the run-off period.
Upstream, around Goat Island, there are submerged rock bars that fish well through the dry on neap tides when the water is usually fairly clear. Around the river mouth, there's excellent fishing for jewfish, golden snapper and saltwater barra. Succulent mud crabs can also be taken from this area throughout most of the year.
Guided barra fishing trips to Adelaide River are available from Darwin, and there's bungalow accommodation on Goat Island, approximately 20 kilometres up the river from the Arnhem Highway boat ramp.
Mary River
With several tidal and billabong barramundi fishing options, all less than two hours' drive from Darwin, the Mary River system has much to offer the visiting angler. For starters, the famous Corroboree Billabong offers boat ramp launching into 45 kilometres of fishable water, and a range of native wildlife and aquatic bird life as good as you'll experience anywhere in the tropical Top End.
Shady Camp provides boat access to vast mangrove-lined sections of Sampan Creek and Tommycut Creek. From February to May every year, large barramundi are caught trolling at the mouths of both creeks, and also along the coast of the Van Diemen Gulf, wherever there's run-off into Chambers Bay.
On neap tides, boating a few kilometres offshore from the river mouth will place you in the vicinity of shallow reefs, which are home to schools of black jewfish. Tides are critical, and you need to time your departure and return with the top of the tide.
Accommodation in the Mary River area includes a lodge, bed and breakfast, budget hotel, caravan sites and camping areas. Houseboats and fishing dinghies are available for hire, and professional fishing guides operate for most of the year, including from motherships during the run-off.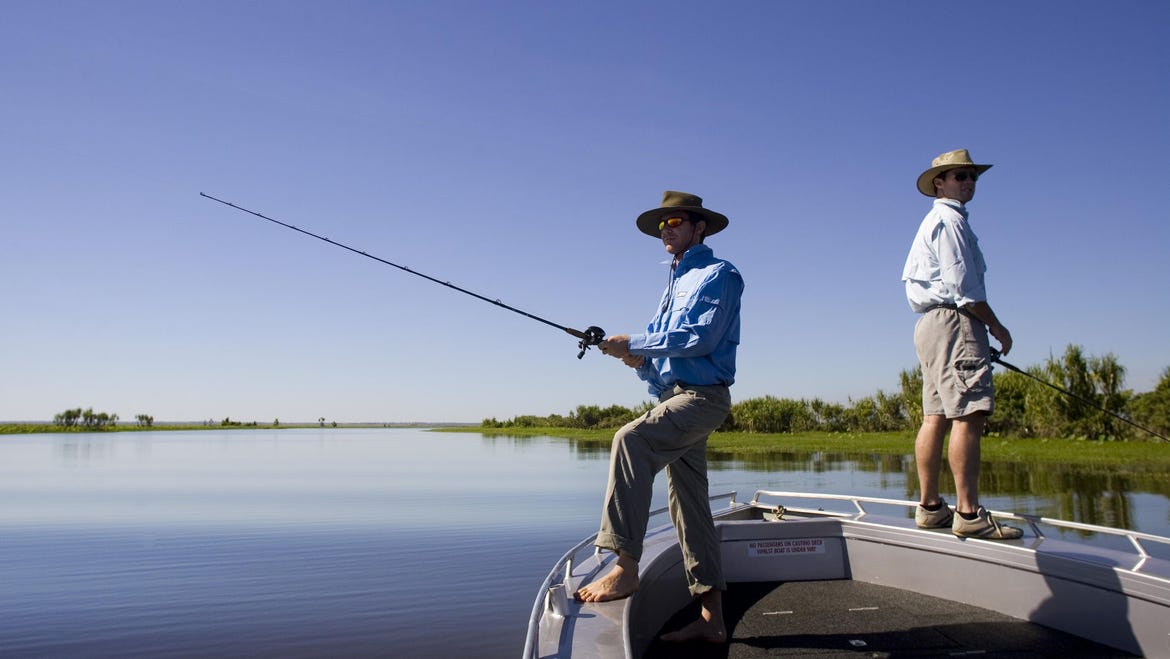 Tiwi Islands
Bathurst and Melville Islands, known as the Tiwi Islands, lie about 80 kilometres north of Darwin. There's some wonderful estuary fishing for barramundi, salmon and mangrove jack, and excellent bluewater fishing around the rocky headlands for queenfish, giant trevally, golden snapper, and black jewfish. Marlin and sailfish are caught in the areas known as the 'bathurst trench' to the north-west of Bathurst Island, afghan shoals south of Cape Fourcroy and around Shepparton Shoals to the west.
As with most Aboriginal-owned land, access is not allowed without a permit. However, recognising the attraction of their waters for anglers, the Tiwi Land Council and local traditional landowners have established streamlined access and permit procedures. For further information, visit the Tiwi Land Council page.
Accommodation options include lodge and safari tent accommodation, both with guided fishing. Travel is by light aircraft or ferry from Darwin. Darwin-based fishing guides and motherships with guided fishing also regularly visit the Tiwi Islands.
Fishing charters around Darwin
Your search returned no results. Please try again.
[carousel hero="false" rotateheadings="true" smallheight="true"][slide image="/-/media/images/modules/hero/crocwise/crocwise_bg_231f20.png" imagealt="crocwise background" butttontext="Download PDF guide" buttontarget="_blank" buttonurl="https://nt.gov.au/__data/assets/pdf_file/0006/202587/fishing-and-boating.pdf" video="" slidecontentoverride="" heading="" subtitle="" introtext=" Be Crocwise on the water To find our how to be Crocwise while fishing and boating, download our handy PDF guide." captionlink="" captionlinktext="" darkenimage="false" headingoverride="" renderh1="false"][/carousel]