Le vivide acque profonde del Northern Territory sono sede di alcune delle migliori esperienze di vela in Australia, per non parlare degli incredibili tramonti.
Sailing & cruising around Darwin Harbour
Being a coastal town, one of the best ways to see Darwin is from the harbour. Enjoy the turquoise waters of the Timor Sea during the day aboard SeaLink's daytime sightseeing cruise. There's live commentary about the city's historic wharves and landmarks, the wartime bombing air raids, and the remnants of WWII. Appreciate the scenery on a leisurely City of Darwin Cruises 2.5 hour private daytime cruise that's set on an eco-sailing vessel powered by wind alone.
You can watch the sky come alive at night with the City of Darwin's BYO sunset sailing cruise, or choose their all-inclusive deluxe experience package. Sail in modern luxury with full shade and a 360-degree view illuminated by mood lights.
Sea Darwin has diverse sunset cruising options for all, so you can enjoy the world-famous sunsets put on a show you won't get anywhere else. Their affordable Sunset Fish 'n Chips Cruise is a great way to spend some time with the family on Darwin's shores. Feel the breeze brush against you as you snack on the included serve of fresh fish and chips with a complimentary glass of champagne, water or soft drink for the kids. A stubby cooler or wine glass is an optional souvenir to take home after you've finished.
If you're looking for fine dining on the water, Cape Adieu's sunset dinner cruise gives you the finest Australian produce served beautifully on platters. From wild caught seafood to a scotch fillet steak, the cruise delivers a three course experience of Territory delights.
Sail Darwin operates a 3 hour champagne sunset sail on a spacious and comfortable catamaran. Sip away at the unlimited Australian sparkling wine provided as the Sundancer cuts its motors and sets sail in silence. Eskys are available if you bring your own drinks, so you can accompany your 8 course tapas-style dinner with your choice of beverages.
Darwin Harbour Cruises vessel provides 3 floors of comfort to choose from, including alfresco or inside dining, all giving spectacular vantage points for sunset photography. Get comfortable as you enjoy a delicious Territory-style buffet on Darwin's tropical waters.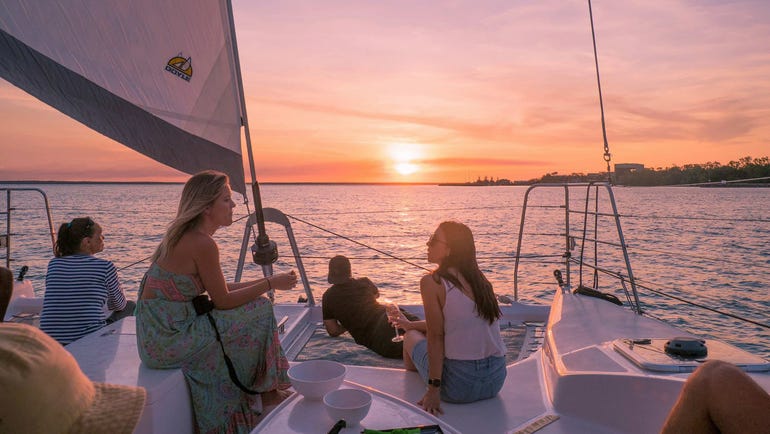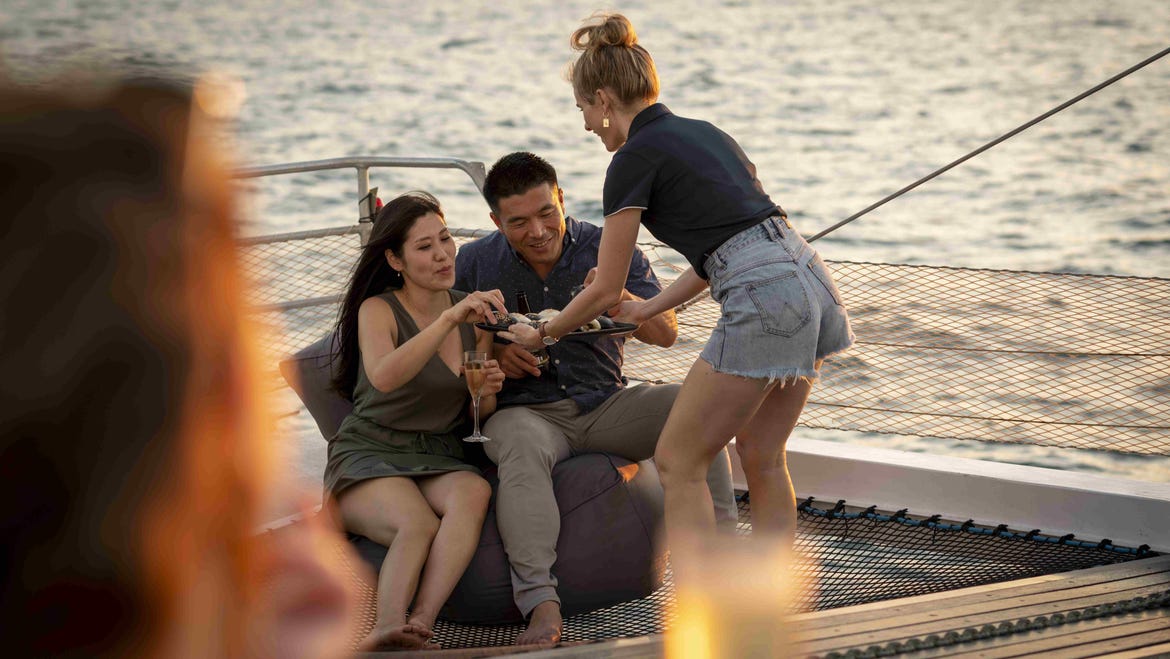 The Bombing of Darwin's historical cruise will take you through the most iconic wartime sites along our shores. Sea Darwin also offers a WW2 by land and sea cruise which includes a land tour followed by a one hour boat cruise.
Darwin is one of the most significant pearling ports in the world. Climb aboard a pristinely restored pearling lugger on Streeter Cruises and take in the sunset while listening to the history and intrigue of Darwin Harbour.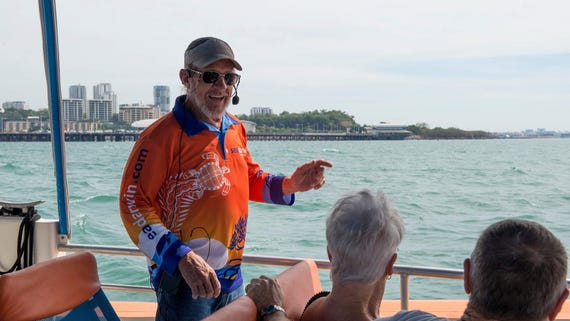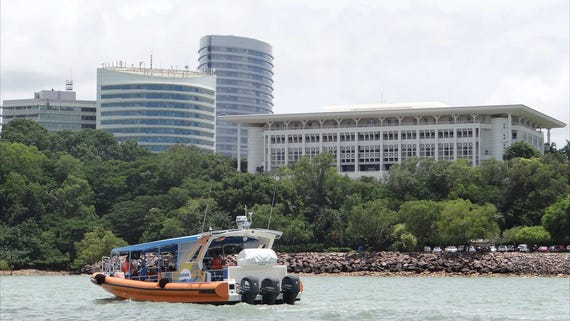 The Darwin Sailing Club in Fannie Bay not only has a beautiful sociable ambience, it also extends sailing courses to kids and adults. Whether you're experienced or just a beginner, book a lesson in their flexible sailing calendar to learn from an experienced instructor first hand. Private lessons are also available for groups so you can sail on your own terms.
If your visit to Darwin coincides with Territory Day (1st of July), look out for firework cruises where you'll get an exclusive view of the public fireworks display at Mindil Beach. Afterwards, you can sail back to the harbour as the people of Darwin light up their own crackers and celebrate the anniversary of self-government.
For a short day trip, jump on the SeaLink ferry from Cullen Bay and head over to Wagait Beach. Landing on the Mandorah Jetty, you're free to drop a line, wander the beaches, check out the wartime relics or head to the Cox Country Club for a cold beer and a meal.
Bare Sand Island is located off the coast of Darwin and is used as a nesting area by Flatback and Olive Ridley turtles. The Sea Darwin Turtle Tracks cruise is timed to coincide with the lunar cycle and the laying and hatching of eggs at dusk. Included in your ticket is your boat ride, guided tour, dinner and drinks and a contribution to AusTurtle to fund ongoing sea turtle research. It's a once-in-a-lifetime experience with tickets selling out fast so make sure you book ahead.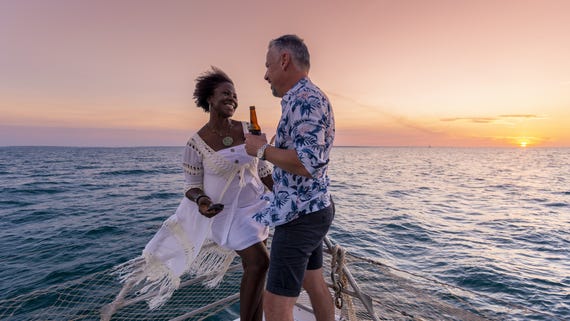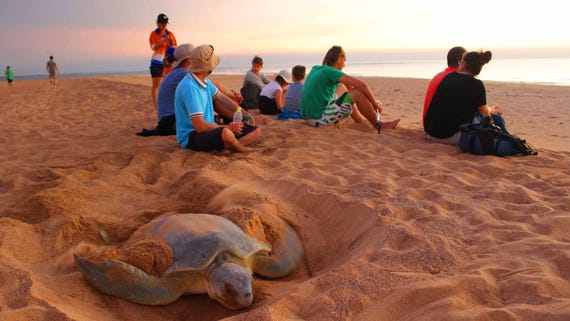 Sailing & cruising beyond Darwin
Beyond Darwin lies a sailing and cruising paradise with thousands of kilometres of unspoilt beaches.
Tiwi Islands
Fancy getting away from the hustle and bustle of the city? Just a few hours' ferry ride away is the Tiwi Islands, a group of small islands with tens of thousands of years of Aboriginal heritage. SeaLink offers a Tiwi Islands Day Tour that covers the return ferry ride. It includes walking tours with a local guide, a visit to Tiwi Design with traditional damper morning tea, a mission precinct visit and then a screen printing workshop. Whatever you make at the printing workshop is yours to take home as a souvenir.
Arnhem Land
Arnhem Land has some of the best beaches you'll see in Australia, so if you're an experienced boatie, hire a vessel from Gove Boat Hire and set sail. If a guided tour is more your style, Bremer Island Cruises offers day tours where you'll enjoy a fast boat ride to Banubanu Beach Retreat followed by lunch at the resort.
While you're in Arnhem Land, jump on Wildcard Luxury Cruises 20-metre exclusive charter around the Wessel Islands, off the coast of the Northern Territory. As well as a comfortable sail around uninhabited islands, you'll be able to visit sandbars, waterfalls and culturally significant sites.
The Timor Sea
For true lovers of sailing, Sail Darwin can take you on a longer trip, from overnight escapes right through to extended sailing for up to 14 days across the Top End. You'll see the vast Territory coastline including Bare Sand Island, Bynoe Harbour, and the Tiwi Islands. You can also add-on sites further afield including the Kimberley coastline, Coburg Peninsula, East Timor, the Spice Islands and more.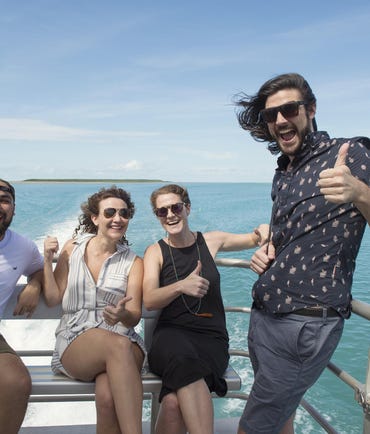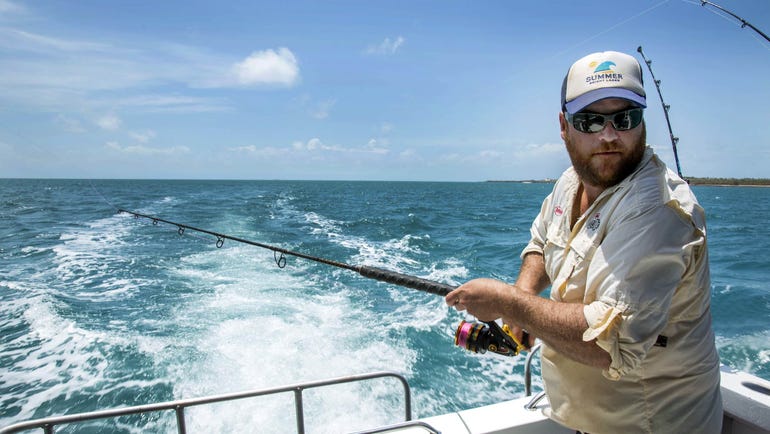 Crociere e gite in barca a vela nel Northern Territory