A local's bucket list for Nhulunbuy
When you connect with East Arnhem Land's vast untouched wilderness and ancient Aboriginal culture, you'll uncover a part of Australia you probably didn't know existed.
Cruise through the mangrove-lined rivers; cast a fishing line into azure coastal waters; walk with a guide along the pristine white-sandy beaches and kick back at sunset with views over the rich-red rocky cliffs as the hustle and bustle of city life disappears.
Get an overview of the region, its history and Yolngu stories at Roy Marika Lookout on the summit of Nhulun (Mount Saunders), a brief walk along the trail from town. Enjoy the panoramic vistas of Gaynaru Wetlands (Town Lagoon) Gove Harbour and coastline.
Follow the walking trail through the beautiful paperbark forests of the culturally significant Gayngaru Wetlands, once a popular hunting spot for Yolngu. Stand in awe of the tranquillity, abundant wildlife, including crocodiles and barramundi, and bountiful birdlife from blue-faced honeyeaters to splendid falcons soaring overhead from the bird hide and viewing platforms.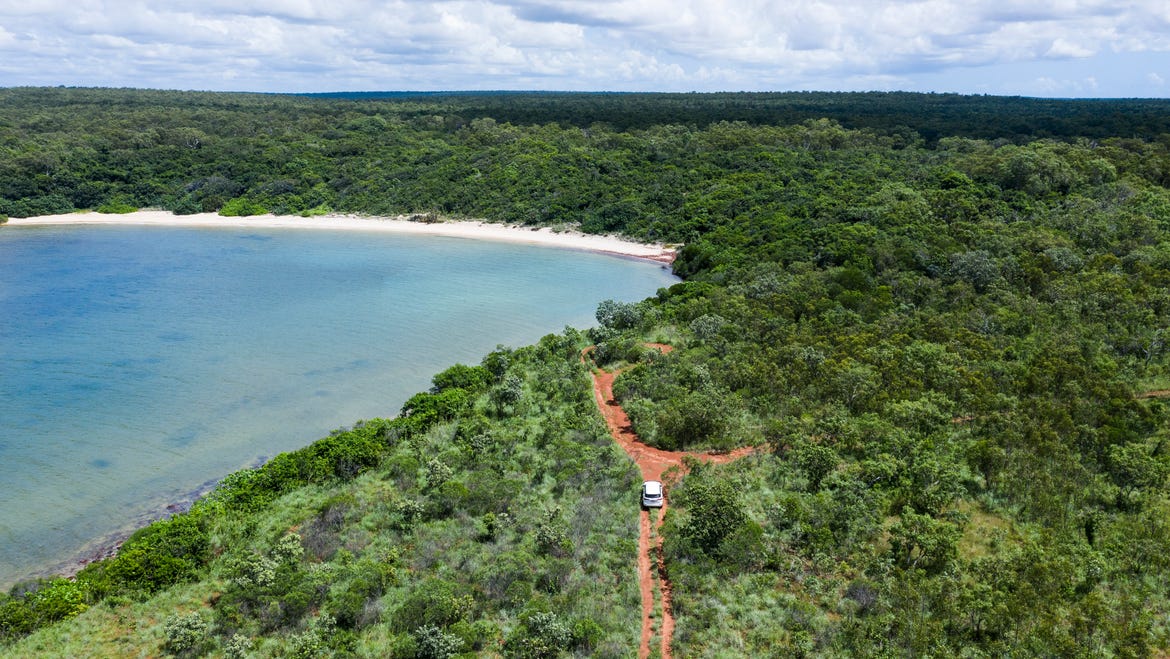 Capture spectacular sunrise or sunset photos from the sand dunes of Wirrwawuy (Cape Wirrawoi), 5km from town. Further along this stretch of beach find casuarina tree-shaded Middle Beach and Galuru (East Woody Beach). The white beaches contrast the warm blue waters and rust-red rock cliffs and are popular with families taking an afternoon stroll and for fishing. Walk the sandspit to Dhamitjinya (East Woody Island) for uninterrupted, breathtaking 360° views of the coastline.
The closest beach to town is Gadalathami (Town Beach). Facing the Gulf of Carpentaria, access is via the Walkabout Lodge, Gove Peninsula Surf Lifesaving Club or the Gove Aquatic Centre. Here you'll find locals and their four-legged friends strolling in the evening.
Take a 35-minute drive to Garanhan (Macassan Beach), where there's a long history of Yolngu trading trepang and turtle shells with the Macassans until the early 1900s. See the stone pictures that tell these stories. There are picnic tables, fire pits, composting toilets and camping allowed here (with a permit). Near Gove Airport is the turnoff for Banambarrna (Rainbow Cliffs), a sheer 40m, colourfully-weathered laterite cliff face. Walk along the beach to view them, as standing on top is not allowed as it's a sacred site.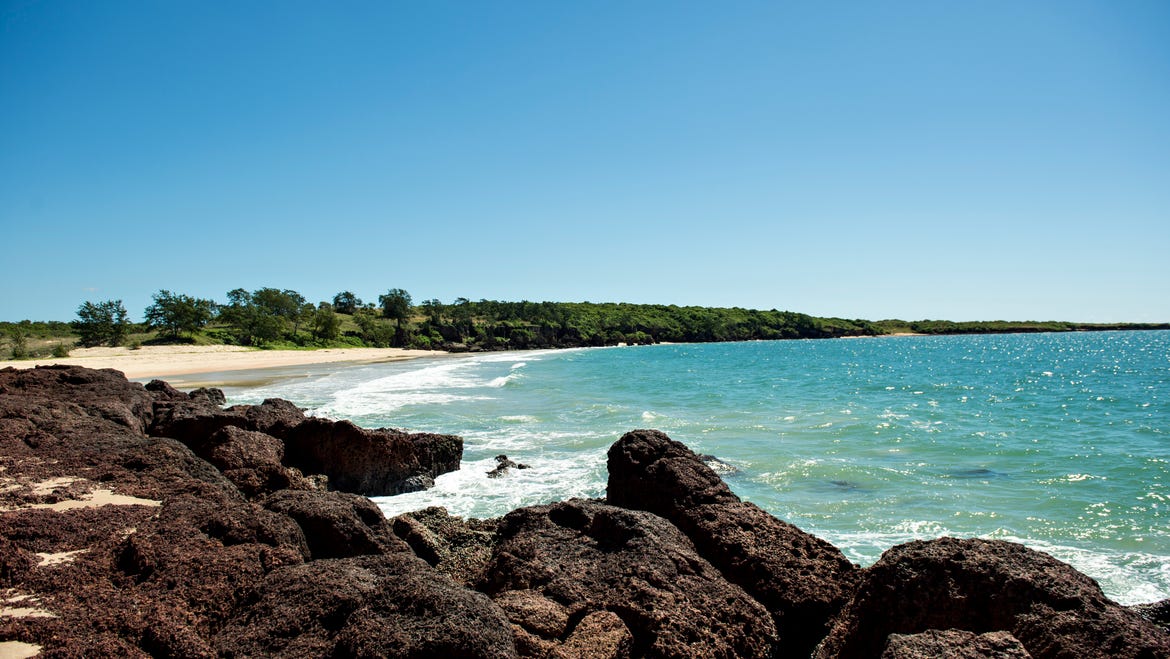 Immerse yourself in Yolngu life with locally owned and operated Lirrwi Tourism. From one day or multi-day tours you'll visit a homeland or two, learn first-hand about their culture, stories, connections to the land and sea, how to spearfish, crab, hunt, gather bush foods, weaving and more.
Yolngu artists are renowned for their excellent bark paintings, screenprints, wood carvings, didgeridoos and memorial poles. View it all at Buku-Larrngay Mulka Art Centre, Yirrkala, 19km from town. Visit the museum, see artists producing masterpieces and find the perfect souvenir to take back home with you.
You'll find your own relaxing, island paradise nestled on Bremer Island — Banubanu Beach Retreat, a 15-minute flight from Gove Airport or by boat. Bremer Island Cruises offer day trips to the island where you can enjoy a fresh fish and chip lunch and stroll along the beach, as well as sunset and harbour cruises, especially popular with locals and non-fishers.
Banubanu has six exclusive eco-beach glamping suites with sweeping Arafura Sea views. Meals are locally grown flavoursome seasonal food and freshly caught seafood. Your only neighbours are the turtles!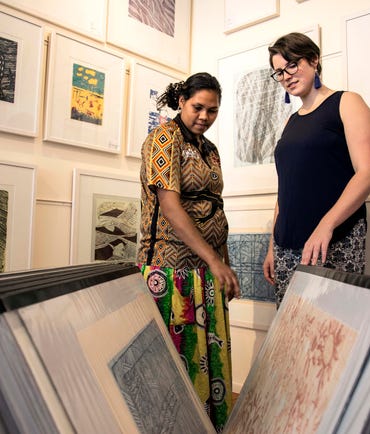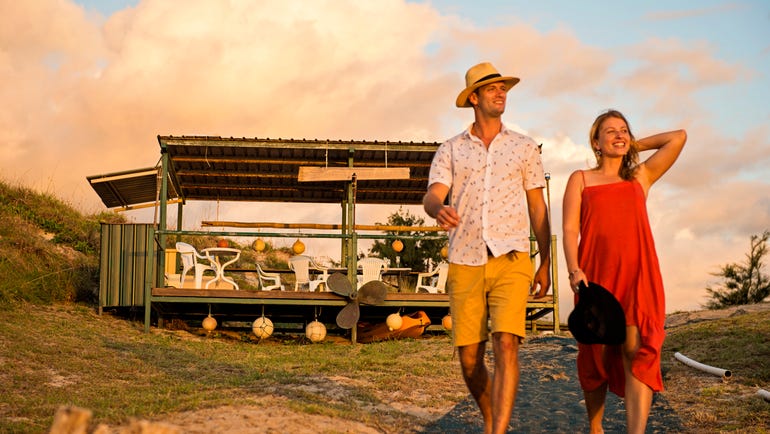 The waters around Nhulunbuy are laden with top fishing opportunities, and there's no shortage of qualified local operators to share their expert knowledge with you either. Nomad Fishing Tours, East Arnhem Fishing Adventures and R & G Charters offer half and full-day charters.
Serious anglers should join an Australian Sportsfishing Charter, staying multiple days on the remote waters aboard the ship, enjoying personalised fishing from sun-up to sundown, followed by hot showers, comfortable beds and delectable meals, including mud crab! You'll see, catch and taste it all. What the freedom of going out on your own? Hire your own full-equipped vessel with Gove Boat Hire. For those who love the sound of adding a touch of luxe to the experience, check out the multi-day cruise options offered by Wildcard Luxury Cruises – departing from Nhulunbuy. There are plenty of options for fishing tours in Arnhem Land.
If you want to experience more of Arnhem Land, then join an Outback Spirit tour — they operate a 13-day trip from Nhulunbuy to Darwin visiting significant Aboriginal communities, experiencing authentic cultural activities and staying in luxurious safari camps and wilderness lodges along the way. This is a trip of a lifetime.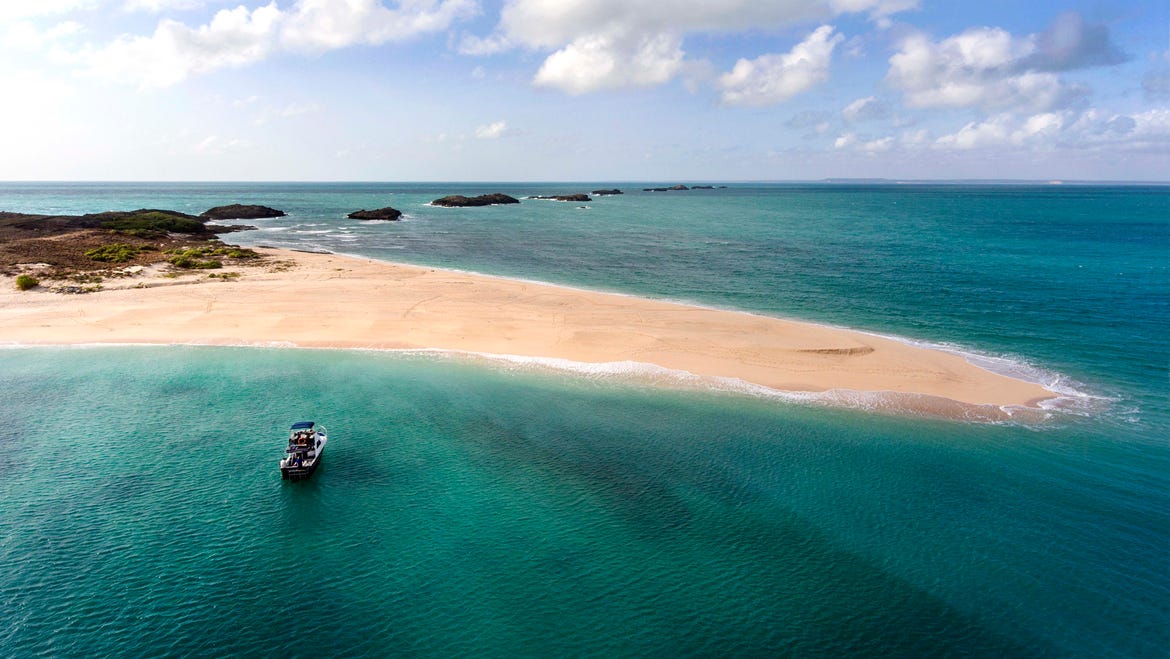 Where to eat
Not only is the Gove Country Golf Club a picturesque nine-hole grass course, (commonly called Australia's Top Golf Course — because of its location), its licensed clubhouse has magnificent beach views and sensational meals. Get to know the locals over a coldie at sunset.
Enjoy good breakfasts, lunches and dinners from pizzas to steak and seafood poolside, or in air-conditioned comfort at Latitude 12, Walkabout Lodge. For a range of delicious homemade pizzas visit Gove Pizza and Café. Or enjoy the thin, crispy pizzas from the Roaming Flames Pizza mobile wood-fired pizza truck. Make sure to ask a local where the truck is scheduled to be on the coming Friday evening.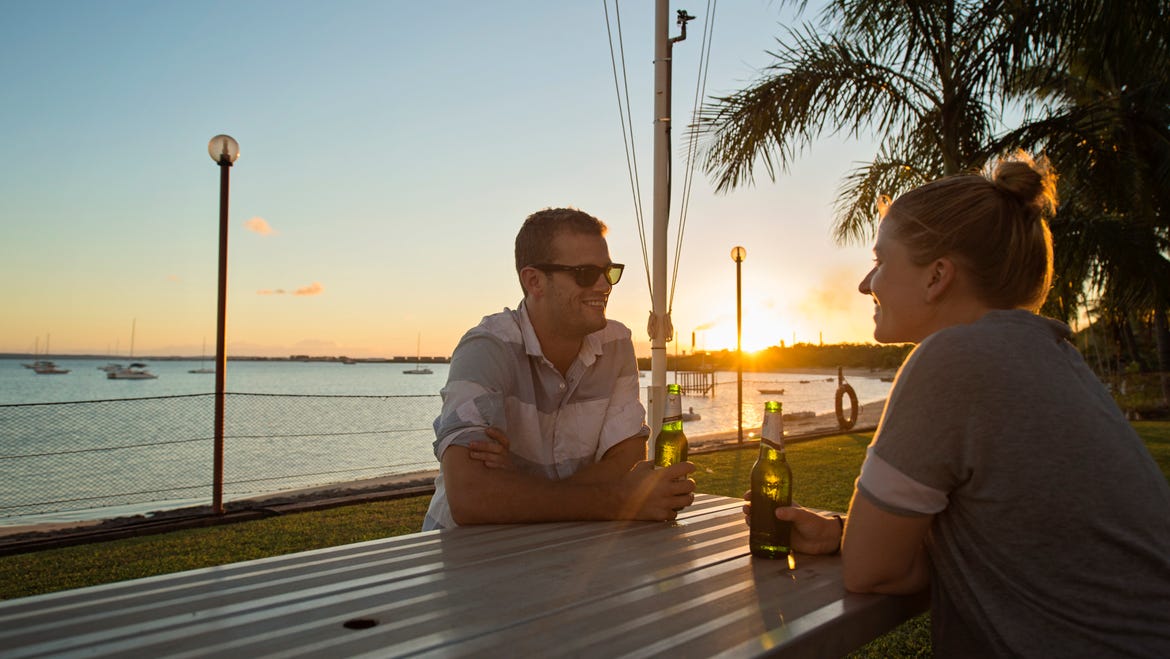 Peninsula Bakery and Café is a hidden gem offering fresh bread, pastries, cakes, sandwiches, burgers and eye-opening good coffee. Don't let the rustic décor and quirky outdoor furniture fool you; the Refinery Café has fabulous coffee along with excellent, healthy breakfasts, brunch, lunch and vegetarian options.
Get your Asian cuisine fix at Kamayan Café, from deliciously fresh rice paper rolls, sushi and wonderful wok stir-fries to fresh salads, crispy fish and chips, juices and great coffee. The best spot to enjoy the magic of Nhulunbuy, its sunsets, socialise with the locals and a good meal is the Gove Boat Club. Let the ocean breezes blow over you in this tropical haven.
Local events
Garma Festival is a vibrant celebration of Yolngu culture, art, story-telling, song, dance and ceremonial traditions held over four days. It's Australia's foremost Indigenous event and showcases a slice of life in remote communities.
The annual Ladies Fishing Classic is estimated to be Australia's largest ladies fishing competition and is held annually between March–April.
Plan your flight or drive options on the East Arnhem Land visitor site.