9 fantastic experiences in the wild city of Darwin, Australia
I was barely off a 20-hour flight before I was face-to-face with the biggest crocodile I've ever seen. Mere inches away from my own gaping mouth was a maw full of teeth as long as my fingers and the golden eye of an apex predator focused on my tender meat suit with what I was convinced was hunger…
Encased in a transparent plastic "cage", I watched as the giant saltwater crocodile circled around me, its massive body barely making a ripple in the water. With a 3-tonne bite force, this ancient creature is the ultimate stealth hunter — and I was in the water with him in the aptly named "Cage of Death" at Crocosaurus Cove in the Northern Territory city of Darwin, Australia.
As a hosted guest of Northern Territory, Australia, Darwin was my home base for nearly a week. This city of roughly 150,000 is full of casual beaches, art galleries and museums, Aboriginal culture, buzzing night markets, an international and exciting food scene, and friendly folks.
So, if you find yourself craving adventure, fun, and balmy days, here are 9 fantastic experiences in the wild city of Darwin, Australia.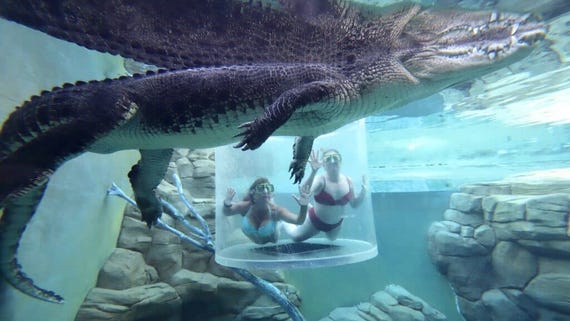 1. Crocosaurus Cove
The giant saltwater crocodiles of Australia are creatures of myth and legend, and at Darwin's Crocosaurus Cove, you can come face-to-face and learn fascinating facts about these fearsome creatures.
Home to the world's largest display of Australian reptiles, the Crocosaurus Cove Reptile House lets you meet and even hold reptiles of all shapes and sizes, while the new Whipray Encounter lets you learn about this little-known 6-foot-long freshwater species of stingray.
In addition to educational programs, giant crocodiles, photoshoots with baby crocs, and reptile shows, by far the most popular and extreme experience is the famed Cage of Death, where brave souls are lowered into the water with one of the saltwater crocodiles named Wendell, Baru, Leo, William, or Kate for 15 minutes. The controlled and safe environment promises to be a memorable experience for the visitor while adding enrichment activities for the croc.
This was by far one of my favourite experiences in Darwin. While my friend and hostess Alice braved her terror of the salties in the cage with me, I had my face plastered to the walls of the cage, fascinated with the sensation of being this close to one of the world's fiercest hunters.
Pro tip: This is an extremely popular experience, so book your Cage of Death appointment as early as possible. Be sure to bring a swimsuit because you'll be about chest-deep in water, holding your breath to dip below the water to gaze upon the croc. You'll also have to be able to climb up and down a ladder to get into the cage.
2. Explore Darwin's Waterfront Precinct
Take advantage of the free recreation, live music, great food, and a stellar view of Darwin's harbour at the Darwin Waterfront Precinct, a kind of community meeting place filled with fun, shopping, and events.
The Waterfront Beach Club and the Wave Lagoon are fun ways to enjoy the water without worrying about crocs or stinging jellyfish. The Wave Lagoon is open daily from 10am to 6pm and features 43,000 square feet of water, including a shallow water play area for younger children.
The Recreation Lagoon at the Waterfront is Darwin's only man-made beach lagoon, but you can also enjoy an Aqua Park, public playgrounds, maintained walking trails, and a shopping district.
With more than 15 bars and restaurants in the area, you can taste dishes from around the world while listening to live music or taking part in one of the many community festivals held here.
Pro tip: The Waterfront Precinct is a great "home base" for your stay in Darwin, as this area has everything you may need while traveling. Check out The Vibe Hotel, which is located right in the middle of all the action.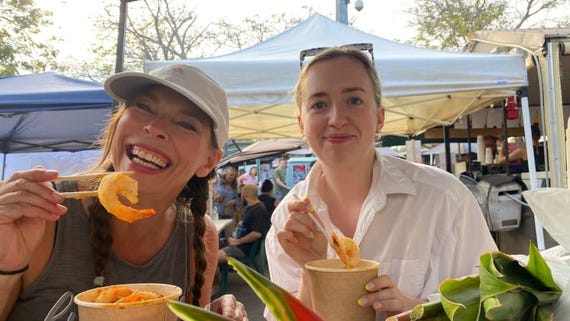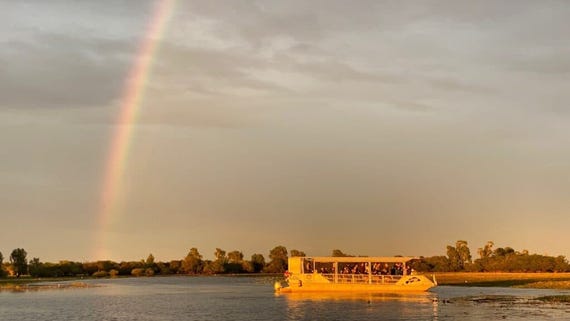 3. Wander the street markets
"You have to try laksa," said Alice Foster with Northern Territory Tourism one morning as she picked me up for another fun day in Darwin. "It's legendary. Everyone here goes to the markets to get laksa for breakfast, especially on the weekends".
I was game to try this Asian noodle curry soup, which has become a kind of locals-only secret breakfast tradition amongst those "in the know". The best place to score this savoury, curry-coconut broth noodle soup is at one of Darwin's local markets or night markets.
We headed to the Parap Markets, which is a favourite among locals, to peruse the local produce and the handcrafted arts and to taste cuisine from around the world.
The Saturday morning Parap Market is an institution in Darwin and very nearly a ritual for locals who can't survive a weekend without this soup or fresh tropical smoothie. Much of the Northern Territory is a hub for traditional Indigenous culture and a thriving Asian culture.
On Sundays and Thursday nights, explore the Mindil Beach Sunset Market, located within walking distance of the Mindil Beach Casino and Resort (which is a fantastic place to stay). This popular night market's 200 unique stalls sell everything from local and international cuisine to handcrafted didgeridoos to clothing, whips, and even Thai massage.
4. Drive to Kakadu National Park
Darwin is often called the "gateway to Kakadu National Park", one of the largest national parks in Australia. Within the 7,722-square-mile park, you can hike through pristine bushland, explore roaring waterfalls, take educational river cruises to spot crocs in the wild and other species, learn and experience Aboriginal culture, witness world-class rock art and world-class rock art, and absorb the true spirit of the land.
After a night at the Cooinda Lodge, I woke early for a sunrise cruise in the famed Yellow Water Billabong with Yellow Water Cruises. The billabong (an Australian term for an oxbow lake or an isolated body of water left behind after the wet season's floods) is located along the tributary of the South Alligator River in Kakadu and is home to at least 60 of Australia's bird species.
Also, visit the Warradjan Aboriginal Cultural Centre, which is an easy 10-minute walk from Cooinda Lodge. This centre celebrates the creation stories of the Indigenous peoples, includes a wonderful exhibition of Aboriginal items, and even has a mini-theatre with a big selection of films you can choose from. The gift shop has plenty of souvenirs and local art to browse as well.
Pro tip: The drive from Darwin to Kakadu National Park in Jabiru is just under 3 hours. Be aware that Australians drive on the left and have their steering wheel on the right side of the car. It's a little weird at first if you aren't used to "driving on the wrong side of the road", but I caught on super quick.
5. Explore the swimming holes at Litchfield National Park
If Kakadu National Park is a bit too far of a drive, visit Litchfield National Park instead. Just a 2-hour drive from Darwin, Litchfield is home to stunning waterfalls ranging from thundering cascades to soothing streams. I swam beneath the towering double Florence Falls in its deep, cool plunge pool and lounged at Buley Rockhole's numerous waterfalls and waterholes. I gazed at the thundering Wangi Falls, where we couldn't swim thanks to a lingering crocodile they couldn't remove after the wet season.
Litchfield also has a viewing site for the Magnetic Termite Mounds, home to hundreds of giant mounds built by termites during the wet season. Some of these mounds are more than 100 years old.
Pro tip: One of the most surprising and slightly terrifying situations we had to deal with was a particularly aggressive hawk at the Wangi Falls picnic site. Because visitors have a bad habit of feeding these birds, this hawk literally swooped down to snatch a sandwich out of Alice's hand while she was eating it!
6. Explore museums & galleries
For a truly authentic look at Australia, the Museum and Art Gallery of the Northern Territory in Darwin is the best place to see Aboriginal art, sculpture, paintings, musical instruments, and demonstrations of Aboriginal art.
The museum also delves into the unique maritime history of this Australian seaport, including the devastation that Darwin survived during the Japanese bombing during World War II and Cyclone Tracy, which nearly wiped this city off the map.
The Darwin Military Museum is an extensive deep dive into Darwin's role in World War II. Located at East Point, this museum features actual WWII fortifications and commemorates the February 19, 1942 attack on Darwin's harbor, when 188 Japanese aircraft launched the first and largest foreign attack on Australia's borders.
Located in the almost 100-year-old Lyons Cottage, Aboriginal Bush Traders art gallery has books, hand-made jewellery, large canvas paintings, and other arts under one roof. You can also try some local superfoods like Kakadu plum, desert lime, and wild rosella at the on-site bushtucker café.
If you hit up the Parap Markets for your Saturday morning Laksa, be sure to visit the Northern Centre for Contemporary Art and the upstairs Outstation Gallery that displays the art of local and established Indigenous artists from remote communities across the Northern Territory.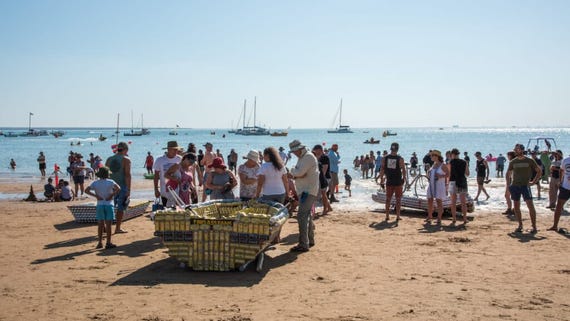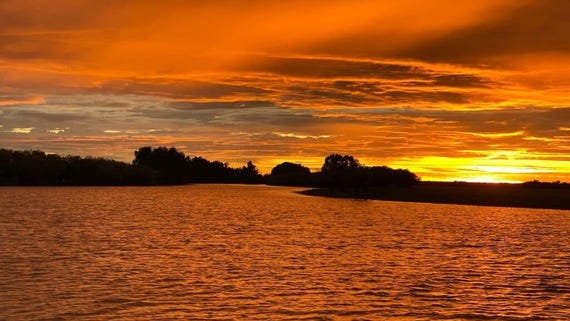 7. Beer can races & cocktails – find a festival
The balmy warm year-round weather in Darwin means there's never a "bad" time to host a festival. Darwinians love to celebrate, and the festivals here in this fun-loving town range from cocktail competitions to craft fairs to races. There's usually some kind of festival or special event going on every weekend.
I was lucky to catch the famous Darwin Lions Beer Can Regatta, in which people build boats out of beer cans with the hopes of winning the Beer Can Regatta Race. This all-day, family-friendly event features some pretty creative ways to build a boat from beer cans, but the event is all for a good cause. The money raised goes to area charities, and in addition to the beer can race itself, the day is full of various competitions, entertainment, and fun.
Other fun festivals held throughout the year include the Thrash Magic Black Light Puppet Theatre, the Desert Harmony Festival, several cultural Aboriginal festivals, and more. For a full list of events and festivals that are coming up in Darwin, check out the Northern Territory event page.
8. Hop on a harbour cruise
During my 2 weeks in Australia's Northern Territory, I witnessed some of the most dramatic and stunning sunsets I'd seen in my life. Something about the southern hemisphere causes the sky to burn with an out-of-this-world fire when the sun sinks into the horizon, and the best way to really appreciate the sight is with a dinner cruise.
Although you have plenty of options for harbour cruises in Darwin, I chose a relaxing sunset dinner cruise with Cape Adieu. This cruise on a traditional fishing ketch includes tapas appetizers, a barbecue and seafood dinner, and plenty of drinks to buy. The tour lasts roughly 2 hours and includes information about the historic and notable sites around the harbour.
When the sun finally set, there wasn't a bad seat on the boat to watch the colours swirl from peach to hellfire red as the sun put on its show.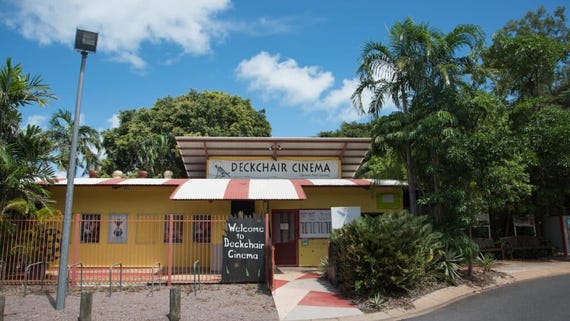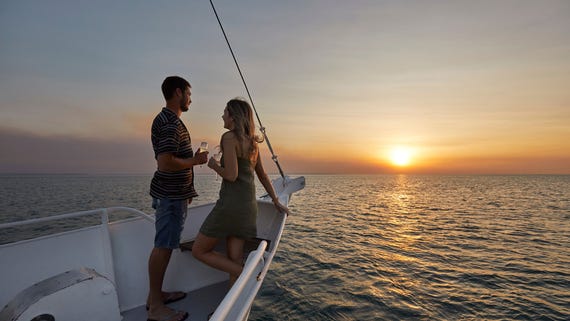 9. Catch a movie at the Deckchair Cinema
One of the most unique activities to try in Darwin is the Darwin Film Society's Deckchair Cinema, a fun, outdoor cinema experience located at the edge of Darwin Harbor. Grab a cocktail and enjoy the always-impressive sunset before enjoying a range of movies that include family favourites and Australian and foreign films from the comfort of 250 deckchairs and 150 straight-backed seats.
The Deckchair Cinema is open 7 nights a week during the dry season (April to November) and offers a full range of drinks and hot food.