The ultimate Arnhem Land accommodation guide
Arnhem Land, spanning 100,000 square kilometres, is a sprawling wilderness bigger than the combined area of Belgium and the Netherlands. It remains one of Australia's most untouched and diverse areas, with a variety of stunning landscapes and accommodation options.
While Arnhem Land hasn't been changed much by the outside world, these days it's very accessible. Arnhem Land's accommodation caters to every budget, regardless of where you lay your head.
To help you find what you're looking for, we've created this list of Arnhem Land accommodation options to suit your needs, timeline, budget and plans.
Luxury accommodation
Arnhem Land is an untouched wilderness which spans some of the most rugged landscapes the world has to offer. So, that means you need to get out the swag and rough it, right? Wrong. Luxurious accommodation is dotted across Arnhem Land, so you can still get your pillows fluffed while taking your safari selfies.
On Groote Eylandt, the largest island in the Gulf of Carpentaria, lies the Groote Eylandt Lodge – a beautiful hideaway resort that offers the best luxury in the Gulf with stunning ocean views. There's plenty to do including sport fishing, a nearby picturesque nine-hole golf course, and cultural tours where you can learn the remarkable history of the Warnindhilyagwa people, the traditional owners of the island.
In recent years, the Northern Territory has been at the forefront of the glamping trend. Nowhere is this better than at the Cobourg Coastal Camp, situated right on the tip of the Territory. Get on a luxury tour and see the secluded local sights, or head out on a private fishing charter to reel in your dinner. And in the NT, getting there truly is half the fun, with the road from Darwin to Arnhem Land dotted with highlights.
Another recent trend which has caught hold in the NT is ecotourism, which emphasises sustainable practices and a positive relationship with the environment. Bremer Island, Banubanu Wilderness Retreat is one of Australia's leading eco tourism locations, offering adventure and relaxation on the Gove Peninsula. Grab a rod and reel for some of the best of Arnhem Land's fishing, or simply relax with a book in the beach-side accommodation.
When it comes to Arnhem Land experiences, they don't get much better than Davidson's Arnhem Land Safaris. Nestled on an Aboriginal sacred site at Mount Borradaile, Davidson's provides picturesque views of local flood plains, the Arnhem Land Escarpment and billabongs teeming with local wildlife. And the eco-lodge accommodation means you can enjoy it all without leaving a footprint. Explore local wetlands, view age-old Aboriginal cave art, or cruise through a beautiful billabong with a glass of wine in hand.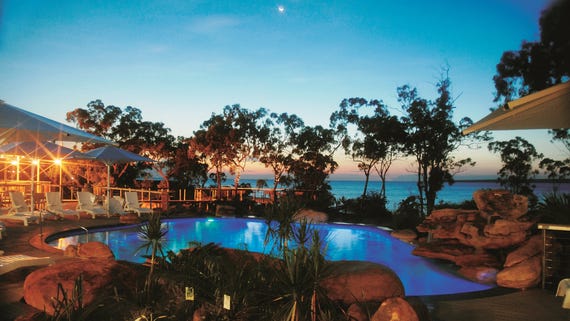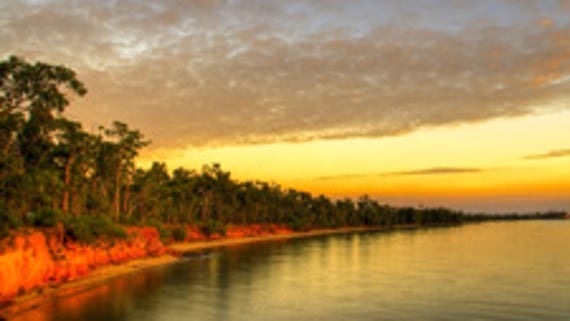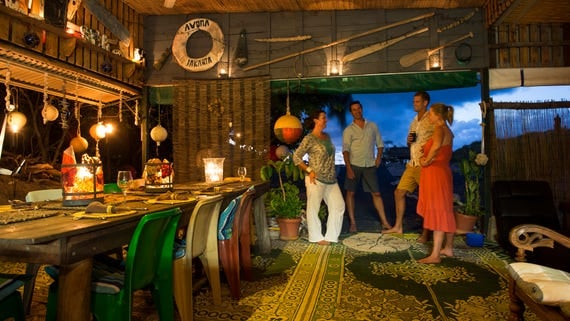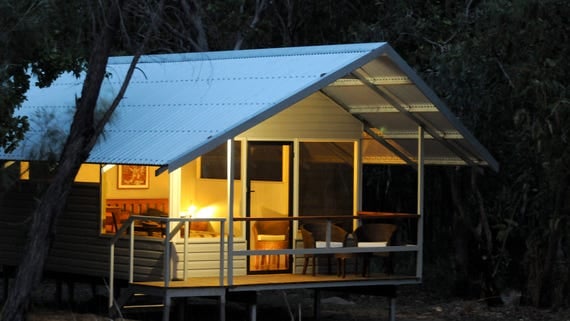 Perfect getaway
Walkabout Lodge at Nhulunbuy (Gove) is the perfect base from which to explore East Arnhem Land. The lodge is the ideal place to find out more about the Aboriginal culture of the region, in particular the Yolngu people who have lived in the area for at least 60,000 years.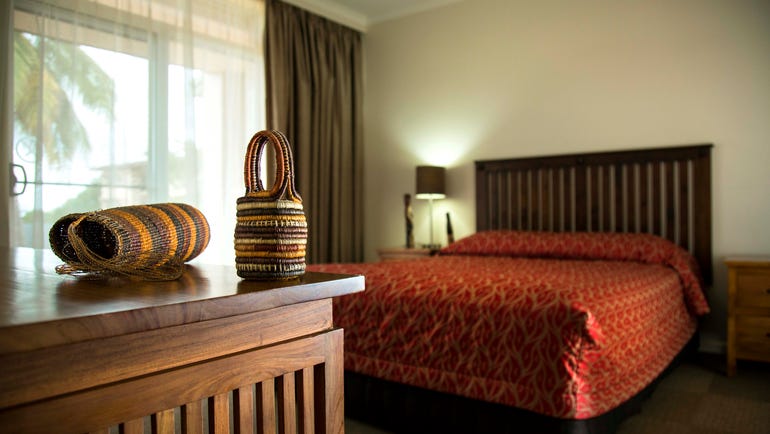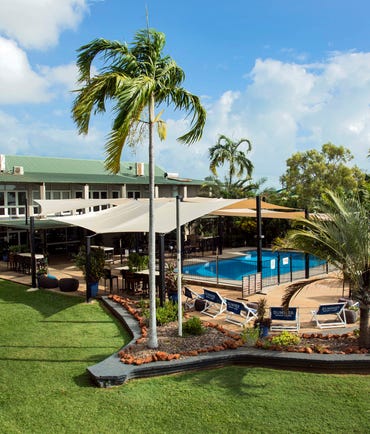 Sleeping under the stars: caravan and camping grounds
Permits are required to visit Arnhem Land, and that includes for camping. Permit information can be found on the Northern Land Council website, or from Dhimurru Aboriginal Corporation. Otherwise, check ahead of time with the specific authority for the chosen camping site.
Just outside of Nhulunbuy is the Banambarrnga (Rainbow Cliffs) Camping Area. The access track is rough and requires a four-wheel-drive vehicle, but once there you'll be rewarded with the tranquillity only a Territory camping experience can provide. Don't forget to bring your own supplies, including water.
Just 40 kilometres from Nhulunbuy is the Ngumuy (Turtle Beach) Camping Site, one of the most beautiful on the Gove Peninsula. Known for its beautiful walking tracks to secluded beaches, including Little Bondi and Macassan Beach. Be sure to bring all your own provisions, including drinking water. Macassan Beach also has its own camping area, just 2.5 kilometres from Ngumuy. Unlike Ngumuy, Macassan Beach has toilets – but, again, bring drinking water.
The Guwatjurumurru (Giddy River) Camping Area is one of the more secluded and peaceful options in the Territory, and is walking distance from a number of small gorges, rock pools and cascade waterfalls. As with anywhere in Arnhem Land, remember to 'Be Crocwise' and read about crocodile safety information.
Head west from Nhulunbuy for just under 50 kilometres to the Mananggaymi (Scout Camp) Camping Area. Great for families, Mananggaymi has a number of large freshwater swimming holes perfect for cooling off in. Mananggaymi also has a composting toilet, but you must bring your own drinking water.
Remember: you need a permit to enter Arnhem Land. Check with local tour operators, your accommodation provider, your car rental company or apply for a permit directly with the Northern Land Council before you head off.

Most visitors to Arnhem Land stay at least one week – after all, the region is jam-packed with sights and activities. Check out more Arnhem Land accommodation options.
More articles you might like