The ultimate Darwin & Surrounds accommodation guide
Darwin is the capital of the Northern Territory. The city is a must-see tourist destination, located on the doorstep to some of the world's greatest tourist attractions like Kakadu and Litchfield National Parks. But where should you stay in Darwin?
One of Australia's must-see cities, Darwin has a cosmopolitan culinary scene, vibrant nightlife and wide variety of accommodation options.
And while the city may have a steadfast commitment to 'taking it easy' and a liberal attitude to footwear, luxury in the Top End is still easy to find.
From the lap of luxury to the snuggle of a swag – and everything in between – you'll find it here in Darwin.
To help you find what you're looking for, we've created this epic list of Darwin accommodation options to suit your needs, timeline, budget and plans. Of course, there are so many awesome accommodation options in Darwin we simply couldn't list them all. Check out Northernterritory.com for more details.
Darwin luxury accommodation
There are plenty of luxury accommodation experiences in Darwin, including luxury waterfront serviced apartments and indulgent hotels.
The name Hilton is synonymous with luxury – and you'll find plenty of it at Hilton Darwin. Overlooking Darwin Harbour, the hotel is a short walk to excellent restaurants, shopping and entertainment. If you'd prefer to stay in, Mitchell's Grill restaurant offers some of the freshest seafood and prime beef you'll ever taste, while the fully equipped gym lets you work off dessert in the morning.
Mindil Beach Casino Resort is a hotel and poolside resort with so many amenities (including a lagoon that allows you to swim right up to your room, and a variety of deluxe suites and rooms with a view) you'd be excused for not leaving the premises! With a bustling casino and several restaurant options, you're guaranteed entertainment – and that's not even mentioning the bar by the pool, which won the 2014 Gourmet Traveller Award for best hotel pool in Australia.
If you're looking for a waterfront stay in Darwin, there are plenty of comfortable options. Darwin Waterfront Luxury Suites have some of the best ocean views on offer, and the large and spacious rooms are ideal for a family holiday. Depending on the time of year, you'll also get access to the free courtesy car to use during your stay – be sure to ask when booking.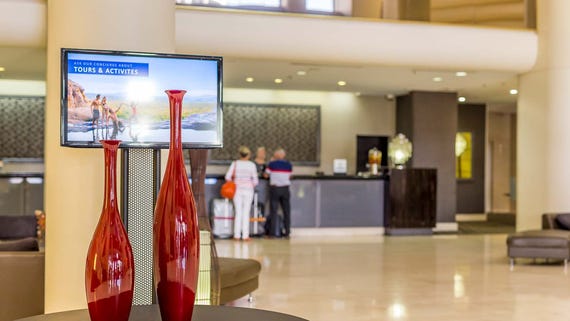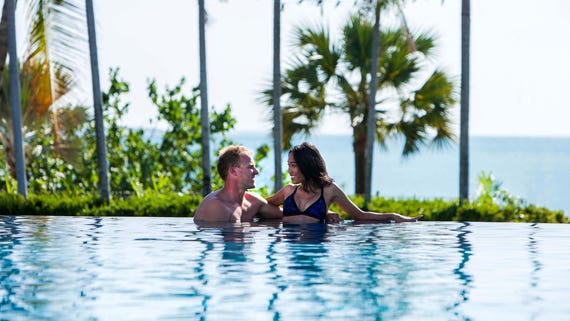 Perfect Darwin getaway
For a room with a view, try the Vibe Hotel Darwin Waterfront or the Adina Serviced Apartments, both located at the Darwin Waterfront. Dine at the hotel's Curve Cafe and Bar, or take a stroll around the waterfront precinct for some great local cuisine and an excellent selection of wines and beers. If you feel like a night in, you'll love dining on your balcony, overlooking Darwin Waterfront Precinct and Stokes Hill Wharf.
If you're looking to get your zen on while in Darwin, the Ramada Suites Zen Quarter will let you experience the city in comfort. If staying indoors isn't your thing, do a couple of laps in the 28m infinity pool, before rewarding yourself with a cold one at the onsite Horizon Cafe, where you can enjoy a free buffet breakfast.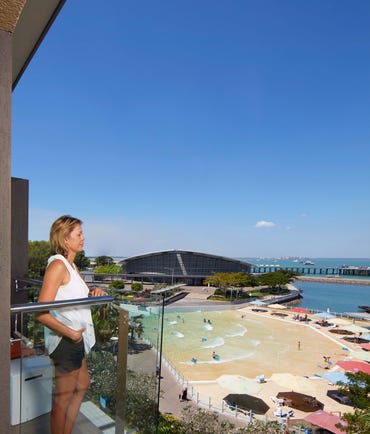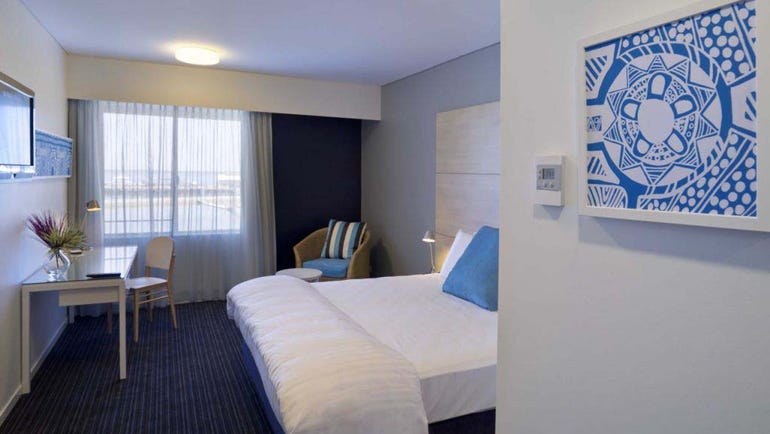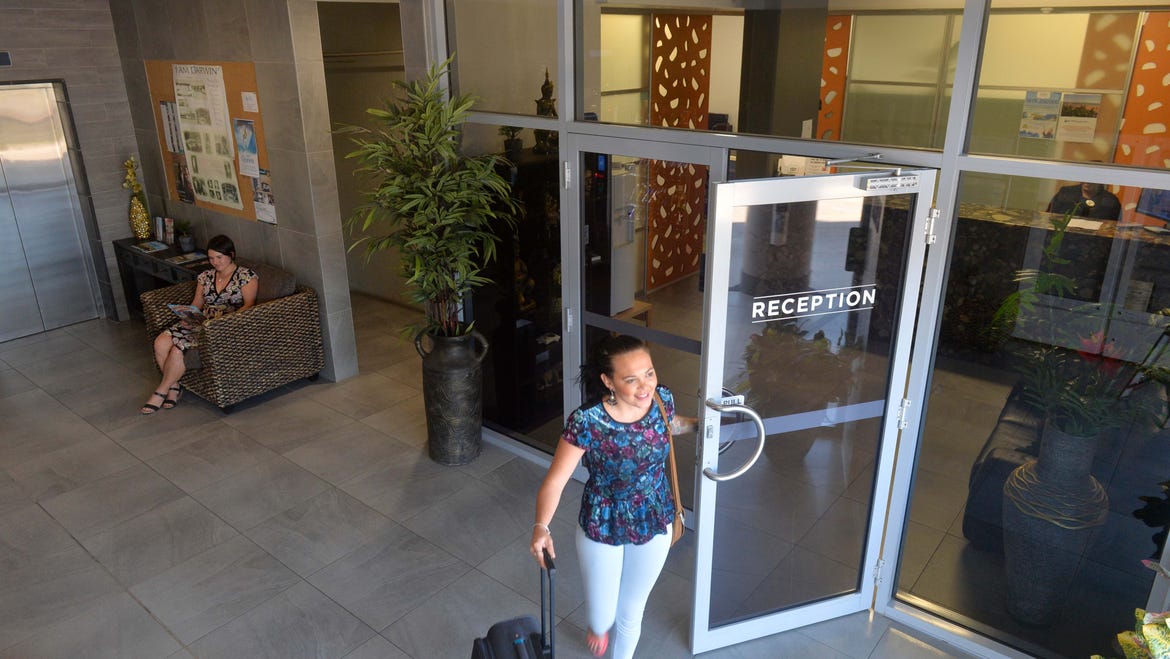 For a more cost-effective option that spares none of the comfort, Darwin Central Hotel is perfectly located in the heart of the CBD with a wide range of room and accommodation package options.
Another comfortable venue is Oaks Elan, situated in central Darwin. The hotel boasts an outdoor pool, a restaurant and private balconies in many of its premium apartment-style suites. It's only a short walk from Darwin's CBD and the Waterfront Precinct.
Do Darwin in style with Mantra. Mantra Pandanas is a conveniently located accommodation option that blends the service of a hotel with the space of an apartment. The hotel offers a range of room options from hotel suites through to 2-bedroom apartments, and has a restaurant, bar, swimming pool, spa and gym. Alternatively, Mantra on the Esplanade is famous for its views over Darwin Harbour, and its comfortable rooms and balconies are the perfect place to bask in a glorious NT sunset.
If you're looking for a more social experience or you're on a budget, try Chilli's Backpackers or Melaleuca on Mitchell-Darwin YHA, which are both in the heart of Darwin city.
About an hour an a half from the city is the Crab Claw Island Resort, a perfect escape from the hustle and bustle. Relax in the pool or drop a line in at this beachfront resort.
Finally, why not head to the Mary River Wilderness Retreat, which is halfway between Darwin and Kakadu National Park. There are a number of 'bush bungalow' or 'safari tent' options, along with a camping ground with powered and unpowered sites.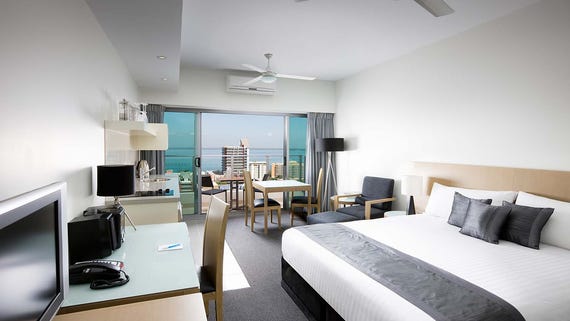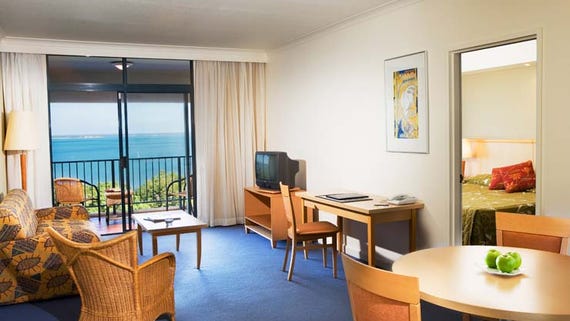 Sleeping under the stars: caravan & camping grounds
Camping in Darwin is a great way to truly experience all the Top End has to offer – including a gorgeous smorgasbord of brightly shining stars that you'll never catch back in the smoggier cities. There are some truly world-class caravan parks in Darwin that suit every budget.
The closest to the city is Discovery Parks Darwin, which has a range of villas or camping sites. The onsite dining hall serves breakfast and dinner daily, while the free BBQ facilities and camp kitchen let you prepare your own dinner with ease.
Fancy yourself as a bit of a free spirit? In the Northern Territory you'll have company. Just 15 minutes south of Darwin, nestled in landscaped gardens, is the Free Spirit Resort. With three pools, BBQ and picnic areas, and endless activities for the kids – along with live entertainment for the adults – the resort caters to the free spirit in everyone.
Just a 30-minute drive from Darwin you'll find the BIG4 Howard Springs Holiday Park, which offers a range of options from camping and caravan sites to cabins and villas. With its very own water park and pools, the kids are going to love it. It's also on the doorstep to many of the Top End's National Parks.
If you want the feeling of being a long way from the city while still being on the edge of it, Lee Point Village Resort is waiting for you. Lee Point offers secluded fishing spots and a relaxed beach environment, with unhindered views of the sunset.
The KOA and Malak Caravan Parks are situated conveniently near Darwin International Airport and adjacent to the popular Darwin Golf Course. Hit the links or just take it easy in your cabin or tent.
If you're after absolute peace and quiet, head 20 minutes south of the CBD to the Darwin Boomerang Motel and Caravan Park. Tucked away in the secluded wilderness, the park is less than 30km from Berry Springs – a true natural wonder of the Top End. Like an NT-made boomerang, you'll come right back.
Then there's the Oasis Tourist Park, which is just down the road. The family-owned park has everything you need and offers you the real NT camping experience.
An hour's drive south of Darwin, in Litchfield National Park, is the secluded and beautiful Wangi Falls Campground. If you need a base from which to discover the beauty of Litchfield National Park, it doesn't get any better than Wangi. Litchfield Tourist Park in Batchelor is also a great option for those who want easy access to Litchfield National Park.
Most visitors to Darwin stay a few nights and use the area as a base to explore the city and surrounding region – after all, there's far too much to see and do to fit into just one day. Check out these NT itineraries to fill your days.
More articles you might like