The ultimate Katherine & Surrounds accommodation guide
A trip through the Northern Territory isn't complete without visiting Katherine and the glorious Nitmiluk National Park, including Leliyn (Edith Falls) and Nitmiluk (Katherine) Gorge. But where to stay?
There are plenty of comfortable and luxurious options, including cabins, hotels, tents and dorms available to suit any budget. To help you find what you're looking for, we've created this list of Katherine accommodation options to suit your needs, timeline, budget and plans.
Katherine luxury accommodation
With a luxury lodge offering secluded sanctuaries, there's certainly no need to rough it in Katherine.
The sounds of the singing cicadas will remind you you're in the Australian tropics, but the feel of the Cicada Lodge is something like a luxurious European day spa – only with a far better view. Each room is nestled within the natural bush that surrounds Nitmiluk Gorge. The rooms are decorated with authentic Aboriginal artwork from local artists which have been created to complement the natural surroundings.
True outback experience
Searching for a hotel in Katherine? Whether it's a short stay, a long jaunt, or you just don't know if you ever want to leave, you'll find comfort and adventure here.
While visiting Nitmiluk Gorge, there are few places that provide quicker and easier access to the Gorge than Nitmiluk Chalets and Campground. Located just 600m from the boat cruise departure point, the comfortable, self-contained chalets with large balconies are perfect for relaxing after a day exploring Nitmiluk.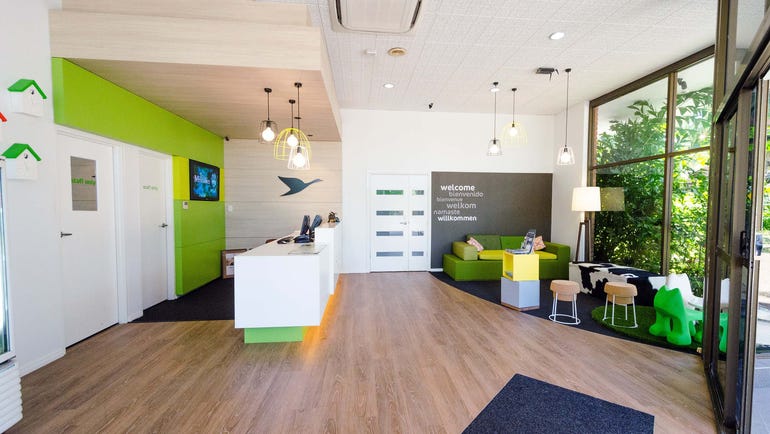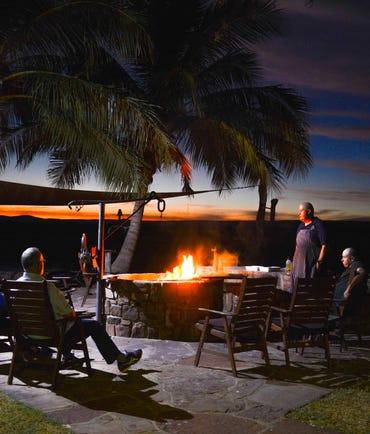 If you want to stay within the Katherine township itself, you'll have your very own home away from home at the St Andrews Serviced Apartments, which come with all the creature comforts at a very affordable price. For country comfort in town, Knotts Crossing Resort sits opposite the Katherine River, boasting beautiful tropical gardens and options for all budgets.
Ibis Styles Katherine puts the 'Top' in 'Top End'. Stay within driving distance of the region's big attractions like Leliyn/Edith Falls and Katherine Gorge, in a central location in the Katherine township. You're sure to enjoy this affordable and comfortable home away from home.
Being on holiday isn't just about seeing the sights and taking selfies. The people you meet while on holiday can become friends for life, and there's no greater social hub in Katherine than Palm Court Kookaburra Backpackers. With a range of accommodation options including dorms and single or double rooms, you'll find your place at Palm Court. There are several tours on offer, so Palm Court is the perfect place to lay your hat and explore the region.
A little further afield from the town, the Djakanimba Pavilions are a local Aboriginal enterprise that blend traditional culture with modern comfort, allowing you to stay in an Aboriginal community. Just 100km from Katherine, there's no better place to base yourself while learning more about native culture and the history of the region.
Around 450km west of Katherine is the Bullo River Station, one of the Territory's finest cattle properties and a true Aussie adventure experience. Fish for barramundi, ride horses, go quad biking or take a world-renowned helicopter tour to see the entire station from a bird's-eye view.
To truly experience life in the Territory, you need to spend some time on a traditional Aussie cattle station. Coodardie Station Stay, run by the O'Brien family, lets you dine on home-cooked meals and observe life in the Northern Territory from up close. Watch and learn from the family as they run the cattle station, then wind down with some billy tea and damper on the outdoor fireplace.
Sleeping under the stars: caravan & camping grounds
The cool, dry nights in and around Katherine make it a perfect camping location. Katherine's caravan parks are some of the most comfortable in the Territory, so you'll get a good night's rest before a day of exploring.
Many caravan parks are placed well away from the action, but the Nitmiluk Caravan Park is right in the middle of the National Park, opposite the entrance to Nitmiluk Gorge and just footsteps from boat cruises and bushwalking trails. Use the communal cooking areas to save money and put your own spin on local cuisine, or if you're feeling lazy, just head to the Sugarbag Café for a coffee and a tasty meal.
Just 5km west of Katherine township and nestled within 44 acres of parkland is the Katherine Holiday Park which has all you need for a short or long stay. Featuring a pool, spa and kiosk, the park is surrounded by national parks and bushwalking trails.
Around 40 minutes drive from Katherine is the Leliyn/Edith Falls Campground, also situated within Nitmiluk National Park. Owned by the local Jawoyn Aboriginal people, the park is a true slice of camping in the Northern Territory.
The Shady Lane Tourist Park is just five minutes from the Katherine post office, meaning the region's attractions are on your doorstep. Take it easy under the trees or enjoy a 250m stroll to the river to try your hand at catching your own fish dinner.
The Lazy Lizard Caravan Park is the perfect place to relax after a day of exploring, or to stop in on your way through the Territory. Located 90km north of Katherine at Pine Creek, the Lazy Lizard is situated perfectly on the doorstep of both the Kakadu and Nitmiluk National Parks.
To truly appreciate your holiday, why not stay on a working cattle property? Just 12km from Katherine, the Manbulloo Homestead Caravan Park gives you an insight into life in the Aussie Outback – without requiring you to raise a sweat. With fishing, bushwalking and birdwatching year-round, Manbulloo Homestead is surely one of the best caravan parks in Katherine.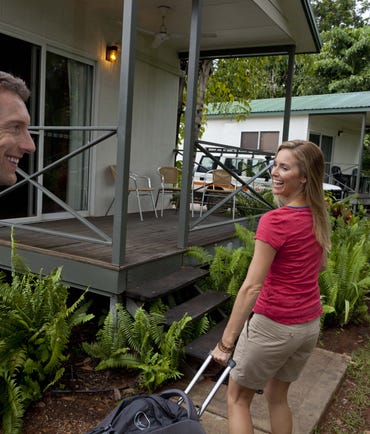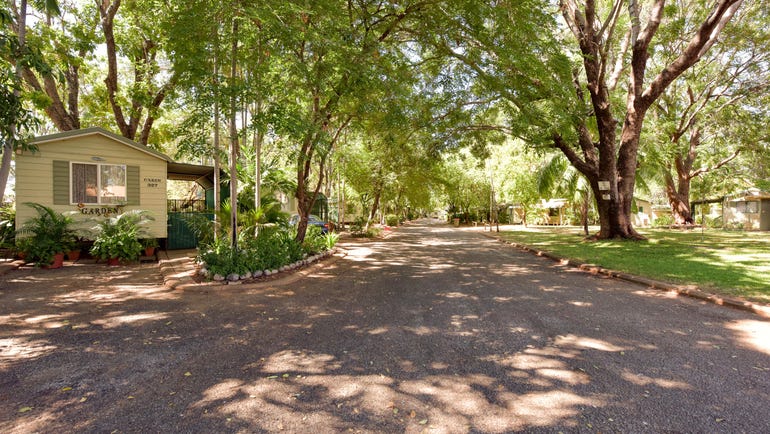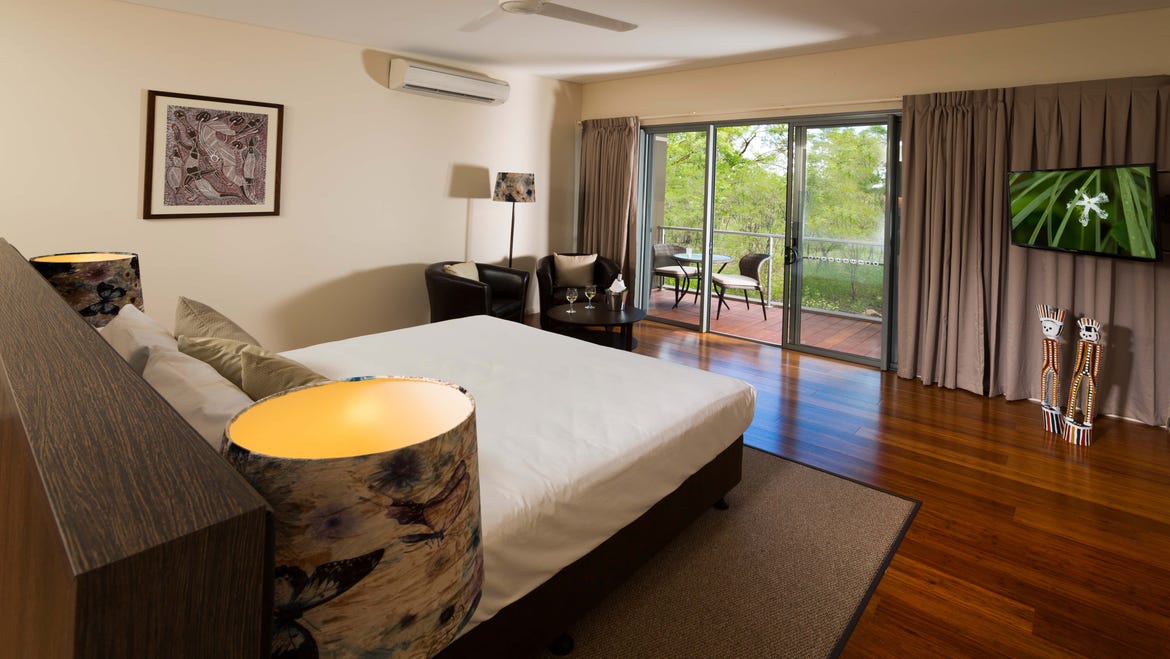 Located 100km south of Katherine is Bitter Springs Caravans and Camping, 500m from the town of Mataranka and the Bitter Springs thermal pools – a free outdoor spa which is warm year-round.
If hot springs are your thing, then Tjuwaliyn (Douglas) Hot Springs Park Campground is another compulsory visit. Tjuwaliyn is a true oasis, with the hot springs attracting a number of local animals, including bandicoots, quolls and flying foxes.
Most visitors to Katherine choose to stay at least a few nights – after all, there's far too much to see and do in the town and surrounding National Parks to fit into just one day. Check out some more accommodation options in Katherine.
More articles you might like