Luxury experiences
in the Northern Territory
While the Northern Territory is known as a rugged place for intrepid explorers, there's no reason why you can't do it all in luxury and comfort.
Explore in comfort & style
Whether you're exploring the Red Centre or the tropical Top End, sometimes you just want to enjoy a little luxury.
Camping isn't for everyone for lots of reasons. More and more, people are looking for a true Australian outback holiday without the hassle of picking a spot, navigating bush tracks and setting up camp.
Some of the Territory's most iconic locations are now offering luxury accommodation and touring experiences so you can enjoy your time away from the hustle and bustle in comfort and style.
With these luxury experiences, you can get your feet dirty during the day and still enjoy a comfortable bed at night.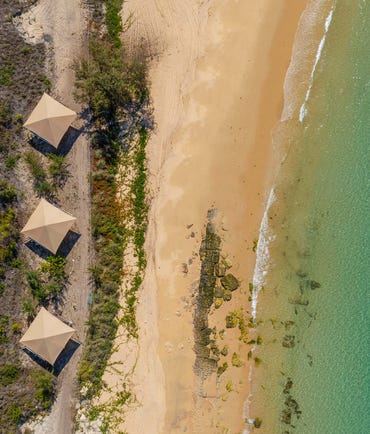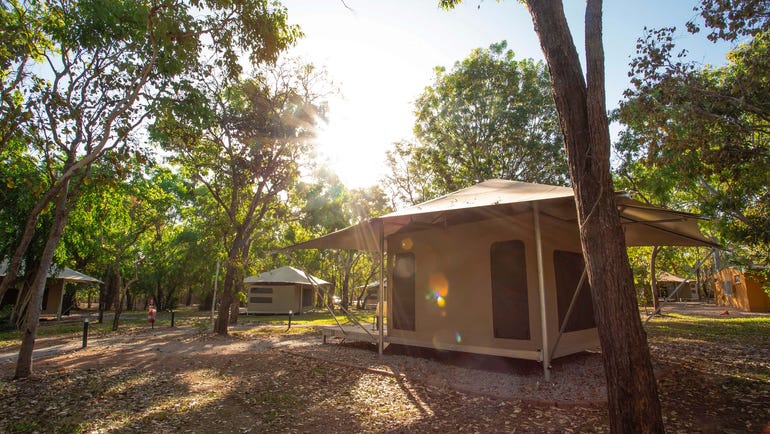 Wilderness lodges in the NT
Glamping in the Red Centre
If you're enjoying the Red Centre and want a little piece of luxury, there's some great glamping options available.
Squeakywindmill Boutique Tent B&B

At the base of the West MacDonnell Ranges, in the rural area of Alice Springs, is the Squeakywindmill Boutique Tent B&B. Open during the cooler months between March and October, the safari tents sleep up to 3 guests. Unfortunately young children can't be catered for.

With just three tents on the site, you'll be looked after well by your host and won't be bothered by lots of other guests. Each tent includes a kitchenette, private ensuite and verandah where you can watch the ranges change colour as the sun rises and sets. A continental breakfast is included in the cost of your stay with a BBQ bacon and eggs breakfast hamper available to purchase if you don't mind cooking.

Enjoy the cool night air with a campfire, star gaze and enjoy the serenity. Have dinner at one of the restaurants in Alice Springs itself or stay put and enjoy a sunset cheese and wine platter, a BBQ hamper to cook for yourself or a simple pasta meal with ice cream for dessert if you don't have the energy to go to the supermarket.

Kings Creek Station

Located just 36km from Kings Canyon and based on a working cattle station, Kings Creek Station offers the Dreamtime Escarpment Package; a stay in a luxury tent, elevated for maximum airflow and stunning views from the top of the escarpment.

The glamping tents include all the creature comforts of home from the king-size bed and private bathroom through to your own bathrobe and slippers and coffee machine. To cover all weather conditions, the glamping tents include heating and air-conditioning as well as a sheltered deck with comfy outdoor furniture so you can sit and watch the local wildlife play in the scrub.

Packages include the accommodation, cheese platter, self-cook BBQ dinner, and a self-cook breakfast hamper with a drinks package available if you stay for two or more nights. You also have access to the on-site pool and a private fire pit to really top off your stay.

Kings Creek Station offers a range of activities to visitors including buggy tours of the station, cultural tours and helicopter flights over Kings Canyon. The on-site café gives great options for meals and snacks as well as their world famous camel burger.

Longitude 131

For one of the best and most comfortable views of Uluru, the luxury tents and dune pavilion at Longitude 131 are a sure bet. Each tent and the pavilion have an unobstructed view of Uluru; even from your bed.

The dune pavilion includes a master and second bedroom, each with ensuite, a spacious deck with couches and a day bed, in-house bar and fire place in the lounge, and a private spa. The luxury tents include a large bed, private ensuite, wardrobe and bar, lounge area and a balcony with a day bed.

As a guest, you have access to the Dune Top lookout, the swimming pool, the day spa offering treatments based on local Indigenous ingredients, the terrace and the bar and restaurant. All packages include breakfast, lunch and dinner and airport transfers. Longitude 131 also have a range of bespoke and signature experiences to choose from as well as suggested itineraries to make the most of your time at Uluru-Kata Tjuta.
Luxury Accommodation around Darwin
If the tropical north is calling you, consider these glamping options for your next trip.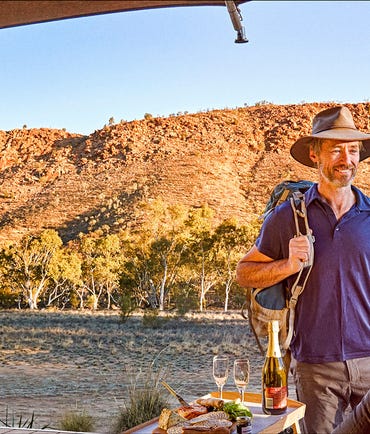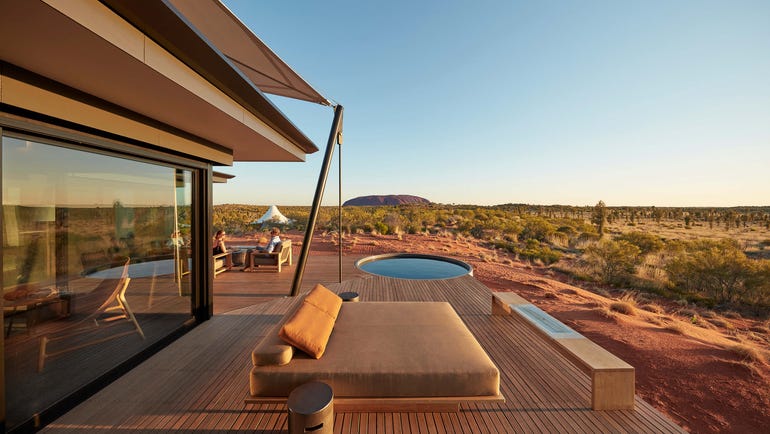 Want some adventure with your luxury accommodation?
If sitting back and taking it easy isn't your style, then one of these great experiences might suit you. We're talking wilderness safaris, croc encounters and everything in between.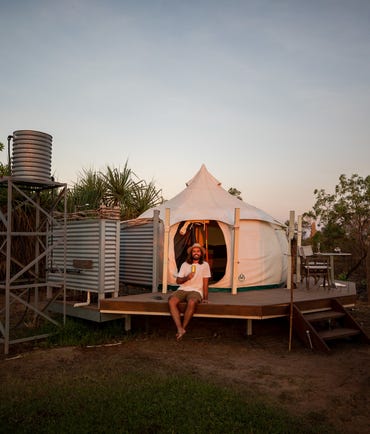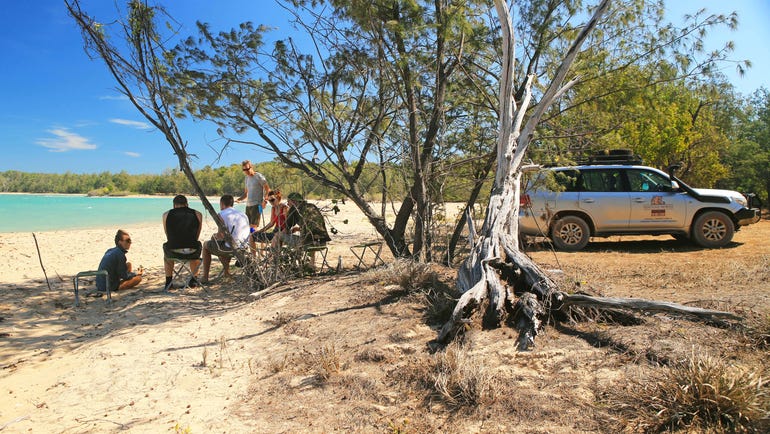 Luxury experiences in Darwin City
Once you've spent your time exploring the great outdoors, spend some time in the city of Darwin itself and discover the luxury experiences waiting for you.
Champagne Sunset Sail

Darwin has some of the best sunsets in the world and what better way to see them than from a sunset cruise.

Over 3 hours, the Champagne Sunset Sail cruise takes you from Stokes Hill Wharf out into the harbour on a 50-foot luxury catamaran for an uninterrupted view of sunset. Accompanied by an eight course menu sampling the finest local produce and drinks, this is an experience you won't forget.

When you're not looking at the sunset, look down and see if you can spot dolphins, dugongs or turtles riding the bow wave of the boat. You can even learn a bit about sailing by taking the helm under the watchful eye of the skipper. Whatever you do, don't forget your camera!

Mindil Beach Casino Resort

Just a short drive or walk from the Darwin CBD is the Mindil Beach Casino Resort. As well as standard hotel accommodation, the resort includes lagoon rooms and luxury suites right on the edge of the lagoon.

Lagoon rooms and suites include large bathrooms, a deck and direct access to the lagoon and private beach as well as the swim-up bar. Luxury suites also include separate living and dining areas and a luxury bathroom with outdoor shower.

Grab dinner at one of the on-site restaurants or just dial in room service and watch the sky change colour at sunset. If you're feeling lucky, the casino floor is open 24-hours a day with a sports bar and cocktail bar nearby.

The Ghan

If you're tired of flying, why not consider a relaxing train journey home on the famous Ghan train. Travelling from Darwin through to Adelaide and return, you can follow the whole route or just segments to travel between adventures.

The Gold Single service offers a compact sleeper cabin that converts to a seat during the day with shared bathroom facilities within the carriage. The Gold Twin service offers a private sleeper cabin with ensuite and beds that convert to a lounge during the day. You have all-inclusive dining, beverages and off-train excursions as well as complimentary shuttle bus transfers.

The Platinum Service gives passengers a private cabin, full size ensuite, table and ottomans, window views from both sides of the train and exclusive use of the Platinum Club carriage with its own lounge. Included in your ticket are breakfasts, two-course lunches and four-course dinners. You also get private transfers.

As the Ghan makes it way along its route, there's chances for passengers to disembark and experience a range of activities and attractions.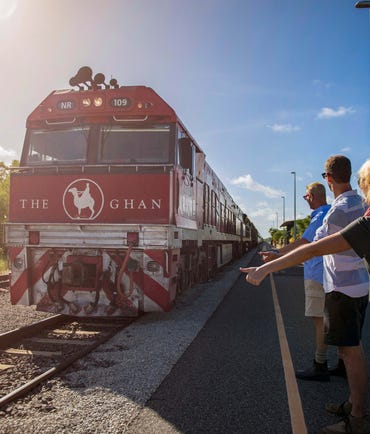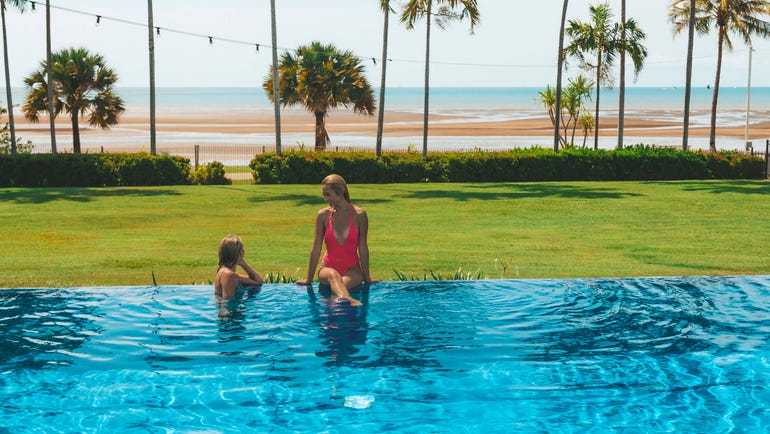 Explore luxury experiences
Explore things to see & do in the NT