The ultimate Alice Springs & Surrounds accommodation guide
You've made it to the Red Centre to kick off your outback adventure, but there's still one important question to be answered: where to stay in and around Alice Springs? Fortunately, this one is easy…
Luxury accommodation in Alice Springs has gained a world-class reputation in recent years, which means you can wash the red dirt off your skin in some seriously comfortable digs.
And while there's no shortage of luxury, there are also plenty of affordable accommodation options in Alice Springs that don't sacrifice quality. What's more, there are plenty of Alice Springs hotels which are rich in a priceless resource: outback Aussie hospitality.
To help you find what you're looking for, we've put together this epic list of Alice Springs accommodation options to suit your needs, timeline, budget and plans.
Luxury accommodation in Alice Springs
Alice Springs luxury accommodation provides travellers with that perfect combination of comfort and hospitality, all on the doorstep of Australia's famous Red Centre.
Mercure Hotels are world renowned for quality and dedication to excellent service, and the Mercure Alice Springs Resort is no exception. Perfectly located on the banks of the Todd River, the Mercure Alice Springs Resort is a charming oasis in the centre of Alice Springs. Nestled beside the River Red Gum and the MacDonnell Ranges, the Mercure Alice Springs Resort represents the contemporary Alice Springs – comfortable, local and laid back. Just 5 minutes' walk from town, you'll be close to the action.
Sit back and relax at Crowne Plaza Alice Springs Lasseters, which boasts premium rooms and outstanding amenities. Situated conveniently adjacent to amazing restaurants and the casino, you'll love the views of the MacDonnell Ranges, heated spa, gymnasium, and bike hire. You'll also appreciate the four dining experiences on offer, from the wine and cocktail bar Tempo, to Australian-Asian fusion restaurant, Tali, to the beer-matching culinary experience at the Goat and Bucket and the Juicy Rump steak house.
Anyone who's been fortunate enough to stay at the Hilton will tell of the hotel's commitment to comfort. At DoubleTree by Hilton Alice Springs, the same devotion to providing the best possible stay is evident – albeit in a decidedly Australian fashion. Come for the comfort, but stay for the food – the Hanuman Restaurant is the culinary highlight of Alice Springs, and serves a tantalising blend of Thai, Indian and Nonya cuisine.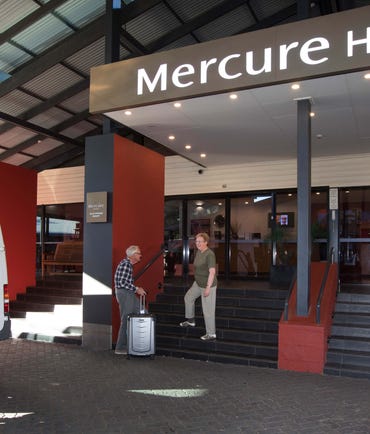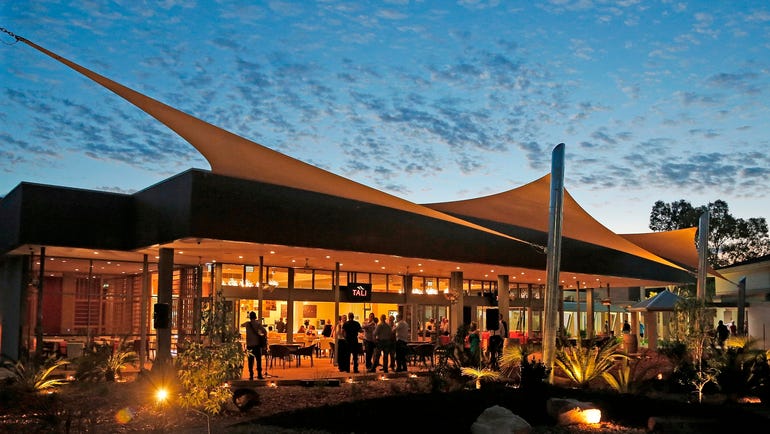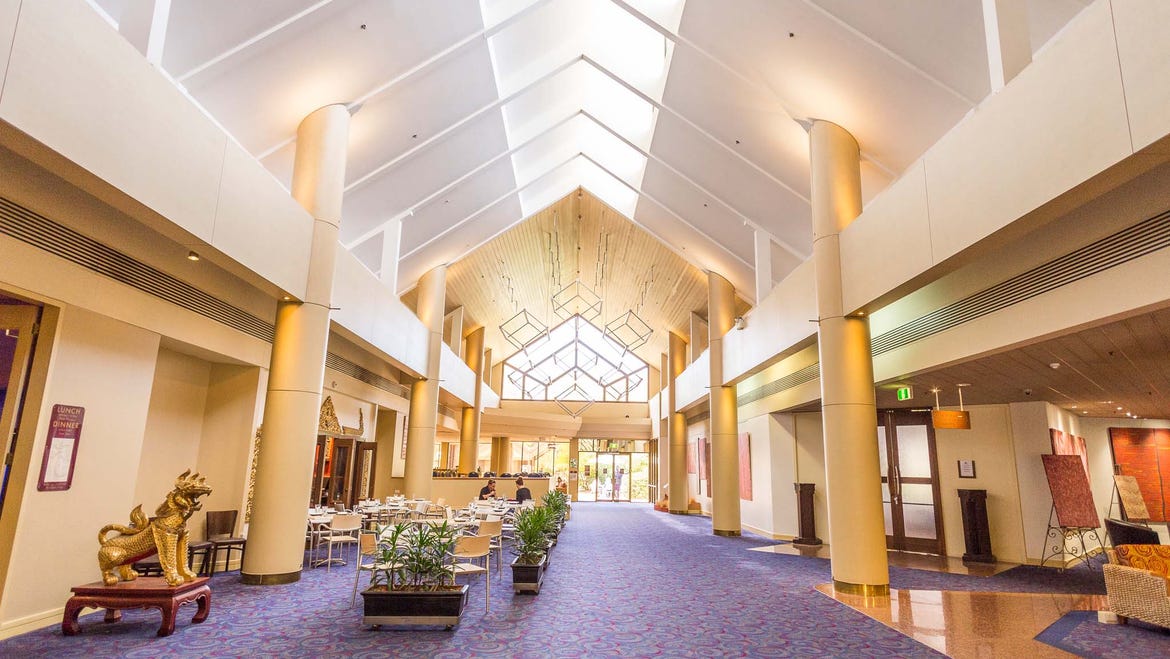 Perfect Alice Springs getaway
Comfortable accommodation can come with an affordable price tag in Alice Springs. There are plenty of options with excellent standards for comfort and quality that won't break the bank.
The Desert Palms Alice Springs is a comfortable and affordable accommodation option. With a number of villas to suit different group sizes and budgets – plus a clear blue pool from which to view the famous Central Australian sunsets – you'll be excused for deciding to spend the night in.
For those looking for a 'home away from home' feeling, Quest Alice Springs Serviced Apartments are self-contained. Quest is perfect for families, and there are apartment sizes and options for all budgets.
Ibis Styles Alice Springs Oasis Hotel combines the international experience and expertise of the Ibis brand with local know how. With a golf course, tennis and squash courts, swimming pools and bowling lanes nearby, you won't get bored at Ibis Styles.
Right in the centre of town is the Aurora Hotel. The Aurora has everything a traveller needs, including comfortable and cosy rooms, an outdoor swimming pool, a great restaurant and an excellent location – all in the heart of the CBD.
For travellers on a tight budget, Alice in the Territory is a perfect option. Situated just 2km south of the town's CBD, it's close to the Casino, the Alice Springs Convention Centre and the Alice Springs Golf Club.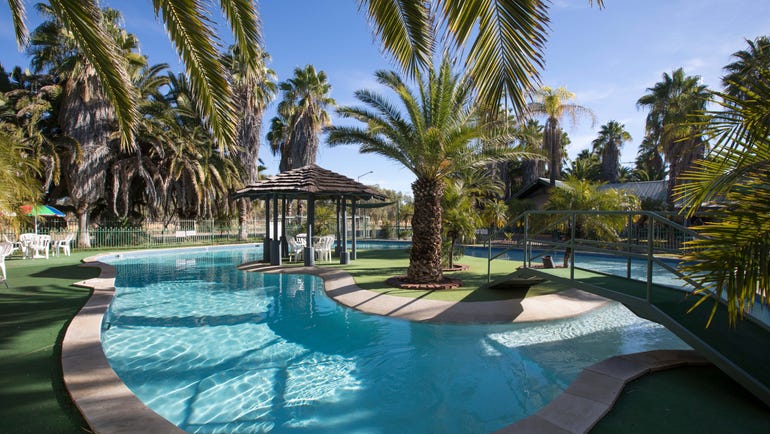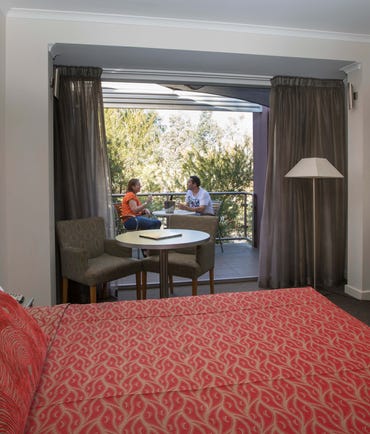 Sleeping under the stars: caravan & camping grounds
The cool, dry nights in Australia's Red Centre are perfect for camping, which explains why Alice Springs has some of the best camping grounds Australia has to offer. Whether you're bringing your own tent or not, there are plenty of options for spending the night underneath the stars.
Whether you're bringing a tent and swag, or just a toothbrush, you'll find what you're after at Alice Springs Tourist Park. As the closest tourist park to town, you'll have all the attractions on your doorstep. There's plenty to do for all the family, including pools, playgrounds and a well-stocked kiosk. A range of accommodation options including campsites and cabins will suit travellers of all budgets.
Travelling with your furry companion? Have no fear, man's best friend can rest his or her weary paws at the Heritage Caravan Park. There's an off-leash area and a self-service dog wash, while the kids will be happy with the 500,000L pool – one of the biggest in the Territory.
A few minutes drive south of the town's CBD, the BIG4 MacDonnell Range Holiday Park is the most awarded tourist park in the NT, and a quick walk around the premises shows why. With excellent facilities such as an on-site water park and plenty of playground area for the kids, it's no wonder this park is a favoured destination among both visitors and locals.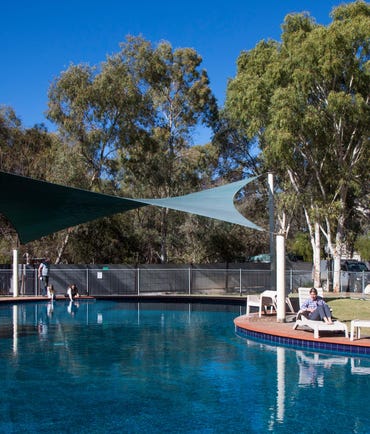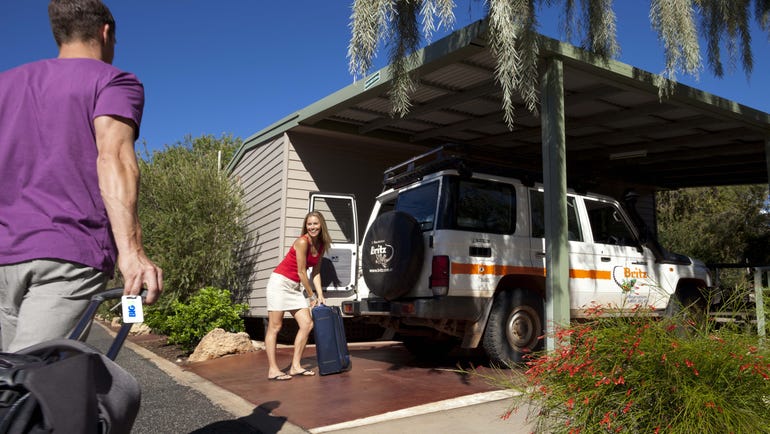 Getaways in the surrounding region
If you're looking to stay a bit further afield in the areas surrounding Alice Springs, there's still plenty of comfortable accommodation on offer.
The Bond Springs Outback Retreat is a self-contained bed and breakfast just 20 minutes from Alice. Situated on a family-owned cattle property, Bond Springs gives you the chance to experience authentic outback life.
Another example of the glamping trend sweeping through the Territory is the Squeaky Windmill Boutique Tent Bed and Breakfast, which gets you face-to-face with the West MacDonnell Ranges. Only 20 minutes from the Alice Springs CBD, you can cook your own dinner from a pre-prepared barbecue hamper while taking in the best view available to any chef in Australia.
A little over an hour's drive outside Alice Springs in the West MacDonnell Ranges is the Glen Helen Homestead Lodge, which has picked up a number of Northern Territory Tourism Awards and was recently featured by Lonely Planet. Glen Helen, formerly a cattle station, offers a true outback experience, and was one of the first homesteads to cater to tourists in the region.
An hour's drive west of Alice Springs, in the heart of the West McDonnell Ranges, is the Ellery Creek Big Hole Camping Ground, situated at the picnic and swimming site of the same name. Similarly, the Ormiston Gorge, Finke Gorge and Redbank Gorge Camping Areas offer basic facilities in the heart of the Outback. At Standley Chasm you can stay in an Aboriginal-owned and operated camping ground.
Just over 100km north east of Alice Springs is the Hale River Homestead, another Territory location with a rich history. Right in the middle of the picturesque East MacDonnell ranges, Hale River takes in breathtaking views of the picturesque desert landscape of Central Australia. The Homestead has plenty of places to camp, as well as four self-contained properties. If you don't want to pitch a tent, you can stay in recently renovated accommodation that Australian stockmen called home in the early 1900s. You'll need a four-wheel-drive to access the homestead via the unsealed road.
Gemtree Caravan and Tourist Park is 1.5 hours' drive from Alice Springs and has comfortable, air-conditioned cabins as well as powered and unpowered camping sites. Check out the gem room and gallery to see a number of valuable stones from the region, while you can relax in the evening with the dinner and entertainment of Kate's Campoven Kitchen.
Most visitors to Alice Springs stay for 2 or 3 nights, but you could easily stay longer to truly explore the area. Check out some more Alice Springs accommodation options.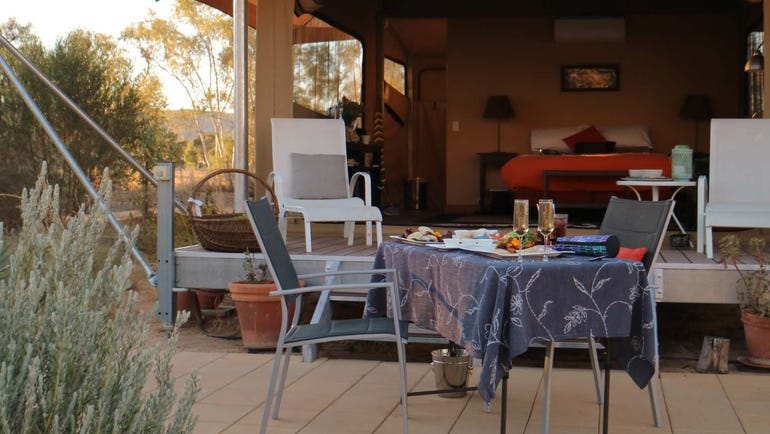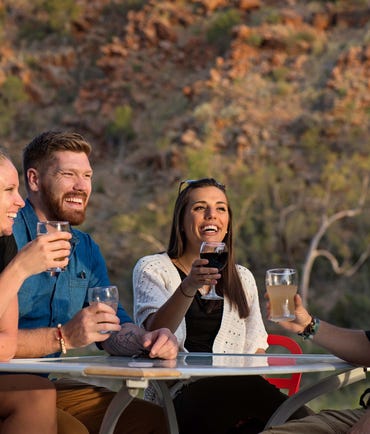 More articles you might like