10 cool things to do in the Top End this summer
If you'd rather not share your holidays with the crowds and you're looking for something different that will be the envy of friends and family, come to the Territory's Top End.
1. Design your own croc itinerary

Start with a visit to the Museum and Art Gallery of the Northern Territory to see the taxidermy replica of Sweetheart. At 5.1m, you'll get an idea of the sheer size of these powerful predators.
Nothing compares to the thrill of watching these huge prehistoric beasts leap high out of the water on the Adelaide River Queen Jumping Crocodile Cruise.
For an animal encounter like no other, jump into the Cage of Death, Australia's only crocodile dive, at Crocosaurus Cove. Get your adrenaline pumping as you come face-to-face with one of these modern-day dinosaurs swimming around you – all from the safety of a purpose-built acrylic cage.
You can also feed one of the big brutes yourself or handle a baby croc, and if you're still keen for more croc action, Crocodylus Park and Zoo plays host to over a thousand crocodiles from hatchlings to massive adults. You can also go on a croc boat cruise.
After all that excitement take a drive out to the United fuel station, along the Arnhem Highway, at Humpty Doo for a photo opp with one of the coolest statues – a 10 or 13 metre-tall (depending on who you ask) boxing croc. He's one of Australia's famous BIG things and will make you smile if nothing else.
2. Acquaint yourself with the art scene

All lovers of art should schedule a visit to Darwin. Here, you'll find hidden gems crammed with contemporary art, and locally owned and run Aboriginal art galleries showcasing traditional and modern art from communities all over the Territory.
Get an overview at the Museum and Art Gallery of the Northern Territory (MAGNT), the prize-winning public gallery proudly displaying the region's finest. Then check out Aboriginal Bush Traders which connects visitors with unique, authentic and ethical cultural products and experiences.
Specialising in art from the Utopia region of Central Australia, Mbantua Fine Art Gallery offers a selection of paintings and crafts. Mason Gallery showcases art from Arnhem Land down to the Red Centre, and at the Aboriginal Fine Arts Gallery you can also find carvings and hand-woven baskets.
Darwin is alive with colour as you wander the laneways and backstreets to view the large murals and artworks that adorn the building walls. Join a laneway walking tour for the best of Darwin's street art and find out the stories behind the paintings.
3. Enjoy an Aboriginal cultural experience
Learn from the people who know the land, ecology and culture best. Pudakul Aboriginal Cultural Tours deliver an original and authentic Aboriginal culture and nature-based experience in the quiet beauty of Aboriginal owned and operated Limilngan-Wulna Land. Based in the Adelaide River wetland region near Kakadu, it's about a 45 minute drive from Darwin.
On this two-hour tour you'll engage with local Aboriginal people, learn about the environment, wildlife and local bush food and medicine, and sample delicious damper (bush bread) and tea. You can also have a go at basket weaving, dilly bag making, playing the clapsticks, spear throwing or blowing on a didgeridoo.
You can create a DIY combo, with a trip to the Wetland View Top Visitor Centre and Litchfield afterwards. Alternatively, you can join the family for a day learning how to make a spear, collect and gather fibres and immerse yourself in the culture on country.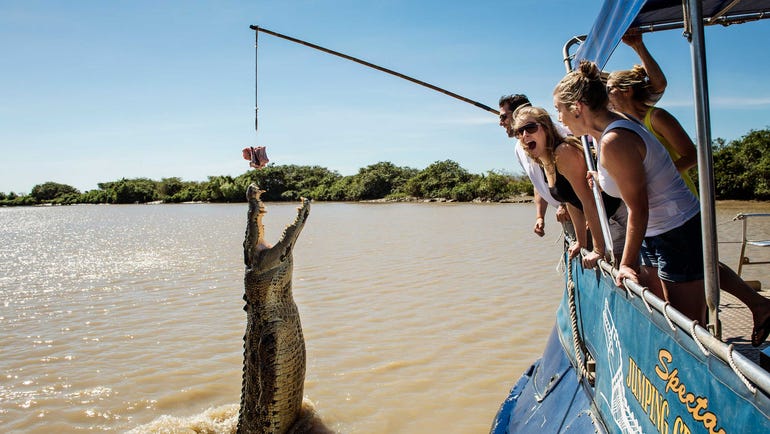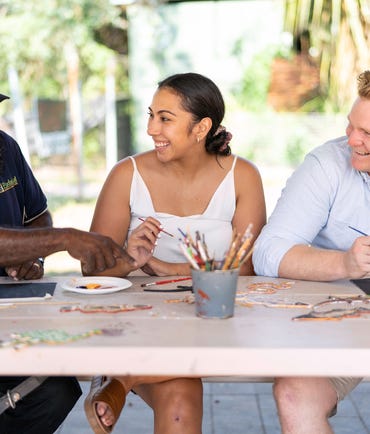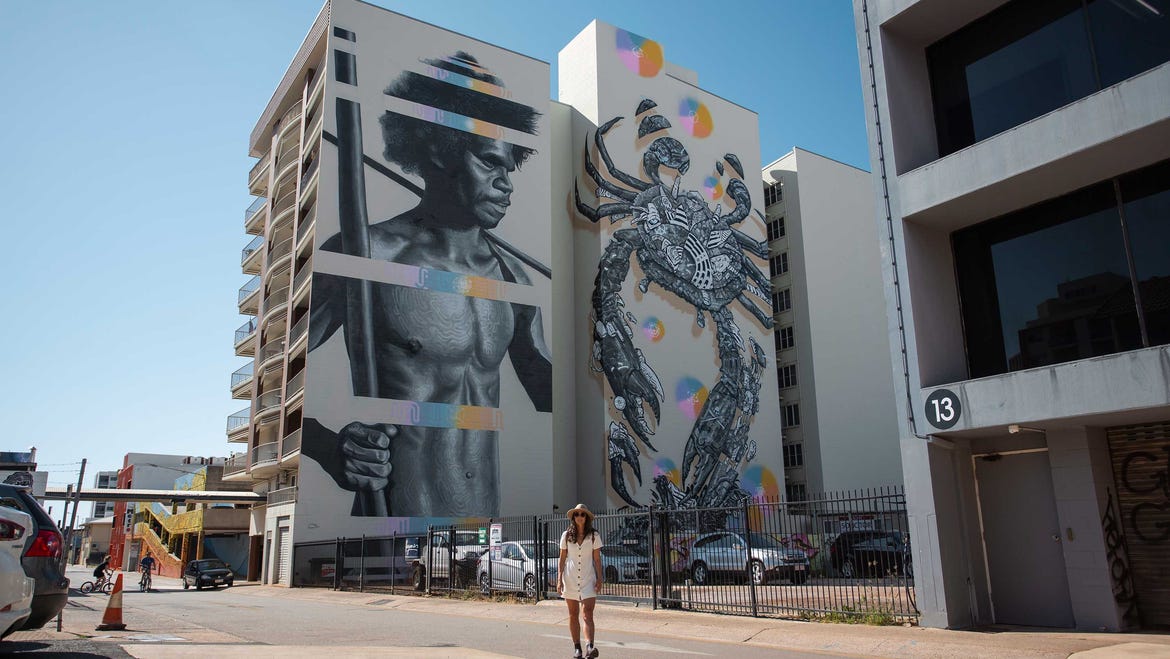 4. Have a cracking good time
He's the fastest whip-cracker in the world and during summer you can visit the Mindil Market wild card attraction Mick Denigan at his 20-acre homestead.
Just 60km down the track from Darwin, Mick's Whips Homestead features the world's largest stock whip – measuring 25 metres and weighing in at over 500kg. The Whip Museum and gallery is a little gem which houses a huge collection of whips and whip memorabilia from Mick's 32-year whip making and whip-cracking career.
Visitors can learn about the different aspects of the whips, and listen to his tales including creating a guitar strap from crocodile skin for Bob Dylan and designing whips for Hugh Jackman and Nicole Kidman in Baz Luhrmann's film, Australia.
Mick recently broke the world record with 127 cracks in 10 seconds, the record officially accepted by the Australian Book of Records. Visit him at mickswhips.com.au
5. Watch jaw-dropping storms and sunsets
When a big front starts to brew from November onwards, make like the locals and settle in at prime spots for nature's epic sound and light shows. The Top End also has bragging rights to some of the best sunsets in the country – and they're insta perfect all year round. Not that it's a competition!
Seeing the storms roll in across Darwin Harbour and East Point Reserve is definitely one of the perks of our tropical summer. Mother Nature likes to crank it up a few notches in Adelaide River, Kakadu National Park and East Arnhem Land. Stay overnight to drink in the show.
Perch yourself up on a bar stool, a glass of bubbly in your hand, in the Zen building's Rooftop Lounge on Level 16. Offering panoramic 360 degree views of the city, watching veins of light crackle across the horizon will be a moment to remember.
Make sure you grab a front-row seat for a dazzling lightning or sunset display at the Darwin Ski Club, Trailer Boat Club or Cullen Bay beachfront. Nightcliff Foreshore and Fannie Bay are also perfect for taking in sundown while enjoying the ocean breeze.
If you prefer to stay closer to home, book a room with a view at Darwin Waterfront or Cullen Bay, grab a glass of wine and enjoy the performance from your balcony. There's no better show on earth.
6. Keep your cool during our tropical summer
Some of our favourite Top End swimming spots and beaches are off limits at this time of the year. Don't worry. We've got you covered with our go to list of well-known waterholes, lakes and public pools.
Start your day with a sunrise swim at the charming Nightcliff Pool with manicured lawns and sublime views of the sea and cliffs. Then pack your bathers and a picnic lunch for a day of waterhole hopping at Buley Rockhole, Florence Falls and Wangi Falls at Litchfield National Park.
Head to Mindil Beach Casino for the ultimate beach club experience. With a row of palm trees, a glistening infinity pool, beats playing from the pool's DJ decks on weekends, and an all-day drinks and beachy bites menu, this has some of the most unbelievable panoramic beach sunsets.
Swim in salt water, safe from crocs, at Darwin's only man-made beach at Darwin Waterfront. Once you've worked on your tan, navigate the inflatable obstacle course or catch a wave at the Wave Lagoon - a tube-riding, boogie-boarding bucket of fun.
Continue to channel your inner child at Leanyer Water Park and take the gang to race around on the network of giant waterslides that are all over 100m long.
Make a beeline for Lake Alexander in the beautiful East Point Reserve. Filled with filtered seawater, the lake provides safe swimming in natural surroundings with picnic areas and playgrounds.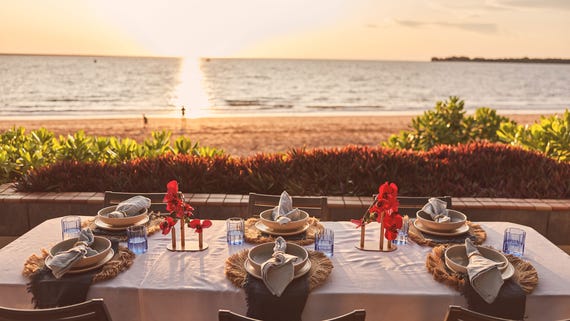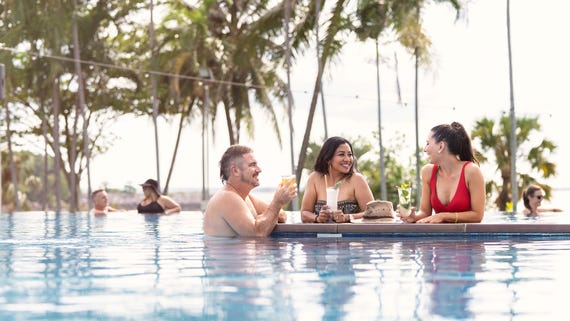 7. Embrace a coastal beach bush vibe
One of the Top End's kept secrets, the Peninsula Way and Greater Litchfield loop offers laidback getaways with a unique blend of bush and beach. Kick off your shoes and wake up in paradise.
Crab Claw Island Resort is a quirky beach front resort that is built on stilts by the sea. It's an easy one hour drive from Darwin (it only turns into an island at high tides) and a great place to chill out for a few days. Hire a tinny and catch plenty of fish, watch crocs swim up and down in the water and toast the sunset on the deck of the pub.
A favourite weekender retreat with year-round retreats and holiday homes, Wagait Beach is the perfect place to relax, catch mud crabs, beachcomb and spot the occasional dolphin. Jump on a 15-minute ferry from Cullen Bay to Mandorah jetty (a great spot for fishing). You'll need your own transport so cruise along the sealed path to the beach on your bike or drive the 90 minutes by road.
You'll find pristine coastline, world-class fishing, tranquillity and an authentic local vibe at the small, unspoilt township of Dundee Beach. Just 120km south-west of Darwin, this popular spot is a rare gem. Hang out at the popular Lodge of Dundee for a pub meal and friendly social banter or jump on a tour with Outback Fishing Charters with a group of mates.
8. Boost your photography skills
The Top End is a photographer's paradise. Not only can you focus on the vibrant wildlife and out-of-this world landscapes but after a downpour you're usually treated to a rainbow or two.
Local nature photographer Paul Thomsen from WILDFOTO will give you a dose of adventure photography inspo with his private tours near Corroboree Billabong.He also provides one-on-one tutoring and workshops ranging from basics for beginners to taking pictures at night.
Kakadu is loved by photographers for its diversity of landscapes, abundance of wildlife, 20,000 year old rock art and, of course, the people. Whether you're a holiday snapper or budding pro, capture breathtaking moments with Peter Keepence in his half or full-day tours. Based in Jabiru, Peter knows all the secret spots with on-location photography lessons. Call 0419876700 to check availability.
Here's a tip if you want to nail an iconic Territory sunset. When shooting, light is your best friend and how you work with it will determine the style of your shot. We suggest using a low aperture so the sun remains soft, a lower ISO, and high shutter speed. Good luck!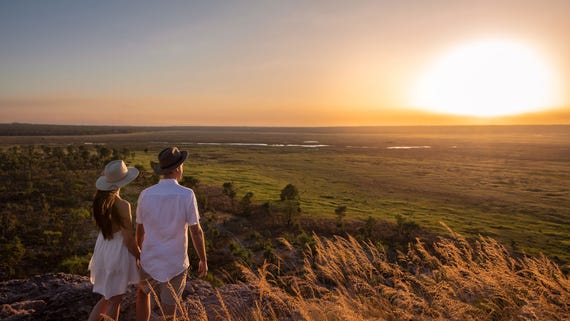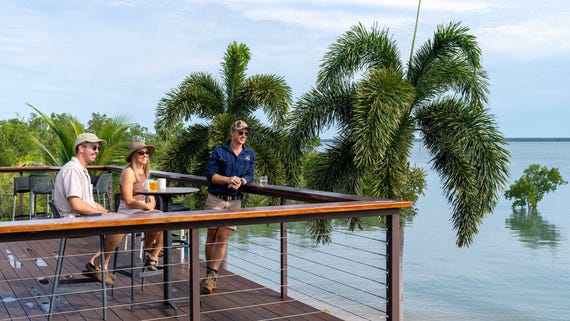 9. Soak in military history
When it comes to remembering the past, Darwin has embraced the future with innovative digital solutions to heighten the visitor experience and bring you closer to its military history.
Relive the drama of the Bombing of Darwin Harbour at the Royal Flying Doctor Service Darwin Tourist Facility at Stokes Hill Wharf. With life-size holograms, interactive storytelling ghosts, virtual reality production and full-size replicas, you'll be in awe of this facility and what you can learn.
Learn about life in the Northern Territory during World War II at Darwin's Military Museum on a journey through geo-tagged audio commentary. The heritage-listed area in East Point Reserve also contains WWII fortifications, military vehicles and larger artillery pieces.
Be captivated by the powerful, audio-visual journey that is the Defence of Darwin Experience; an immersive, interactive, multimedia experience that extends beyond the physical walls of the military museum. Hear from the men and women who survived, and watch a short film created with actual footage from the attack over 75 years ago.
Explore the WWII Oil Storage Tunnels, buried beneath the cliffs of Darwin city, for a bit of old-fashioned fun and discover how the diggers toiled with picks and shovels to protect our oil supply at Australia's top secret underground heritage museum. Closed from 7-27 December.
10. Land a barra plus a cool mill in minutes
Well, we're not sure how many minutes it takes to catch a barramundi in the Top End (some say under two minutes but that sounds fishy to us).
Still, the tropical summer months from October to March are well known for producing some of the best barra fishing in Oz, with a select number of red-tagged fish that could turn you into a millionaire.
If you're not an experienced fisho or don't have your own boat, head out with a fishing tour operator like Barramundi Adventures Darwin and Anglers Choice Fishing Safari. You can also go on the fishing adventure of a lifetime with Airborne Solutions on their half or full day Heli Fishing packages. Accessing remote fishing spots of the Top End in a helicopter, you'll fly over sensational landscapes before escaping into a fishing wonderland. Rods and tackle supplied.
You're spoilt for choice with fishing spots in the Top End but if you don't have much time the Darwin Harbour catchment is a popular spot and massive. Short travel times mean you can be wetting a line within 20 minutes of launching your boat, and you can flick a line from Stokes Hill Wharf if you want to be land based.
There are currently 9 red-tagged fish worth a million bucks out there in the Territory's Top End Waterways. There's just one snag - you must have registered for Season 8 to be eligible. Never mind, the Million Dollar Fish Season 9 runs from 1 October 2023 – 31 March 2024 with registrations open from 1 September, 2023. Visit https://milliondollarfish.com.au for details.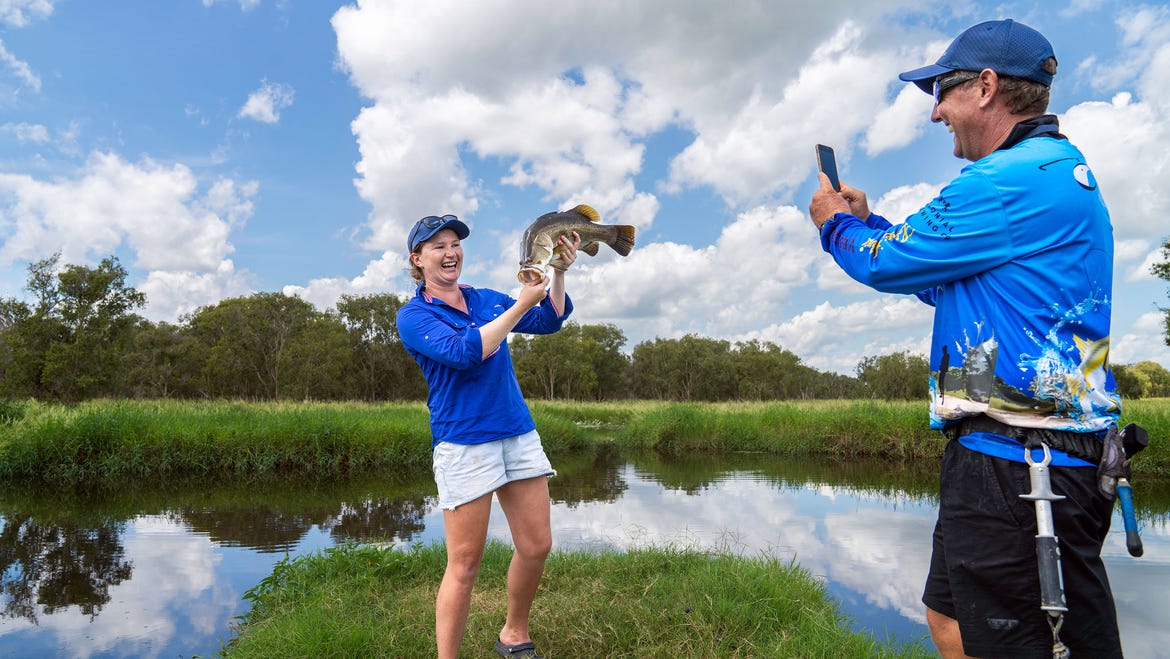 More articles you might like