10 Red Centre adventures you didn't know you needed this summer
Once your feet touch down on the red dirt of Central Australia, you'll uncover not only the renowned locations like Uluru and the West MacDonnell Ranges, but also the many hidden treasures waiting to be explored.
The Red Centre has a rich connection with Aboriginal art and culture, the land and Australian pioneering history. From the moment you arrive in this vast and unique landscape, an abundance of exciting fun-filled summer adventures await.
The waterholes are full and ready to plunge into for a swim, you can beat the heat with sunrise walks and summer is also the perfect time to dine under the stars and capture the changing colours at dawn and dusk.
1. Explore hidden waterholes
Surrounded by desert in all directions, the Red Centre might be one of Australia's driest landscapes, but that doesn't mean you can't get wet. There are a bunch of secluded swimming holes just waiting for you to dive into.
Ellery Creek Big Hole and Redbank Gorge are two picture perfect plunge pools encircled by towering walls of red rock. Fringed by a beach of white sand and palm trees, Ormiston Gorge makes it hard to believe you're in the desert. You could be forgiven for thinking you're on your own private island. 
You can also swim at Glen Helen Gorge on the Finke River. Finish your day with a beer at the Homestead Lodge and watch a stunning sunset.
2. Gaze at the stars and night sky
With millions of visible stars, Central Australia offers some of the best night skies in the world. Make sure you add one of these stargazing experiences to your star-studded bucket list.
Enjoy a space adventure with Alice Springs-based Earth Sanctuary on their Astro Tours as you peek through telescopes up at the vibrant Milky Way. 
If you're in Uluru-Kata Tjuta National Park, you have lots of ways to discover the stars. You won't be disappointed as your astronomy guides take you on an unforgettable journey of stars, sound and surprise with Uluru Astro Tours. Get a photo of Uluru under the Southern Cross and create lifetime memories to bring home and share.
You can also dine under the stars with the Sounds of Silence or watch the desert come to life at A Night at Field of Light. For a truly unique experience, Wintjiri Wiru tells the Anangu people's Mala story through a symphony of light displays, lasers, sound and over 1000 drones.

If you're in Watarrka National Park, immerse yourself in the Light-Towers at Discovery Resorts - Kings Canyon.
3. Meet the friendly wildlife
From encounters with wedge-tailed eagles to nocturnal adventures, there's plenty of wildlife in Alice Springs to keep you entertained.
For all things that hiss and slither, visit the Alice Springs Reptile Centre. Handle a python, watch lizards being fed or view Terry, the resident croc, safely behind glass.
If you're keen to make friends with wildlife of the furry variety, head just out of town to the Kangaroo Sanctuary, where Chris 'Brolga' Barnes of the BBC's Kangaroo Dundee series rescues orphaned joeys, which you can feed and cuddle!
To discover a mix of Central Australian wildlife in one place, the Alice Springs Desert Park is a great option. Spot rare and endangered animals, like the 30-cm-tall, shaggy-haired mala that'll crush you with its cuteness, in the low light of the nocturnal house. Also out the fascinating and diverse relationships of birds in the cheeky daytime Mile High Club.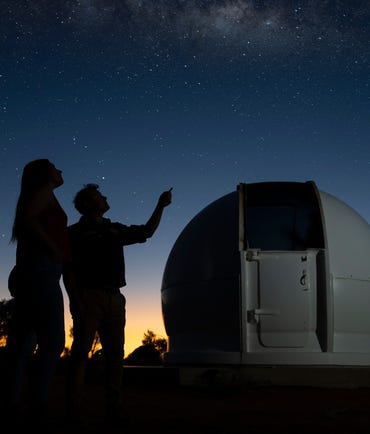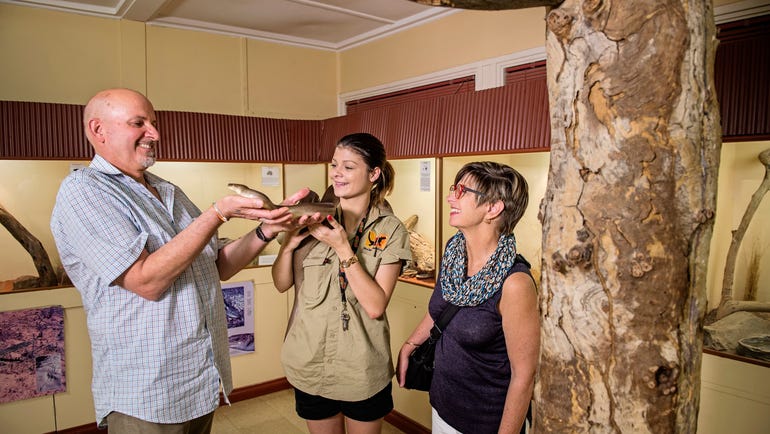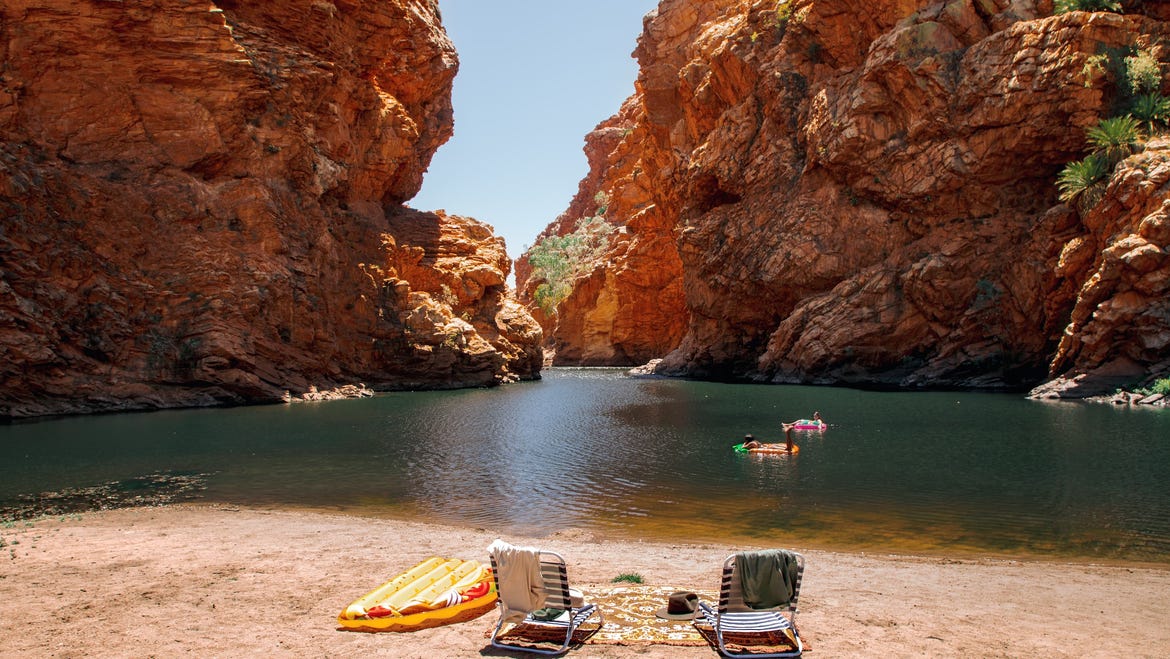 4. Be a time traveller and uncover the secrets of the past
Discover the tales of the early settlers, and explore how people first came to Central Australia and the way they adapted their lives to survive at the Alice Springs Telegraph Station. Only six minutes out of Alice Springs, it has been restored with furnishings and artefacts from the early 1900s.
Continue your trip through time at the Alice Springs School of the Air visitor centre, and watch the world's largest classroom come to life.  Next up, be inspired by the Women's Museum of Australia which celebrates the achievements of pioneer women and showcases their courage, perseverance and determination. Based in the heritage-listed Old Gaol, you can also get a hands-on experience on what life was like for inmates.
Finish your day of historical exploration by uncovering the exciting Central Australian story of megafauna from the Miocene epoch, about eight million years ago, at Megafauna Central in the CBD. You can see the skeleton of the world's largest bird, along with that of a colossal croc and plenty of other cool finds. It will blow your mind.
5. Hike and discover rock art in the East MacDonnell Ranges
Take time to uncover the jewels of the 'East Macs'. Rich in Aboriginal art and incredible geological formations, these ranges boast some of the Red Centre's most scenic spots.
Visit the impressive caterpillar rock art at Emily Gap, just 10km east of town along the Ross Highway. You can cycle to get there, but go in the cool of the morning or evening and pack your swimmers to cool off.
Another serene place for a cool dip is John Hayes Rockhole and short walks in Trephina Gorge Nature Park. Attracting a variety of animals and birds, it's also home to the largest Ghost Gum in the country.
If you're keen for more of a stroll, make your way along a one-hour return walk to N'Dhala Gorge, a fascinating site that protects thousands of prehistoric rock carvings, some as old as 10,000 years.
If you want to base yourself somewhere for a couple of days, Ross River Resort is a tranquil point from which to roam and explore the East Macs. Relax by a campfire or "rough it" in a rustic cabin with en-suite. 
Remember to organise your NT park pass before you go.
6. Take a day trip from Alice Springs
Alice Springs is the perfect base to explore the Red Centre. Discover the best things to do by joining an all-inclusive tour or create your own DIY day trip. 
Hidden in the rugged Finke Gorge National Park, Palm Valley takes you on a journey to an era when tropical rainforest covered Central Australia. Accessible only by 4WD, it's a handy 140km from Alice.
Alternatively, you could venture to the West MacDonnell Ranges. The West Macs, as they are fondly known as, inspired some of artist Albert Namatjira's most famous watercolours. Visit the  Hermannsburg Historic Precinct, where the artist lived, and discover the area's rich history.
Want someone else to drive for a change? Hop on an air-conditioned bus tour for the day, relax, soak in the scenery and enjoy a swim. Visit the Alice Springs Visitor Information Centre for a list of other tour operators.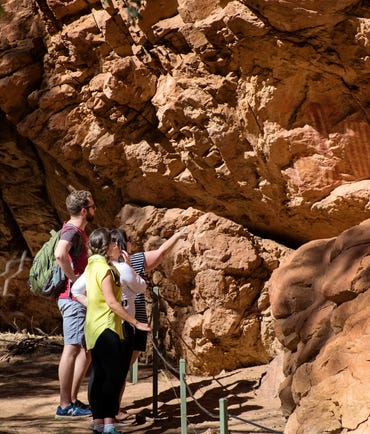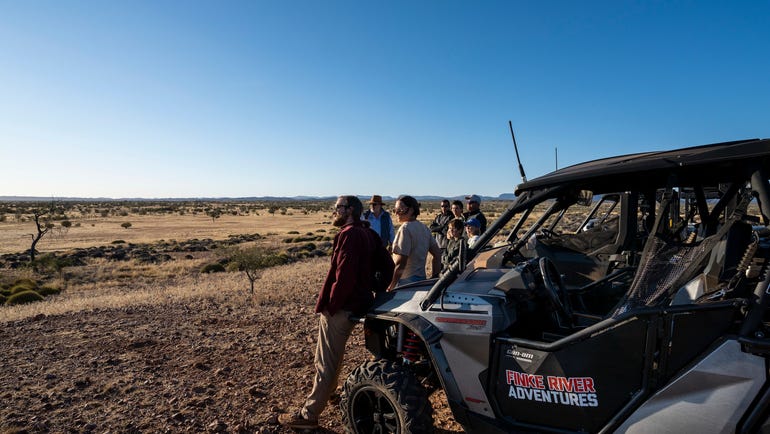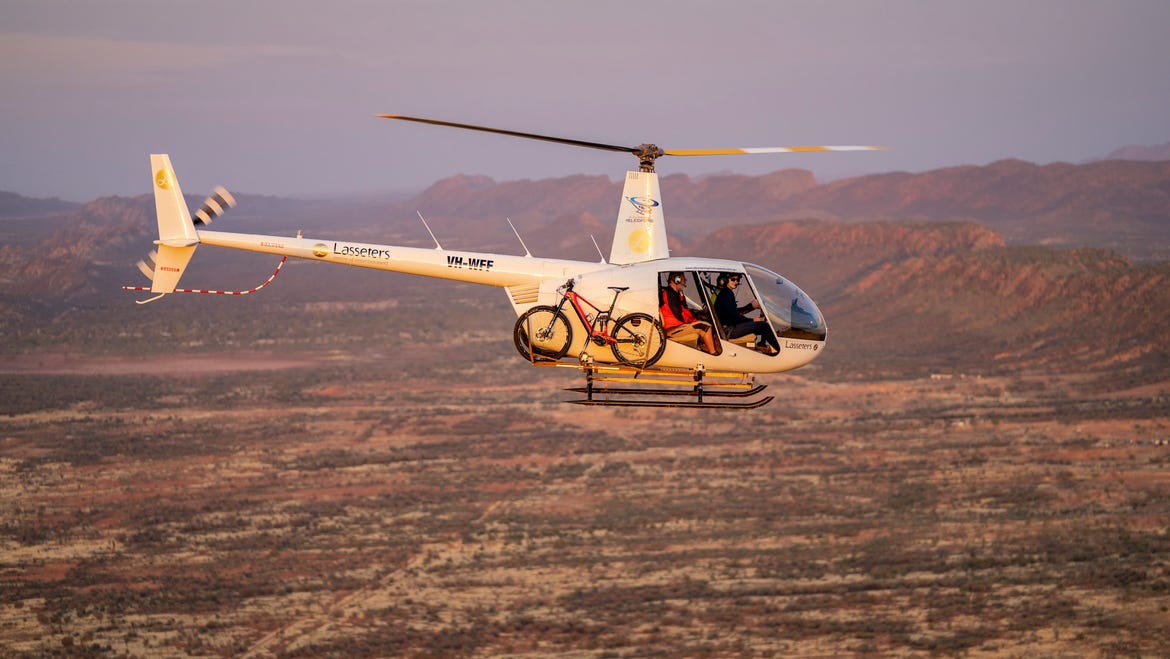 7. Unleash your adventurous spirit with a thrilling escape
If you like your holidays with a dose of adrenaline, a smattering of exhilaration and a spoonful of the unknown, there's plenty to keep you on your toes. 
Take to the skies and get the best seats in the heart of Australia with Alice Springs Helicopters. Unrestricted panoramic views are the perfect way to get picture postcard shots of the township and the startling colours of the East and West McDonald Ranges. While you've got your head in the clouds, make sure you see Uluru, the biggest monolith in the world, from bird's eye with Ayers Rock Helicopters. It's an experience in itself.
For a different view of Uluru, hop on the back of a charismatic camel, or cruise round the Rock at sunrise on a Segway tour, including nibbles and drinks. You can also ride into the sunset when you get back to Alice-Springs with Pyndan Camel Tracks.
Or, if you want an easy overnight adventure from Alice Springs, camp at magical Rainbow Valley. Plan for sunset and watch the colourful sandstone bluff change from blazing ochre to purple in the dying light. There are toilets, barbecues and picnic tables, but you'll need to bring your own water. You'll also need a four-wheel-drive to access the area.
8. Journey into the heart of Aboriginal art and culture
Immerse yourself in Aboriginal culture and learn about the paintings along the Territory Arts Trail. Check out the local art scene in Alice Springs, buy artwork at one of the many galleries in town and download the ultimate Red Centre Art Guide to help you discover the full richness of art in the region.
Or, spend an afternoon at the Araluen Cultural Precinct, off Larapinta Drive, for museums, galleries, and a theatre where you can gain a real understanding of the history, art and culture.
If you're in Watarrka National Park, learn how seeds of native trees are used to make striking necklaces and bracelets, and immerse yourself in an authentic Aboriginal art and cultural experience on a tour with Karrke Aboriginal Cultural Experience at Kings Canyon. Note that this experience is closed in January and February.
9. Unearth the mysteries of an ancient culture
If you're after something out of this world, the unique desert wildlife and ancient landscape of the Red Centre is unlike any other.
Drive out to see the vivid colours of the mineral Ochre Pits, mined for generations by the local Aboriginal people, and get a glimpse of the Dreamtime.
You can also view petroglyphs and rock engravings made by the early Arrernte Aboriginal people at the Ewaninga Rock Carvings Conservation Reserve, just 39km south of Alice. The six-hectare reserve offers a new understanding of an ancient culture. Visitors will need a park pass.
Further south, wander through the other-worldly landscape at Henbury Meteorites Conservation Reserve shaped by a meteor hitting the earth. There's 12 craters to discover, the largest of which is 180 metres wide and 15 metres deep. You will need a park pass to visit this area.
10. Take a road trip adventure
At this time of year there's car hire with unlimited kilometres to help you get around and see all the sights in cool, air-conditioned comfort. Available through the Alice Springs Visitor Information Centre, start planning an epic road trip of a lifetime now. 
Take a lap of Australia's red heart along the Red Centre Way loop road from Alice Springs and explore the diverse sights of the region, including a spellbinding sunrise rim walk at King's Canyon and a cycle around iconic Uluru. 
If you're lucky enough to witness rain and storms during summer, then Uluru is the place to be. Heavy run-off creates waterfalls and transforms the rock into various shades of burgundy and silver. It only happens a couple of times a year, so do a rain dance, cross your fingers and make sure you're there between November and March.
More articles you might like