Top 10 places to photograph in the Top End
Canon Ambassador Katie Goldie journals her favourite places to shoot in the Top End after a week on the road with Tourism NT.
The Northern Territory's Top End is a paradise for any young creative nomad, its well-kept secrets offer an abundance of fun and inspiration! A must-visit for those who love out of this world landscapes, tropical climates and wholesome characters.
Given that winter's settling in, it was a pleasant feeling to jump off the plane in Darwin and be greeted by a warm breeze on my face. I instantly smiled, sure that it would be a good week.
1. Ubirr, Kakadu National Park
I was a bit worried about not getting dramatic photos for my week here, but that quickly dissolved as we made it to our first location at Ubirr that evening. The Northern Territory's sunsets are off the charts, with nearly every evening promising an insane colour spectacle.
We walked to the lookout past many beautiful Aboriginal rock art drawings, the rich cultural history was an incredible aspect of the area. Traditional Owners urge you to not film or take photos of the ancient art, prompting us to enjoy them with our eyes only. As we approached the lookout it reminded me of the Lion King, a dramatic beautiful cliff edge towering over a vast green of grassland and swamp. It didn't look anything like I imagined or anything I thought existed in Australia!
As the sun crept down towards the horizon, the golden light caught every blade of grass and the photos tell it all.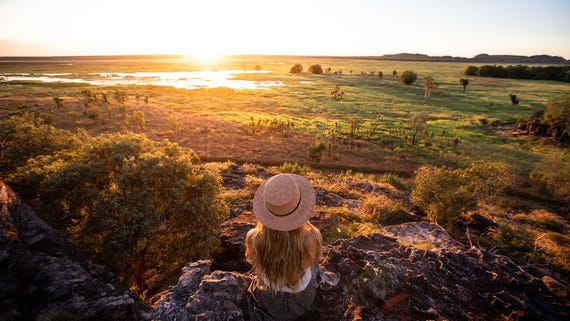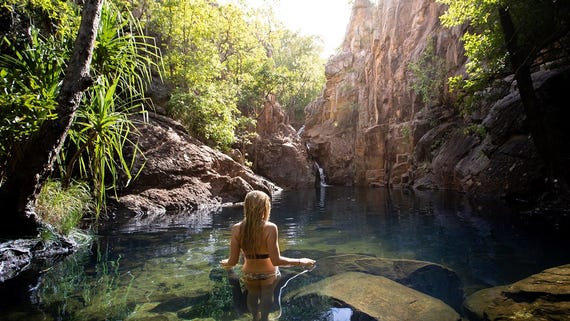 2. Moline Rockhole, Kakadu National Park
On our first full day of the road trip, we set out in search of waterholes to swim in! Our first stop was Moline Rockhole in Kakadu National Park. After a bumpy road and short walk we were greeted by a sparkling oasis.
A photographer's paradise, tall rock walls lead to a gentle waterfall. I was super excited to go for a dip! I shot a few photos before diving in, feeling lucky to swim alongside some of the rockhole's local fish!
3. Yellow Water Billabong Cruise
The Yellow Water Billabong Cruise blew my mind. We boarded our boat cruise for sunset and couldn't have imagined the wildlife encounters we were about to experience. Hundreds of birds and heaps of crocs kept us busy, jumping from one side of the boat to the next, attempting like mad to get the shot in the unreal golden light.
A once-in-a-lifetime opportunity to shoot crocodiles in their wild habitat, I was amped by another brilliant sunset and excited to share these images with my followers.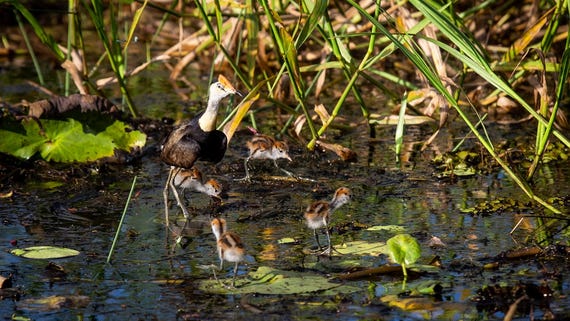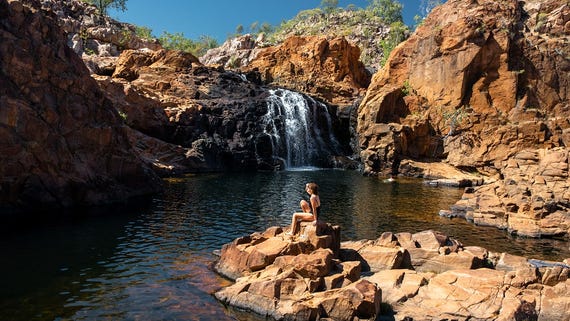 4. Edith Falls, Nitmiluk National Park
Keeping busy to ensure we maximised shooting opportunities, we headed to Nitmiluk National Park the next morning. A short climb, we reached another stunning waterhole, Edith Falls upper pools, surrounded by bold Australian rock. It was tough to shoot these locations in the midday sun, but I found a way to make my shots really interesting by shooting into the sun for some sun flare when possible.
For those with flash cameras, I'd suggest bringing a polariser to assist capturing the richness of the rock and cutting the glare on the water. I also brought an underwater housing to add a different and immersive perspective but not essential if you don't have access to one.
5. Bitter Springs, Mataranka
One of my favourite locations of the trip was Bitter Springs. The warmth combined with the immense clarity of the pristine stream system made the images so flawless. I really recommend going to this spot to photograph or to simply enjoy. Bring goggles to really explore, there's another unique perspective under the water!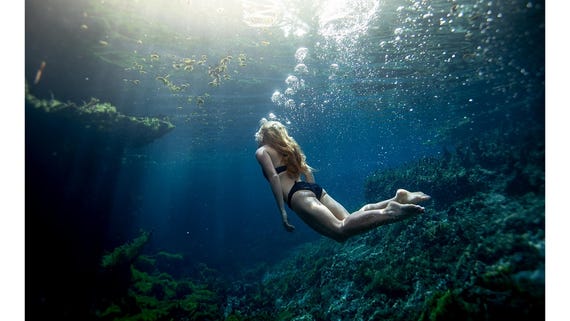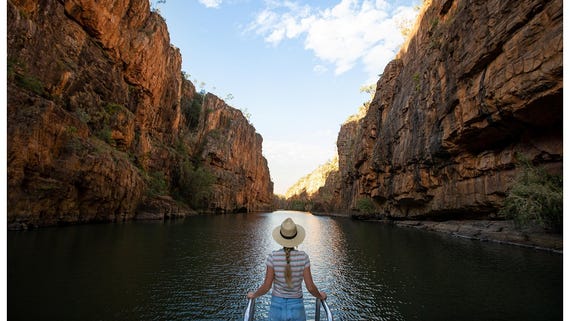 6. Katherine Hot Springs, Katherine
Katherine Hot Springs was a hidden gem! The water was an unbelievable blue, perfect for photos! To include scale in my photos I added a person floating or swimming in the water, so viewers could understand just how big and amazing the place was!
Photo tip: Add a person to your Instagram shots, it adds a personal touch and human experience to the photo.
7. Nitmiluk (Katherine) Gorge, Nitmiluk National Park
Nitmiluk (Katherine) Gorge was another of my favourite spots for photography in the NT. If I did my time again, I'd stay for a few days longer around the Katherine area, to ensure I had enough time to explore, shoot and enjoy this stunning place.
We took in the sunset from Baruwei Lookout overlooking the stunning Katherine River, it was so divine I wished I could've spent a month shooting the sunsets here.
One of my favourite photos from the trip was taken on the Nitmiluk Boat Cruise through the gorge at golden hour. The golden gorge perfectly framed my shot!  
8. Top Didj Cultural Experience, Katherine
Katherine's Top Didj Experience was one of my highlights. We met Manuel, an inspiring Aboriginal man from Dalabon country, who enlightened us by talking through some of  ways of life he practiced growing up and continues to use today. His story along with his beautiful didgeridoo music was a delightful way to learn more about his precious culture.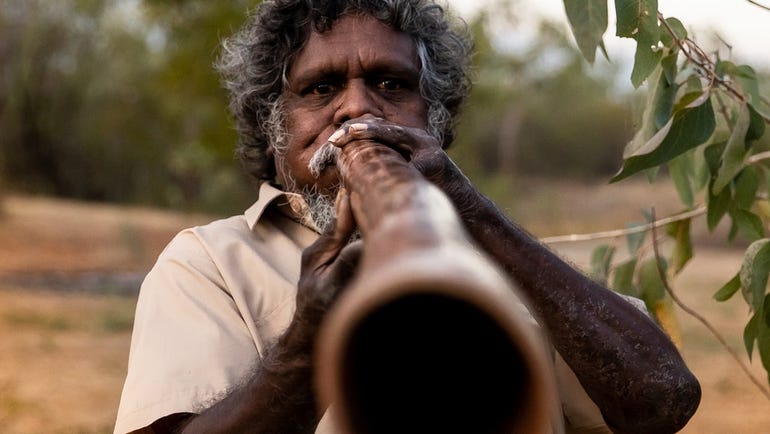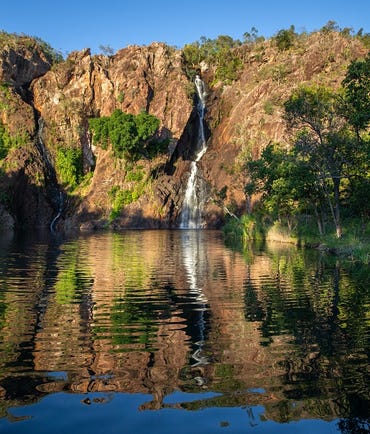 9. Florence Falls, Litchfield National Park
We headed to Florence Falls in Litchfield National Park on one of our last days. A picturesque place with two twin cascading waterfalls. My tip for this place would be to go for sunset or sunrise, you'll avoid the crowds and be able to bask in the golden light! I'd suggest capturing some long exposure shots of the well composed landscape.  
10. Wangi Falls, Litchfield National Park
Out of so many amazing spots, Wangi Falls is my final pick of choice to visit for photography. In the wet season the waterfall can really pump, and if you like wildlife photography there are beautiful Rainbow Bee Eater birds flying in and out of the landscape. Our last sunset was lovely here as the rocks lit up a vibrant red in the evening light.
Overall the trip in the Top End exceeded my every expectation and the photos are the proof! We had an incredible time and I'm wondering why I didn't visit sooner. It's also been a great complement to my photography portfolio and I'd recommend photographers of all kinds to get out there, you'll be rewarded with unforgettable experiences and breathtaking landscapes.
More articles you might like