A local's guide to art & culture around Darwin
A brightly coloured turtle glides along the side of a building, a giant crocodile watches over a supermarket, and a breath-taking portrait of the late musician Dr G Yunupingu looks down on a quiet street. Darwin's identity as a hub for creativity is written on the wall... literally.
Roaming the laneways of the modern tropical city, spectacular street art graces many facades, but the impressive murals only scratch the surface of the vibrant local arts scene also found within Darwin's art galleries and museums, and on tours showcasing the Northern Territory's cultural experiences.
Here are the places and experiences you shouldn't miss along the Darwin leg of the Territory Art Trails.
Must-see art centres & galleries
Museum and Art Gallery of the Northern Territory (MAGNT)
No Northern Territory arts experience is complete without a visit to MAGNT, where you'll find an exciting mixed bag of local art, culture, history and science. Perched on the edge of Fannie Bay, MAGNT covers everything you need to know about the Northern Territory. The Unruly Days exhibition will take you back in time to the early 1900s when the north of the country seemed an impossible place, and the Cyclone Tracy sound booth will put you in the howling path of Darwin's worst natural disaster.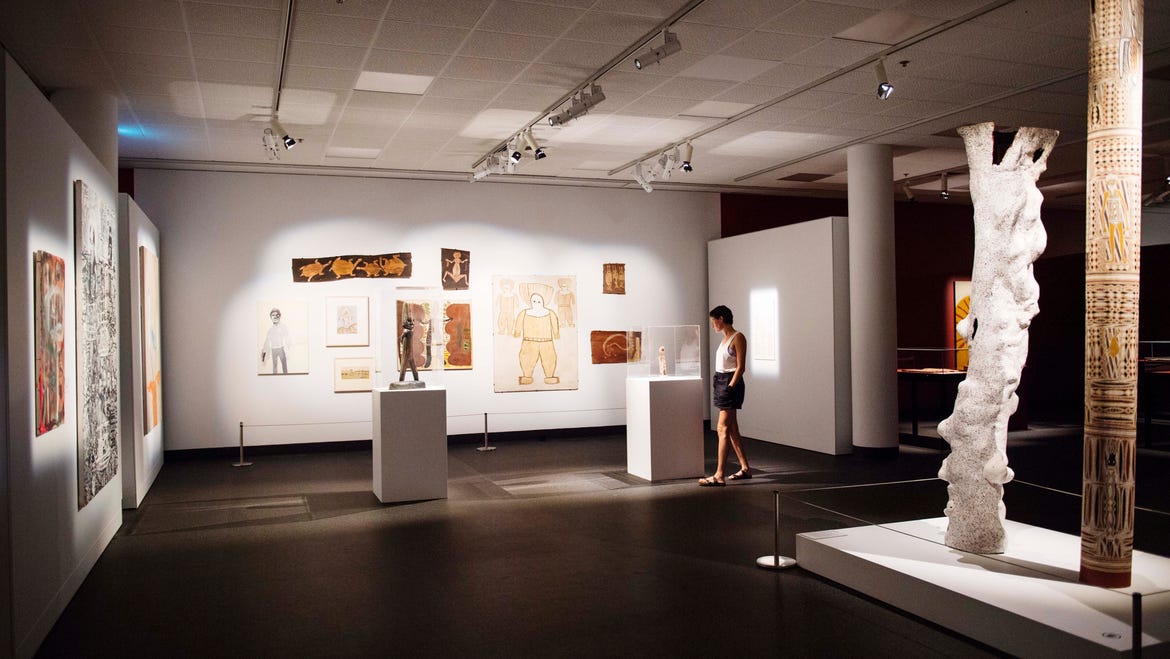 Wind your way through the megafauna and wildlife displays, including the famous monster croc Sweetheart captured in the 1970s, taking in the details of the Northern Territory's extraordinary natural environment. Soak up the sounds of the sea and the salt air as you explore MAGNT's impressive maritime exhibition featuring 44 boats from Darwin, Indonesia, the Solomon Islands and surrounds, and treat yourself to whichever travelling exhibition has landed in the north. If you happen to be in Darwin between August and January, don't miss the National Aboriginal and Torres Strait Islander Art Awards (NATSIAA) showcasing Australia's best Indigenous art.
Darwin City
Located in the almost 100-year-old Lyons Cottage, Aboriginal Bush Traders prides itself on the putting the best regional art – from show-stopping large canvases down to affordable jewellery, books, candles and soaps – all under one historic roof. Don't miss the adjoining café where the bush-tucker menu will introduce you to local superfoods like Kakadu plum, lemon myrtle, quandong, desert lime and wild rosella.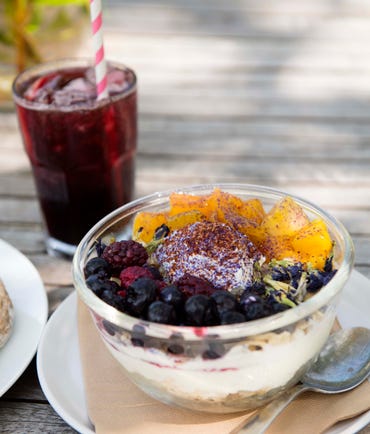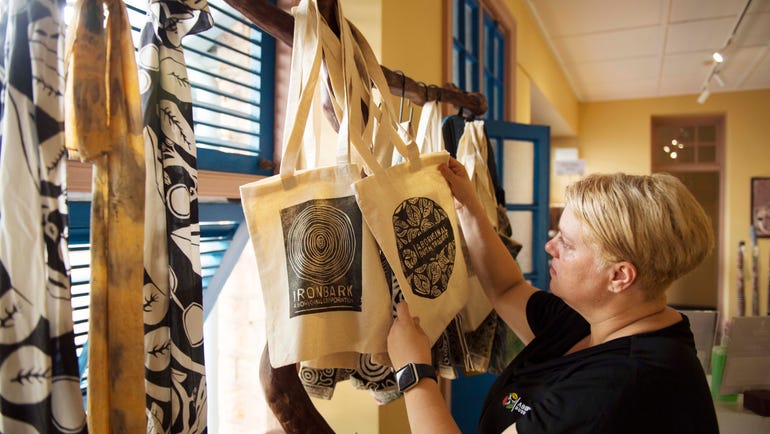 While you're in town, make sure to stop in at a few of the local art galleries to check out the latest exhibitions. Make your way up Knuckey Street to Sister7 – Darwin's first women's-only gallery – for insights to sacred women's business, then onto the Smith Street Mall, where you'll find Darwin's own Mbantua Fine Art Gallery, home to a wonderful selection of paintings and crafts. Mbantua specialises in art from the Utopia region of Central Australia and the gallery is proud to represent a small group of non-indigenous artists as well.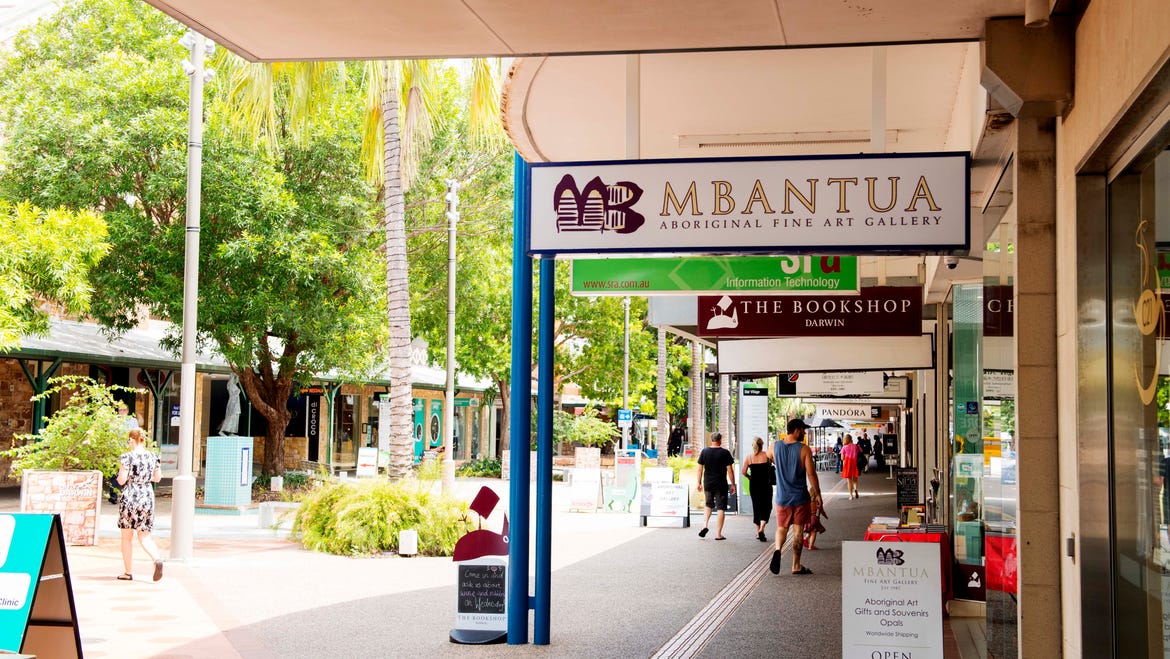 Darwin Street Art
Launched in 2018, the Darwin Street Art Festival has brightened the city and put it on the map as a canvass for talented local and interstate artists. Throughout the CBD, multiple-storey portraits pay tribute to local identities and brightly coloured wildlife jumps out at you via an app which uses augmented reality to bring the artworks to life.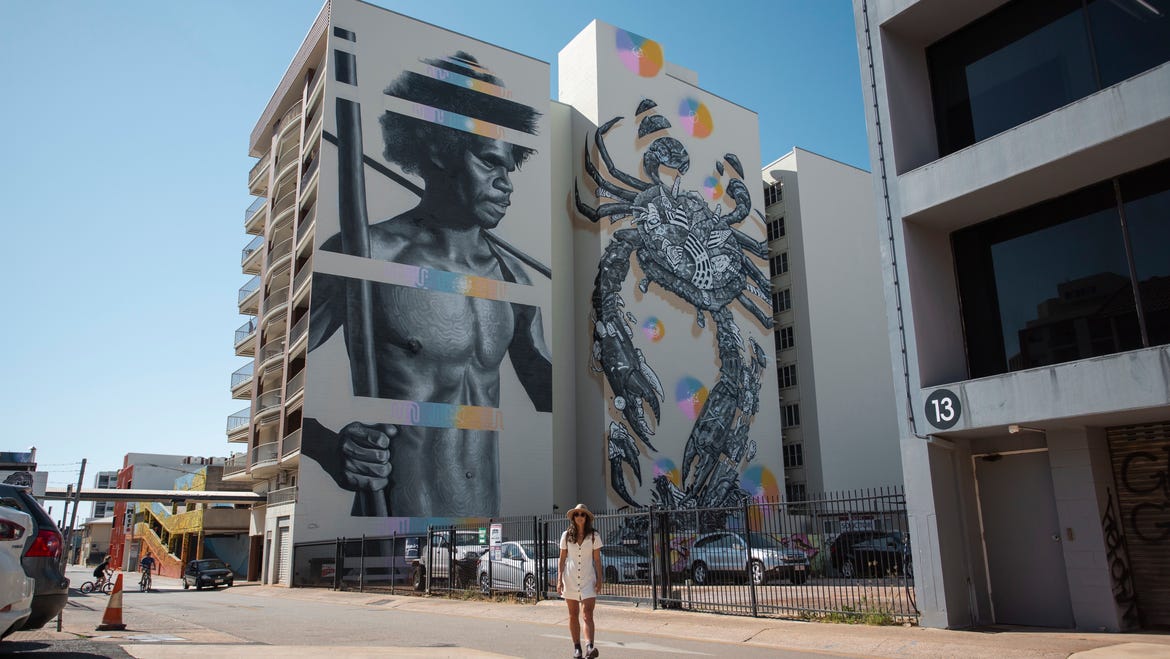 Austin Lane is the best place to start, but use the app for an interactive map of all 45 artworks, including artist bios and descriptions of their works.
Parap Markets
A mandatory Saturday morning outing for locals and tourists, Parap Markets is more than just a laksa den – it's also an artistic hub. In addition to the market's arts and crafts stalls, The Local is brimming with gorgeous artworks, giftware, jewellery and furniture created by – you guessed it – local artists.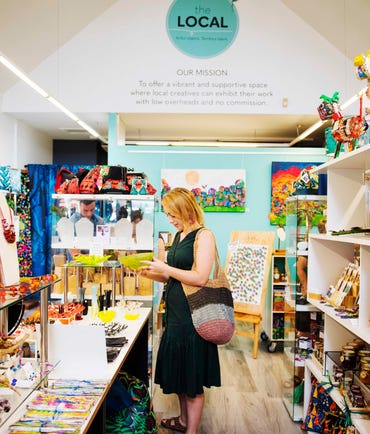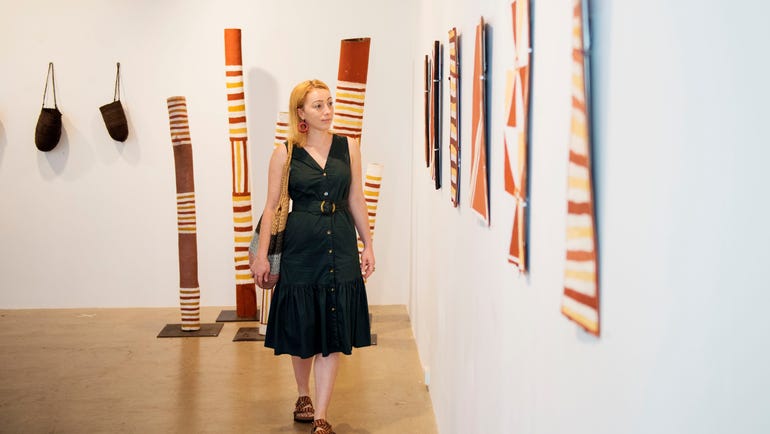 There are also several galleries in Parap. In the alleyway that runs through the market's heart, you'll find the Northern Centre for Contemporary Art, which hosts an eclectic range of local exhibitions. Venture upstairs to Outstation Gallery to experience the works of local and established Indigenous artists from remote communities across the Northern Territory – many of these pieces find their way from Outstation Gallery to the walls of galleries interstate.
Must-do art & cultural tours
Saltwater Cultural Tours Darwin
Being welcomed to country by one of the area's traditional owners is an unforgettable experience, and it's how Saltwater Cultural Tours kicks off every expedition. Led by Trent Lee, a descendent of the Larrakia people, Saltwater's full-day tour takes you to a remote location where you'll be introduced to Larrakia language and receive lessons in traditional spear-throwing, fire-making and string making. Throughout the day you'll hear traditional Larrakia stories and learn the significance of cultural artefacts, bringing you closer to country than you ever thought possible. For those light on time, Saltwater also offers a three-hour tour option in Darwin.
Tiwi Islands SeaLink tours
Tiwi Islands' art is exhibited all across the globe, and visiting the home of such an incredible ancient culture that's brimming with artistic talent is a truly magical experience. After the 2.5-hour boat ride from Darwin to the Aboriginal community of Wurrumiyanga on Bathurst Island, you'll be greeted by friendly locals ready to introduce you to their country.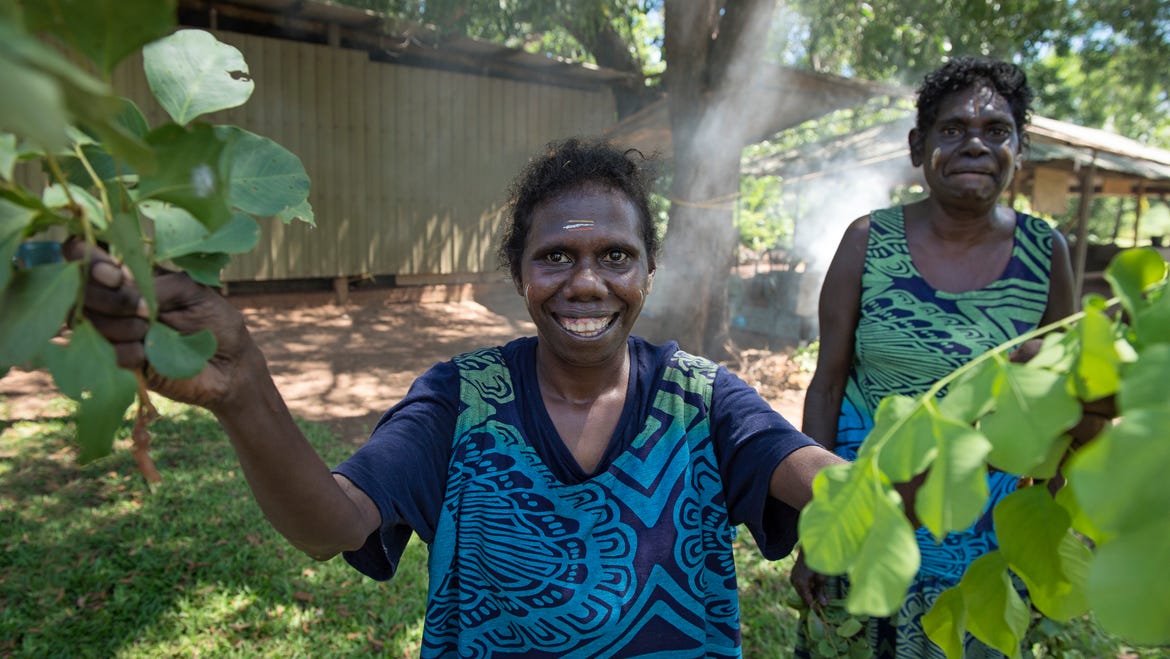 SeaLink runs a range of tours, all with local guides, which visit the island's museum, the old Catholic mission precinct and the island's art centres, including Tiwi Designs where visitors are taken behind the scenes at the printing workshop and will even get to help create and take home their own souvenir. All guests are treated to a traditional smoking ceremony and totem dance, and will be given the chance to mingle with artists over a cup of billy tea and some damper.
Pudakul Aboriginal Cultural Tours
The clicking and popping of mangroves in the quiet beauty Corroboree Billabong is an extraordinary sound, but it takes on an even more special meaning when you've been guided there by the area's Traditional Owners. Departing from Darwin, Pudakal Aboriginal Cultural Tours offers an exploration of the Northern Coastal Wetlands 90 minutes away where the connection between people, wildlife and the land is brought to the fore.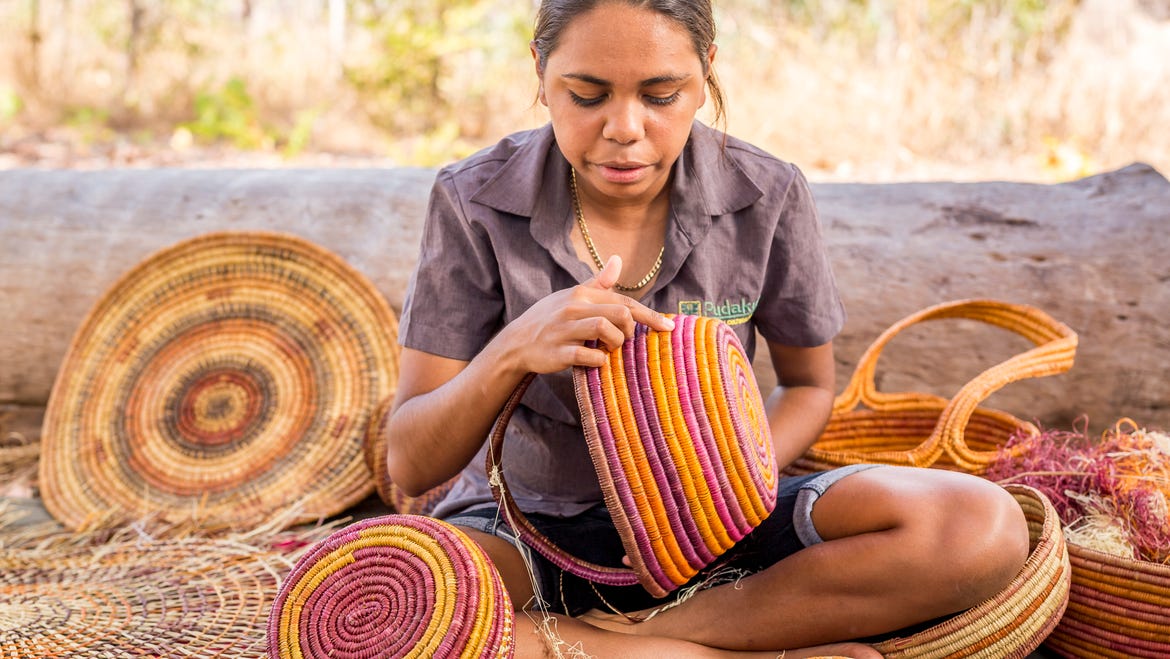 Experience the thrill of croc-spotting and bird-watching as you cruise along the billabong, while hearing all about the local history and culture. There's also a bush tucker walk and talk, and the chance to have a go at a spear throw or a didgeridoo blow. For an even fuller immersion in Indigenous culture, Pudakul also offers overnight cultural experiences to Kakadu and Litchfield.
Check out more NT trip ideas in these itineraries.
More articles you might like