​Life in the slow lane along the Red Centre Way
The more you travel, the more places you naturally add to your travel bucket list. But, once in a while, you stumble across a destination so singular, that you'll be compelled to bump it to the top of the queue.
Uluru and the Red Centre are one of those places and, when you explore by road, you'll all but lose yourself in Australia's heartland, red dirt and all.
Slow travel might be the new rage on TV, but shhhhh – don't tell the youngsters that we road trippers perfected the art years ago. Fly-in, fly-out long whirlwind visits suit those used to a frenetic pace in life, but slowing down and chewing up the miles on a road trip through Australia's Red Centre affords you the luxury of time… time to meet new people, time to immerse yourself in the sights and smells out back, and time to explore your connection to country and stay awhile in places that take your fancy.
Plus, there are more amazing outback sunsets than you can poke a stick at and it's a bucket list trip that won't break your budget. But you will need to do a little prep work before you head out as towns are few and far between… and so are cars, but that's half the fun.
The Red Centre Way links Alice Springs with the great natural icons, Uluru, Kata Tjuta, Kings Canyon and a swag of national parks. You can spend six glorious days, if time isn't on your side, or if you choose the outer loop, you can just meander, stopping at will, and see where the road takes you.
To be honest, you won't blaze trails on this trip. The path ahead is well worn, but locals are generous in sharing their knowledge, leaving you time to immerse yourself in the incredible scenery and to enjoy the camaraderie of life on the highway. Of course, a four-wheel drive opens up a whole new world where exotic names like Tjoritja and Tnorala roll off the tongue.
Alice Springs hits you full in the face as soon as you arrive. It can't help it. It's outback Australia in full glory – from the dramatic scenery to the chunks of rock that separate the rich red outback carpet from the highway to the welcoming smiles of the locals who greet you in friendly fashion and immediately ask where you're from and what you're up to. Life runs at a slower pace here, so get ready to go with the flow.
In Alice, art (Mbantua Fine Art Gallery, Papunya Tula Artists, Yuba Napa Gallery and Studio, Ironwood Arts are some of the best) and nature (the MacDonnell Ranges with its many gorges and waterholes) vie for attention, and the pioneering spirit of the town is reflected in the many adventurous, challenging and sometimes quirky experiences found here.
Free: Take a leisurely stroll up a stepped track to the top of Anzac Hill and watch the sun go down.
Easy: Head out to the Pyndan Camel Tracks at sunset. Trust us, your photographs of dark camel shadows on the rich red earth will become a trip highlight.
Fun: Soak up a little outback ingenuity and get amongst Alice Spring's eclectic events calendar including: The Alice Springs Camel Cup (July 14) / Lasseters' Easter in the Alice MTB Muster / Henley on Todd Regatta (mid-August) / Alice Springs Beanie Festival (June 29 to July 2) / or the Parrtjima Light Festival.
Live like a local: The super scenic Simpsons Gap Bike path winds its way from Flynn's Grave (7km from Alice town centre) to Simpson's Gap. BYO bike or hire one from town.
From Alice, follow the path of the setting sun west to the Tjoritja/West MacDonnell Ranges. In outback Australia, Uluru tends to get the lion's share of attention, so the lushness of the landscape popping against the red rock gorges and waterholes is surprising and stunning. The East and West Macs dominate the outback landscape – their rocky rims are home to black-footed wallabies and all manner of wildlife.
Ellery Creek, Simpsons Gap, Ormiston Gorge and Glen Helen offer cool respite from the warmth of the day and a variety of bush walks and tracks. Above, Black-breasted Buzzards ride the outback thermals and, if you're lucky, you'll spot a dingo ambling along in a grassy verge beside the road.
Free: Ellery Creek Big Hole and Ormiston Gorge. BYO a pool floaty and while away the hours while locals play tunes on their portable stereos.
Easy: The Araluen Cultural Precinct is your ideal first stop and is home to art and craft galleries, museums, café and more. It's an easy intro to a town like Alice.
Fun: Grab a cool beer in an outback pub at the come-as-you-are Glen Helen Homestead. Mix with travellers from all walks of life and adopted locals behind the bar and catch a sunset over Glen Helen's trademark sandstone cliff.
Live like a local: If you're planning on overnighting, Two Mile – just past Glen Helen Gorge – is a great little spot where you can camp next to the oldest river system on the planet, the Finke River.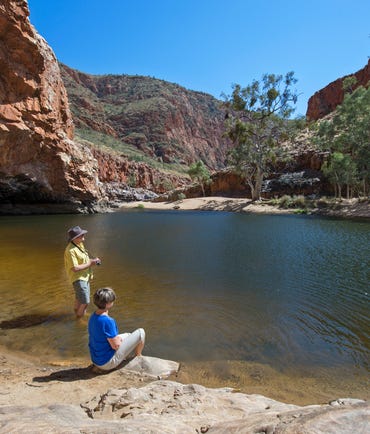 A stone's throw from Glen Helen, you'll cross the Finke River with parts possibly dating as far back as 340 million years – and you'll see the turn-off to Mt Sonder Lookout. Stop, spend a while and soak in the commanding views of the MacDonnell Ranges and Mt Sonder itself.
As you slide into the rhythm of travel along this section of the Mereenie Loop – it's a sealed road route, for those with a caravan or without a four-wheel drive (so check condition reports before you head out) to Kings Canyon, you get a sense of the sheer scale of the Outback.
Free: If you're in a four-wheel drive, stop at Tnorala / Gosse Bluff Conservation Reserve and visit the huge crater formed by a comet more than 130 million years ago. According to Aboriginal belief, Tnorala was formed in the creation time, when a group of women danced across the sky as the Milky Way. During the dance, a wooden baby carrier fell to earth forming the circular rock walls. Whatever your belief system, Tnorala is worth the visit – just don't take your two-wheel drive in here.
Easy: It's a 40km round trip to the small Aboriginal community of Areyonga. This tiny town has a big claim to fame in the form of an oversized echidna and lizard for those chasing a quirky travel pic. Set in the valley of a deep and spectacular gorge, Areyonga also boasts a large wild donkey population who bray day and night, adding to the town's charm, as does their thriving Community Arts Centre.
Fun: Part of the 260km Mereenie Loop is unsealed, so you'll know you're in the outback with a corrugation or two under your belt. Experts say if you maintain a steady 90km/h you'll skate over the corrugations, but as with any outback driving, it always pays to drive to conditions.
Live like a local: The best thing about the Red Centre Way (apart from the scenery) is that you experience the outback away from the crowds. Keep an eye out for cattle, camels and wild horses that may stray onto the road and for the famous yellow "Lift 'um Foot" drums indicating sharp bends in the road ahead.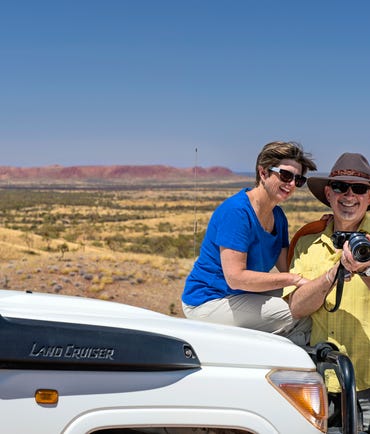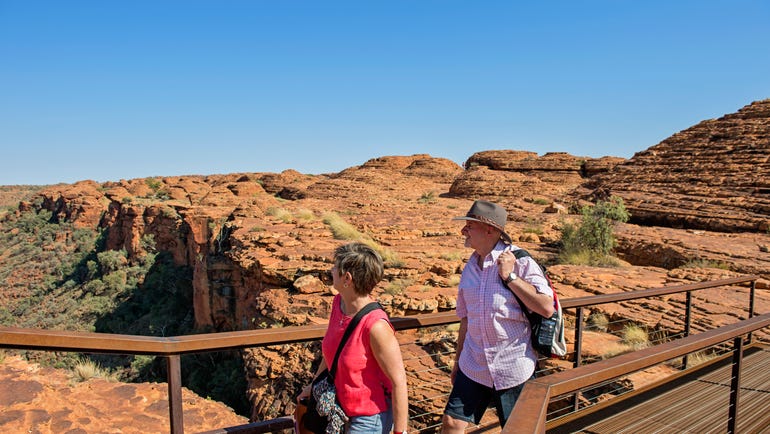 Our big skies and open roads will eventually lead you to Watarrka National Park at the western end of the George Gill Range and perhaps best known for its most famous landmark, Kings Canyon. The sheer red rock face of the Canyon soars over 100m above cycad gardens, in an important conservation area and home to more than 600 species of flora and fauna including Painted Finches, Dusky Grass Wrens and occasional sightings of the Grey Falcon, the third rarest raptor in the country.
Free: Ginty's Lookout has a free campsite, but help us protect the environment and bury your waste. Oh, and once you're in the park, it doesn't cost anything to walk Kings Canyon's rim, so add that to your list.
Easy: It's worth staying at least one night in Watarrka National Park, because Kings Canyon really is one of the country's most jaw-dropping sites.
Fun: Watarrka National Park Kings Canyon offers walks for all fitness levels. There's the Rim Walk for adrenalin junkies, or the more sedate Kings Creek walk where you'll still enjoy the spectacular views of the Canyon. Don't do one, do both – after all you only live once!
Live like a local: For those with limited mobility, take the sealed walking track to Kathleen Springs. And for those that have worked up an appetite and have a hankering for a good hearty camel burger, visit Lyn and Ian at Kings Creek Station, it's a 40km detour of pure delicious goodness.
Mt Conner – the Outback's famous 'Fool-uru', Curtin Springs and Yulara await and the Red Centre's blue skies, desert oaks and red dirt will whiz by at pace as you chew up the miles on the Lasseter Highway towards Uluru and Kata Tjuta… some 300km or so from Watarrka. Uluru is widely considered to be the world's largest monolith, but this place is so much more than an oversized stone, it's an Aboriginal sacred site (the ancestral spirits of the Yankunytjatjara and Pitjantjatjara people are said to reside here) and stands at the spiritual heart of the country. There are a number of ways to explore Australia's most iconic natural landmark – on foot, on a bicycle, by Segway or Harley Davidson, from the air by balloon or helicopter or even on the back of a camel. As you'd expect, there are accommodation options to suit every type of traveller at the nearby Ayers Rock Resort.
20 minutes to the west of Uluru stand the impressive domes of Kata Tjuta (The Olgas), which means 'many heads' in the local lingo. This colossal pile of 36 rock domes dates back 500 million years and has great cultural significance for the Anangu traditional landowners, who lead walking tours to teach visitors about the local flora and fauna, bush foods and the Aboriginal Dreamtime stories of the area. There are also two fantastic walks through Kata Tjuta, the challenging walk 7km Valley of the Winds Walk and the more serene 2.6km Walpa Gorge Walk that should not be missed.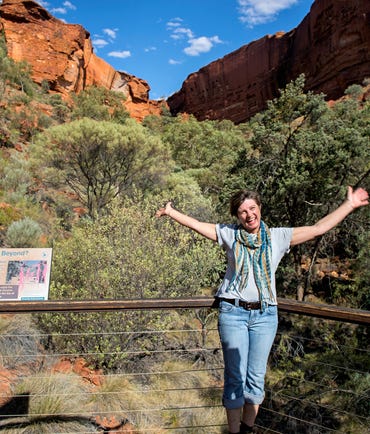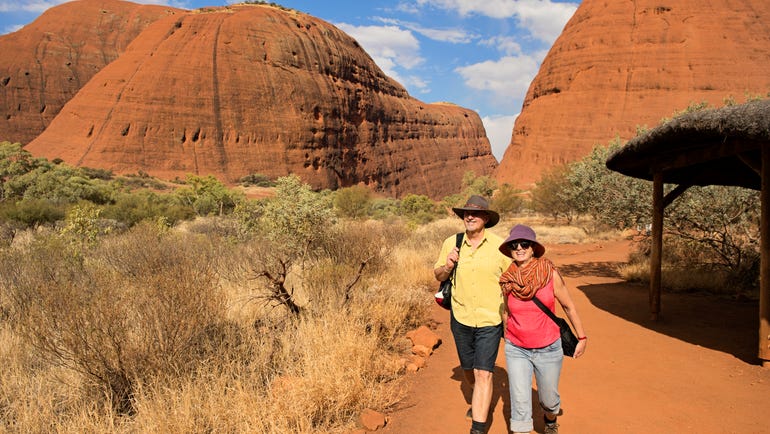 Take time to explore. You'll need a few days to do even half of the free activities at Uluru-Kata Tjuta National Park alone.
Free: Hear bush yarns from an Indigenous storyteller in the Circle of Sand; join a Ranger to learn about the native flora and fauna; or take one of the many guided walks around Uluru or Kata Tjuta and be amazed at the ever-changing landscape. Don't miss the Mutitjulu Waterhole Walk (wheelchair accessible).
Easy: Head to the Maruku arts gallery to watch Anangu artists at work. It's a great place to pick up a locally-made souvenir.
Fun: Bruce Munro's Field of Art Installation sees 50,000 frosted-glass spheres bloom in technicolour glory as darkness falls over Australia's spiritual heartland. It's a fun spin on a traditional favourite.
Live like a local: Take a base walk around Uluru at sunset – it's a time when most of the visitors chose to view the rock from a distance aboard dedicated sunset platforms, so you can have the place to yourself. As one local said, "being right up close to the rock at sunset and watching the colours turn is just mind-blowing".
The return trip to Alice is a story in itself and offers 50-shades of outback at every track and turn. However you do it and whenever, plan an overnight stay at Rainbow Valley and catch the action at dawn and dusk as Mother Nature paints the sky with her ochre-inspired palette.
More articles you might like