The ultimate Red Centre road trip
A Red Centre road trip is a rite of passage for every Australian, and for most young people the adventure hovers in the lower sections of buckets lists with a note "I'll do it one day" pencilled next to it.
We believe it's a helluva experience to do now. Don't wait until the grey hairs take over and you've got a caravan in your shed. Grab your friends and go now – from exploring swimming holes you've only seen in your wildest dreams to uncovering the very fabric that defines Australia, you'll be gobsmacked and deeply inspired by what you find there.
Here we've outlined an itinerary for a 9-day trip (i.e. maximising 1 week off work). This serves as a rough guide only – there are many ways to skin a cat so of course so play around with this itinerary to suit your fancy.
Our hot tips:
Start and finish in Alice Springs. Best place to hire a car, provision (and party)
Camp. To truly connect to the land, you'll need to sleep on the earth. Plan accordingly
Be safe. Plan your trip, don't drive at night (animals are rife) and pack provisions
Hire a 4WD. Ideal for convenience and comfort
Tunes. Don't you dare set forth without a humdinger of a playlist locked and loaded.
Here goes:
Day 1 – Arrive Alice Springs // Chill
Distance: 15km airport to Alice
If you dropped a pin into the middle of Australia, odds are you'd be somewhere near Alice Springs. It's an oasis set beneath the stunning MacDonnell Ranges, proudly one of the most remote settlements on earth. Far from being a place for travellers to just fuel up, the city in fact has a lot more to it than many would think (more to be explained on this later).
We recommend picking up your rental vehicle from the airport and driving the 15 minutes into town to chill before d-day. Grab some dinner in the courtyard at Monte's Lounge and get a good night's kip in before tomorrow's big drive.
Day 2 – Alice Springs to Uluru
Distance: 500km (including detour to Rainbow Valley)
This is the biggest day of driving on the whole trip so it's recommended to start early and make the most of it! About 75km south of Alice along the Stuart Highway is a turnoff to the Rainbow Valley, a cheeky 40km detour along an unsealed road that leads to the first of many spectacular rock formations.
Back on the highway you'll stumble across the Stuarts Well Roadhouse. Up until recently you may have heard the sweet dulcet tones of a singing dingo on approach to this re-fuelling stop, but sadly 'Dinky' drifted to dingo heaven in 2014 alongside his repertoire of 80's classics.
Roadhouses have outback culture dripping form the ceiling; they're exciting and essential pit stops for any passing traveller, with or without the lure of musically gifted quadrupeds. Erldunda Roadhouse is 200km from Alice Springs at the crucial intersection with the Lasseter Highway, presenting the last opportunity for mobile reception before reaching Uluru.
As you continue venturing West, you won't be the first person to prematurely shoot for the Uluru-money-shot when you see Mt Conner. Also known as Fool-uru, it's a sneaky little teaser of what's to come.
There is a variety of accommodation options available through Ayers Rock Resort, to suit every budget including a great campground for the travellers on a budget.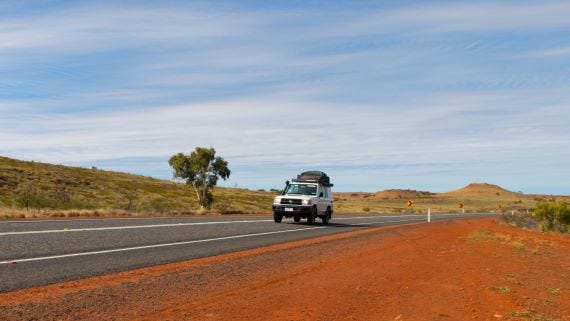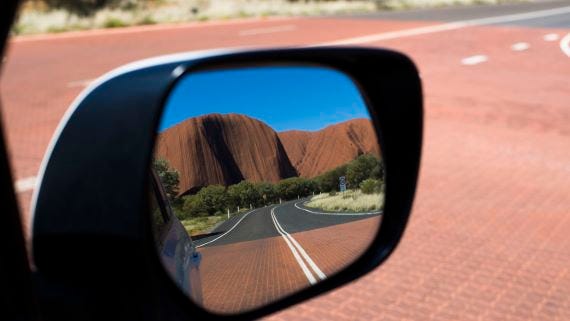 Day 3 – Uluru-Kata Tjuta National Park
Distance: minimal
It's actually impossible to put the experience of visiting Uluru into words. The fact that it's an enormous rock is unlikely to surprise you, but it's sheer scale when up close and personal is really quite extraordinary. It's energy is immense and we strongly recommend spending a couple of days here to experience it in a variety of ways that don't include walking on it.
A sunrise camel ride is a brilliantly different introduction to Uluru and is well worth the early start. As you ride your desert ship through soul warming red earth, you'll reboot your brain with factoids about camels and the local area from your guide. Providing plenty of impressive small-talk ammo for your next strained conversation or pick-up.
Throwing yourself out of a plane is another unique new way you can also experience the rock, and as adrenaline levels re-calibrate at sunset, it's a great opportunity to check out the Field of Light, a trippy art installation made up of 50,000 kaleidoscopic solar lights. As the star veil takes over above, you'll be thanking your lucky ones that you booked a trip to the Red Centre.
After, head on over to the Pioneer BBQ near the campground, a humming outback pub where you can buy raw meat and veggies to cook as you see fit on the provided barbecues.
Note: You'll need to buy your national park pass ($25 for three days).
Day 4 – Uluru-Kata Tjuta National Park
Distance: minimal
It's another early start to catch the rock as the sun pops from the horizon and it begins it's morphing of colour.
There are a few walks you can do at Uluru but our pick of the bunch would be the 10.6km base walk, that soaks up the magnitude and Aboriginal significance of the site. Prepare to be surprised by the intricacies of the rock, the variety of vegetation that surrounds it and waterholes within. You can even hire a bicycle if you feel like giving the quads a workout and see it from the speed and comfort of a saddle sofa.
The Cultural Centre within the park is a must-do for visitors to understand the spiritual importance of this World Heritage area through the eyes of the Anangu people (the Traditional Owners).
Often overlooked by its giant neighbour, Kata Tjuta (aka The Olgas) are a huddle of 36 enormous rocks only 50km drive away from Uluru that have a network of walking trails woven within them. The Valley Of The Winds is a 3-hour walk and our top choice.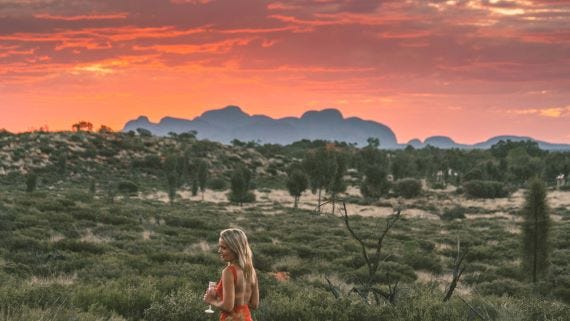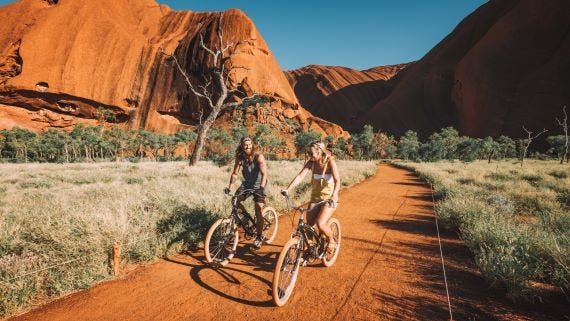 Day 5 – Uluru to Kings Canyon
Distance: 321km
It's a meaty drive up to Kings Canyon today so after a chilled breaky you'll get back on the highway the way you came before turning left onto Luritja Road.
Next to the Kings Creek Station is a 2km dirt road down to the Wanmarra Community, where an enlightening Aboriginal cultural tour takes place. Called Karrke, this experience is like a 1-hour turbo lesson in the ways the Traditional Owners have lived for tens of thousands of years (and continue to today). You'll learn that the bush is a pharmacy, hardware store and pantry and their ingenuity and respect for nature is deeply humbling.
Oh, and you'll eat an obligatory witchetty grub!
In terms of sleeping, you can pay to camp with facilities at Kings Creek Station or Kings Canyon Campground (motel option available).
Day 6 – Kings Canyon to Glen Helen
Distance: 226km
You guessed it, another early rise and head torches on for this sunrise Rim Walk at Kings Canyon (Watarrka National Park), a morning that you won't be forgetting in a hurry.
The 6km trek starts from the car park and immediately ascends 1,000 steps to move up towards the rim. As sweat drips and daylight creeps, the magnitude of your surroundings will become clear and with it a feeling of utter wonder.
It's non negotiable, you really have to do this trek.
It gets hotter than a camel's crotch during the summer months which is another reason to only do this walk in the early morning. Make sure you pack a head torch, snacks, plenty of water and camera for this challenging and highly rewarding climb.
Back in the car and onto the iconic Red Centre road trip section: red earth, big skies and horizon opening emptiness: the Mereenie Loop. The road conditions here can vary greatly depending on the recent weather, with corrugated surfaces making the experience considerably tougher. Driving safely at a higher speed (80–90km/h) can help to glide over these corrugations.
Once back onto asphalt you'll be floating through the winding roads of the Tjoritja West MacDonnell Ranges where the flora pops from the red sand in brilliantly proud contrast. Don't miss the Gosse Bluff lookout to add a worthy addition to your insta feed.
Glen Helen is a recommended stopover for 3 reasons:
There's somewhere to camp (and glamp if you're feeling flash)
The first of many epic wild swimming holes is found here
The unassuming restaurant here will serve you up the finest outback meal known to humanity.
If you'd rather save your pennies, you can pitch up on the Finke River at Two Mile Campground with a DIY meal and a stubbie.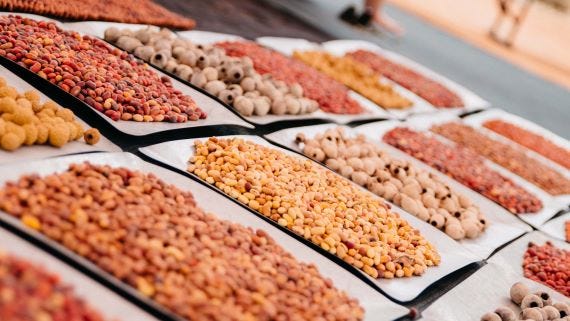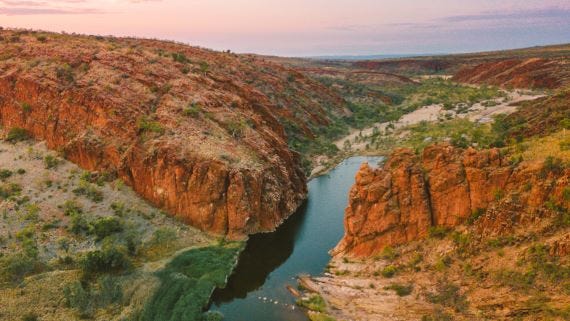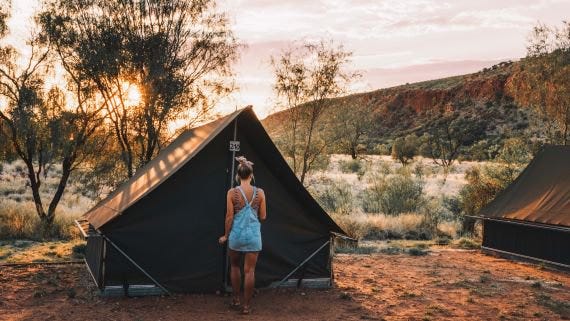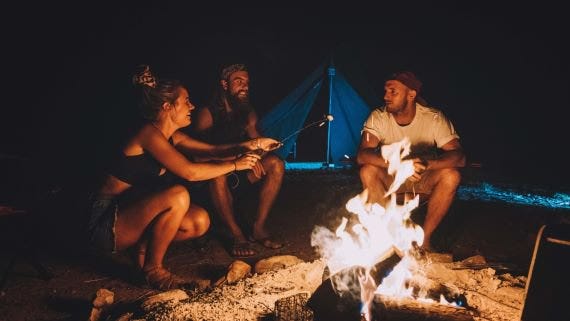 Day 7 – Glen Helen to Alice Springs
Distance: 133km
If you enjoy frolicking in swimming holes that are tucked away in pockets of desert paradise, you may have fun on this stretch. Today is waterhole day.
There are a few to choose from too, but our favourites would be Ormiston Gorge and Ellery Creek Big Hole. Both easily accessible from the main road (Namatjira Drive) and guaranteed to blow your mind before returning to civilisation in Alice Springs.
Alice Springs has a lot more to it than meets the eye, and one things's for sure: it's got a lively nightlife with a number of bars and clubs to shake your tail feather in. After catching sunset at Anzac Hill, head to Epilogue Lounge for a raucous night out.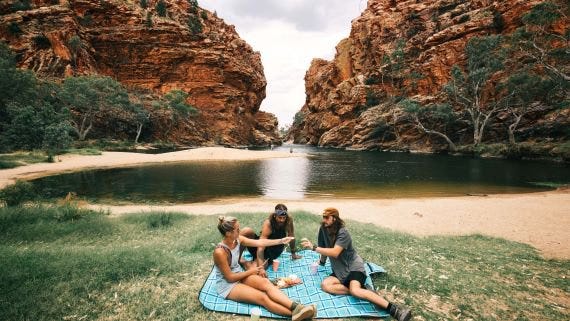 Day 8 – Alice Springs
Distance: minimal
Now you can finally enjoy a hungover lie in!
Nah, just kidding. We'd strongly recommend doing the sunrise hot air balloon trip to provide an alternative and peaceful way to see the desert. If your head and stomach can't handle the energy injection, then you can always swap the balloon for a chopper!
If you survived the morning, we'd suggest checking out the Alice Springs Desert Park in the afternoon, but save something for your final night because an evening at The Earth Sanctuary is the perfect way to end your road trip.
This eco resort just outside the city is the brainchild of The Falzons – 3 enterprising brothers and their Dad who since 2000 have built up the quirkiest of outback escapes, a series of experiences that are focused around sustainability and re-connecting to the land. You'll make damper, throw spears, drink bushtucker brew (a quandong craft beer called 'Red Centre Devil'), have a private astronomy tour and visit their art gallery.
Day 9 – Fly home
Distance: 15km to airport
All good things must come to an end. Head for breaky in town before catching your flight home. Fingers crossed you get a window seat.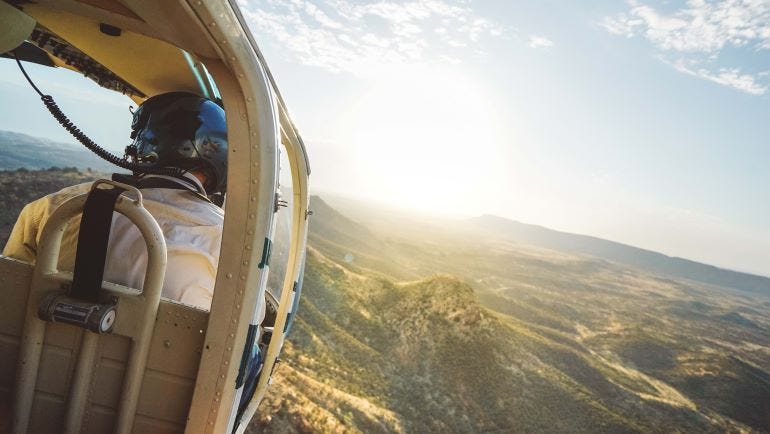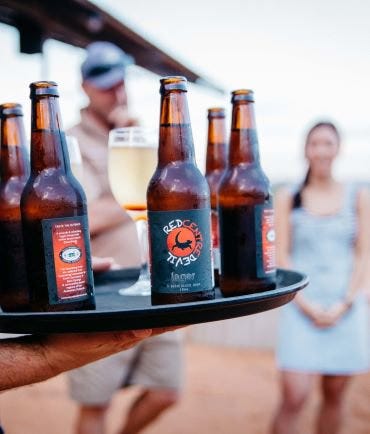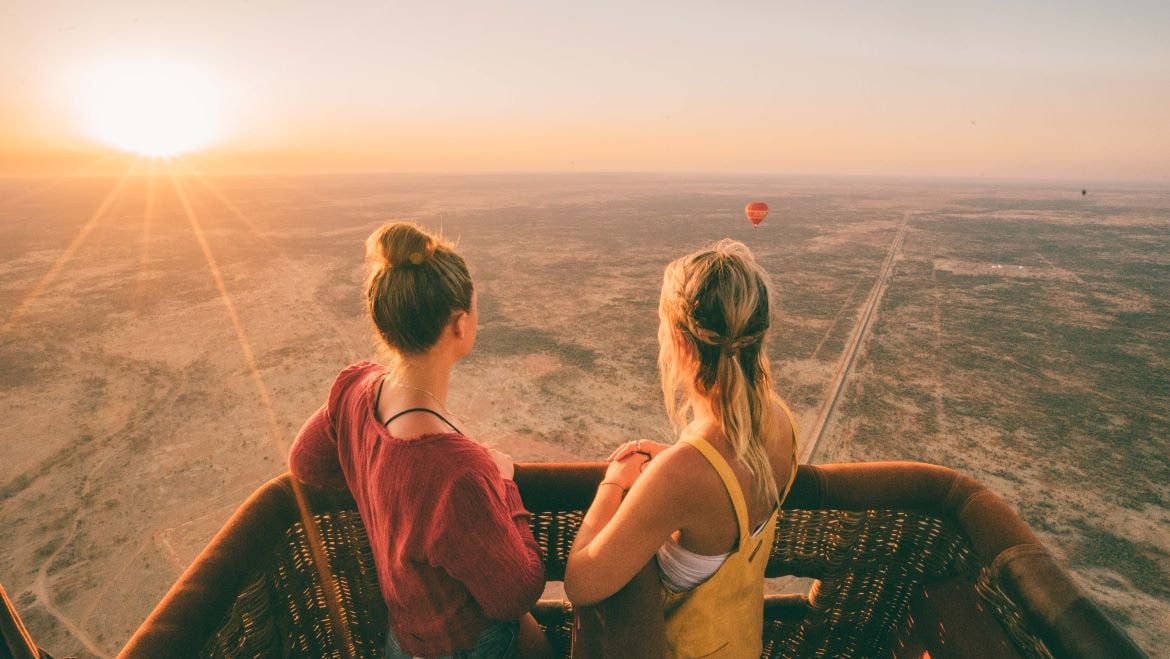 More articles you might like