50 bargains under $50 to get you through the NT summer
Because the best things in life are (almost) free.
Top End
1. Sit at the Sailing Club & watch the evening storms roll in
Moor yourself at Darwin Sailing Club for spectacular views across Fannie Bay. The Club is an ideal spot for a social drink at sunset and the bistro's brunch, lunch and dinner menu provides the perfect excuse to linger longer.
2. Early morning walks around Stokes Hill Wharf & the Waterfront
Drift along Wharf One's row of restaurants and shops, by the lagoon, or head further afield to Stokes Hill Wharf, a favourite fishing and fish-and-chip spot and popular starting point for harbour cruises
3. Sunset at Mindil Beach
Soak up the tropical night air and enjoy an iconic Darwin sunset from Mindil Beach.
4. Body surf at the wave pool at Darwin's Waterfront
Catch a wave at Darwin's coolest Waterfront attraction, the Wave Pool. Take the kids for a perfect family fun day of swimming, tubing and relaxing.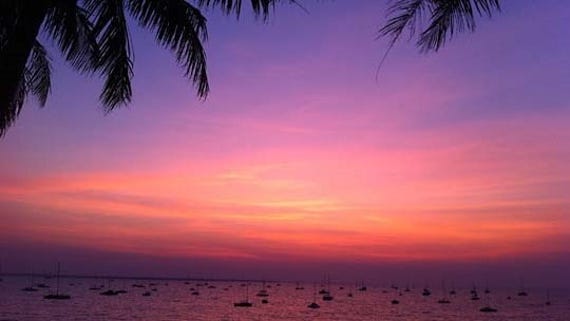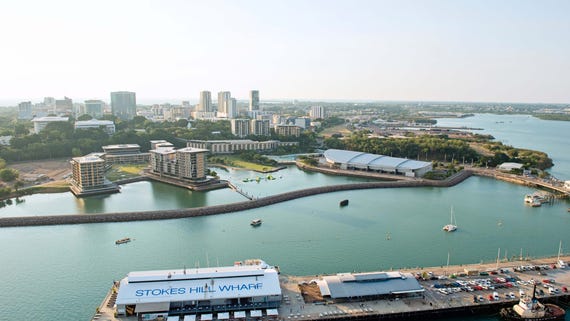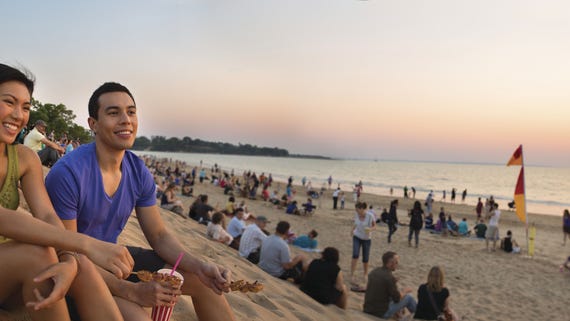 5. Swim at the recreation lagoon at the Waterfront
Dive into the saltwater lagoon or lounge under the trees at Darwin's safest beach, the Darwin Waterfront.
6. Breakfast at Four Birds Café
This hidden gem boasts a tasty menu and awesome coffee. Enjoy the laidback atmosphere and quirky style at Four Birds Café.
7. Crocosaurus Cove
For a closer look at Australia's iconic and fascinating saltwater crocodile, head to Crocosaurus Cove. It houses some of the largest crocodiles in the world, as well as a display of 70 reptile species found in the Top End.
8. Experience the best pastries and coffee in town at Ray's Patisserie
Ray's Patisserie and Café has some sweet and savoury bites to tantalise those taste buds, including pies, pastries, sandwiches and coffee. It also does a mean breakfast.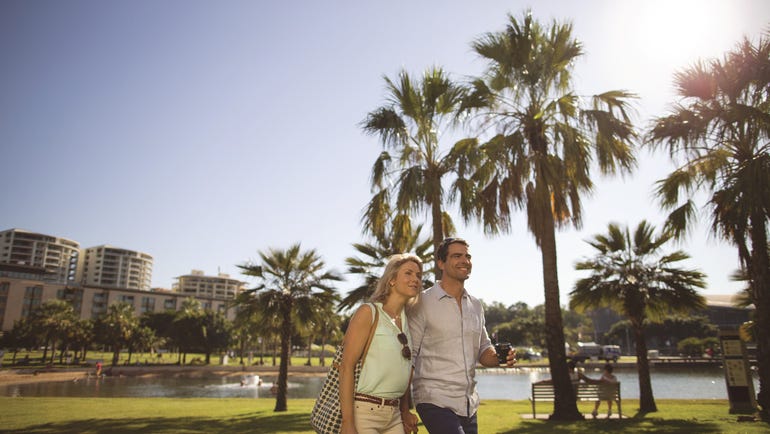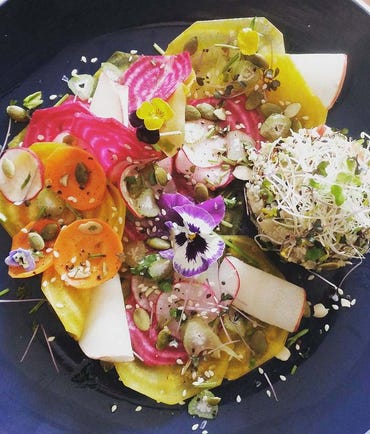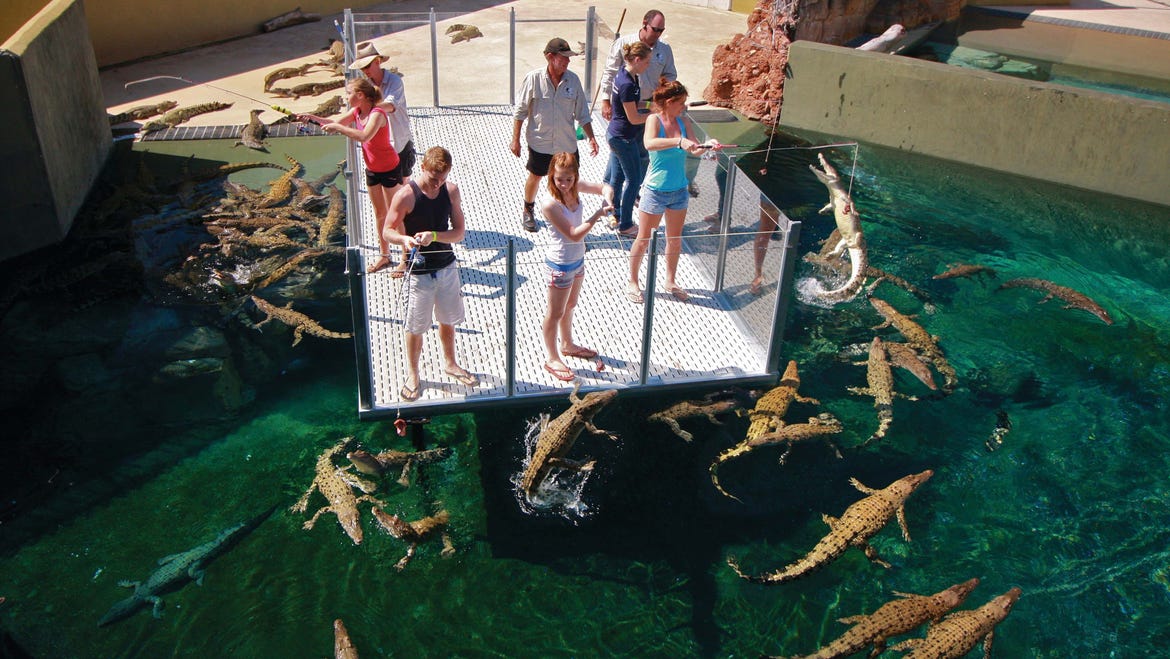 9. World War II Oil Storage Tunnels
Follow a guide through the oil storage tunnels near the Darwin Waterfront Precinct, built during World War II and now home to a series of wartime photos
10. Pizza at Lola's Pergola in Cullen Bay
Discover Lola's Pergola; one of Darwin's funkiest bars overlooking the popular Cullen Bay.
11. Museum and Art Gallery of the Northern Territory
Set in a tropical garden on the Darwin Harbour at Bullocky Point, the Museum and Art Gallery of the Northern Territory provides visitors with an insight into the region's art, history and culture.
12. Sea Darwin 1 hour harbour cruise
Sea Darwin Harbour Highlights cruise is a one hour interactive cruise on Darwin Harbour. The cruise departs from Stokes Hill wharf and takes in the unique habitat, history and intrigue of Darwin Harbour.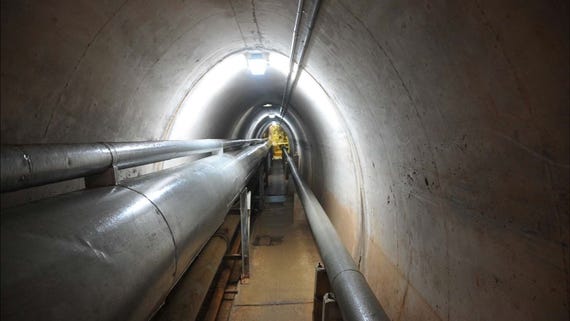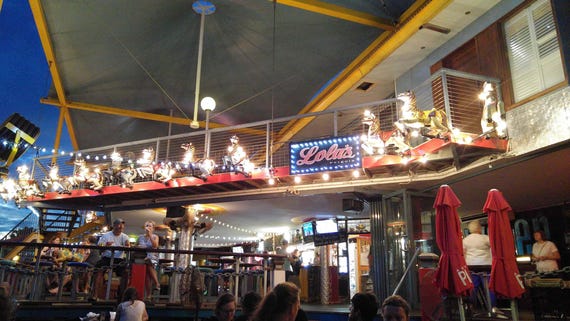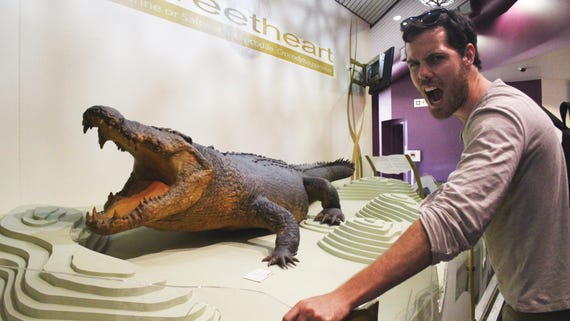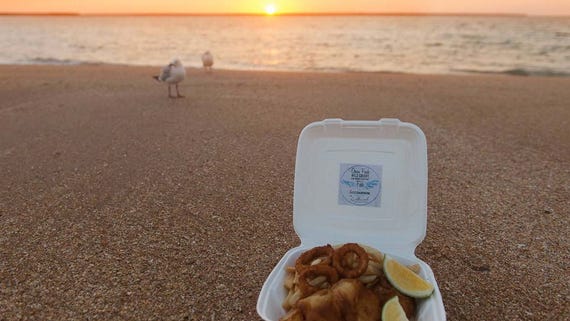 13. Wander down the shopping mall in Darwin CBD
Take home a touch of the Top End with artworks, fashion and souvenirs from a range of unique boutiques and galleries in the Smith Street Mall.
14. Try the laksa at Parap Markets (Saturdays 8am–2pm)
This Saturday morning market has become an institution and ritual among locals who just could not survive a weekend without their Saturday morning laksa, satay prawns or fresh tropical smoothie.
15. Stock up on tropical fruits at Rapid Creek markets
Visit Darwin's oldest market and browse a variety of stalls for fresh organic produce, Asian fruits, vegetables, herbs and spices, exotic plants, flowers and seafood.
16. Nightcliff Markets
Unwind in the ambience of the Nightcliff Markets every Sunday, unearthing unusual bargains and unique gifts, while taking in the sights and sounds of local entertainment.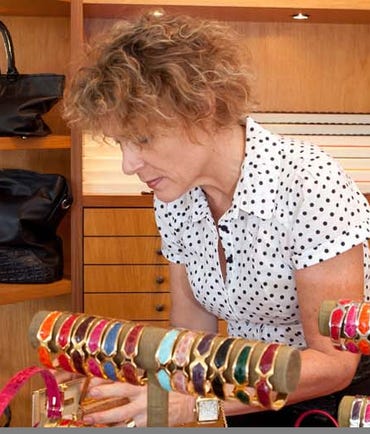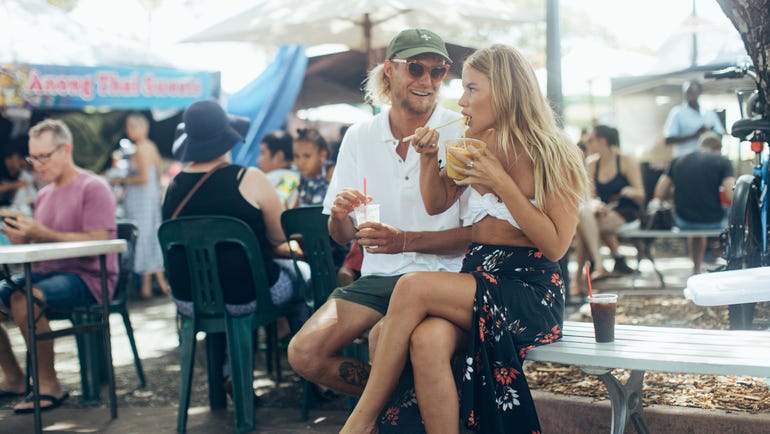 17. Aquascene fish feeding
Take part in the daily fish feeding ritual at Aquascene in the heart of Darwin, where hundreds of fish come to shore at high tide to be hand-fed.
18. Swimming at the Southern Rockhole at Katherine (Nitmiluk) Gorge
Be rewarded with an amazing view and refreshing dip at the Southern Rockhole after an 8.5km return walk at Katherine Gorge.
19. Watch the sunset over Ubirr
Time your visit for a spectacular and unforgettable tropical sunset from the rocky outcrop at Ubirr. Entry to Kakadu National Park is $25 (16 years and older) for summer (November to April).
20. Spectacular Jumping Crocodile Cruise
On a Spectacular Jumping Crocodile Cruise travellers can see saltwater crocodiles up close in their natural habitat.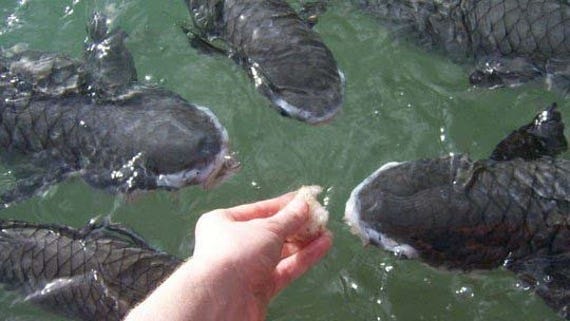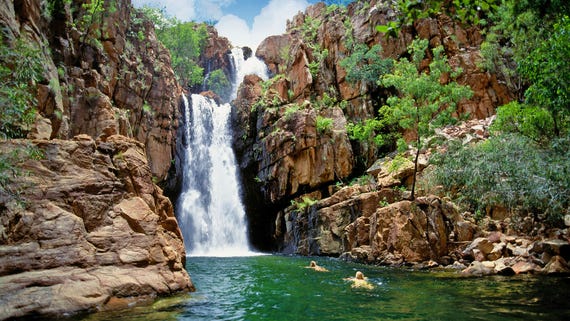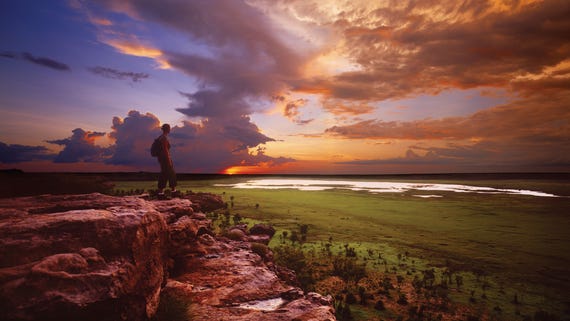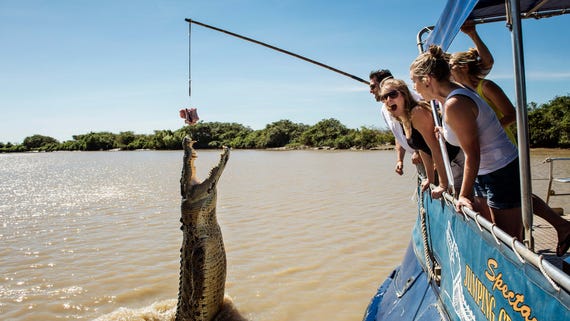 21. Admire the ancient art sites at Nourlangie
The walls of the Nourlangie Rock Art Site have served as a shelter and canvas for thousands of years. The paintings are a window to a rich spiritual tradition and can be reached by the circular 1.5km Nourlangie Rock Art Walk. Entry to Kakadu National Park: $40 (16 years and older)
22. Picnic & swim at Edith Falls
Enjoy a refreshing swim in the paperbark and pandanus fringed natural pool at the base of Leliyn (Edith Falls).
23. Lazy Lizard Tavern, Pine Creek
This unique outback tavern is brimming with character and is built from mud brick and local timber with historic touches throughout. Make sure you try the famous homemade banana and passionfruit ice cream.
24. Explore the Darwin Military Museum
Come to the Military Museum and find out the fascinating history of Darwin's war time involvement during WW2. Located at picturesque East Point Reserve, just 10 minutes drive from the city centre, this unique collection of artillery is housed in the original concrete bunker used by the army to plan the strategy for the wartime defence of Australia's northern shores.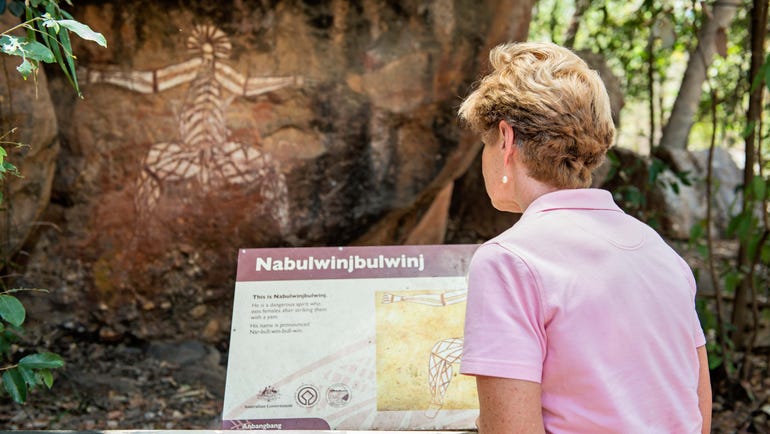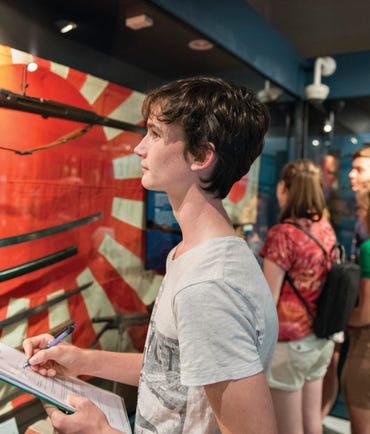 25. Visit Bitter Springs & Rainbow Springs
Lay back in the spring-fed thermal pools amid palms and tropical woodlands in Elsey National Park, found by surveyors for the Overland Telegraph Line.
26. Admire the thunderous waterfalls at Litchfield National Park
Stand on viewing platforms in Litchfield National Park to see the water cascading over escarpments into a deep plunge pools, and continue walking to explore rock pools above the falls and the lush monsoonal rainforests that surround.
27. Cast a line & catch an iconic NT Barramundi
The best barra fishing during the wet is usually in the mangrove creeks and estuaries, like those in Darwin Harbour. Top End estuaries are alive with juvenile prawns in January and February, so these are also excellent months to target black jewfish, golden snapper, cod, pikey bream and mangrove jack, which have moved into the bays and creeks to feed on the prawns and small fish.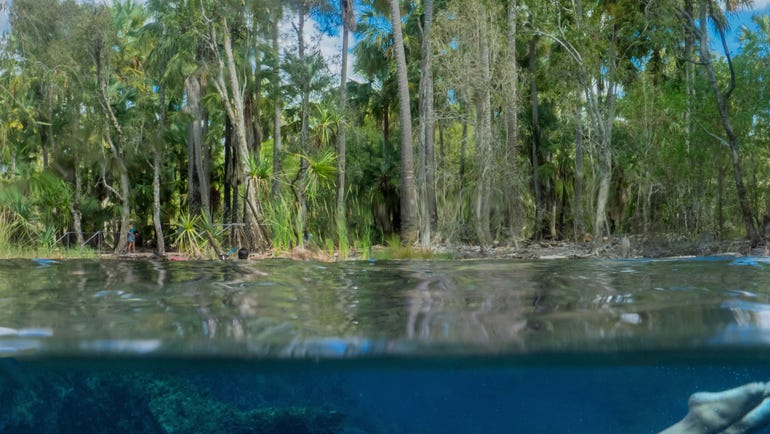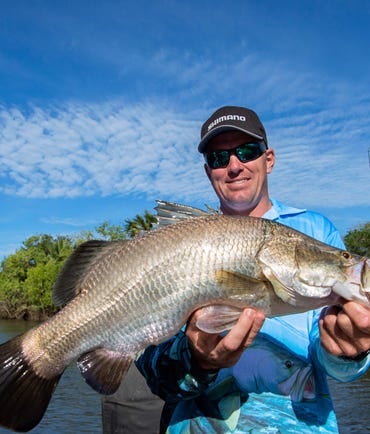 Red Centre
28. Royal Flying Doctor Service tour
Learn about the iconic history of the Royal Flying Doctor Service and its founder John Flynn at the tourist facility in Alice Springs.
29. Alice Springs Telegraph Station Historical Reserve
Discover the original site of the first European settlement in Alice Springs and wander through the restored stone buildings dating back to the late 1800s. The Telegraph Station is also a popular picnic spot for locals.
30. Olive Pink Botanical Gardens
The Olive Pink Botanical Gardens is Australia's only arid zone botanic garden. Admire the spectacular range of plant species on one of the many walking trails around the garden or stop for a bite to eat at the Bean Tree Café.
31. Anzac Hill
Anzac Hill is the ideal spot for panoramic views of Alice Springs. Take in the view of the town and surrounding ranges from the memorial dedicated to all those who have served in the defense of their country.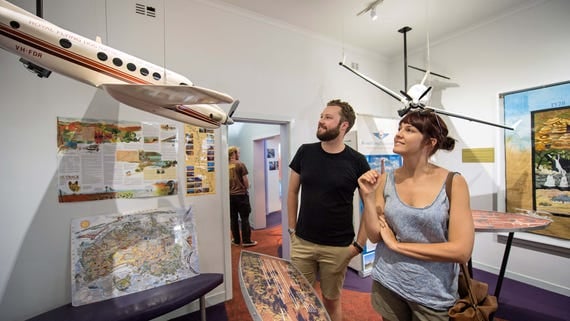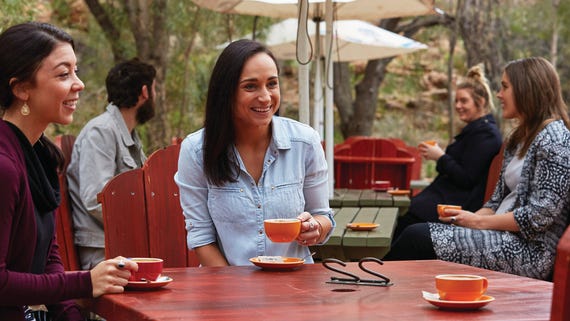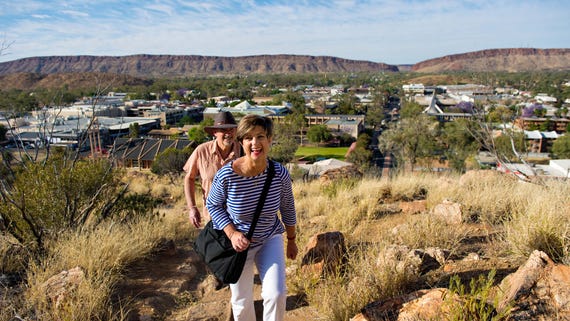 32. Alice Springs Desert Park
Alice Springs Desert Park provides visitors with an insight into Australia's desert environment including the plants, animals and people of our arid regions. Walk through three re-created desert habitats and discover how deserts are full of life.
33. Alice Springs Reptile Centre
The Alice Springs Reptile Centre specialises in things that hiss and slither, which are rare, impossible, or undesirable to come across in the wild. Home to over 100 reptiles, the centre runs daily hands on tours for visitors.
34. Alice Springs Art Galleries
Get a glimpse into the art, culture and heritage of Central Australia by visiting one of the many galleries in Alice Springs. Discover dot paintings and watercolours by some of Australia's most successful and prominent Aboriginal artists.
35. Grab some homemade baked goodies from The Bakery
Pop down the Todd Mall and grab yourself a fresh-baked artisan loaf and a coffee to go at The Bakery – or indulge with a few sweet pastries, perfect to take on a Red Centre road trip!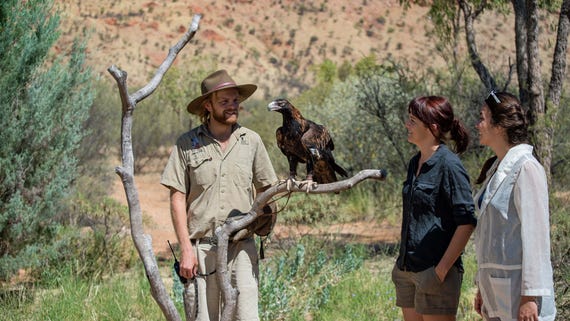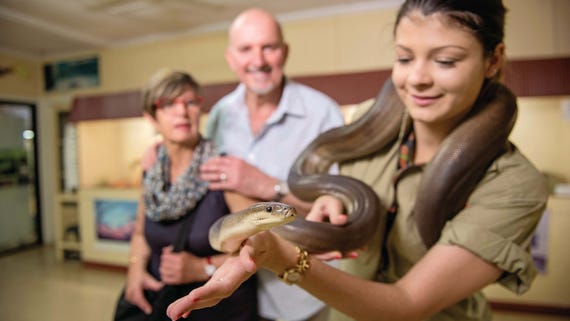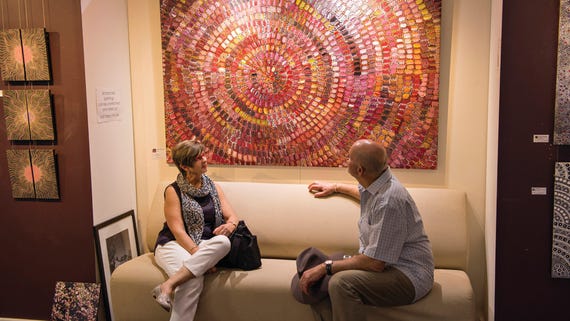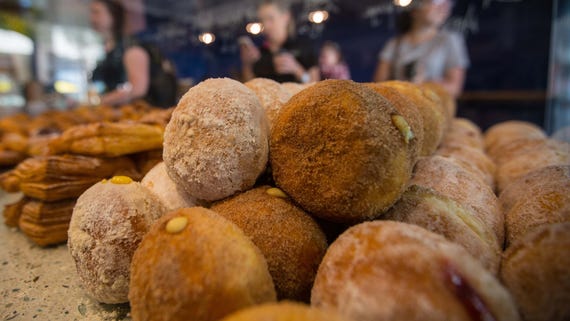 36. Coffee in the Todd Mall
Todd Mall in Alice Springs is the place to go in search of great coffee. Stop at one of the many trendy cafes and start your day with a hot beverage.
37. Explore an abandoned ghost town at Arltunga Historical Reserve
Born out of a goldrush in 1887, Arltunga was officially Central Australia's first town and once supported up to 300 people. Today the remains of mines, old miner's camps and stone buildings (some of which have been restored), are preserved for the public to explore. Drivers are advised the road to Arltunga includes 33km of gravel road.
38. Swim or picnic at Ellery Creek Big Hole
Take a dip at one of the most popular and picturesque spots in the West MacDonnell Ranges National Park, Ellery Creek Big Hole.
39. Ghost Gum lookout and swim at Ormiston Gorge
Marvel at the view of the gorge from the Ghost Gum look out before descending to the near permanent waterhole for a refreshing swim at Ormiston Gorge.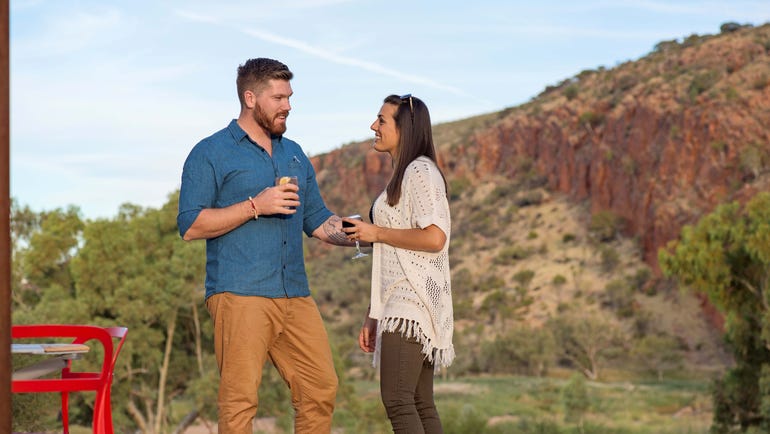 40. Float on an airbed down the year round cold waters of Redbank Gorge
This stunning gorge and chasm is a refuge for many threatened plant and animal species.
41. Take photos among the towering cliffs at Simpsons Gap
Situated only 18km west of Alice Springs, Simpsons Gap is the perfect place to spot resident wildlife, enjoy walking trails and spectacular views of the ranges.
42. Rim Walk at Kings Canyon
Lace up your hiking boots and explore the 6km Kings Canyon Rim Walk. It's a must see for those seeking magnificent views of the canyon rim, the weathered domes of 'The Lost City' and the lush 'Garden of Eden'.
43. Early morning Kings Creek Walk
The Kings Creek Walk meanders up the centre of the canyon to a lookout point on the left hand side of the valley, with views of the sheer cliff face at the end of the canyon. This walk is suitable for all ages.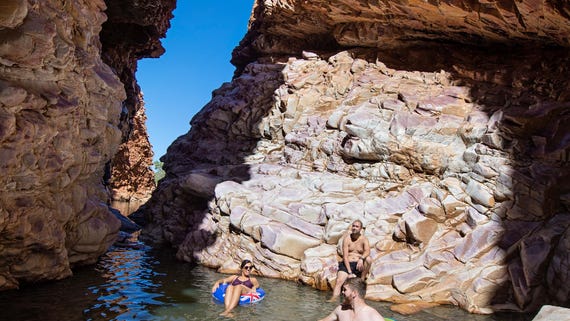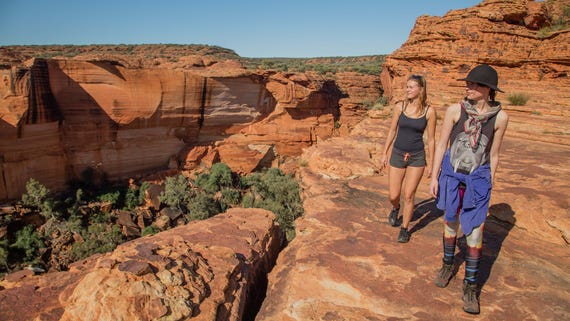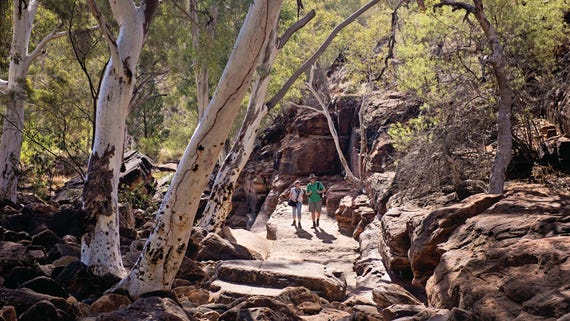 44. Entry to Uluru-Kata Tjuta National Park (3 day pass, $38. Visitors under 16 free)
Pinch yourself when you finally stand in front of Uluru, Australia's most recognisable natural icon and culturally significant for the Anangu people.
45. Uluru Viewing Platform
Whatever you do, don't miss a sunset or sunrise at Uluru when the light turns its massive surface from ochre brown to burnished orange to intense red and all the colours in between.
46. Valley of the Winds Walk at Kata Tjuta
The longest of all trails at Kata Tjuta is the Valley of the Winds Walk. It's a moderately difficult track, 7.4km in length, with breathtaking views.
47. Stop in for lunch at Curtin Springs Station
At only 100km east of Uluru, Curtin Springs Wayside Inn offers a perfect base to visit the Uluru and Kings Canyon areas.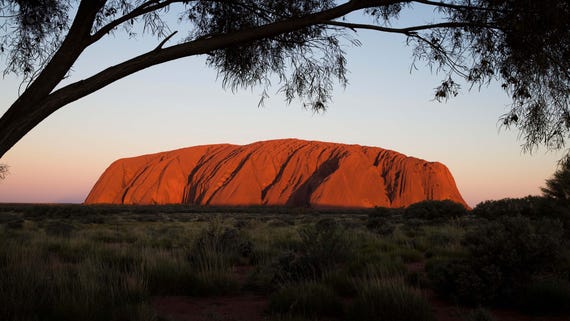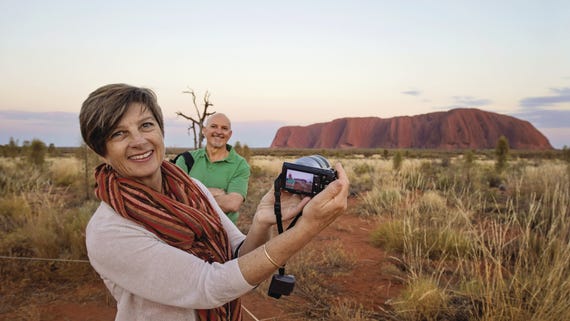 48. Sunset at Karlu Karlu (Devils Marbles)
Bring your camera and capture the dramatic scene of the Marbles glowing red and changing colour as the sun sets.
49. Swim at Lake Mary Ann, Tennant Creek
Lake Mary Ann is a cool oasis, located just 5km north of Tennant Creek. This man-made lake is a pleasant surprise in the rugged Central Australian environment, offering an ideal picnic spot for locals and tourists alike.
50. Poolside cocktail at Crowne Plaza Alice Springs Lasseters
Enjoy a cocktail by the pool at Crowne Plaza Alice Springs Lasseters with spectacular views of the West MacDonnell Ranges.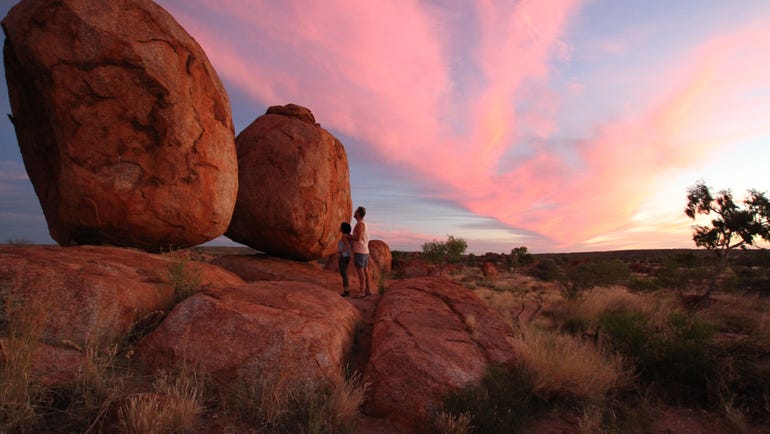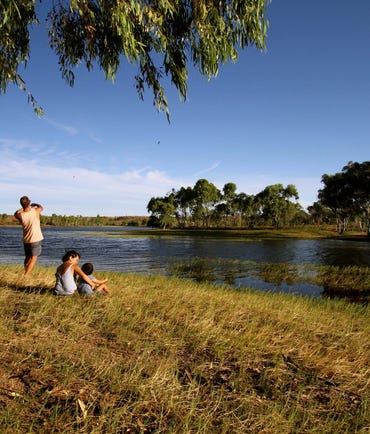 Note: prices in this article were correct at time of publishing
1. Design your own
More articles you might like