​Great places to eat in the NT
Travis Godfredson and family eat their way through the multitude of culinary delights of the Northern Territory's Top End.
The sweet and savoury aromas of Mindil Beach Sunset Markets eventually seduce everyone wandering through Darwin.
It all happens every Thursday and Sunday as the sun melts on the horizon at Mindil Beach during the dry season, from late April to late October. The mood is set with a didgeridoo pumping out tunes to rhythmic beats. Mountains of amazing munchies are smoking under coloured lights, from flaming satays to crepes. We stock up on mouth-watering mango cheeks and the kids make their own slushies. Mum can't go past two of her favourite things in one (a sushi burger, naturally). And me? I select a Spud Stick. That way I can keep one hand free to pick through the stalls bulging with local artwork and handcrafted goods. You won't leave Mindil Beach Markets with an empty stomach – or empty shopping bags!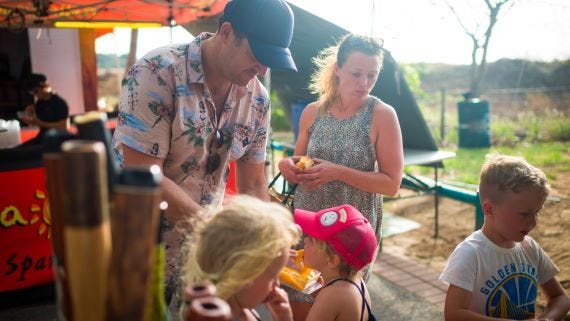 I think I just died and went to mango heaven. Crazy Acres Mango Farm & Cafe is a 10ha family owned farm at Berry Springs, 60km south of Darwin. On the menu you'll find mango smoothies, ice-cream, iced coffees, jams and sauces. My pick is the mango and banana smoothie bowl topped with homemade granola and Greek yoghurt. Yummo! Spoiled for choice, the kids ponder what type of mango ice-cream they want: mango mixed with coconut or dipped in chocolate? The only problem is the miniature size of the fridge in our caravan!
You've never had a smoky bean jaffle until you've had one from the quirky and cool Black Russian Caravan Bar. Tasty treats are served hot from a retro pop-up van in the grounds of the Katherine Information Centre. It's the perfect place for a family stopover, with plenty of parking for our convoy of caravans and campers. There are shaded areas for the kids to play while we savour our toasties, washed down with one of the best lattes in the NT. Mmmm, better grab a brownie on the way out!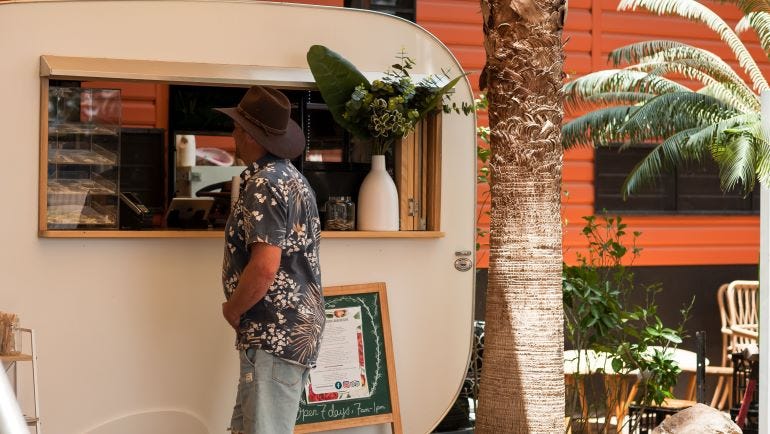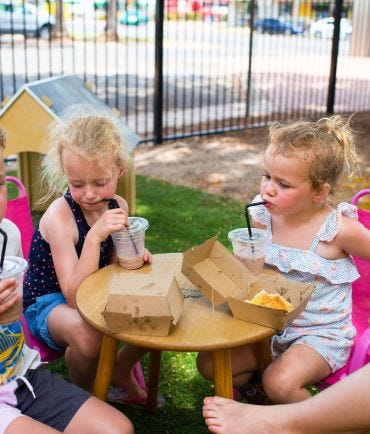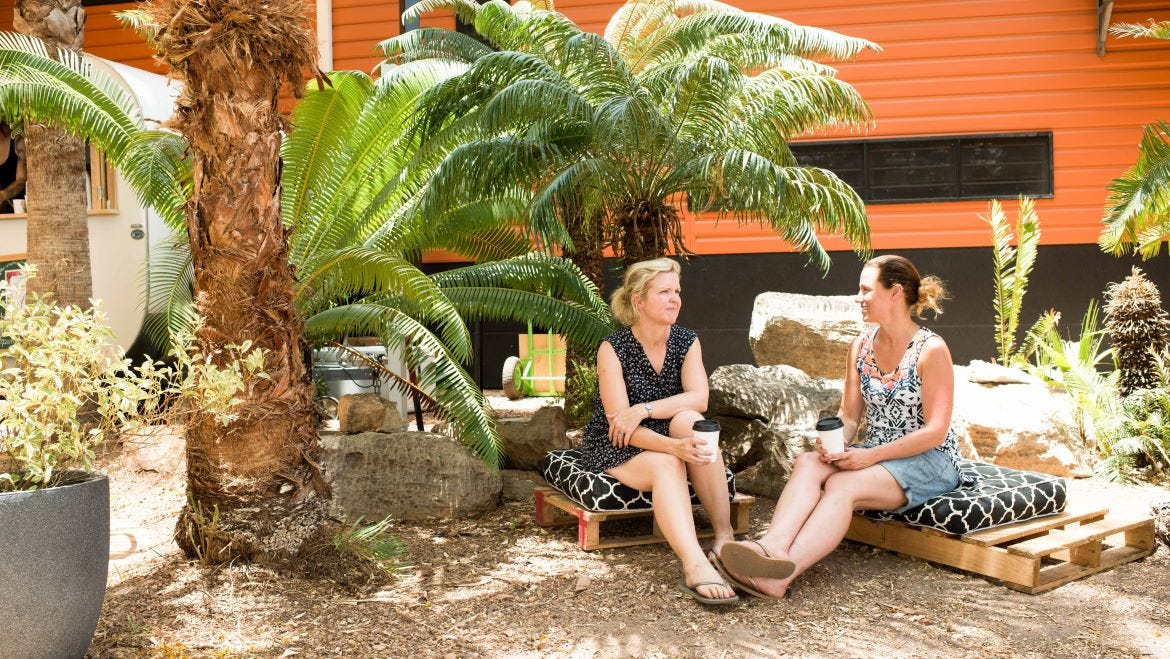 Marksie's Stockman's Camp Tucker Night blends some of the best things about the Northern Territory: eating and storytelling in an authentic bush camp in the glow of a Top End sunset with wildlife scurrying around our feet. Marksie is a larrikin from the Mallee region who has become a Katherine local. The menu is a fusion of Western and Indigenous cuisines. We wrap our lips around some local fare including crocodile, buffalo, barramundi and camel, and top it off with scones, jam and cream. Our luck's in, because Marksie has prepared a bush pavlova, served with a bush tea made the real way — by placing a gum leaf in a billy can, and spinning! The yarns are as plentiful as the helpings, and seconds are always on offer. However, we do have to compete with the local wallabies that visit throughout the evening.
Our Top 5 Eats of the NT
Mindil Beach Sunset Markets, Darwin
Black Russian Caravan Bar, Katherine
The Finch Cafe, Katherine
Crazy Acres Mango Farm & Cafe, Berry Springs
Marksie's Stockman's Camp Tucker, Katherine

More articles you might like