Family activities & attractions
in the Northern Territory
The Northern Territory will be a journey of discovery that your whole family will make, together.
[carousel hero="true" rotateheadings="true" smallheight="false"][slide image="/-/media/images/articles/family-activities/hero-image/kid-holding-a-boomerang-at-earth-sanctuary-with-a-tour-guide-by-his-side.jpg" imagealt="A visitor holding a boomerang during a cultural tour at the Earth Sanctuary World Nature Centre. Earth Sanctuary is a proudly independent family operated business offering award winning day and evening tours to visitors to the outback. Specialising in ecology, culture and astronomy, Earth Sanctuary's guides carry a wealth of knowledge, skill and passion." butttontext="" buttontarget="" buttonurl="" video="" slidecontentoverride="" heading="Family activities & attractions" subtitle="" introtext="" captionlink="" captionlinktext="" darkenimage="false" headingoverride="" renderh1="true"][/carousel]
A family holiday is about more than just getting away, it's about spending time with the ones you love – exploring new destinations and making memories that last a lifetime.
Everyone will love the lush tropical oasis and endless summer of Darwin, the beauty and culture of Kakadu, the adventurous Katherine or the art and outback of Alice Springs and Uluru. The Territory is one big playground.
There's plenty to learn and experience during your time in the Territory but there's also lots of ways you can lay back and relax and let the kids have some fun.
Whether you enjoy a family camping trip in one of the stunning Territory national parks, having animal encounters at a wildlife park or shooting down a water slide, there's plenty to keep every member of the family occupied.
Discover the Northern Territory on your next family holiday and you'll be sure to have an adventure of a lifetime.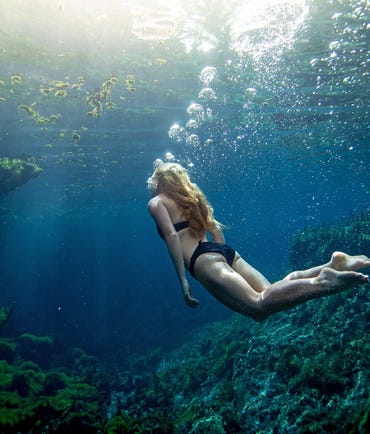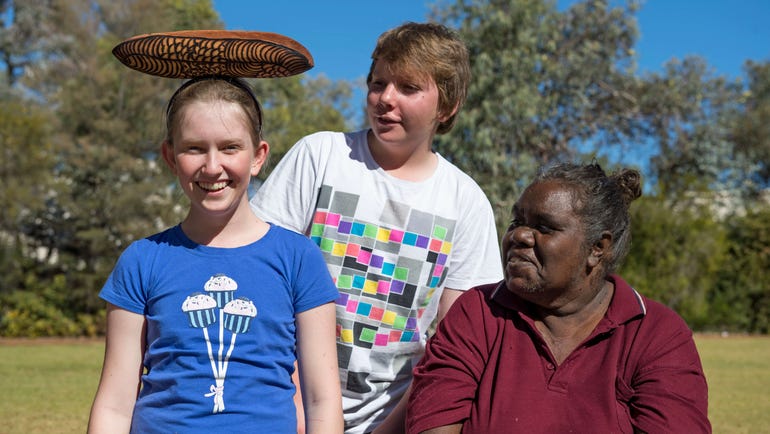 Alice Springs activities for kids
Alice Springs is a great place to let your hair down and have a good time with the whole family. There are plenty of great places to go camping in the cooler months or base yourself in town and travel short distances to the many attractions.
The Museum of Central Australia is located in the Araluen Arts Centre and has an incredible collection of significant fossils, replicas and preserved skeletons showing who was roaming these parts millions of years ago. The whole family can enjoy learning about ancient animals and seeing specimens of rare and endangered desert species. When you're done inside, head out to the fantastic shaded playground.
Right next door to the museum is the Central Australian Aviation Museum which holds a number of replica aircraft including Royal Flying Doctor Service planes. This is a great spot for the family members who love planes. For those family members who like trucks and trains, the Road Transport Hall of Fame and Ghan Museum is a must-see. Their exhibit cover cars, people movers and military vehicles from across the world, Australian-made Kenworth trucks and the Old Ghan Heritage Railway with a range of formerly used carriages. There's lots to see.
Megafauna Central is the Museum and Art Gallery of the Northern Territory's satellite exhibition showcasing the inhabitants of the land millions of years ago from a fossil site 150 kilometres northeast of Alice Springs. Megafauna – from the Greek for 'large animal life' – covers everything from ancient crocodiles, marsupial lions, relatives of the Tasmanian tiger and giant birds. You can even see palaeontologists at work unearthing and preserving ancient bones and use the augmented reality technology to see these dinosaurs in the room you're standing in. This exhibit has been a huge hit with families.
Just 15 minutes south of Alice Springs is Earth Sanctuary World Nature Centre. Using a deep sky telescope and laser pointer, your experienced sky guide will tell you everything you need to know about the stars, planets and constellations and give you the chance to see for yourself. Public and private night sky astronomy sessions are available and are open to all ages.
For the animal lovers, the Alice Springs Desert Park, the Alice Springs Reptile Centre and the Kangaroo Sanctuary Alice Springs are made for the family. Each of the centres has interactive elements so all members of the family can get up close to the animals with plenty of opportunities for cuddles.
Olive Pink Botanic Garden is just outside the Alice Springs CBD and is an easy-to-access spot to see the flora and fauna of the desert. There's lots to learn and see and the park is easy to walk with little ones in tow.
Heading west from Alice Springs, the Tjoritja West MacDonnell Ranges National Park has a number of family-friendly walking tracks and swimming holes to enjoy. Try Ormiston Gorge, Ellery Creek Big Hole, Redbank Gorge or Glen Helen Gorge for a relaxing dip. The water can get quite cold - even on the hottest days - so make sure you get out regularly and get warm.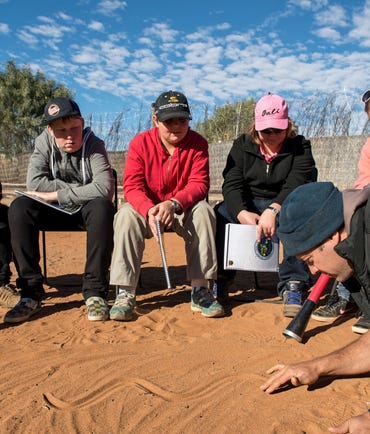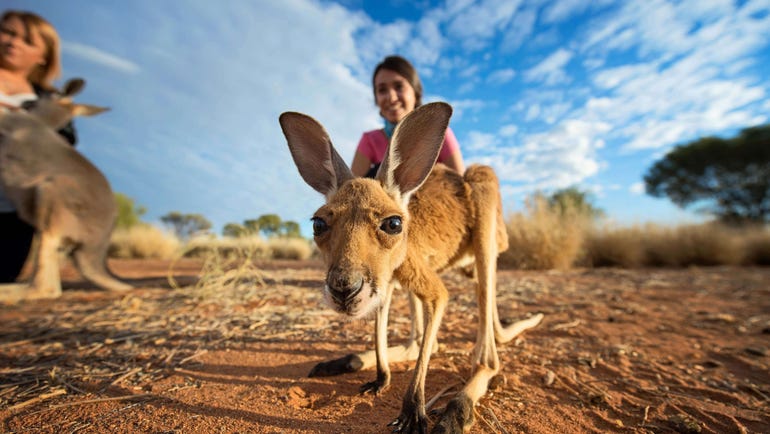 Family activities in Uluru
Jump on the hop-on, hop-off bus and check out Uluru in all its glory. As well as the 10-kilometre base walk there's other shorter walks to important and interesting sites that are suitable for kids. Don't want to walk? Take a bike tour with toddler bikes and baby seats available.
There are plenty of tours available for the whole family as well. The Family Astro Tour is suitable for all ages and leaves 40 minutes after sunset so it's not a late night out for the little ones. Your expert guide will show you all the amazing things to see in the sky and the role they played in Aboriginal culture.
The SEIT Outback Australia tour is suitable for all family members and departs 1 hour before sunrise. You'll be taken to a special location to watch sunrise and learn all the creation stories of the local people. Your ticket includes breakfast, a drive around the base of Uluru and a visit to a waterhole at Mutitjulu.
When your day is done, head back to your accommodation and enjoy one of the seven pools around the accommodation at Ayers Rock resort.
Family fun in Tennant Creek
A must-do in Tennant Creek is Karlu Karlu/Devils Marbles. This incredible rock formation is easily accessible from the car park and nearby is a bush campsite. The spot is incredible particularly at sunrise and sunset but is worth seeing no matter what time of day you're there.
Tingkkarli/Lake Mary Ann, just north of Tennant Creek, is an artificial lake enjoyed by the locals of Tennant Creek. It's large enough for swimming and canoeing and is accessible by car or on the bike path direct from town. Have a picnic or a BBQ and enjoy the peace and quiet.
A good time for everyone in Katherine
You can't come to the Northern Territory without stopping at Nitmiluk National Park. With 13 sandstone gorges, permanent and semi-permanent waterholes and hundreds of species of wildlife and plants, there's plenty to see. Most activities are family friendly including canoe hire, boat cruises and plane and helicopter flights.
Top Didj Cultural Experience and Art Gallery hosts an impressive collection of artists form the desert and Katherine region including Gloria Petyarre, the King sisters, Lorna Fencer Naparulla, Wallala Tjapaltjarri and the artists of Injalak Arts. The cultural experience is a two-and-a-half-hour interactive experience with Top End Aboriginal artist Manual Pamkal who shares his painting style and stories with guests. Manuel also runs a cultural talk, a painting workshop, fire lighting and spear throwing session. The activities are all suitable for older kids.
The Katherine Outback Experience offers a show about working on the land where animals are trained to work in the outback. Guests are welcome to pat the animals after the show. The show is suitable for all ages with children under 5 free. While you're there, you can book a private or group horse-riding lesson. Lessons are available for ages three and up and cater to all skill levels.
After you've worked up a sweat riding a horse, head to the Katherine Hot Springs or further out of town to the Mataranka Thermal Pool, Rainbow Springs and the nearby Bitter Springs. These spring-fed thermal pools are a great spot to swim or float and are open most of the year.
The Cutta Cutta Caves Nature Park is 30 kilometres south of Katherine and offers a family-friendly walkway through the limestone caves formed millions of years ago. Keep your eyes peeled for brown tree snakes and orange horseshoe bats who make their home in the caves.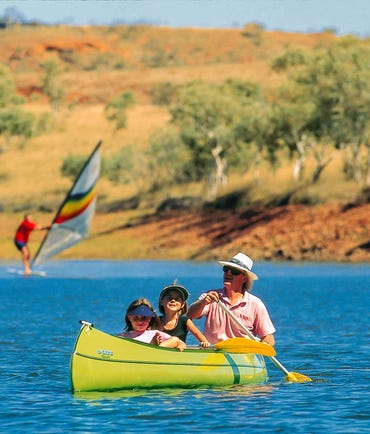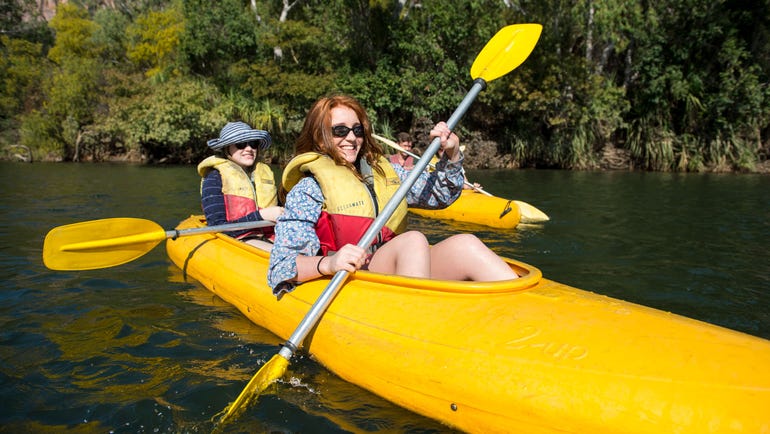 Adventures for all ages in Kakadu
Kakadu National Park is an incredible place to bring the family. There are plenty of stunning natural attractions to check out and lots of animals and plant species to spot. Some will require steep or challenging walks suited to older children. Check out one of the free ranger tours and jump on a Yellow Water Cruise which is suitable for everyone.
The Kakadu Animal Tracks tour introduces visitors to different aspects of Aboriginal bush life including hunting and gathering, cooking and trying bush tucker including buffalo, wild pig, barramundi, crocodile, magpie goose and wild duck. It's suitable for all ages and fitness levels and is very hands-on so kids will love it.
A family guide to Darwin
Darwin is a young city with lots to do for families. Start your visit at the Museum and Art Gallery of the Northern Territory. As well as the permanent collection and exhibits, the Discovery Centre is set up just for kids. It's an opportunity for the little ones to take part in fun and educational activities where they can get their hands dirty.
Other museums worth checking out include the Darwin Military Museum and Defence of Darwin Experience located at East Point Reserve, the Darwin Aviation Museum and the Royal Flying Doctor Service Darwin Tourist Facility located on Stokes Hill Wharf. These facilities are all hands-on and interactive, using technology and augmented reality to bring their collections and exhibits to life.
When you're finished with the museums, it's time to head to Aquascene Fish Feeding. Every day on high tide, thousands of wild fish come in to dine on fresh bread offered by visitors. There are many different types of fish and visitors are encouraged to get their feet wet for the best experience.
Now it's time to meet some crocodiles! Crocosaurus Cove is within the Darwin CBD and offers family-friendly experiences you won't get anywhere else. It's home to many crocodiles of all ages and offers interactive shows, an opportunity to feed a juvenile crocodile or even photo opportunities with baby crocs.
Crocodylus Park and Zoo is just a short drive from the CBD and is home to dozens of crocodiles and other animals including emus, cassowaries and jabiru, snakes and iguanas, water buffalo, dingoes, wallabies, kangaroos, meerkats, servals, monkeys and lions. You can meet meerkats and monkeys, have a play date with a dingo and even feed a lion.
Back in Darwin City at a slightly less wild location, George Brown Botanic Gardens is a lush tropical forest brimming with incredible plants, birds, frogs and small reptiles. The gardens are easy to get around and there's plenty for kids to do. Check out the lily pond, spot some butterflies in the sensory garden or watch the fountain. After you're done, grab a cold drink at Eva's Café and let the kids play on the play equipment.
East Point Reserve is also a great spot for the family with lots to do. You can take a swim in Lake Alexander, walk out into the mangroves on the boardwalk, spot wallabies, use the exercise equipment or just play at one of the two large playgrounds. Coffee vans and food trucks often pop up on Saturday and Sunday mornings so you can enjoy a bite to eat on the beach.
If you're in Darwin when it's warm – which is all year round – you might like to take the family to one of our many water parks. Palmerston Water Park and Leanyer Water Park are large scale water play areas with a range of different swimming zones for kids of all ages including large multi-chute waterslides.
The Darwin Waterfront Recreation Lagoon and Wave Pool are another great option to cool off. The lagoon is surrounded by a sea wall so it's safe for swimming and is patrolled by lifeguards. For parts of the year, an inflatable obstacle course is available in this area. Just next to the lagoon is the Wave Pool. Grab a boogie board or inflatable tyre and take on the waves. Waves run for a set time every 20 minutes so in between wave sets you can relax in the water or hop out and lay back on a sun lounge.
Just down the road from the Waterfront is the Deckchair Cinema. Running seven nights a week during the cooler months, it's a hugely popular spot for a relaxing night out. Local caterers often serve meals and a fully stocked bar will keep you refreshed. Watch out for the possums who want your dinner as much as you do.
A 45-minute drive from Darwin is the Territory Wildlife Park, home to a range of different Top End habitats and specialised exhibits. You can walk around on the paved tracks or catch the half-hourly train around the park and disembark at the exhibits. Check out the nocturnal house, woodland walk, billabong, monsoon forest walk, the walk-through aviary, aquarium, sandbar, goose lagoon, rocky ridge, buffalo trail and the dingo enclosure to see the wide variety of animals that the Top End is home to. There are presentations and shows throughout the day with the Flight Deck birds of prey show being a highlight.
Get back onto the Stuart Highway and head down to Litchfield National Park. There are heaps of family-friendly spots to swim, camp or just have a picnic.
Before you get to the park, you'll drive through the township of Batchelor where the Batchelor Butterfly Farm and Pet Garden is located. Learn all about the incredible life cycle of the butterfly and watch as they go about their days. Once you're done with the butterflies, check out the pet garden where you can pat goats, ducks and rabbits.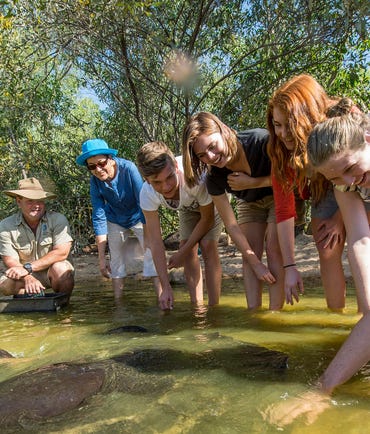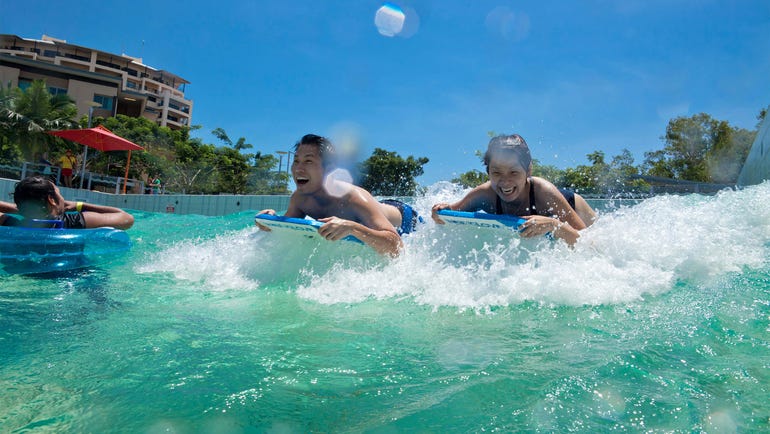 Family activity highlights
Explore family activities by region