Luxury experiences
in the Northern Territory
While the Northern Territory is known as a rugged place for intrepid explorers, there's no reason why you can't see and do it all in luxury and comfort.
[carousel hero="true" rotateheadings="true" smallheight="false"][slide image="/-/media/images/articles/luxury-experiences/hero-image/view-of-uluru-as-seen-from-inside-the-longitude-131-hotel.jpg" imagealt="The views from the dune pavilion bedroom at Longitude 131. The best venue to watch the spectacle of Uluru is Longitude 131 with a gathering of luxury pavilions nestled among the rust-red landscape. The desert base fans out from the Dune House, site of lounging, cocktails and rock gazing." butttontext="" buttontarget="" buttonurl="" video="" slidecontentoverride="" heading="Luxury experiences in the Northern Territory" subtitle="" introtext="" captionlink="/us/en/uluru-and-surrounds/accommodation/longitude-131" captionlinktext="Longitude 131" darkenimage="false" headingoverride="" renderh1="true"][/carousel]
Explore in comfort & style
Whether you're exploring the Red Centre or the tropical Top End, sometimes you just want to enjoy a little luxury.
Camping isn't for everyone for lots of reasons. More and more, people are looking for a true Australian outback holiday without the hassle of picking a spot, navigating bush tracks and setting up camp.
Some of the Territory's most iconic locations are now offering luxury accommodation and touring experiences so you can enjoy your time away from the hustle and bustle in comfort and style.
With these luxury experiences, you can get your feet dirty during the day and still enjoy a comfortable bed at night.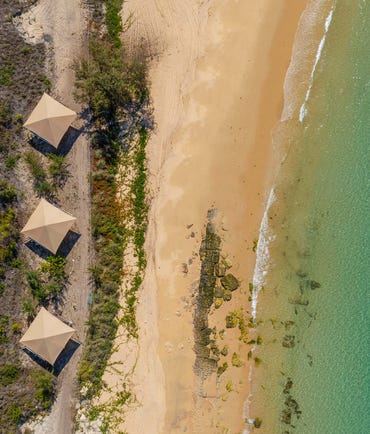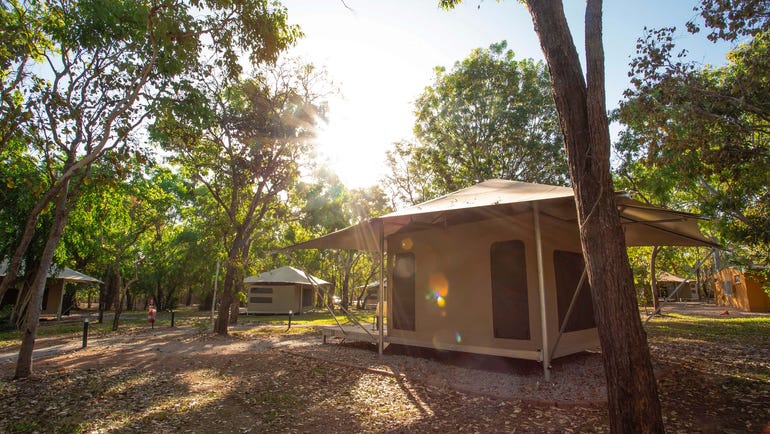 Wilderness lodges in the NT
Glamping in the Red Centre
If you're enjoying the Red Centre and want a little piece of luxury, there's some great glamping options available.
Squeakywindmill Boutique Tent B&B
At the base of the West MacDonnell Ranges, in the rural area of Alice Springs, is the Squeakywindmill Boutique Tent B&B. Open during the cooler months between March and October, the safari tents sleep up to 3 guests. Unfortunately young children can't be catered for.
With just three tents on the site, you'll be looked after well by your host and won't be bothered by lots of other guests. Each tent includes a kitchenette, private ensuite and verandah where you can watch the ranges change colour as the sun rises and sets. A continental breakfast is included in the cost of your stay with a BBQ bacon and eggs breakfast hamper available to purchase if you don't mind cooking.
Enjoy the cool night air with a campfire, star gaze and enjoy the serenity. Have dinner at one of the restaurants in Alice Springs itself or stay put and enjoy a sunset cheese and wine platter, a BBQ hamper to cook for yourself or a simple pasta meal with ice cream for dessert if you don't have the energy to go to the supermarket.
Kings Creek Station
Located just 36km from Kings Canyon and based on a working cattle station, Kings Creek Station offers the Dreamtime Escarpment Package; a stay in a luxury tent, elevated for maximum airflow and stunning views from the top of the escarpment.
The glamping tents include all the creature comforts of home from the king-size bed and private bathroom through to your own bathrobe and slippers and coffee machine. To cover all weather conditions, the glamping tents include heating and air-conditioning as well as a sheltered deck with comfy outdoor furniture so you can sit and watch the local wildlife play in the scrub.
Packages include the accommodation, cheese platter, self-cook BBQ dinner, and a self-cook breakfast hamper with a drinks package available if you stay for two or more nights. You also have access to the on-site pool and a private fire pit to really top off your stay.
Kings Creek Station offers a range of activities to visitors including buggy tours of the station, cultural tours and helicopter flights over Kings Canyon. The on-site café gives great options for meals and snacks as well as their world famous camel burger.
Longitude 131
For one of the best and most comfortable views of Uluru, the luxury tents and dune pavilion at Longitude 131 are a sure bet. Each tent and the pavilion have an unobstructed view of Uluru; even from your bed.
The dune pavilion includes a master and second bedroom, each with ensuite, a spacious deck with couches and a day bed, in-house bar and fire place in the lounge, and a private spa. The luxury tents include a large bed, private ensuite, wardrobe and bar, lounge area and a balcony with a day bed.
As a guest, you have access to the Dune Top lookout, the swimming pool, the day spa offering treatments based on local Indigenous ingredients, the terrace and the bar and restaurant. All packages include breakfast, lunch and dinner and airport transfers. Longitude 131 also have a range of bespoke and signature experiences to choose from as well as suggested itineraries to make the most of your time at Uluru-Kata Tjuta.
Luxury Accommodation around Darwin
If the tropical north is calling you, consider these glamping options for your next trip.
Bamurru Plains
Just outside Kakadu National Park, and close to the Mary River, is Bamurru Plains, a true bush retreat for nature lovers. There's no w-fi or mobile reception so you can truly switch off and be entertained by nature.
Stay in one of the ten free-standing safari bungalows built overlooking the floodplains where you can watch the local wildlife go about their day. The mesh screen walls on three sides of the bungalow keep the bugs out while still allowing the cool breeze and sounds of nature in. With a private ensuite, deck and dining area, you have everything you need to relax in style.
The focus of Bamurru Plains is comfort with minimal impact on the environment. From the organic cotton linen to their use of solar power, local toiletries and rechargeable torches, the team at Bamurru Plains have gone all out to make your stay comfortable and good for the environment.
While you're there, take advantage of nearby experiences including airboat safaris, birding, river cruises, open top game drives, guided walks, quad bike tours and the stunning on-site pool.
Groote Eylandt Lodge
Located on the picturesque Groote Eylandt in the Gulf of Carpentaria, Groote Eylandt Lodge is one of East Arnhem's best hidden secrets.
There's a range of accommodation available on site but if luxury is what you're after than you can't go wrong with a stay in one of six spa bungalows. The bungalows are right on the water and are air-conditioned with a large ensuite and spa, wi-fi and a covered balcony giving you unending views over the Arafura Sea.
There's a bar and restaurant on-site serving breakfast and dinner as well as a gym, a cultural building and swimming pools connected by boardwalks and lush tropical gardens. The lodge is also the perfect base for you to go fishing, tour the archipelago, learn about the Anindilyakwa people with a cultural tour or play a relaxing round of gold at the Groote Eylandt Golf Club.
Cooinda Lodge Kakadu
Located just off the Kakadu Highway, Cooinda Lodge Kakadu is a brilliant spot to base yourself for adventures in and around the national park. The new Outback Retreats safari-style tents can sleep two people with the Outback Retreat Plus sleeping up to four.
The tents have a solid glass front door opening out onto a deck with outdoor furniture. Inside, there's beds, air conditioning and fans, a bar fridge and USB charging ports with shared bathroom facilities close by. Alfresco dining is available at the Barra Bar and Bistro where you can enjoy local delicacies such as crocodile, barramundi, buffalo and kangaroo on the Taste of Kakadu platter. The on-site store also offers meals, fuel and Kakadu National Park passes.
The lodge is located near the Warradjan Aboriginal Cultural Centre where you can learn about local culture and history. You can also use the private lodge airstrip to grab a charter flight over Kakadu National Park, take a cruise on the Yellow Water Billabong at sunrise or sunset or explore Ubirr and the ancient rock art.
Banubanu Beach Retreat
Located on Bremer Island, just 15 minutes from Nhulunbuy (also known as Gove), the Banubanu Beach Retreat is ocean-side glamping that will take your breath away. The retreat only accepts 12 guests at a time so you'll truly be able to relax and enjoy the peace and quiet.
Choose from one of the Deluxe Beachfront Bungalows or the exclusive Penthouse Bungalow where you can see the Arafura Sea from your bed and your balcony. Each bungalow has an ensuite, a bar fridge and coffee-making facilities. Dine at the on-site restaurant – in its own elevated bungalow – and enjoy the freshest fish, prawns and produce or call room service from your Penthouse Bungalow.
From the retreat, you can enjoy fishing and birding or a day trip around the island. If you're lucky, you might even see turtles nesting.
Seven Spirit Bay
Located on the Cobourg Peninsula in the most remote national park in the country, Garig Gunak Barlu National Park and marine sanctuary, Seven Spirit Bay is a wilderness lodge as far away from the hustle and bustle as you can get. The lodge can only be accessed by boat or by air.
Throughout the tropical forest, and with views over the coral reefs of Coral Bay, luxury villas make the most of the sea breeze with louvred windows (that close so you can turn on the air conditioning if you need it), private ensuite and private deck.
Included in your stay is all your meals prepared by the on-site chef, marine wildlife spotting cruises, 4WD wilderness safaris, historical tours to Victoria Settlement, half-day fishing adventures, guided nature walks and birding and a complimentary laundry service.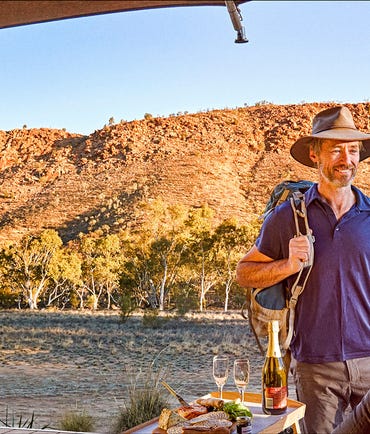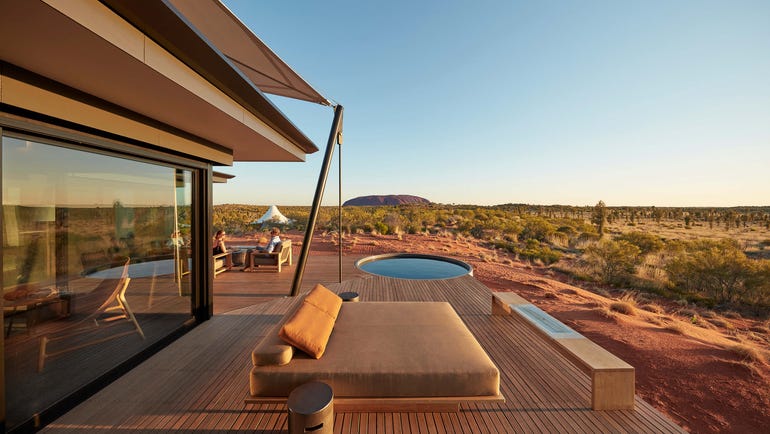 Want some adventure with your luxury accommodation?
If sitting back and taking it easy isn't your style, then one of these great experiences might suit you. We're talking wilderness safaris, croc encounters and everything in between.
Top End Safari Camp
Created by Outback Wrangler Matt Wright, the Top End Safari Camp is the ultimate mix of adventure and comfort.
Choose from a day tour or an overnight stay to fit your itinerary. Both tours include a helicopter, airboat and cruise boat experience across floodplains and billabongs to give you an eagle-eye view of the local wildlife.
Once you're at the camp, enjoy a BBQ lunch, relax on the pontoon with Australia's only nature-based croc-safe swimming cage and get front row seats to the feeding of a rescue crocodile.
If you choose to stay overnight, you can add in a night of stargazing, gourmet BBQ dinner around a fire pit and a night in your very own glamping tent. Each tent has a bed, private outdoor shower and verandah with outdoor furniture.
Venture North Safaris
If you've ever wanted to tour the Northern Territory in luxury, a Venture North Safari is going to tick all the boxes. Choose from private or small group charters exploring Arnhem Land, the Cobourg Peninsula and the Kimberley.
The multi-day charters take in areas closed to other visitors and are luxury all the way. Travel in top-of-the-line 4WDs, stay in glamping tents and bush bungalows, and enjoy activities tailored specifically to your interests including tours of sacred sites and rock art, fishing charters and helicopter rides.
A Venture North Safari will give you the outback experience you want without having to rough it.
Sacred Earth Safaris
Put your plans to explore the best bits of the Territory in the hands of the experts by taking a private Sacred Earth Safari tour. Go along on a scheduled tour of Kakadu or let the team design a personalised charter that will suit you.
Tours operate to a range of areas including Kakadu, the Kimberley, the Pilbara, Uluru and the Red Centre, Outback South Australia, the Nullarbor and other areas through the Northern Territory. Travel in a luxury 4WD or the 23-seat 6WD coach that will get you to all the best spots without raising a sweat.
Accommodation is a range of bush bungalows, wilderness resorts, B&Bs, safari camps and the occasional motel room depending on your itinerary. Let the team know your budget and what you want to see, and they'll make it happen.
Hawk Dreaming Wilderness Lodge
Located in one of the most special parts of Kakadu National Park, the Hawk Dreaming Wilderness Lodge will get you up close and personal with the sacred sites of Kakadu that few get to see. Its owned and operated by the Traditional Owners of Northern Kakadu and parts of Western Arnhem Land so this is a truly special cultural experience you won't forget.
The Lodge itself offers tented cabins with private ensuites and comfortable decks to sit and enjoy the scenery. There's a range of tours and cruises available from the lodge including a cruise on the Alligator River, a trip to Injalak Art Centre and sunset tours of rock art on the escarpment.
The minimum stay is 2 days and that includes three-course home style dinner and breakfast each day with transfers into the camp from the Border Store.
The operators of the wilderness lodge also run Anbinik Kakadu Resort, a more budget-friendly comfortable camping experience.
SEIT Outback Australia
Alice Springs and Uluru are brilliant places to tour but imagine doing it in a bespoke private charter while seated in a luxury Mercedes Benz or Toyota Fortuner vehicle. SEIT Outback Australia offers just that level of comfort.
Tours include Alice Springs, Uluru, Kata Tjuta and Kings Canyon and are designed for small groups who want an intimate experience as they see the most iconic parts of the Red Centre. Tours include cultural experiences, picnic lunches and guided walks. Other activities including scenic helicopter flights can be booked through your tour guide.
Recommended accommodation is good quality but is not included in the tour price.
Lords Kakadu & Arnhem Land Safaris
A long-time operator in the Northern Territory, Lords Safaris offer private luxury tours through Kakadu, Arnhem Land and the Kimberley that specialise in Aboriginal culture, flora and fauna.
Tours range from 3 to 6 days and include luxury accommodation at luxury lodges and bungalows throughout your itinerary, with upgrade options available on some tours. You'll be exposed to the wonders of the natural world and learn about the long and fascinating history of local Aboriginal people.
Activities available within the tours include billabong cruises, airboat rides, swimming and cultural tours of important sites.
Davidson's Arnhem Land Safaris
A recent addition to Arnhem Land, the Davidson's Arnhem Land Safari lodge is an eco-conscious resort built into the bush at Mt Borradaile, a registered Aboriginal sacred site.
Private ensuite cabins and deluxe ensuite cabins are available to stay in with comfortable beds, tea and coffee facilities, complimentary laundry and verandah. The cabins are built to allow for maximum airflow and so your alarm clock can be replaced by the early morning calls of the birds.
The on-site dining room offers fine food and wine in a picturesque setting with a communal lounge, licensed bar and library available to make your stay more enjoyable. Once you're relaxed, you can take a billabong cruise, explore the wetlands or watch the thousands of local birds who make their home in the wetlands.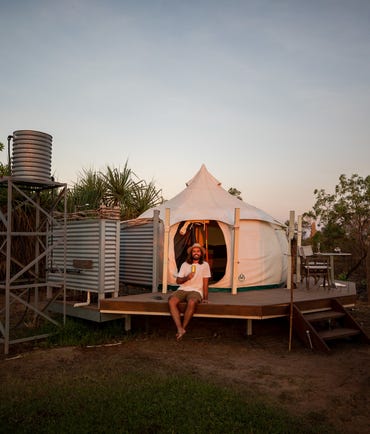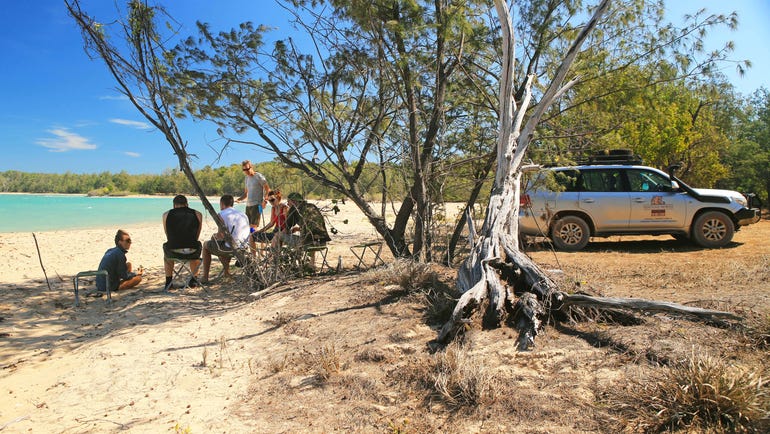 Luxury experiences in Darwin City
Once you've spent your time exploring the great outdoors, spend some time in the city of Darwin itself and discover the luxury experiences waiting for you.
Champagne Sunset Sail
Darwin has some of the best sunsets in the world and what better way to see them than from a sunset cruise.
Over 3 hours, the Champagne Sunset Sail cruise takes you from Stokes Hill Wharf out into the harbour on a 50-foot luxury catamaran for an uninterrupted view of sunset. Accompanied by an eight course menu sampling the finest local produce and drinks, this is an experience you won't forget.
When you're not looking at the sunset, look down and see if you can spot dolphins, dugongs or turtles riding the bow wave of the boat. You can even learn a bit about sailing by taking the helm under the watchful eye of the skipper. Whatever you do, don't forget your camera!
Mindil Beach Casino Resort
Just a short drive or walk from the Darwin CBD is the Mindil Beach Casino Resort. As well as standard hotel accommodation, the resort includes lagoon rooms and luxury suites right on the edge of the lagoon.
Lagoon rooms and suites include large bathrooms, a deck and direct access to the lagoon and private beach as well as the swim-up bar. Luxury suites also include separate living and dining areas and a luxury bathroom with outdoor shower.
Grab dinner at one of the on-site restaurants or just dial in room service and watch the sky change colour at sunset. If you're feeling lucky, the casino floor is open 24-hours a day with a sports bar and cocktail bar nearby.
The Ghan
If you're tired of flying, why not consider a relaxing train journey home on the famous Ghan train. Travelling from Darwin through to Adelaide and return, you can follow the whole route or just segments to travel between adventures.
The Gold Single service offers a compact sleeper cabin that converts to a seat during the day with shared bathroom facilities within the carriage. The Gold Twin service offers a private sleeper cabin with ensuite and beds that convert to a lounge during the day. You have all-inclusive dining, beverages and off-train excursions as well as complimentary shuttle bus transfers.
The Platinum Service gives passengers a private cabin, full size ensuite, table and ottomans, window views from both sides of the train and exclusive use of the Platinum Club carriage with its own lounge. Included in your ticket are breakfasts, two-course lunches and four-course dinners. You also get private transfers.
As the Ghan makes it way along its route, there's chances for passengers to disembark and experience a range of activities and attractions.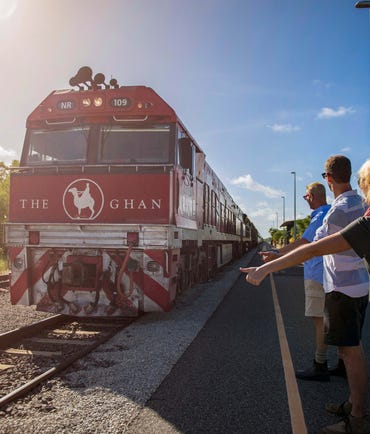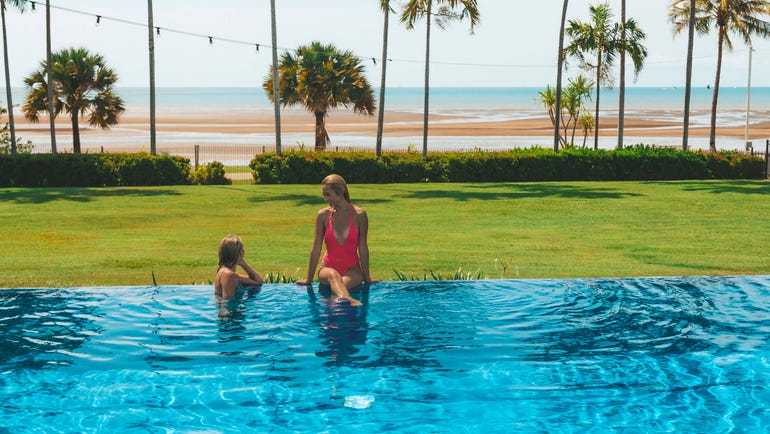 Explore luxury experiences
Explore things to see & do in the NT