​Top 10 things to do around Alice Springs
Adventure awaits in the famous outback town of Alice Springs in Australia's Northern Territory. Nestled between the East and West MacDonnell Ranges, Alice Springs is celebrated for its desert landscapes, the characters that have shaped its history and a strong cultural connection with the Arrernte people. Here are 10 of the best things to do in Alice Springs.
1. Watch the sunrise from a hot-air balloon
Greet the desert dawn floating peacefully over the outback in a hot-air balloon with kangaroos, brumbies and camels roaming far below before touching down to sparkling wine, juice and light refreshments. In 2017, Outback Ballooning in Alice Springs launched Australia's largest hot-air balloon, seating 24 passengers plus the pilot.
2. Do the Alice attractions
Meet goannas, thorny devils and frill-necked lizards at the Alice Springs Reptile Centre then visit the world's largest classroom, covering 1.3 million square kilometres, at the Alice Springs School of the Air visitor centre. Wander through the charming Telegraph Station, the original site of Alice Springs' first European settlement. Then head just out of town to the Kangaroo Sanctuary, where Chris 'Brolga' Barnes of the BBC's 'Kangaroo Dundee' series rescues orphaned joeys, which you can feed and cuddle!
3. See the desert come alive
Learn about the flora and fauna that thrive in Central Australia at the Alice Springs Desert Park. Follow pathways through three desert habitats to the free-flying birds of prey show in the nature theatre. Spot local reptiles, bats, birds and the Australian Bilby in the cool, dark nocturnal house. And hear how the Aboriginal people find and prepare food, create bush medicine and store water.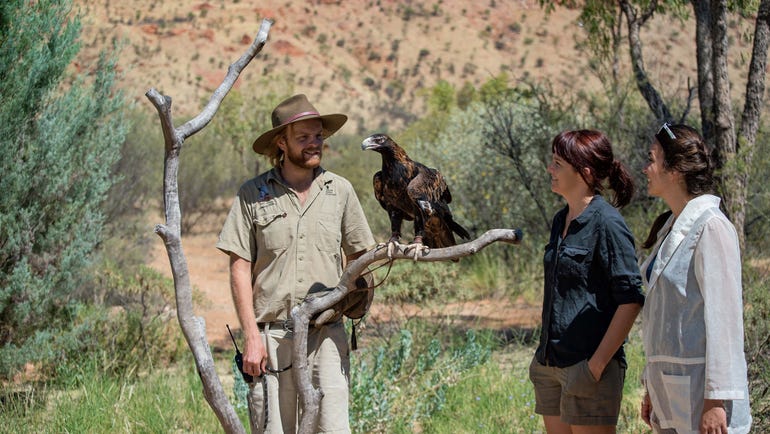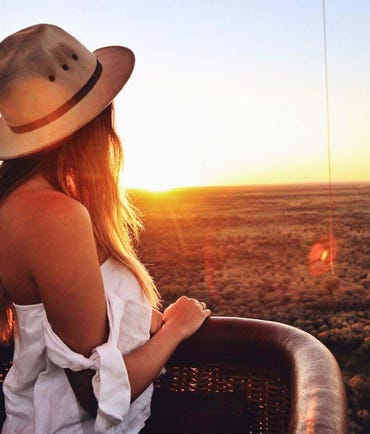 4. Wander through beautiful gardens
Love nature? Take a half or full-day to explore the Olive Pink Botanic Gardens. Here you can ask questions at the Visitor Centre, enjoy a bite to eat from the café and meander the short walking tracks amongst the native flora and fauna on show.
5. Try one of the world's best desert golf courses
Golf is a little different in Alice, where manicured greens and rolling fairways are stark against the red MacDonnell Ranges. Golfers from all over the world love the challenge of this course, with its narrow fairways edged by rocky outcrops and where the rough is truly rough. There's a pro shop, motorised buggies, floodlit driving range and putting green, and a clubhouse and restaurant.
6. Ride a camel at sunset
Spot kangaroos and birds, watch the ranges glow red under sunset skies and take in the peace of the desert on a camel ride through the Ilparpa Valley with Pyndan Camel Tracks. The camels are gentle and well trained, thanks to 'camel man' Marcus, who's been working with camels for 30 years. Free pick up from Alice Springs accommodation.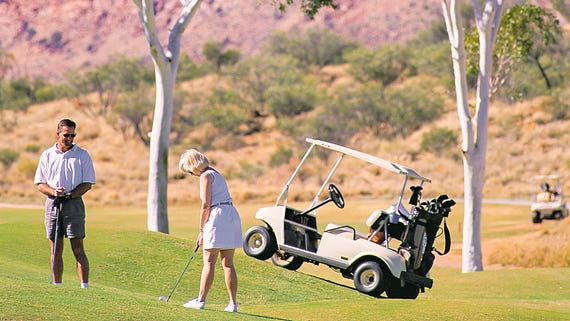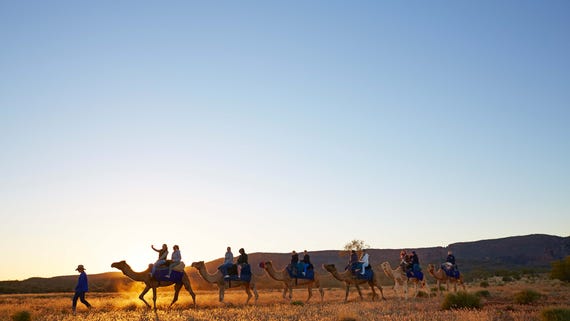 7. Explore the West Macs
The West MacDonnell Ranges stretch 160km west of Alice Springs and are famous for their postcard-like scenery, world-class hikes, swimming holes and natural treasures. Join a tour or drive yourself. See black-footed rock wallabies near the permanent waterhole at Simpsons Gap. At noon, watch the walls of Standley Chasm glow bright red. Swim at Ellery Creek Big Hole. Explore Ormiston Gorge, Glen Helen and the Ochre Pits, a sacred site still used by local Aboriginal people.
8. Explore the East Macs
Head east from Alice Springs to explore the East MacDonnell Ranges. See Aboriginal rock art at Emily Gap and have a picnic at nearby Jessie Gap. Take the circular walking track at Corroboree Rock then head for Trephina Gorge, one of the East's best attractions. Further along in N'Dhala Gorge (four-wheel-drive only from here), see more than 5,000 ancient rock carvings then wander around the ruins of Central Australia's first town at the Arltunga Historical Reserve. Explore beautiful Ruby Gap, where tiny garnets were once found.
9. Camp at Rainbow Valley
Plan for sunset at Rainbow Valley, a colourful sandstone bluff with bands that change from blazing ochre to purple in the dying light. Take the short walk to Mushroom Rock, an unusual sandstone formation with a natural tunnel formed over millennia. Join a day trip from Alice Springs (75km south, four-wheel-drive required) or take your gear and camp. There are toilets, barbecues and picnic tables.
10. Explore Albert Namatjira's birthplace
Explore the settlement of Hermannsburg (an easy 1.5-hour drive west of Alice Springs), Central Australia's first town and home of famous Aboriginal watercolour artist, Albert Namatjira. Visit his home and the museum, refresh at the Kata Anga Tea Rooms and wander around the Namatjira Gallery, with original Albert Namatjira paintings and works by the acclaimed Hermannsburg Potters.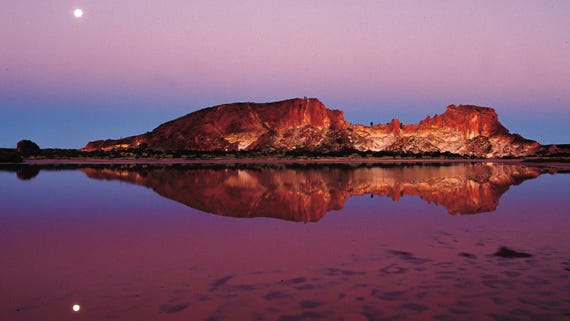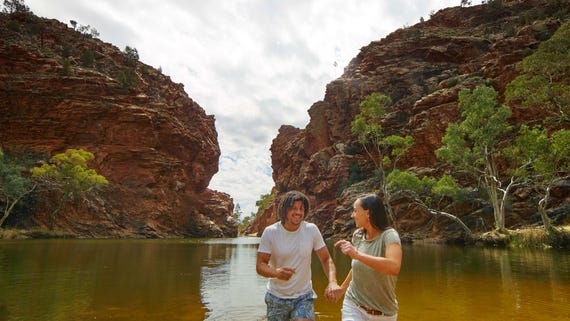 More articles you might like