Shopping
in the Northern Territory
Don't go home empty handed. Find local treasures, handmade gifts and artworks at markets, galleries and little boutiques across the Territory.
While you're travelling through the beautiful Northern Territory, don't forget to make time to stop and buy some souvenirs of your time. There are dozens of art centres and galleries dotted around the Territory where you can grab anything from a tea towel or a coaster to some genuine Aboriginal art or even a dress made from fabric printed with unique Aboriginal designs.
There's a heap of other great shopping opportunities up and down the track as well. A weaved basket from the Tjanpi Weavers would make an ideal souvenir. Maybe a custom whip from Mick's Whips or some other local craft from one of the markets.
You'll be surprised and delighted by what you'll find to remind you of your time in the Territory.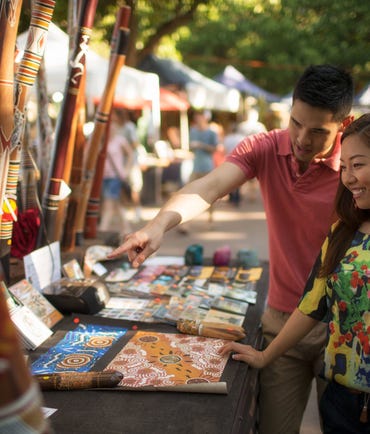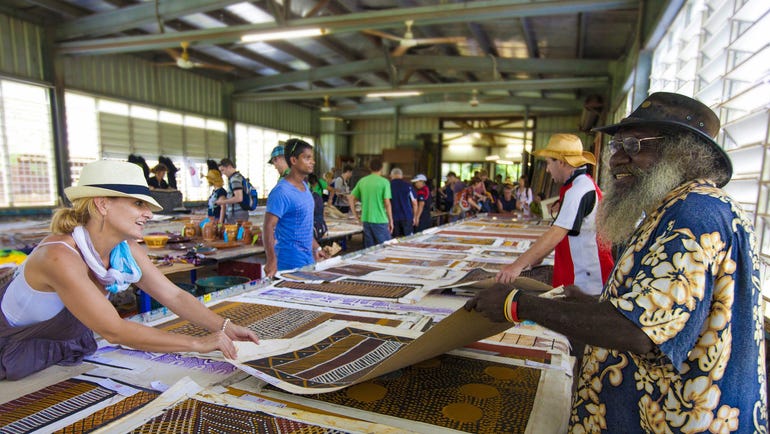 Souvenirs in Alice Springs & Surrounds
The Red Centre is full of spots where you can pick up a memento of your time here. If you're feeling brave, you might even take a class and learn how to create some of the incredible art and craft from the artisans themselves.
Uluru-Kata Tjuta

In the shadow of Uluru, there are two art galleries where you can spend time learning the stories of the Dreamtime and take home a souvenir or two.

Maruku Arts has a gallery accepting goods from 20 nearby communities. You can see the traditional woodwork of the Anangu people as well as paintings and accessories. Demonstrations by local artists explain the story behind these items. In the resort town of Yulara, Maruku Arts runs a market stall selling paintings, wood carvings and tools.

Walkatjara Art is also located just next to the rock and is the not-for-profit art centre supporting the community of Mutitjulu selling paintings and T-shirts. Artwork represents the stories of the Anangu people and their creation time – known as Tjukurpa. Come along, see art being made and take home a piece for yourself.

Both art centres ship internationally so you can buy and have your piece shipped to your home for when you get back.

Alice Springs art & culture

In Alice Springs town itself, there are a number of art centres and galleries where you can peruse some of the most valuable art in the world and find a piece for yourself.

Mbantua Gallery specialises in the vibrant artwork of the artists from the Utopia region of Central Australia. The gallery space is filled with all types of pieces including paintings, jewellery, sandstone carvings and their own unique line of souvenirs and products.

The Tjanpi Desert Weavers located in Alice Springs are a social enterprise of the Ngaanyatjarra Pitjantjatjara Yankunytjatjara (NPY) Women's Council making and selling contemporary art from the land. Here you can see baskets and sculptures made from grass and feathers, jewellery made from seed pods and raffia, grab a T-shirt or tea towel or even take home a learn to weave kit.

Yarrenyty Altere Artists is an arts centre for the residents of the Yarrenyty Arltere Town Camp. Art ranges from sculptures to home décor, screen printed shirts to etchings. Artwork from these artists can be seen in galleries across Australia so it's well worth checking out.

Tangentyere Artists provides art training and workshops to artists of Alice Springs and supports them with sales and marketing of their artwork. Pieces available to buy including paintings on canvas, items made from recycled metal and wood, and seed pod jewellery.

Papunya Tula is the home to some of the most extraordinary artworks from world-famous painters in Australia. All sourced from artists in the Western Desert, the Papunya Tula gallery is breathtaking. Leave plenty of time aside to enjoy the artwork and then grab a memento on your way out.

Iltja Ntjarra, the Namatjira School of Art, offers stunning prints and originals on canvas. You'll recognise the style of painting as that of Albert Namatjira's watercolour landscapes. Many of the artists are descendents of Albert and have received the same gift of creating art. There's also hand painted postcards, hand painted earrings and merchandise to purchase.

Bindi Mwerre Anthurre Artists studio is an art centre for Aboriginal artists living with a disability. Artworks from the artists in residence including paintings on canvas, etchings on paper, T-shirts and lamp shades with eye-catching and unique designs.

If art isn't your cup of tea, head into town and check out Red Kangaroo Books specialists in Australian and Aboriginal books. There's also Outbush Alice Springs, the Outcrop Gallery and Lone Dingo in the Todd Mall to check out for a great souvenir of your adventure. Drop in on a Sunday while the Todd Mall Markets are on or the Alice Springs Town Council Night Markets where you can sample the best food, art and craft from the makers of Alice Springs.

Araluen Arts Centre, the performing arts, art and culture hub in Alice Springs also has souvenirs available. Central Craft is a retail outlet within the centre selling members work in a range of mediums including ceramics, woodwork, silk, painting, watercolour, weaving, knitting, jewellery, lapidary, fabric printing and dyeing.

Heading out bush

There are plenty more art centres across Central Australia that are off the beaten track:

All offer incredible art and souvenirs, available in person or via their online shops.

If you're travelling to remote communities, make sure you get a permit which you can obtain from the Central Land Council.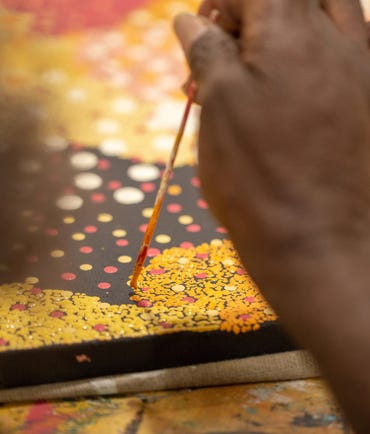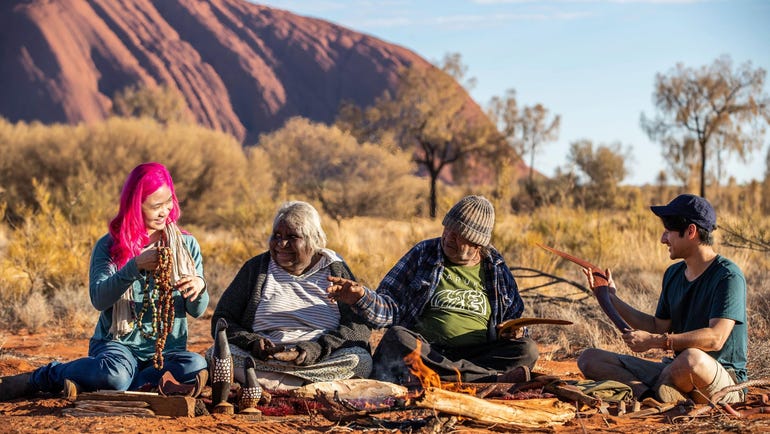 Shopping in Tennant Creek
Tennant Creek is a little town on the Stuart Highway but the art and culture centre within it is brimming with beautiful mementos.
Nyinkka Nyunyu Art and Culture Centre is the home to Julalikari Arts which is the creative powerhouse of the Barkly art and cultural scene. The centre has a range of exhibits covering dioramas of the past, bush food and medicine, animals and artefacts returned from interstate museums. There's guided cultural tours and a shop selling the incredible artworks of Barkly region artists covering everything from paintings and artefacts to jewellery and merchandise.
Katherine Region souvenirs
Once you hit Katherine and start settling into the new landscape and climate of the Top End, you'll notice a distinct change in the art styles of local Aboriginal people. This makes for more opportunities for you to splash out and treat yourself to a unique keepsake of your trip.
Shopping in Katherine
In the town of Katherine itself, Mimi Aboriginal Art and Crafts is 100% Aboriginal owned art centre putting profits back into remote communities. The centre caters for traditionally Top End style paintings as well as Desert and River style paintings. Weavings, didgeridoos and carvings are also available as well as T-shirts and screen-printed fabric.
Godinymayin Yijard Rivers Arts and Culture Centre in Katherine East hosts a range of Indigenous and non-Indigenous art exhibitions, including works done by locals. There's also performing arts spaces so you can hear stories, music and watch dance representing the stories of local people. The shop sells jewellery, textiles, small artworks and books made by local people as well as teas, soaps and aromatherapy oils made from bush tucker ingredients sourced locally.
Top Didj Cultural Experience and Art Gallery offers cultural experiences as well as art exhibitions from local Aboriginal people. The shop sells a range of local artists' work including well-known artists such as Gloria Petyarre and the King family.
Katherine Museum provides a unique look into the history of the Katherine region. As well as a range of historical collections and an art gallery, the on-site store offers a range of art, craft and books and handcrafted didgeridoos.
For other shopping in town, check out Top News in the Woolworths complex or Fe's Fashion Décor in the main street of Katherine.
Going bush
Once you leave Katherine, you can find a range of arts and culture centres dotted across the region:
For a true cultural experience with souvenirs galore, head to the Barunga Festival, held each June just 80km from Katherine.
If you're travelling to remote communities, make sure you get a permit which you can obtain from the Northern Land Council.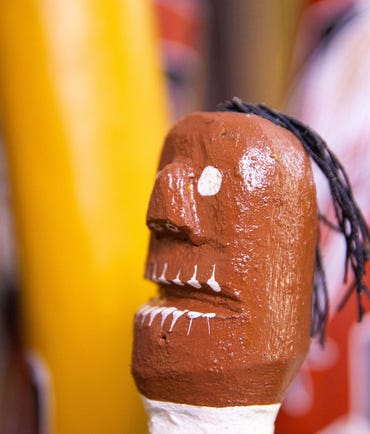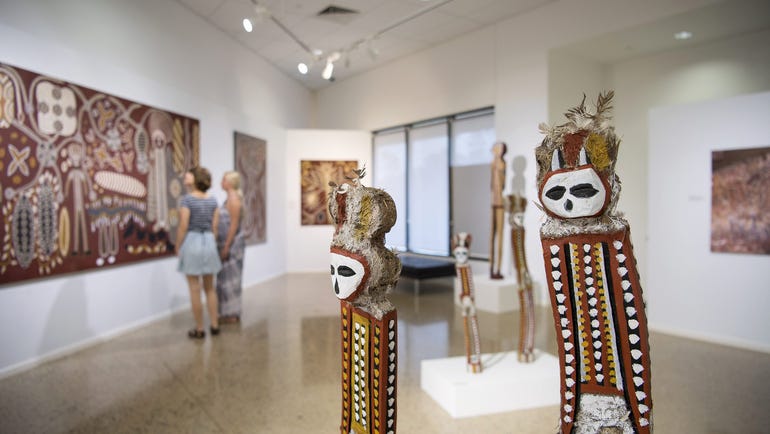 Souvenirs from Arnhem Land
Arnhem Land is known for its incredible landscapes, rich culture and unique and rare wildlife. But it's also home to extraordinary artists found in art centres across the region.
One of the most well-known of these art centres is Injalak Arts in Gunbalanya, known across Australia for its incredible screen-printed fabric that has created garments seen on catwalks and red carpets across Australia. You can browse through local paintings, fibre art, prints, carvings and artefacts, bark paintings, bags and clothing, homewares and books.
There are a range of other art centres across Arnhem Land including:
If you're travelling to remote communities, make sure you get a permit which you can obtain from the Northern Land Council.
Shopping in Darwin
The most varied shopping in the Northern Territory is in Darwin. While it has the Aboriginal art and artefacts of the rest of the Territory, it's also where to get beautiful pearls, world-class crocodile leather accessories and real bush tucker in the heart of the city.
Souvenir shopping in Darwin City