Top End Local's Tips: How to do Darwin's markets
If you're dropping in to Darwin, your stay isn't complete without a stroll through its famed markets. Loved by locals and visitors alike, the city's selection of markets are vibrant, colourful and radiate vitality.
Tempt your tastebuds to an array of tantalising street food and fresh farmed fruit. Support artisans, take home trinkets or get your groove on to live music. Whether you're travelling solo, as a duo, or with the whole clan, do it like the locals do and discover Darwin's markets.
Mindil Beach Sunset Markets
Electric and full of energy, the Mindil Beach Sunset Markets are one of the biggest in Darwin. What started as a small night market over 30 years ago, now boasts over 300 stalls that set up beach side every week over the dry season. There's everything from delicious international cuisine, right through to local craftsman and unique Aboriginal art. There's so much to take in and savour. Indulge in Indonesian fare, marvel at magicians or get your tarot cards read. And, of course, you can do all this with the spectacular sunset as your backdrop. As you stroll around the markets, you can watch the pink hues get deeper and deeper as the sun gently sets over the horizon.
Local's tip? If you want to impress someone, then why not treat them to a VIP package? Get front row seats to revel in the entertainment and learn all about the history of the markets from a local tour guide.
Getting there:
Mindil Beach is just a six minute drive or a 30-minute walk from Darwin's city centre. From Daly Street in the city, all you need to do is turn onto Gardens Road and keep going until you get to Chin Quan Road.
When:
The Mindil Beach Sunset Markets run on Thursday and Sunday evenings, 4pm to 9pm, from April through to October.

Why the locals love it?
A Thursday night trip to the markets is a mid-week treat for locals: it breaks up the working week and provides an ideal place for a spot of bargain hunting, a quick bite to eat and an opportunity to catch up with friends.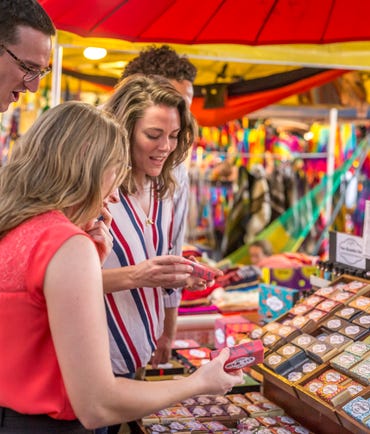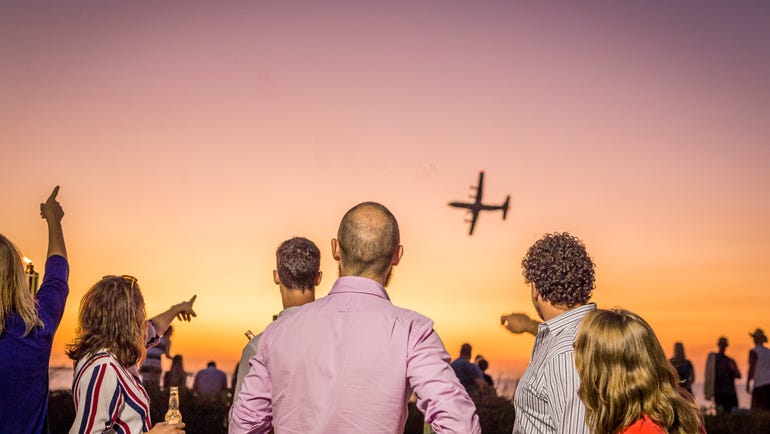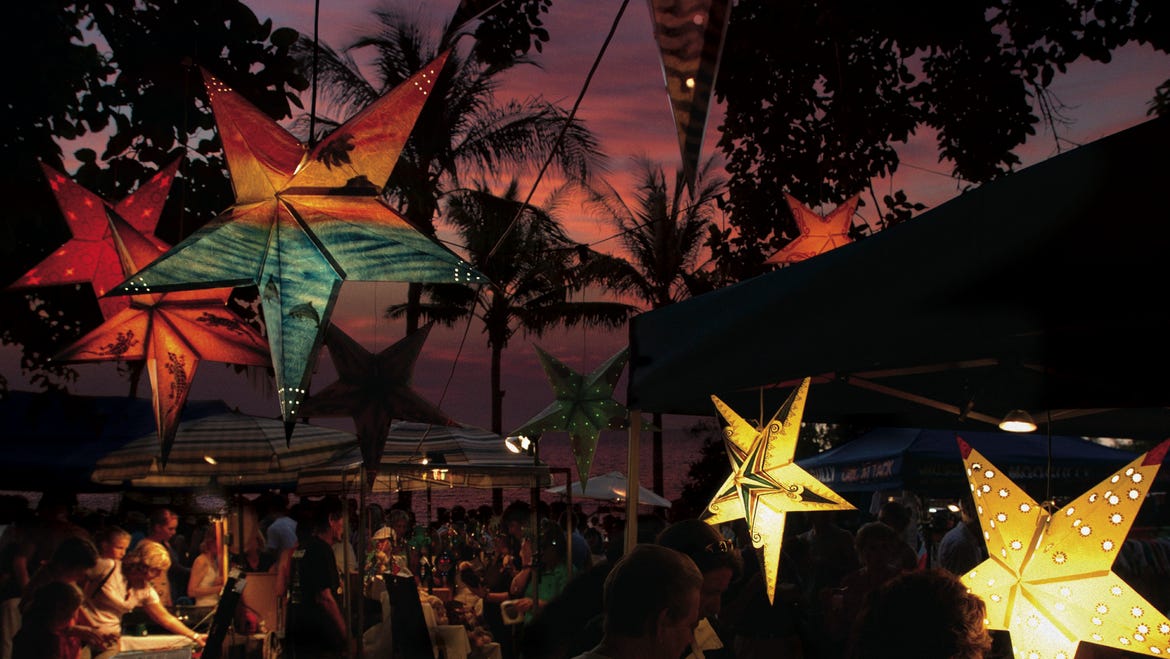 Parap Village Markets

A Darwin institution since the 80s, the Parap Village Markets is a Saturday morning must. Where culinary and culture meet, your senses will be awakened by the flavours of Asia. Indulge in sizzling street food inspired by the cooking of Thailand, Malaysia and China. Spoil yourself with velvety crepes or crispy salads. If you're an early riser, beat the crowds and enjoy a freshly roasted coffee whilst you wander through the eclectic stalls of local crafts and wares. Or if you crave your weekend sleep-in, then stroll down for mid-morning brunch with friends.
Getting there:

Parap Village Markets is located at the Parap Shopping Village on Parap Road, just five minutes from Darwin's city centre. There are regular complimentary shuttles from hotels and landmarks that can pick you up and take you to the markets.

When:
Every Saturday from 8am to 2pm.

Why the locals love it?
Any local will tell you that the Parap Village Markets is the place to get your Laksa fix. This deliciously spicy south-east Asian noodle soup is a firm favourite by many Darwinians. In the past, the markets have been known to have up to eight stalls solely dedicated to Laksa.
Malak Market Place
With sustainability at its core, Malak Market Place is where you'll get to know the growers and their fresh produce. Peruse the artisan stalls to meet jewellery makers, fashion designers and craftsman. Who knows, you might pick up a bespoke piece of furniture or artwork to take home with you. With food stalls, live entertainment and plenty to do for the kids, sauntering around the Malak Market Place is a sensational way to fill your Saturday afternoon.
Getting there:
The Malak Market Place takes place in Chambers Crescent Car Park in Malak. There's plenty of parking, but allow extra travel time to find a parking spot in busy periods.
When:
The Malak Market Place is open every Saturday, 4pm to 9pm from April through to October (This is Darwin's dry season).

Why the locals love it?
In Darwin, locals support locals. The Malak Market Place is where you can get behind growers, farmers and artisans that reside in the surrounding area.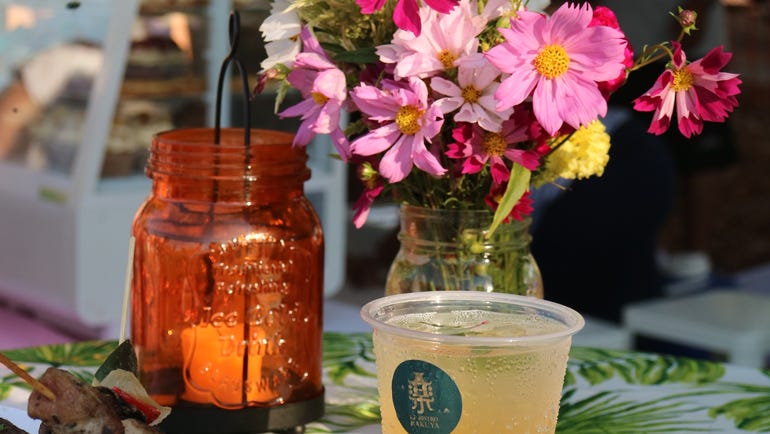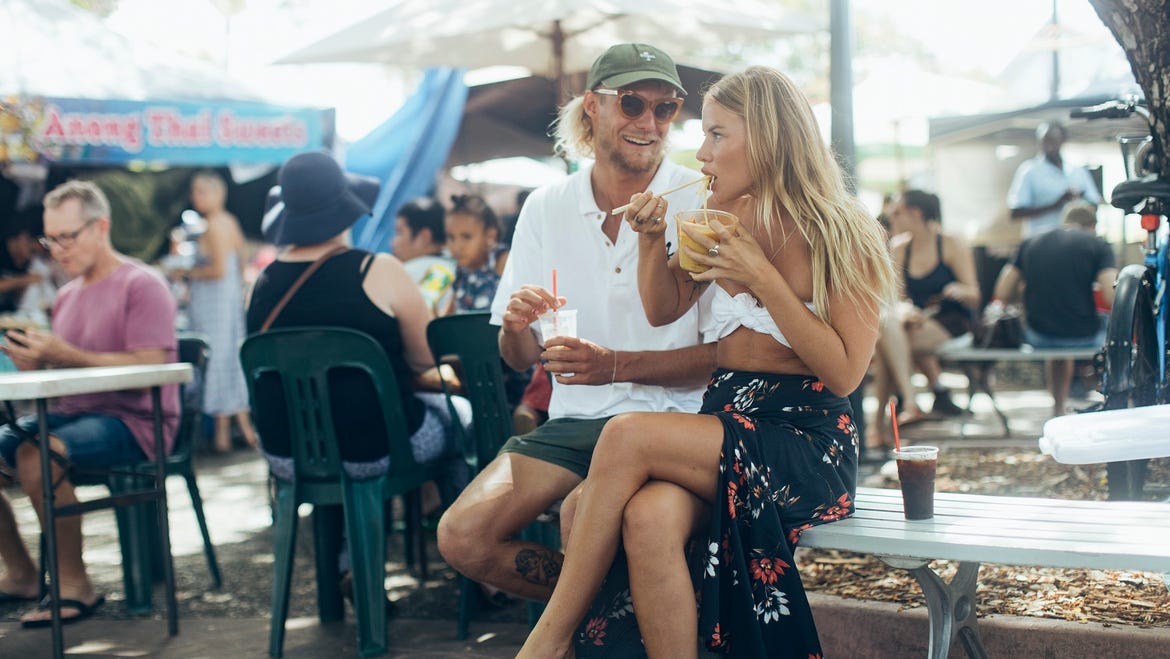 Nightcliff Markets
Spend your Sunday morning sipping on a latte while scoping out unique gifts for your friends and family at the Nightcliff Markets. With more emphasis on art, crafts and second-hand stalls, you'll find the atmosphere a little more relaxed. It's all about vintage – recycled clothing, books, vinyls. Don't worry, if you do work up that appetite, there's a few foodie options to feast upon. When the temperature rises, there's plenty of shady areas for you to sit back and relax.
Locals tip? There's live music from 11am, so be sure to nab a seat near the central stage.

Getting there:
If you're travelling from the city centre, take the number four bus. If you're making your own way there, head to Nightcliff Shopping Centre on Dick Ward Drive in Nightcliff.

When:
Every Sunday, from 8am through to 2pm.

Why the locals love it?
Being on a Sunday morning, it offers a really relaxed vibe and it's not as intense as the other markets. Also, if you're on the hunt for a special gift for someone, you'll source something extraordinary.
Rapid Creek Markets

Being the city's oldest market, Rapid Creek Markets is an absolute must particularly if you consider yourself a culinarian-in-training. Being predominantly Asian, you'll be wowed by the weird, yet wonderful exotic fruits and vegetables on offer. Immerse yourself in the hustle and bustle as you make your way around the maze of stalls. Revel in the rich aromas and savour the spices and sauces on offer. It's also the spot for picking up local seafood.
Locals tip? Make sure you get there early so you can get first pick of the produce before it's snapped up.

Getting there:
The Rapid Creek Markets is located atthe Rapid Creek Business Village, which is on Trower Road. And, despite being in the heart of the northern suburbs, is only a 20 minute drive from the city centre.
When:
Every Saturday and Sunday from 6:30am to 1:30pm.

Why the locals love it?

Many of Darwin's chefs are up at the crack-of-dawn to source their produce for many of the restaurants in the local area. If it's good enough for them, then you know it's going to be as fresh as can be.
Live like a local
Ingrained into the Darwinian culture, market shopping is a must. No trip is complete without a visit to one of the many that are on offer. Whether you're a fledgling foodie or amateur art collector, be sure to mark your calendar for a spot of shopping.
More articles you might like