Art & culture
in the Northern Territory
From ancient rock-art sites and Dreamtime stories to contemporary galleries and outback charm, a trip to the NT is one big cultural experience.
The Northern Territory has one of the most diverse cultural mixes in Australia that you can learn from, and immerse yourself in.
Alice Springs' desert country spreads right through to the Top End saltwater country. Soak in the tens of thousands of years of rich history and ancient stories that have been collected.
Far from just museums and art galleries, the Territory offers incredible immersive cultural experiences that you can't get anywhere else. Learn about the important links between the land and culture from a traditional owner. Learn to weave traditional baskets from pandanus. Or, sit by a fire and hear the stories of creation and how the landscape has changed over thousands of years.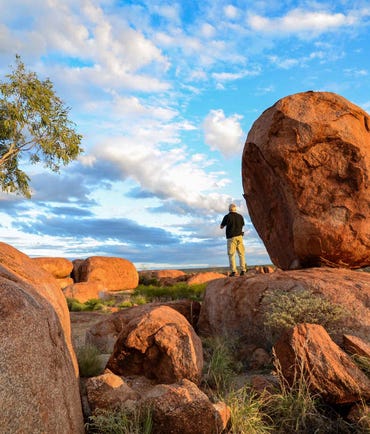 The Dreamtime stories of Uluru-Kata Tjuta & Watarrka
Maruku Arts and Walkatjara Art are both located right next to Uluru itself and have many galleries. They display the work of countless local and communal artists from the Central Desert and the Ngaanyatjarra Pitjantjatjara Yankunytjatjara (NPY) lands. Check out their stunning paintings, woodwork and authentically carved tools. Here, you can hear about the Dreamtime stories of the Anangu people and the importance of Uluru and Kata Tjuta in sacred ceremonies that still exist today.
Take one of the 6 established walks around Uluru showing the most sacred and beautiful parts of the rock. There are a number of sacred ceremonial sites that you can learn about on your walk or Segway or motorbike tour. Feel like experiencing it on your own? Try the GPS-triggered Uluru Audio Guide. As you walk, it gives you detailed information about Uluru in 7 different languages.
Once the sun goes down, explore the Field of Light art installation by acclaimed artist Bruce Munro. More than 50,000 solar-powered spheres cover a huge area in front of Uluru, bringing the open space to life. It's an incredible exhibit that will wow you. There are also two astronomy tours where you can discover all about the night sky and the role of planets, constellations and stars in Aboriginal culture.
At Kings Canyon, take the time to join the Karrke Aboriginal Cultural Experience Tour which offers bush tucker, medicine, knowledge of plants and birds, art and artefacts as well as a walking tour.
Cultural experiences in Alice Springs
Start your time in Alice Springs with a visit to Araluen Cultural Precinct. It houses the Araluen Arts Centre, Strehlow Research Centre, Museum of Central Australia and the Central Craft studio and retail outlet. Right next door is the Central Australian Aviation Museum. Spend the day wandering through the precinct learning all about Central Australian history and culture including the role of aviation.
While you're in town, check out the Royal Flying Doctor Service Alice Springs Tourist Facility in the buildings of the original working base of the RFDS. Based nearby at the Old Gaol in Alice Springs is the Women's Museum of Australia alongside a number of recently restored buildings. Some of which are the Adelaide House Museum, the Residency, Hartley School and the Stuart Town Gaol. Take a leisurely guided walking tour through the town to see these historic structures.
From paintings and sculptures made in art centres to weaved baskets crafted by the hands of the Tjanpi Desert Weavers, the Territory Arts Trail features the artworks of dozens of native Aboriginal tribes, regions and totems of Central Australia. To experience the incredible rich variety of art in Alice Springs' galleries, be sure to visit.
The Desert Festival, held in September, includes a program of music, theatre, art, film, workshops, talks and much more. Fancy a quirkier festival? The Alice Springs Beanie Festival held in June each year is for you. Come and see the thousands of locally-made beanies and take home a unique piece of wearable art.
The sacred parts of Central Australia hold organised tours that give you plenty of time to learn about local customs and lore. The Journey the Dreaming walking tour, led by guide Alison Furber Kngwarreye, takes you on a journey of Alison's ancestral homelands. Alison shares the significant connection between land and culture for local Aboriginal people. Further afield, you can take a Rainbow Valley Cultural Tour with a traditional owner. As they guide you through the country they'll share incredible rock art and engravings.
If space intrigues you, take the opportunity to learn about astronomy and its connection to culture at Earth Sanctuary World Nature Centre. Or, take a comfortable hour's drive to Hermannsburg near Alice Springs. While you're there, investigate the historic mission town and the famous Aboriginal artist, Albert Namatjira's, birthplace.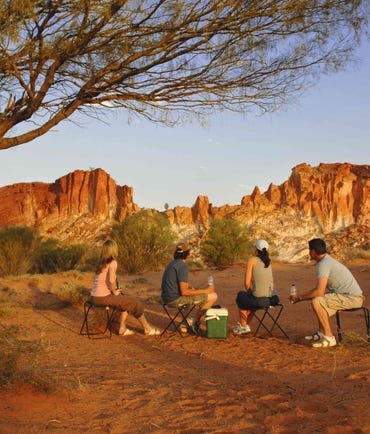 The art & history of Tennant Creek
The Nyinkka Nyunyu Art and Culture Centre is the home of the Barkly region art and cultural scene. The centre's permanent collection showcases an extraordinary range of styles from local artists past and present. Paintings, dioramas and artefacts from times gone by line the space. You can easily spend a whole afternoon there taking it all in.
Karlu Karlu, also known as the Devils Marbles, is just outside of Tennant Creek. The site is regarded as culturally important to the Warumungu people. During the winter months, there's a daily ranger talk around the campfire sharing stories of local history and culture as well as wildlife and nature.
The cultural history of Katherine
There's an incredible amount of art and culture in the Katherine region. All you have to do is decide how much you can pack into your itinerary.
Start with a visit to some art and cultural centres like Godinymayin Yijard Rivers Arts and Culture Centre, Mimi Aboriginal Art and Crafts and the Top Didj Cultural Experience and Art Gallery. Each of these incredible spaces holds galleries full of artworks as well as offering unique cultural experiences for the whole family. Head to the Katherine Museum to reflect on Katherine's pastoral and wartime history through written works and photographs.
Make your way into Nitmiluk National Park where you'll find Nitmiluk (Katherine) Gorge and a number of special tours and experiences to suit your ideal trip. The Visitors Centre is the place to start and plan your day. Explore in a canoe, get in a helicopter or plane for an aerial view or sit back on a leisurely cruise and learn about the history and culture of the area.
Kakadu art & culture to enjoy
In Kakadu National Park there are many great spots and incredible tours to teach you about the local people and the sites that are significant to them.
A Yellow Water Cruise is a must. Over 2 hours, you'll cruise the billabongs spotting some of the local wildlife and learning about local culture. Take the cruise at sunset or sunrise when most of the animals are active. However, any time of the day will still be a spectacular experience to remember.
Ayal Aboriginal Tours is run by a traditional owner and former ranger of Kakadu National Park. Listen carefully as he shares his stories about the rock art at Ubirr, the Magela floodplains of the East and South Alligator regions as well as bush tucker found within the park.
In the township of Jabiru, the Marrawuddi Arts and Culture and Warradjan Cultural Centre similarly display artefacts, artworks and tell stories of the local people. Both centres offer the chance for you purchase some genuine local art.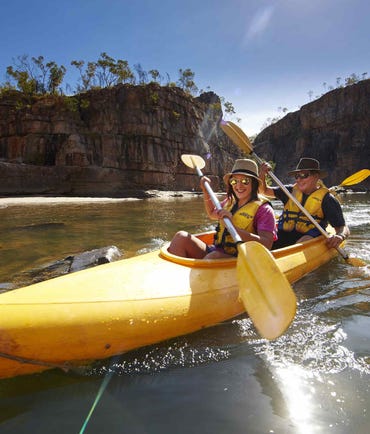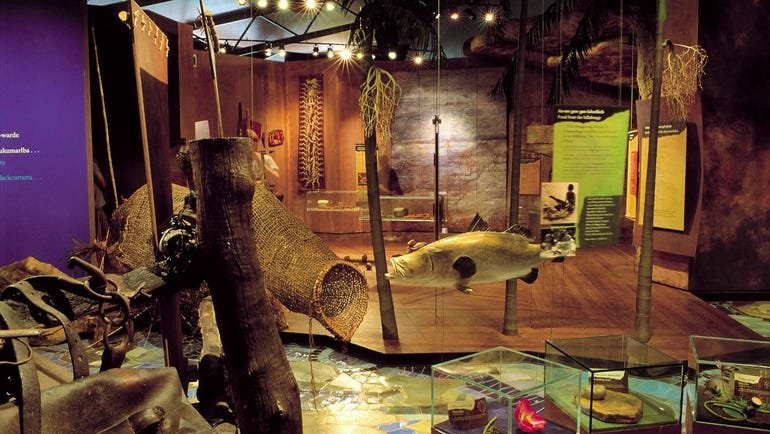 East Arnhem culture on display
While you're in Arnhem Land, drop by at some of the many incredible art centres including Injalak Arts (Gunbalanya), Djilpin Arts (Beswick), Waralungku Arts (Borroloola), Anindilyakwa Art and Culture Centre (Groote Eylandt), Bula'bula Arts Aboriginal Corporation (Ramingining), Buku-Larrnggay Mulka Centre (Yirrkala), Elcho Island Arts and Craft, Gapuwiyak Culture and Arts Aboriginal Corporation, Maningrida Arts and Culture, Milingimbi Art and Culture Aboriginal Corporation and Ngukurr Arts Aboriginal Corporation. Cultural tours include the Injalak Rock Art Tours, Arnhemlander Cultural and Heritage Tour and Hanging Rock Cave Paintings. Our Arnhem Land tours page gives you dozens more options depending on what you're interested in.
Remember to organise your permit from the Northern Land Council when travelling onto Aboriginal land.
Darwin City art & culture
The Museum and Art Gallery of the Northern Territory is the Territory's flagship museum and art gallery. Its permanent collection holds thousands of artworks and historical artefacts. In the Colin Jack Hinton Maritime Gallery display, you can see an impressive collection of old traditional boats and canoes that perfectly reflect Darwin's seafaring past. If contemporary art is more your style, pass by the Tactile Arts display instead.
For the artists in the family, try Darwin Visual Arts, the Northern Centre for Contemporary Art or one of the many galleries in Darwin city. These include the Paul Arnold Gallery, Paul Johnstone Gallery, Mbantua Gallery, Sister7 Gallery, Songlines, Readback Books and Aboriginal Art Gallery, Aboriginal Fine Arts, Mason Gallery, Nomad Art, Outstation Gallery and the Tiwi Art Network.
Looking to see art outside of a gallery space? The works from the Darwin Street Art Festival are sure to impress. Follow the streets and lanes of Darwin City and see huge buildings transformed into stunning canvases.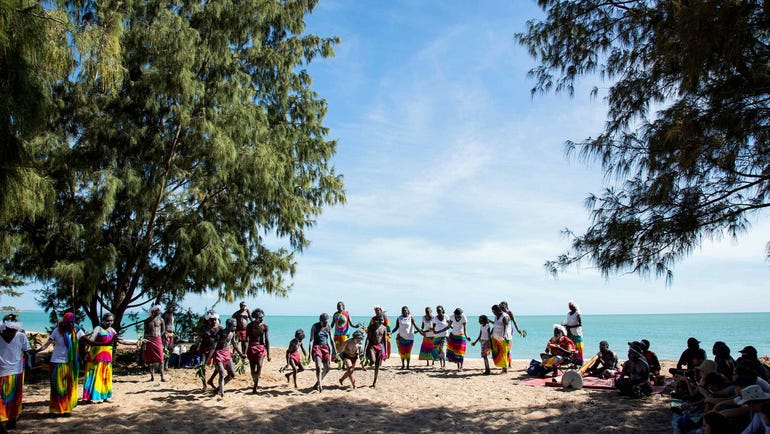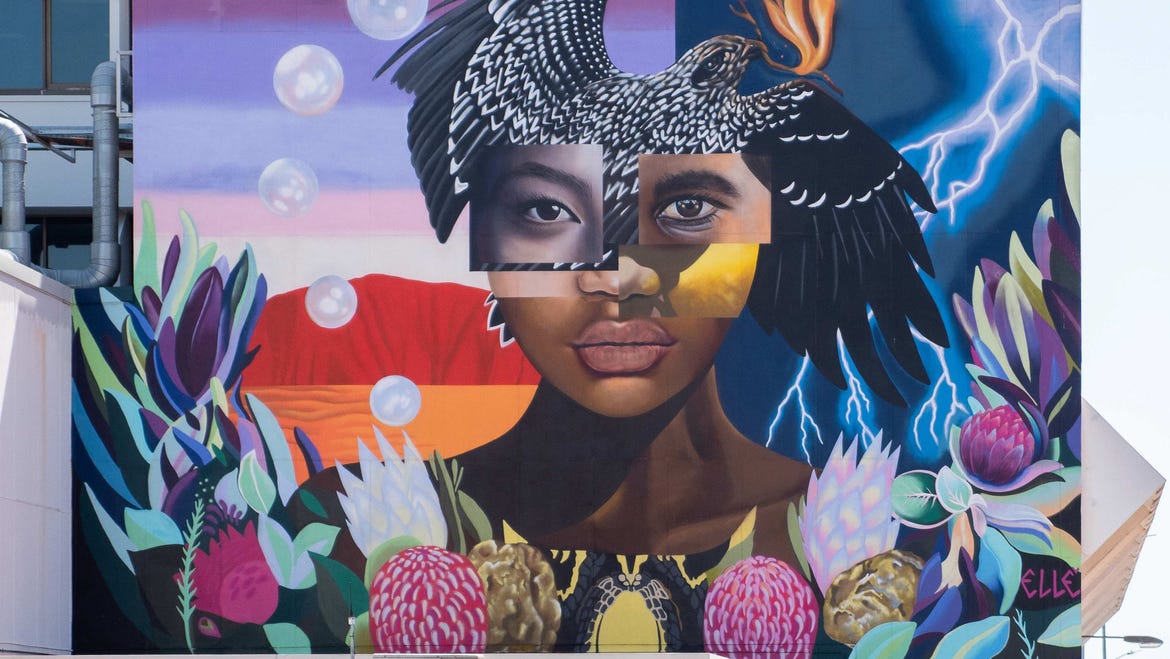 The Darwin Festival, held each August, is a must-see. It hosts dozens of performances from music and comedy through to dance and poetry. Based in Civic Park in the city centre and spreading across venues through town, the festival is attracting more big names every year. If you don't have tickets booked for a show, come down to festival park and enjoy dinner under the fairy lights accompanied by some live music.
A short walk from the Mall is the Aboriginal Bush Traders. A not-for-profit organisation selling genuine, ethically sourced and sustainable products made by people in remote Aboriginal communities. While you're there, you can try out the bush tucker inspired café and gallery space. The gallery space offers many products ranging from food to fashion. This also includes the Bush Medijina products made by the Warnindilyakwa women on Groote Eylandt. If you have crafty hands, drop by a Pandanus basket weaving workshop. They're regularly held and led by local Aboriginal artists so be sure to sign up if you want to attend.
MK Eco by Starwin is a social enterprise offering a range of cultural gifts to use and wear as well as offering cultural experiences, tours and crafternoon workshops. The enterprise creates career pathways for women in the arts and culture space and is well worth checking out.
Pudakul Aboriginal Cultural Tours offer you a chance to learn about the region, environment, plants, animals and how Aboriginal people care for the environment. Led by local Aboriginal people, the tours include 2-hour cultural experiences, a croc and culture tour (which includes a jumping crocodile cruise) and an on-country stay. Experience collecting bush fibres, making bush tools, eating barramundi and kangaroo and learning all about Aboriginal life and customs all while staying in comfortable accommodation just an hour from Darwin.
Heading to Litchfield National Park? Drop into the Coomalie Cultural Centre. You'll see an incredible collection of Aboriginal artworks from the Top End and Central Australia. Bark paintings, printed textiles, carvings, didgeridoos, weavings and ceremonial items rarely seen in galleries are sure to be there.
Outside of Darwin, visit one of the arts centres in a remote community including Durrmu Arts Aboriginal Corporation (Peppimenarti), Jilamara Arts and Crafts Association (Milikapiti), Merrepen Arts Centre (Nauiyu), Munupi Arts and Crafts Association (Pirlangimpi) and Tiwi Design Aboriginal Corporation (Nguiu).