Location Scouts: Darwin to Tiwi Islands
There's a good chance you'll be pleasantly surprised upon your arrival in to Darwin. Spending just a few days here will keep you very busy!
Whether you land at Darwin International Airport viewing the snake-like rivers, incredible floodplains and beautiful coastline as you descend; or drive into the city from the Stuart Highway; you'll find it's an attractive, friendly, multi-cultural, safe and modern city.
Blessed with tropical gardens, a swag of parks and one of the world's greatest harbours – which, by the way, is seven times bigger than Sydney Harbour. Here's a suggested itinerary to make the most of your time here.
Day 1: Darwin's CBD & Waterfront Precinct
There are little hidden gems spread throughout Darwin's friendly CBD. Visit the historic Brown's Mart, an old sandstone building that has stood since 1883 and houses a thriving theatre company. Or go to the modern Darwin Entertainment Centre, which attracts world-class performances. Get face to face with an immense saltwater crocodile at Crocosaurus Cove right in the heart of the city. The Cage of Death is not for the fainthearted… but it makes for great photos for your Facebook page.
Take a short walk from the CBD to Darwin's elegant but relaxed Waterfront Precinct, boasting a variety of restaurants, boutique stores, a lawn for relaxation and sunbaking, a protected town swimming beach and, of course, the fun-for-all-ages Wave Lagoon.
For something truly Territorian, take a short walk along to Stokes Hill Wharf, a traditional wharf with a big history and a cluster of small, reasonably-priced restaurants selling seafood and mouth-watering Asian dishes.
Feeling adventurous? There's something for everyone's tastes, from an adrenaline pumping ride on an airboat, to a sunset cruise on the Darwin Harbour. Or you could try your luck at fishing– but remember, this is Darwin, so the fish can be big. Very big.
After a busy day exploring the city, book a room with a view at the DoubleTree by Hilton, which offers a million-dollar vista across Bicentennial Park and out to the pristine harbour. The hotel is close to great shopping, restaurants, bars and clubs. With spacious rooms, floor-to-ceiling windows, Juliet balconies, WiFi and an inviting pool, the hotel maintains the renowned Hilton quality, providing a comfortable stay along the foreshore.
There are of course options for every budget, which you can check out here.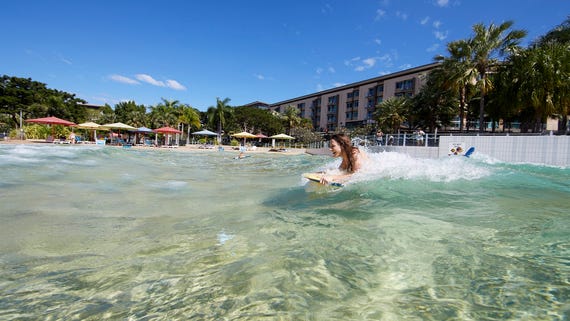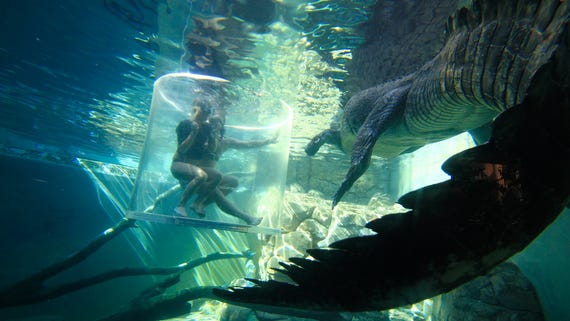 Day 2: Fannie Bay / Mindil Beach
On the other side of the city is the beachfront location of the Darwin Ski Club. This outdoor bar and bistro is popular with tourists and locals alike. A venue that regularly has live music and great pub food, you can watch the tides come and go as you relax into the Darwin vibe. There's a swimming pool for members, and it's dog friendly!
Don't miss the iconic Mindil Beach Sunset Market, which are held every Thursday and Sunday eveningin the dry season. In many ways, the market typifies the relaxed, all-nations, slightly eccentric feel of Darwin – food stalls from across the globe, country and western musicians, circus performers, whip crackers, snake handlers, homemade arts and crafts for sale, and the sound of the didgeridoo.
And there's that sunset. A sunset so glorious, so humbling, that tourists and locals alike literally clap as the sun goes to sleep over the horizon.
Not far from the markets is Mindil Beach Casino Resort, a beachside casino resort and hotel with plenty of tables and 600 pokies to try your luck, plus regular shows. Experience award-winning dining at eight restaurants and bars. Unwind by crystal clear swimming pools or explore the resort's private beach. Mindil Beach Casino Resort also offers the Lagoon Day Spa, with qualified therapists and a variety of healing and beauty treatments.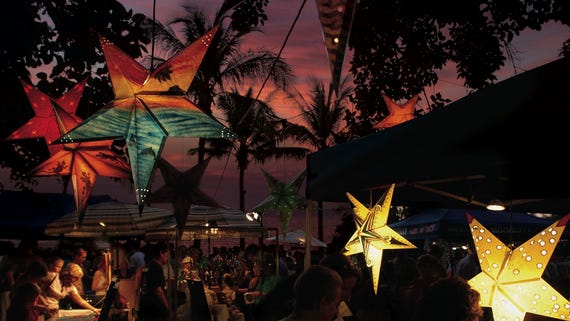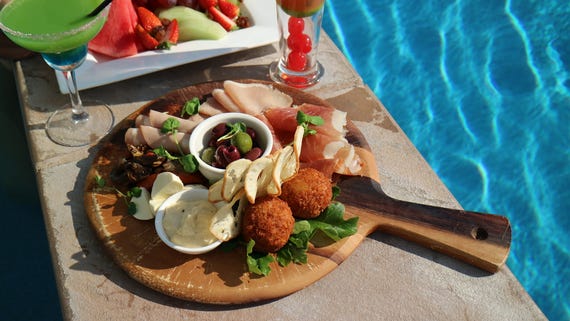 Day 3: Northern Suburbs
A visit to Darwin is not complete without visiting the northern suburbs.
Take a walk along the Nightcliff foreshore. This is where people picnic and chat on sandstone cliffs facing the Arafura Sea. The lovely path from Nightcliff to Rapid Creek is perfect for a stroll, run or bike ride, plus there is a series of outdoor exercise stations. At the end of your walk (or beginning) is the popular Nightcliff Jetty, a renowned spot for fishing under a sunset sky.
Every Sunday, not far from the cliffs, the Nightcliff market offers unique crafts, clothing and possibly a gift for a friend. Many stalls sell recycled goods at bargain prices for the thrifty shopper. From hardware, furniture, clothing, gardening, compact discs, books and collectables, it's a buffet for all tastes.
Day 4: Tiwi Islands
If you have a little more time, SeaLink is your chauffeur as it runs a ferry to the Tiwi Islands three times a week.
Just 80km north of Darwin, where the Arafura and Timor seas meet, lie the Tiwi Islands, made up of Melville, Bathurst and nine small, uninhabited islands. These are known as the Islands of Smiles, a place where to be Tiwi is to feel good about yourself, a place with a 50,000-year heritage.
Stay at a beachfront lodge to soak up the views and learn something about the Tiwi culture. Tours are led by cheerful local guides where you can experience cultural Aboriginal ceremonies, spend time with the Tiwi ladies enjoying billy tea and damper and visit the local art galleries. With only 3000 people on the islands, the tropical landscape is largely untouched. Go fishing – you might see dugongs, dolphins and, in the right season, crocodiles or turtles.
Count yourself extremely lucky if you're there during the Annual Art Sale and Football Grand Final – a unique combination of art and footy, it's something special and the memory will be with you forever. Many AFL legends such as the Riolis, were born on the Tiwi Islands.
Also, pop into Tiwi Design, one of the oldest art centres in Australia. The centre sells a diverse range of ochre paintings, ironwood carvings, printed fabrics, ceramics, and bronze and glass work. All artwork is produced by Tiwi artists.
Whatever you do during your stay in Darwin, you'll find yourself experiencing an unusual but enriching feeling – the feeling that being here is being somewhere very different.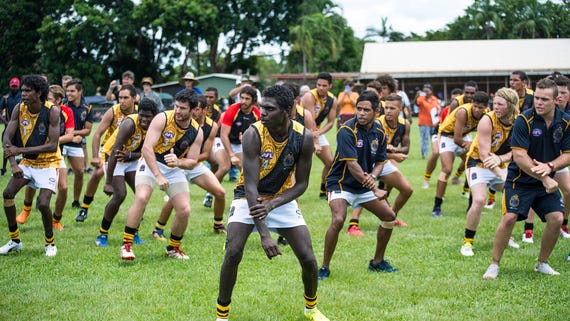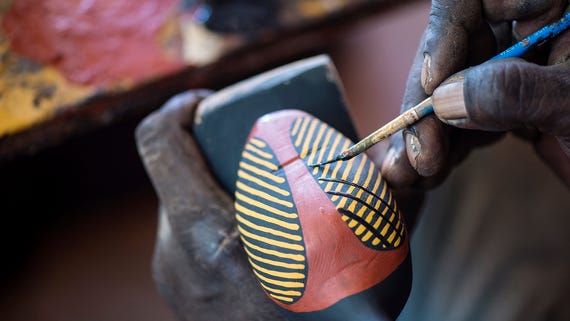 More articles you might like