Do the NT like Steve & Morgan
As Steve and Morgan completed their hard-working (or working-holiday), location scouting journey across the Top End, we grabbed them for a quick Q&A for their do's and don'ts for doing the NT.
How to pack for a Top End getaway
Morgan:
I pretty much pack all my summery clothes because basically my mood will dictate what I wear each day. But I'll never leave home without my Ray-Bans, Birks... oh, and of course my iPhone!
Steve:
Swag, Akubra, Leatherman, fishing gear and a couple of t-shirts and jocks on rotation.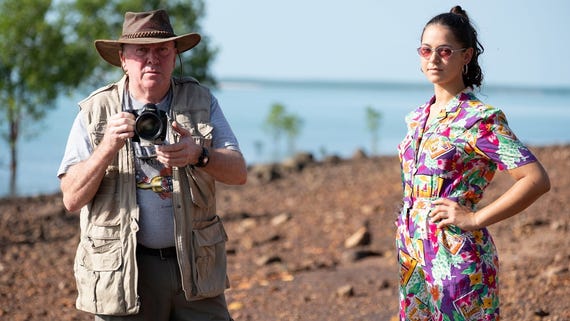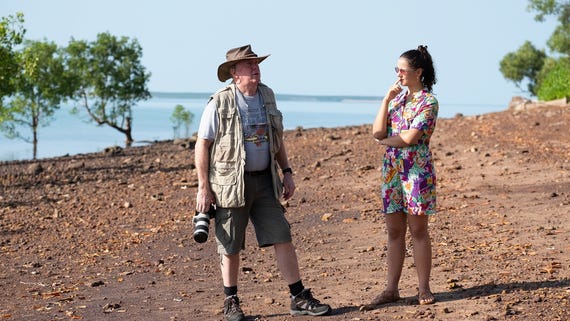 Top 3 locations
Morgan:
Litchfield – it makes for an epic Insta shot!
Kakadu – not just for the stunning waterfalls and swimming holes, but also for the cultural experience. 
Darwin – for the balmy weather, pools, bars and restaurants. The nightlife is pumping and there's plenty of local-joints for a night out with my squad. 
Steve:
Katherine – it's where the Outback meets the tropics.
East Arnhem Land – I love a bit of fishing and the fish are big out there!
Tiwi Islands – did I mention I love fishing?
Top 3 experiences
Morgan:
The waterfalls in Kakadu were epic! My faves were Jim Jim and Twin Falls. 
Just chilling with the local crew in Tiwi was amaze. The art and culture there is strong!
And the bars and restaurants in Darwin are lit! My fave eating joint was Little Miss Korea followed by drinks at Trader Bar. The markets across the weekends are a must!
Steve:
Setting up my swag and cooking a good old Aussie BBQ on an open fire under the outback night sky.
Catching barra on the Daly River and then retiring at the Daly River Inn after a long day's gruelling work on the water.
Bird watching on the wetlands at Yellow Water in Kakadu – my bird photography album is top-notch.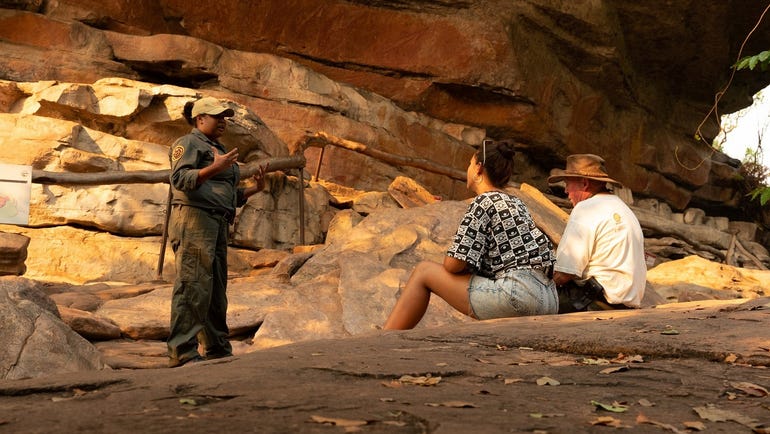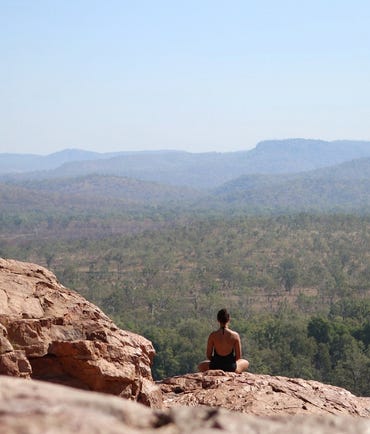 What's on your NT road trip playlist?
Morgan:
Whatever Drake has just dropped – his beats are on point for the summer vibe in the Top End.
Steve:
For long rugged outback drives you can't go past:
Nickleback – How You Remind Me
Nickleback – Far Away
Nickleback – Photograph
Favourite places to grab a bite
Morgan:
Cocktails and chilli prawns at Mindil Beach Casino Resort's Cove restaurant OR craft beers and a fish burger at The Precinct at the Waterfront.
In Katherine – the Black Russian Caravan Bar coffee and toasties are V. delish! 
Steve:
A meat pie from the nearest roadhouse. A lone wolf like me is always on the move so you gotta down a pie in the troupie to stay on the job. But if I'm heading out for a cold one, I can't go past the tomahawk steak at the Beachfront Hotel.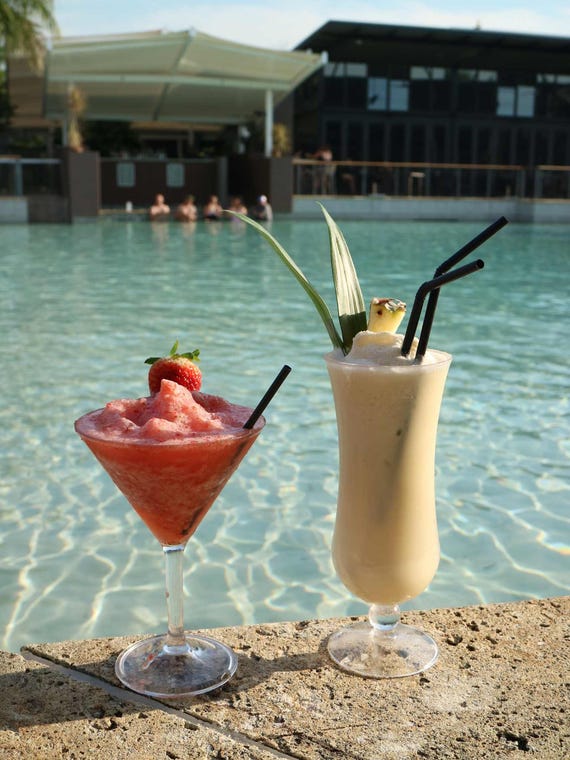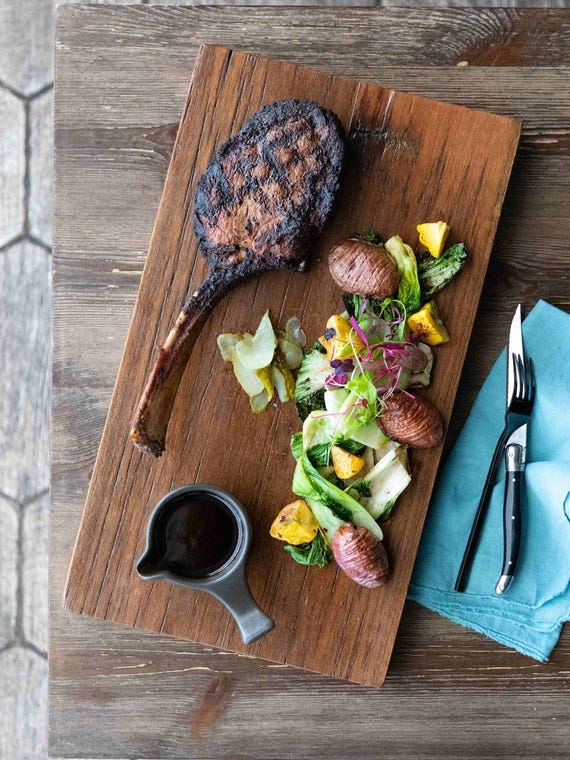 Best places to spot NT wildlife
Morgan:
I spotted a peewee when I was lounging on my unicorn pool float at the Waterfront.
Steve:
Well, I've been doing this gig for 20 years and you'll find a tonne of wildlife out in Kakadu. There's buffalo, fish and an abundance of birds. Came face to face with a croc once…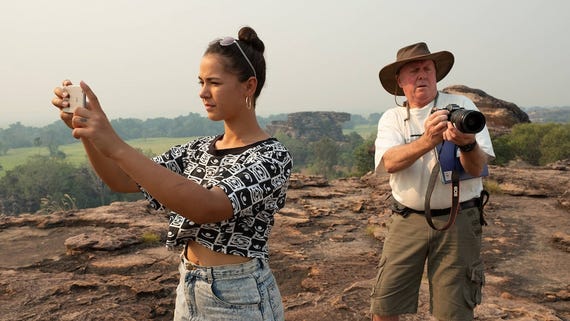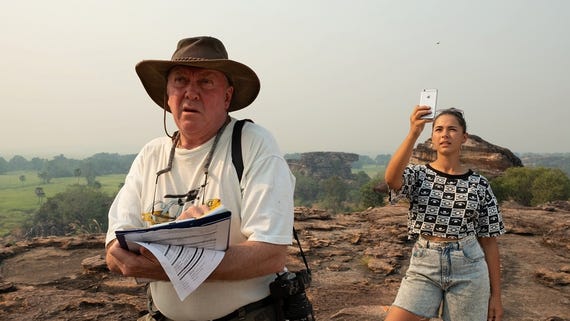 Locations to access wi-fi
Morgan:
There are so many remote locations across the NT where I could log into wi-fi…. And even better, it was free! I found free wi-fi in Tiwi, at the Katherine Hot Springs, the Darwin Waterfront and even Pine Creek!
Steve:
Why would you want to be on your bloomin' phone when there's so much to see and do in the NT!? A seasoned maverick like myself likes to take in the incredible surroundings of the Territory. 
More articles you might like