School excursions
NT Learning Adventures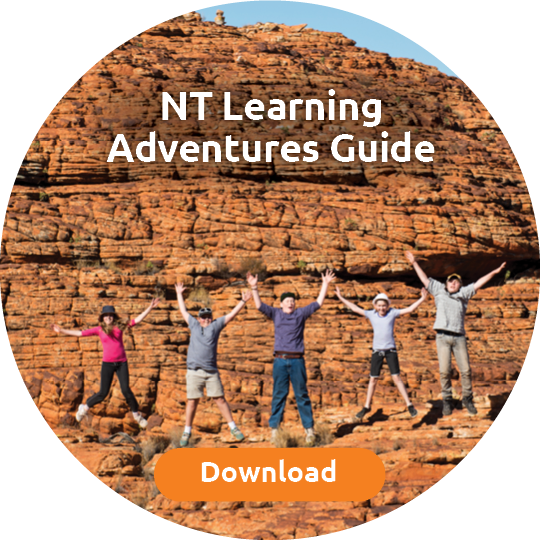 Bring the learning outcomes of the Australian curriculum to life and discover a whole new way to engage your students with NT Learning Adventures.
School excursions in the NT
The ideal classroom is in the great outdoors, making the Northern Territory the perfect school excursion destination. With vast horizons and contrasting landscapes the NT provides endless inspiration. It's a place unlike any other, different in every sense, where students and teachers take the great Aussie pilgrimage to discover ancient geology, rich Aboriginal culture and important historic events, and make learning – an adventure!
The Territory is the education destination of choice. From the majesty of Uluru to the extraordinary rock art in Kakadu, school groups experience unrivalled cultural immersion, are captivated with the natural world and given the rare opportunity for digital detox.
With strong links to key learning areas and plenty of opportunities to exercise students' general capabilities, the NT is uniquely positioned to address the cross-curriculum priorities of sustainability and Aboriginal and Torres Strait Islander histories and culture. The geographic proximity of the Top End also presents options to explore Asia and Australia's engagement with Asia.
World Heritage-listed areas, national parks, museums, art galleries, heritage attractions, and wildlife experiences offer fun and exciting ways to teach a range of subjects. Designing itineraries that reveal Earth and environmental sciences, geography, history, humanities and social sciences, plus health and physical education is easy in the NT.
Start planning and provide your students with safe and stimulating activities that ignite their imaginations and create memories to last a lifetime. Here are some tips to get you started:
NT Learning Adventures
Understanding that hands-on experiences are the best learning tools, the Northern Territory Government's tourism department (Tourism NT) has worked with tourism businesses, national parks, schools, and other stakeholders to create NT Learning Adventures.
NT Learning Adventures (NTLA) connects you with operators who are experts in their field. They'll help create itineraries that meet your educational needs, timeframes and budget requirements. Committed to working with schools and excursion organisers NTLA partners provide safe, memorable and enjoyable activities that encourage students to learn through experience and discovery.
Check out the NT Learning Adventures guide, which features NTLA partners in an A–Z directory showcasing tour and travel providers, local activities, experiences, school-friendly accommodation options plus other useful information.
Request a hard copy of the guide by emailing your postal address and contact details to [email protected].

Save & Learn in the NT
Tourism NT understands that costs can be a major factor when planning an excursion for your students. The NT Learning Adventures (NTLA) Save & Learn program offers funding support for interstate schools, making it easy to choose the NT for your next school trip.
School group tours departing from 1 January 2023 that complete travel by 31 December 2023 can apply for a $3,000 (GST inclusive) rebate, per school group. Available funding is limited.
The rebate is available to interstate schools who travel with a minimum of ten students, stay in the Northern Territory for a minimum of five nights and book with at least three NTLA operators (excluding accommodation and other services).
Simply submit a completed application for pre-approval at least four weeks prior to travel and then claim the rebate at the completion of your trip. Check out the full terms and conditions of the program, complete a registration form and apply now to Save & Learn in the NT!
Please note that school groups completing their travel after 31 December 2023 are not eligible to apply under this current program. Details of the NTLA Save & Learn program from 1 January 2024 will be updated in due course.
We look forward to welcoming you and your students to the Northern Territory.
Contact us
For help planning your NT Learning Adventure or to apply for the NTLA Save & Learn program, please contact Tourism NT:
Email: [email protected]
Phone: +61 8 8999 6395
Humanities & social science
Aboriginal histories & culture
School group accommodation
Your search returned no results. Please try again.