The Explorers Way
14-day itinerary
If you love adventure, you can't beat a trip along Explorers Way, one of the great Australian road trips.
Explorers Way passes some of Australia's favourite natural icons, including Uluru and Kata Tjuta, Watarrka/ Kings Canyon, the MacDonnell Ranges, Karlu Karlu/Devils Marbles, Nitmiluk National Park and the waterfalls of Litchfield National Park.
The journey is recommended to be done over a minimum 14 days, and travels on a sealed highway following the route of the 1862 explorer John McDouall Stuart.
Days 1–4: Adelaide to Coober Pedy (846km)
Along the journey from South Australia to Coober Pedy, why not stop into Port Augusta, a great base to explore the Southern and Central Flinders Ranges.
Day 5: Coober Pedy to Uluru (734km)
Once you've arrived at Uluru-Kata Tjuta National Park, discover the spiritual heart of the Australian Outback. Home to the great icons of Uluru and Kata Tjuta, this desert region is blessed with natural wonders, world class dining experiences and rugged beauty.
Day 6: Uluru to Kings Canyon (300km)
Leave the Uluru-Kata Tjuta National Park and drive 300km back along the Lasseter and Luritja highways to Watarrka/Kings Canyon. This majestic destination features 100m high sandstone walls, walking trails and views that'll leave you speechless.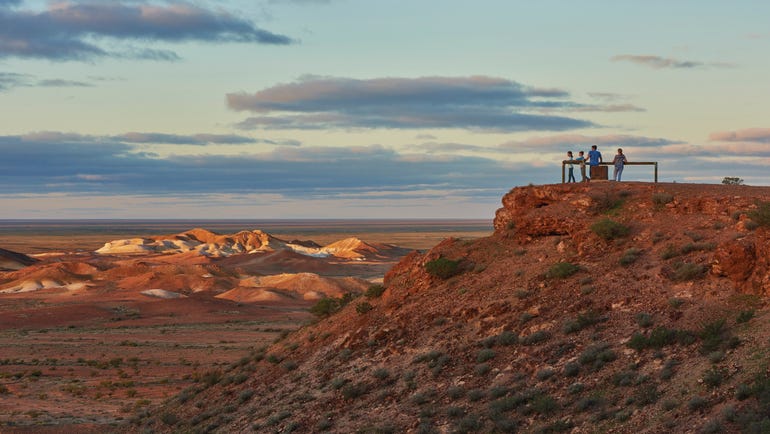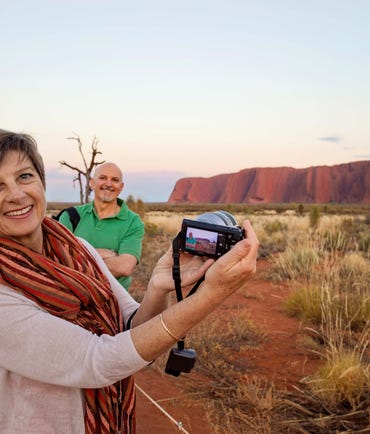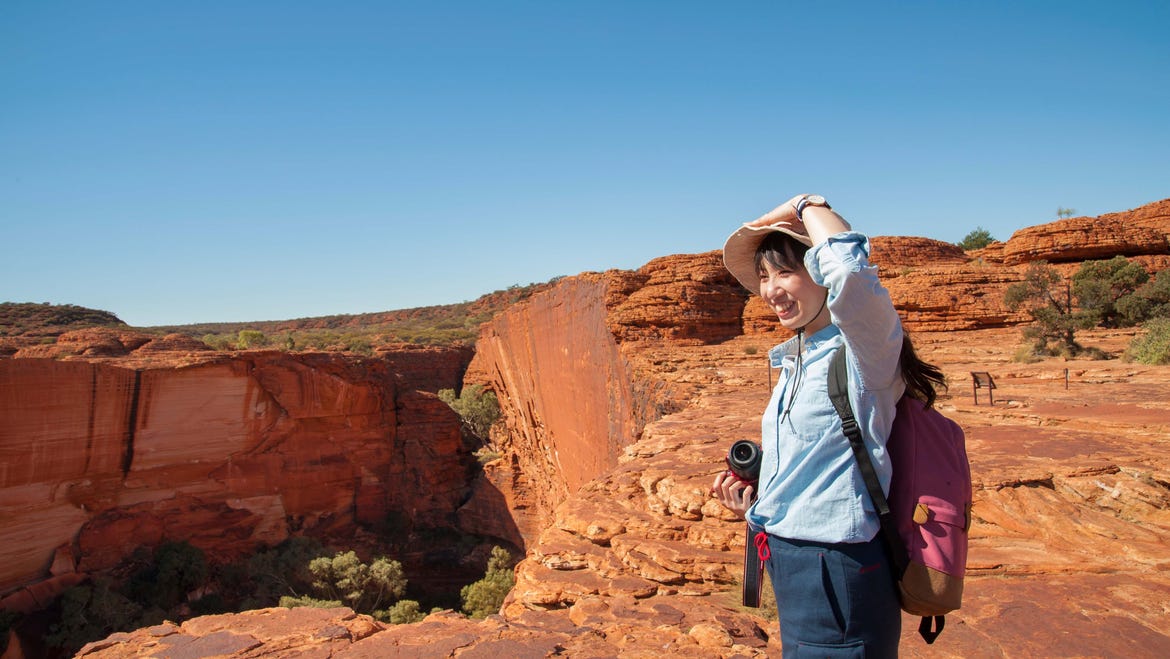 Day 7: Kings Canyon to Alice Springs (474km)
For an unforgettable view of the canyon, rise before dawn and follow the 6km trail around its rim. Once you get back on the road, head to the NT's second largest city, Alice Springs. If travelling by four-wheel drive, head via the Mereenie Loop, otherwise travel along the sealed Luritja and Lasseter highways, before turning north onto the Stuart Highway.
Day 8: West Macs, Alice & Glen Helen (130km)
The West MacDonnell Ranges are an easy day trip from Alice Springs along a sealed road. There are many stops along the way to enjoy.
Walk along the trail at Simpsons Gap or stand between the sheer walls of Standley Chasm. To cool off why not enjoy a swim at Ellery Creek Big Hole, Ormiston Gorge, Glen Helen Gorge or Redbank Gorge?
Day 9: Alice Springs to Tennant Creek (510km)
On your journey from Alice to Tennant, stop in at the Devils Marbles – a sacred site known as Karlu Karlu to the Warumungu people. These massive ancient granite boulders are strewn across a wide shallow valley, and continue to crack and change.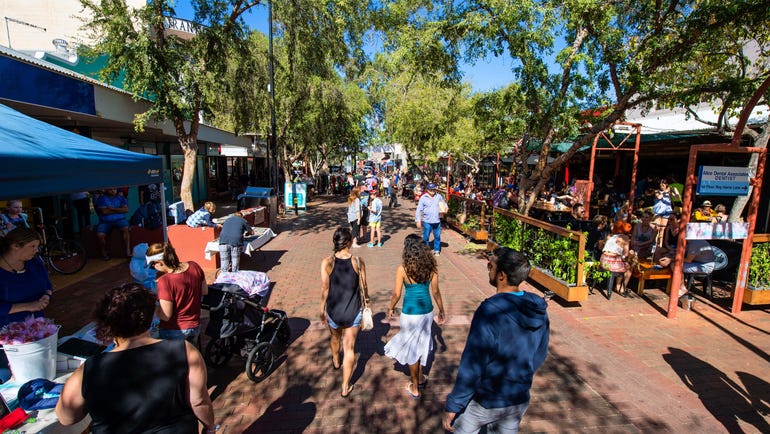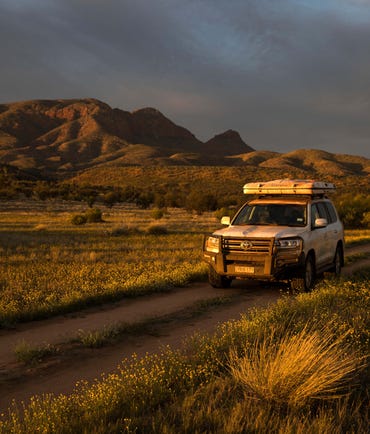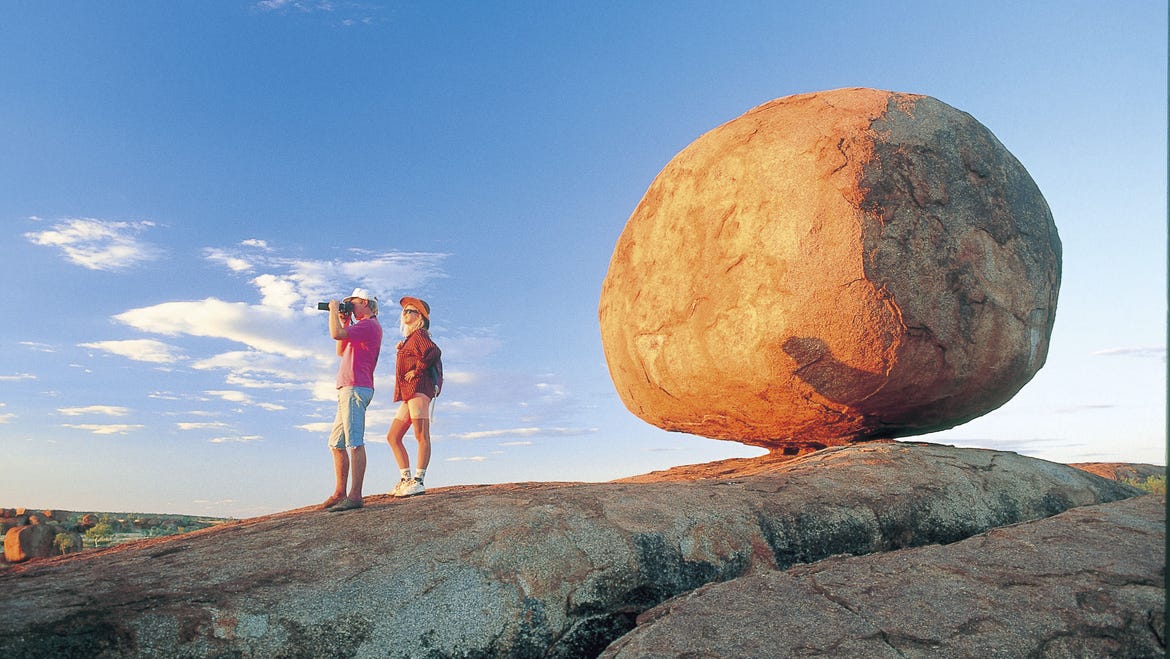 Day 10: Tennant Creek to Daly Waters (400km)
The Daly Waters Historic Pub is a popular place to overnight that offers backpacker, hotel or motel rooms.
The pub and grounds are crammed with memorabilia that reveal the pub's colourful history and who has passed through its doors. This place is worth a longer stay, so set up camp for the night.
Day 11: Daly Waters to Mataranka (167km)
Take a break from all the driving and enjoy a rejuvenating swim in the Mataranka Thermal Pool. Fed by spring water in the Daly and Georgina basins, it is surrounded by a palm forest and its waters are a constant 34°C.
Day 12: Mataranka to Katherine (106km)
Katherine is the NT's fourth-largest town, and a perfect base to check out the nearby gorge country. Explore the vast Nitmiluk National Park's thirteen gorges via a helicopter joy flight, canoe or join a guided cruise. About 40km north of Katherine is Leliyn Falls (Edith Falls) – a great place for a cooling swim.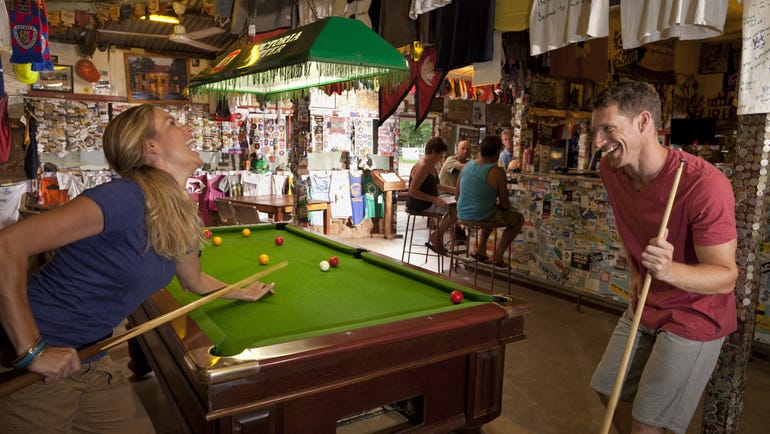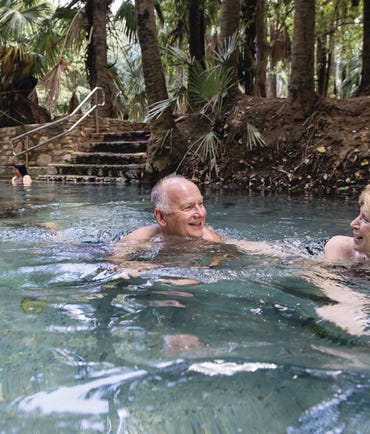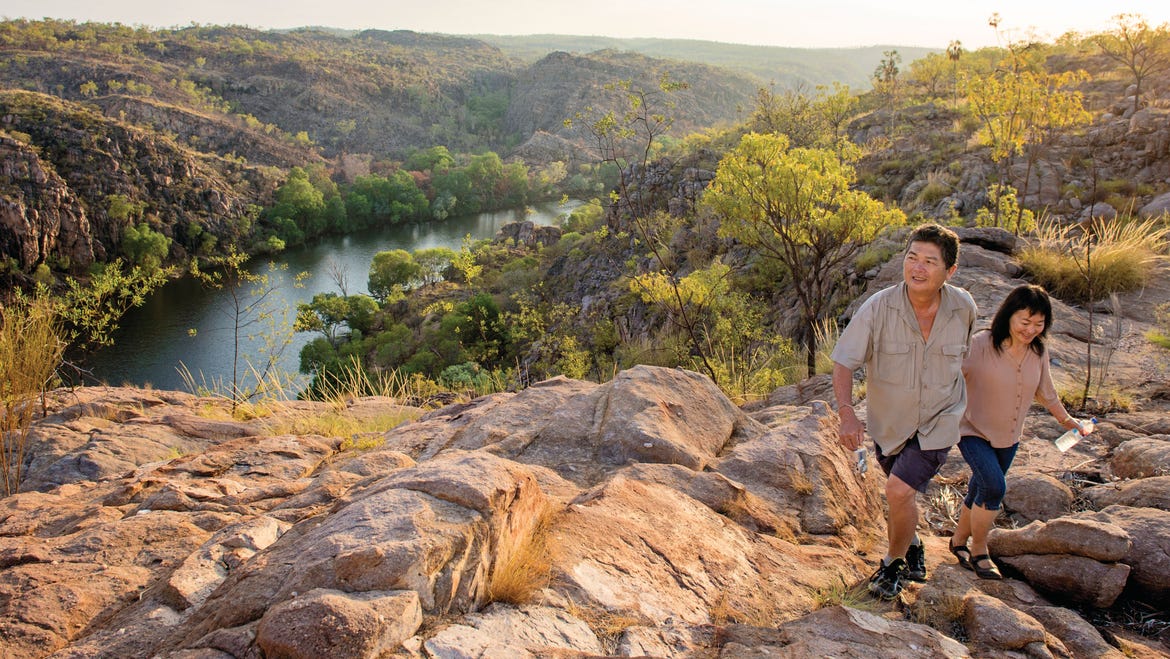 Day 13: Katherine to Litchfield (265km)
Litchfield National Park's close proximity to Darwin and unspoiled beauty makes this park a popular spot with day-trippers who come from the city. Take a dip in the Florence Falls plunge pool, Buley Rockhole, and Wangi Falls. Walking tracks, camping facilities and 2WD and 4WD accessible tracks means there's an adventure to suit everyone.
Day 14: Litchfield to Darwin (130km)
Follow the Explorers Way for your first glimpse of the Timor Sea and into Darwin, Australia's northernmost capital city. You'll find yourself in a contemporary multicultural metropolis of open-air markets, festivals, Asian-influenced cuisine, and an outdoor lifestyle.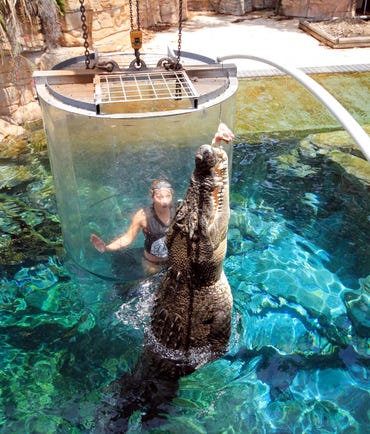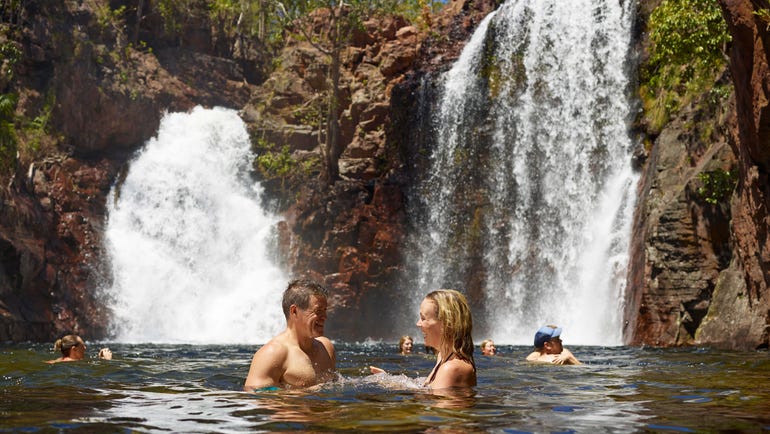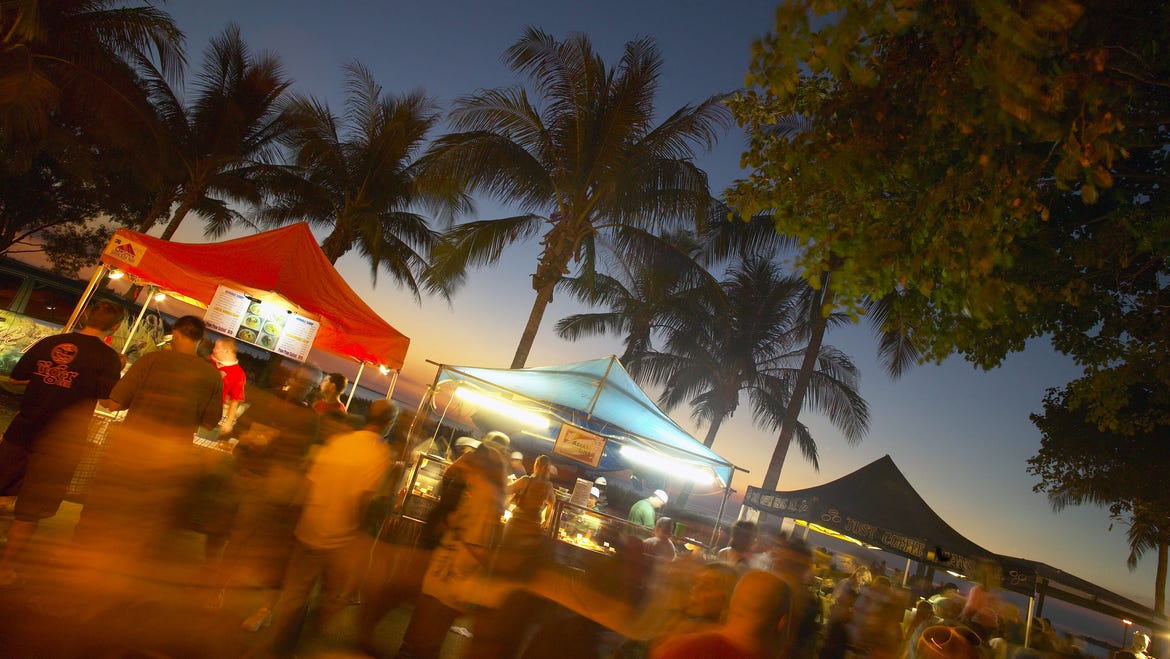 Download the Explorers Way itinerary
More itineraries you might like