Wheelchair accessible travel in the Top End
5-day itinerary
Everyone can enjoy nature, adventure and cultural experiences in the Northern Territory. This 5-day accessible travel itinerary highlights the Top End's most accessible travel experiences and accommodation options.
This itinerary has been created with the assistance of Sarah Skopellos, a manual wheelchair user and disability advocate who has lived in Darwin for 30 years.
Sarah and her family love getting out and around Darwin and having fun in the sun. Sarah is passionate about access and inclusion, and hopes that this itinerary will encourage people of all abilities to come and explore Darwin and beyond, both with confidence and in comfort.
Your accessible tour of the Top End
The Top End of Australia is a place like no other, with unique and remarkable stories to tell.
Day 1: Darwin
Getting around town
Getting around Darwin on the bus services is great as all are wheelchair accessible, with hydraulic lowering systems and ramps.
Wheelchair taxis and minibuses can be booked through:
Darwin Radio Taxis (13 10 08)
the Blue Taxi Company (13 82 94)
and 13cabs (13 22 27).

It's also helpful to note that many attractions around the Territory offer free companion tickets through the Companion Card scheme. The Companion Card is issued to people who are unable to access most community activities without a carer, and entitles their companion to a complimentary ticket. Companion cards from interstate are also honoured at many attractions and venues, please check ahead.
Hop on the Darwin Explorer and Hop-off bus service to take in some of the must-visit attractions around Darwin city (the Hop-On Hop-Off bus takes in 12 stops around the city; you choose where to spend your time).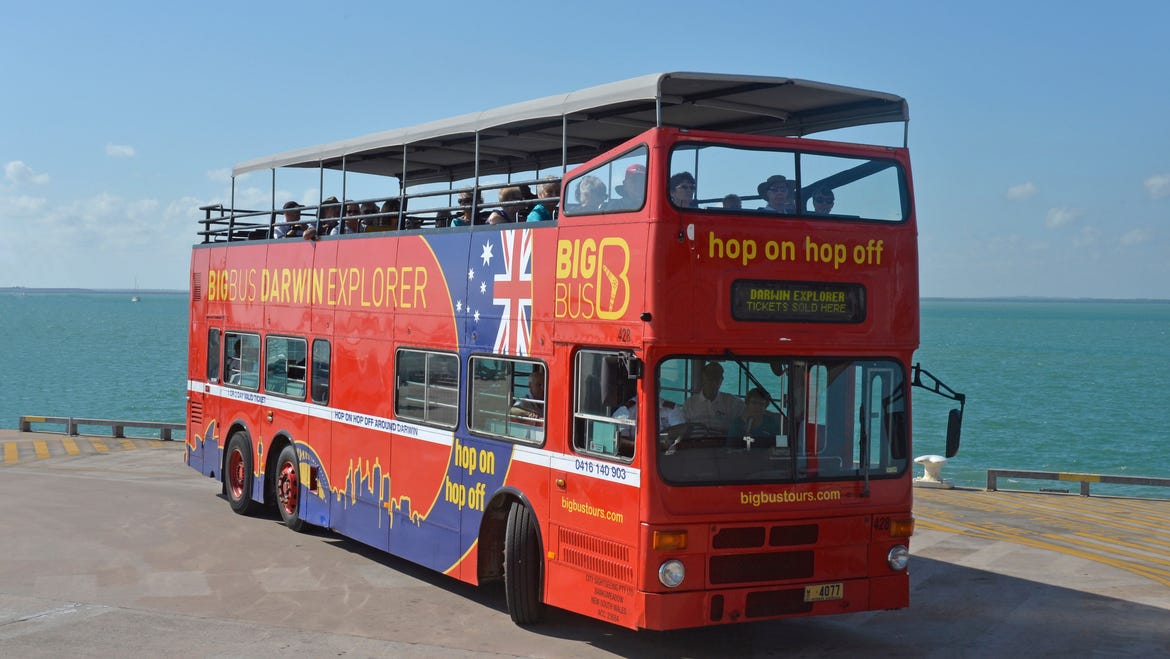 Get up close to the Territory locals at Crocosaurus Cove
There's nothing like turning up the adrenaline as soon as you arrive. At Crocosaurus Cove in Darwin's CBD, you can get up close and personal with the Territory's notorious local reptiles. Croc cove is home to many animals and reptiles native to the Northern Territory, and the venue is completely wheelchair accessible, with low and wide viewing windows. If you do want to take it to the next level, access to swimming in the Cage of Death requires some mobility.
Visit MAGNT
The Hop-on Hop-off Bus bus takes you to the Museum and Art Gallery of the Northern Territory, which offers a fascinating and broad overview of the region's Aboriginal art and cultural history. The MAGNT has internal and external disability ramps and access to the museum, including the galleries, shop and Saltwater @Bundilla café.
The museum and gallery, set in a scenic location overlooking the Arafura Sea, is home to a collection of more than 1.2 million natural history specimens and over 30,000 items of art and material culture. You can also grab a drink and bite to eat at the café that overlooks the spectacular Darwin Harbour.
Watch a famous Darwin sunset
Head down to Cullen Bay for a spectacular sunset from Cullen Bay Beachfront. This area is completely wheelchair accessible, with access ramps and paths to the grassed area overlooking the beach, and accessible toilets close by.
The Cullen Bay beachfront has various restaurants and takeaway shops in surrounding areas, or it's perfect for a picnic.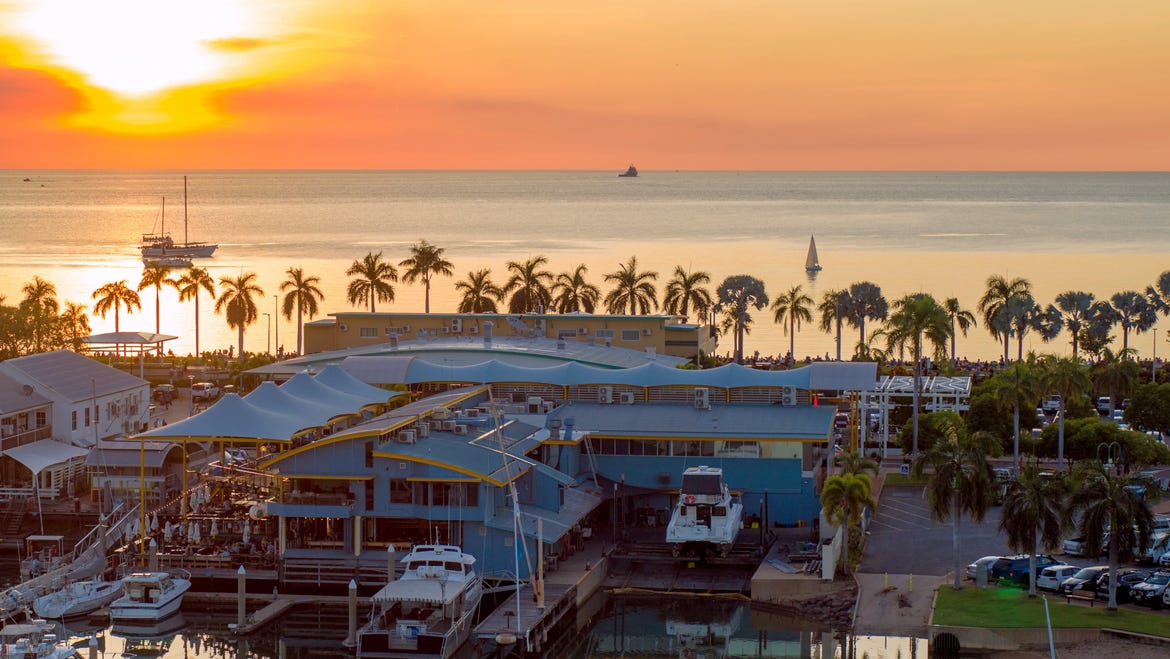 Stay the night
Book yourself into the Ramada Suites Zen Quarter as your base in Darwin. They have a variety of rooms tailored to different mobility requirements, including 3 compliant wheelchair-accessible rooms, and the whole hotel is step-free, with lift access and all doorways suited to wheelchairs. The best bit? They have a 28m swimming pool with ramp access to the deck, and a hoist for getting in and out of the water.
Day 2: Darwin
Coffee & breakfast at the Botanic Gardens
Start your day at the George Brown Darwin Botanic Gardens to see a magnificent display of plants from northern Australia and tropical areas around the world.
There are extensive plantings of colourful heliconias, gingers, tropical orchids, bromeliads and other exotic plants. The new Visitor and Event Centre is a magnificent, accessible tropical structure where visitors can learn about the Gardens natural and cultural history, the plant collections, and uses of Aboriginal plants. Grab a coffee and breakfast from the historic building site of Eva's café.
Relax your day away at the Darwin Waterfront
Day 2 of the holiday is always for relaxing, so spend a few hours in the sun at the Darwin Waterfront Wave pool and Lagoon. A fantastic venue with ease of access either via a lift and bridge from Darwin City or accessibility parking close by, the precinct has fully accessible paths, and they also have a saltwater wheelchair & beach Mobi-mat available; just ask the lifeguards or the kiosk for assistance.
Head into one of the many accessible restaurants at the precinct for lunch, and maybe even an afternoon beverage.
Check out Stokes Hill Wharf and make sure you pop into the Royal Flying Doctor Service Tourist Facility and Bombing of Darwin Harbour attraction. Telling 2 iconic Territory stories using cutting-edge technology, including life-sized holograms and virtual reality headsets, you can feel what it was like when Darwin Harbour came under attack.
Roll on into the Deckchair Cinema for a movie
When evening hits, roll into the Deckchair Cinema for an outdoor movie. Located on Darwin Harbour and regularly playing both blockbusters and independent movies, the Deckchair Cinema provides good access and a unique Top End experience.
Dinner, snacks and drinks are available for purchase on-site.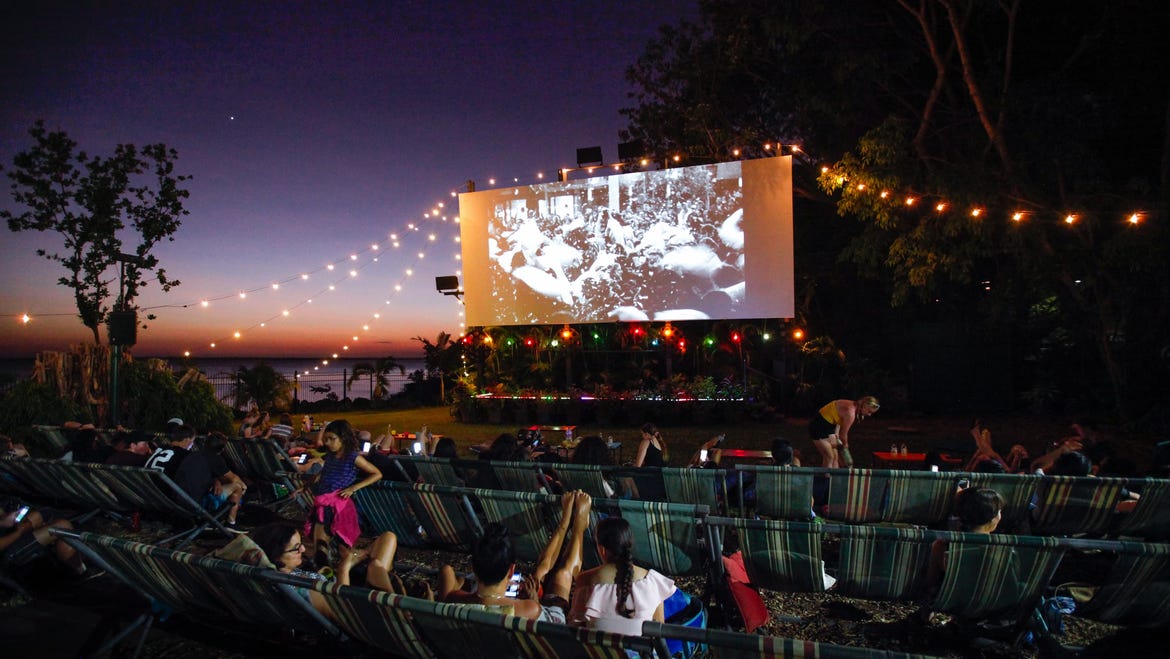 Day 3: Darwin
Head to the beachfront
Start your day the right way, with breakfast overlooking the Arafura Sea. Take your pick from accessible beachside cafés such as the Nightcliff Foreshore Café in Nightcliff with a great decking area, The Cool Spot in Fannie Bay, or the Saltwater Café at Bundilla Beach.
Go on a street tour of Darwin
Now that you've been in town for a few days, it's time to get more acquainted with some of the city sights. Walk Darwin is a locally-owned family business specialising in small group sightseeing tours of Darwin City. You can do history tours, secrets of Darwin or even street art tours.
Darwin City is reasonably flat, and Walk Darwin has selected its city routes to avoid stairs as much as possible and enable wheelchair participation. You just need to advise of any wheelchair or mobility scooter access requirements so your guide can prepare their route.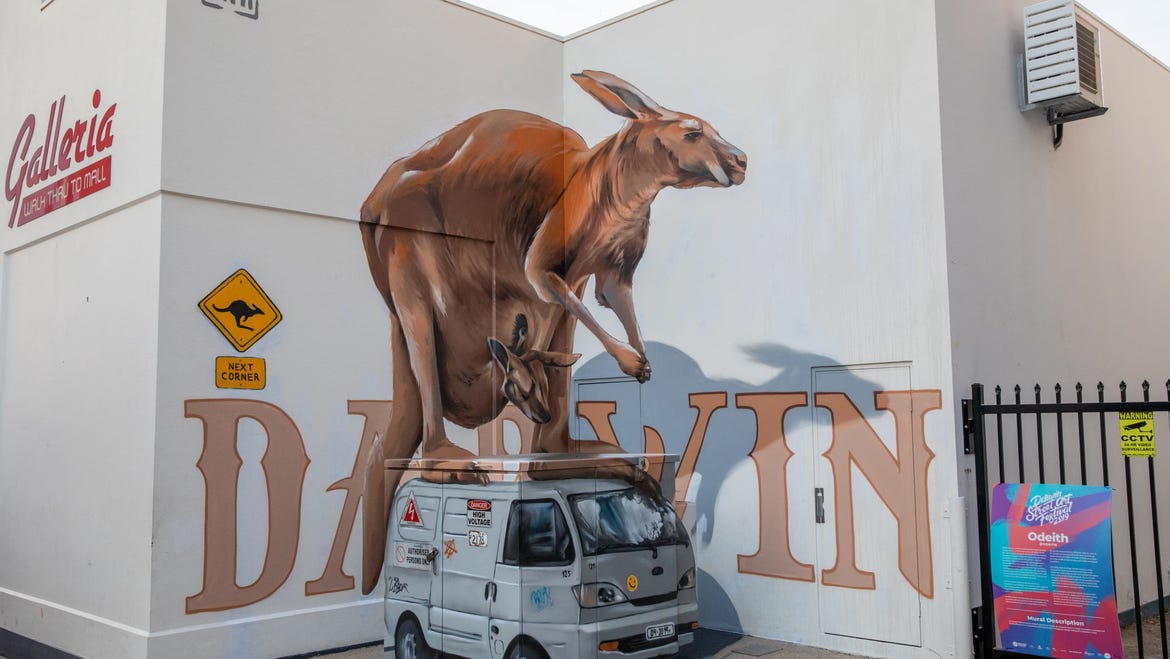 Howard Springs Nature Park
Embark on a small adventure out to Howard Springs Nature Park. A great, accessible recreational park that gives a taste of monsoon forests, extensive woodlands, and valuable wildlife habitat.
Bring your hamper and find a shady spot, where you can picnic with ibis and agile wallabies on the lawns near the main pool. An all-season wading pool provides a great way to cool down, but some mobility is required to step in and out of the pools.
End the day how you started it
In true Darwin style, end the day how you started it – at the beachfront. Both the Darwin Sailing Club and Darwin Trailer Boat Club have wheelchair-accessible restaurant/bistro areas, and offer great views and atmosphere. But get there early to secure your spot, it's a popular option!
Day 4: Litchfield National Park
Set off on your adventure with early lunch at Berry Springs
Set off on an overnight adventure from Darwin, stopping off at the Territory Wildlife Park. Experience authentic and up-close encounters with the animals and plants of the Top End. The park is a mix of zoo-type exhibits and natural bush, with attractions spread out around a 4km loop road. There are natural paths, or a train with a wheelchair-accessible carriage that takes you around the many different exhibits.
Head back towards town for an early lunch at the Berry Springs Tavern.
Take in the serenity at Litchfield's biggest waterfalls
Wangi Falls is the best-known and most popular attraction in Litchfield National Park, a park renowned for its pristine natural beauty. Featuring large, grassed areas and sealed paths overlooking the falls, do note there are some small steps to navigate to enter the water.
The falls are found near the western boundary of the park, 150km south of Darwin along sealed roads. It cascades over 2 high escarpments into one deep plunge pool. A short path takes you to the viewing platform to check out one of the most spectacular waterfalls in the park.
Access is also available to the lookout over the wonderful Florence Falls, but the plunge pool at the bottom is only accessed via uneven paths and stairs.
Settle in at the Litchfield Outback Resort
A newly renovated Lil' Ripper Café, Bar and Bistro, the Litchfield Outback Resort offers you a little bit of everything in one venue.
The resort offers air-conditioned rooms with ensuites, wi-fi and free parking. They have an accessibility suite that includes wet rooms, larger doorways and the option for a comfortable companion bed too. The Outback Resort is in Batchelor, 60 minutes from Darwin City.
Day 5: Darwin
Head out for a spot of Barra fishing
On your way back to Darwin, turn into Berry Springs for a visit to the wheelchair-accessible Barramundi Adventures, the Top End's only land-based, recreational barramundi fishing venture.
Everyone can experience the thrill of catching the Top End's iconic Barramundi. It offers the perfect environment to introduce children and beginners to the thrill of catching their first fish. Stocked up with thousands of Barramundi, all visitors have a great chance of landing a Barra from the comfort and shade of the casting deck.
Spend your last day enjoying some of the many other accessible activities
Make your way back to Darwin, and choose from one of the other activities below:
Bicentennial Park and Anzac memorial is a great way to get out and about – the park runs along the Esplanade with a sealed path all the way from Doctors Gully to the Waterfront Precinct
Parliament House and the Supreme Court are visually spectacular buildings, with the State library open to the public, a café, and tours accessible by wheelchair ramps
Brown's Mart is also across the road from the Visitor Centre and has newly developed augmented reality tours and historical information to explore
The Leanyer Waterpark is wheelchair-accessible width with a pool, water play areas and playground
The Jingili Water Gardens has accessible paths, toilets end a new children's playground specifically designed for wheelchair users.
Darwin continues to become more and more accessible – but as everyone has different needs, it's a good idea to phone ahead if unsure.
Further resources:
For more accessibility information, please visit NT Accessible Travel.
More itineraries you might like