Accessible travel in the Red Centre
5-day itinerary
Everyone can enjoy the nature, adventure and cultural experiences the Northern Territory has to offer. This 5-day accessible travel itinerary highlights the Red Centre's accessible travel experiences and accommodation options.
This itinerary has been created with the assistance of Justine Petrick, who has lived experience as a carer for an immediate family member with wheelchair needs, and vast knowledge of the NDIS and aged care system.
Justine has lived in Alice Springs for nearly 20 years, and in that time worked in Allied Health, contributed to the local Disability Advocacy Service as a board member, and worked as the Chair for Acacia Hill School, a specialist education school in Central Australia for children with special needs.
Your accessible tour of the Red Centre
The Red Centre of Australia is a unique experience.
In her spare time, she also started up the Uluru Bike Ride through Outback Cycling, and manages the Alice Springs Telegraph Station.
Day 1: Alice Springs
Getting around town
In Alice Springs the public transport buses are low-floor and fitted with ramps that accommodate access for standard wheelchairs and lightweight mobility aids. Please be aware that some oversized wheelchairs and scooters will not be able to board.
A limited number of taxi vans have the facility to lift in a wheelchair or scooter. Please advise the operator of your needs when booking the taxi through:
It's also helpful to note that many attractions around the Territory offer free companion tickets through the Companion Card scheme. The Companion Card is issued to people who are unable to access most community activities without a carer, and entitles their companion to a complimentary ticket. Companion cards from interstate are also honoured at many attractions and venues, please check ahead.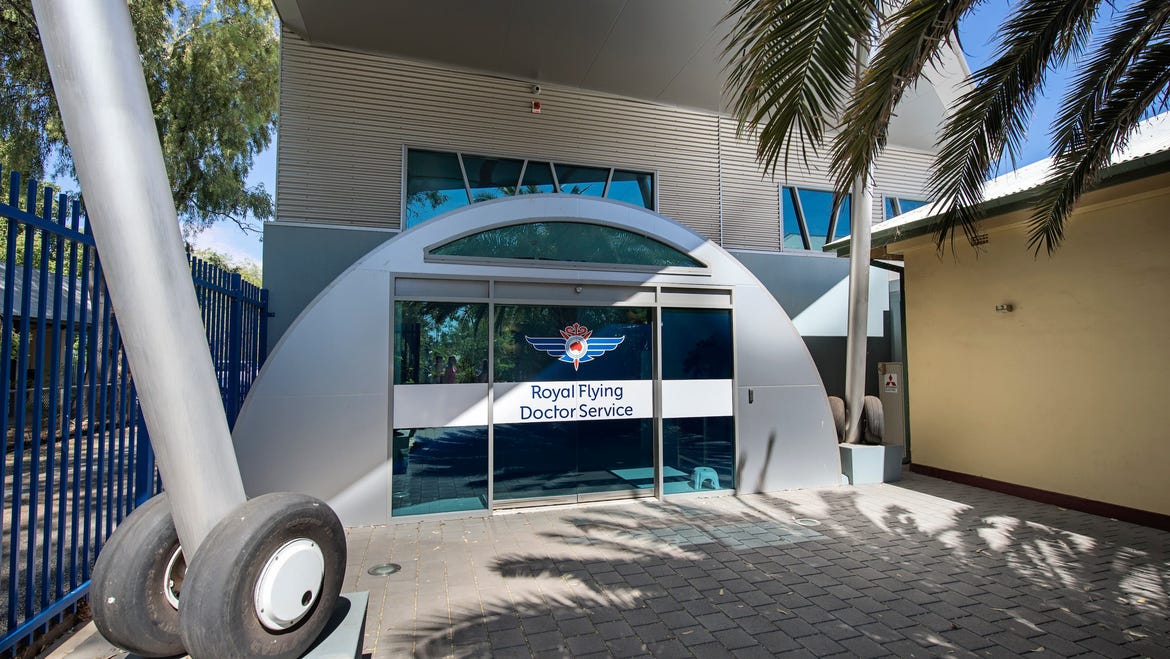 A visit to the Royal Flying Doctors Service Museum
Once you've arrived in Alice, see, experience and learn through the wonder of technology as history is brought to life, at the Royal Flying Doctor Service.
View the interactive displays and gain an insight into the iconic Australian outback service established by pioneers in 1928. There's also an onsite café, where you can dine under the original veranda and enjoy the amazing blue skies Alice Springs is known for. Sit back and relax with a coffee, specially blended for the RFDS by a local coffee roaster.
Alice Springs School of the Air Visitor Centre
Alice Springs School of the Air was established in 1951, pioneering HF radio as a way of delivering education to some of Australia's most remote students.
In a format that now might be familiar to many people, the school today delivers lessons online and has been doing so since the early 2000s. The Visitor Centre is located 3.5km from the centre of Alice Springs. The Visitor Centre brings to life an integral and unique facet of the children's lives in the Australian Outback.
Take the opportunity to learn about the history of "The World's Largest Classroom" – the experience includes a film, a guided presentation about our unique history and the ground-breaking techniques making it possible for our remote students to participate in school classes despite the challenges of time, distance and isolation.
Stay: Crowne Plaza Alice Springs
Book yourself into the Crowne Plaza in Alice Springs as your base in the Red Centre. They have a variety of rooms tailored to different mobility requirements, including fully wheelchair-accessible rooms with roll-in showers, grab bars and turn-around space. The whole hotel is step-free, with lift access close to wheelchair-access rooms, and 15 accessible parking spaces.
Day 2: Alice Springs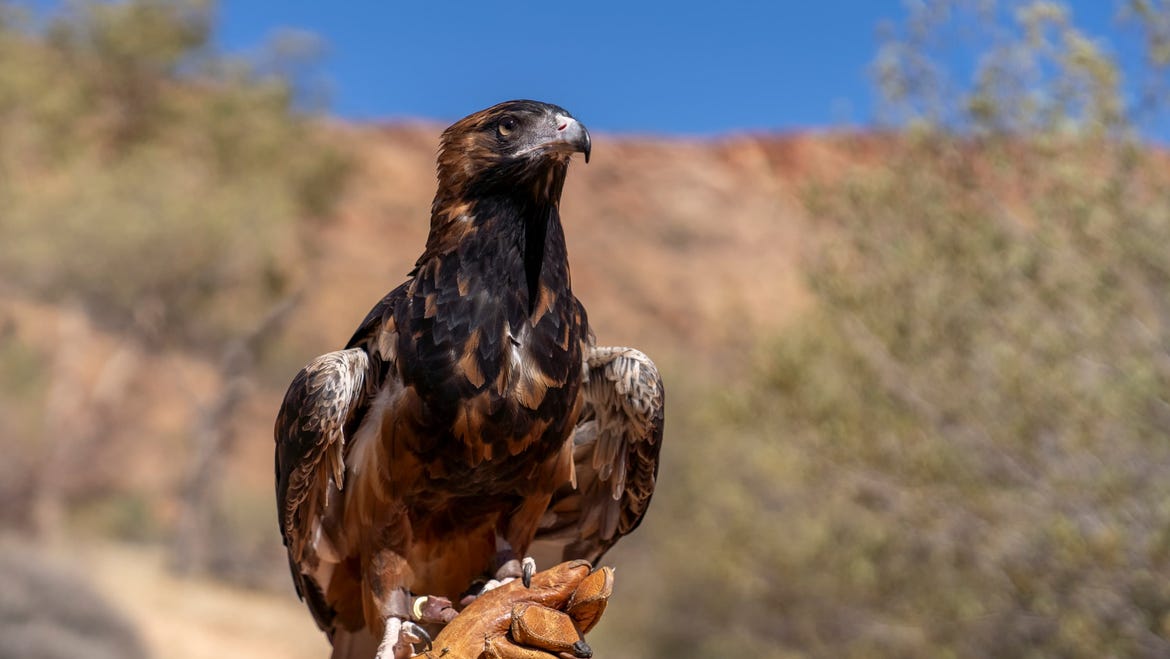 Alice Springs Desert Park is where the desert comes alive
Our deserts are rich with life with thousands of stories to be explored. Experience the spirit of a living culture; explore a vibrant botanic wonderland and get up close with outback animals and characters that epitomise the fun and adventurous spirit of the Red Centre.
At Alice Springs Desert Park you can immerse yourself in the beauty and mystery of Australia's deserts and ancient landscapes from dry river beds to dense woodlands full of life. Experience the night during the day in the Nocturnal House and see animals once found in abundance across the desert. Be inspired by ancient living cultures and feel the spirit with local Aboriginal guides at daily presentations. Marvel at the energy and adrenaline of free-flying birds as they soar through crystal blue skies.
There are also free audio tours so you can explore the park at your own pace.
Located 7km from the centre of Alice Springs, the gateway to the MacDonnell Ranges. Situated on Larapinta Drive, the Desert Park is a must-see for every visitor to the Red Centre.
The park is fully accessible and has mobility scooters available to hire (bookings essential), and all presentations and attractions are fully accessible, there's also a complimentary wheelchair for use on the compacted paths if required.
Visit some cool creatures at Alice Springs Reptile Park
Home to over 100 reptiles, the fully wheelchair-accessible Reptile Park displays its inhabitants in recreations of their natural environment.
Enter the Gecko Cave to see the different species of this diminutive and shy lizard from around Alice Springs, the Barkly Tablelands and the Top End. View Terry, the saltwater crocodile, through glass underground, which gives you a glimpse into his underwater world and offers great photo opportunities. See huge goannas such as the perentie, as well as the show-off frill-neck lizards and desert-dwelling thorny devils.
Handle a python or see the lizards being fed. Some of the world's most venomous snakes, including Inland taipans, brown snakes, death adders and mulga (king brown) snakes are on display safely behind glass.
If you're visiting during the cooler months (May to August), the recommended viewing times are between 11am and 3pm when the reptiles are most active.
Standley Chasm
Surrounded by the West MacDonnell Ranges National Park, the awe-inspiring Standley Chasm is located in a private flora and fauna reserve owned by the Iwupataka Land Trust.
A unique Aboriginal-owned and operated enterprise, Angkerle Aboriginal Corporation is owned by the local community members who are direct descendants of the Arrernte Aboriginal people, that have lived in this area for tens of thousands of years.
Access to the dramatic 80m sheer rock-face of the chasm is along a well-maintained trail that caters for people who use a wheelchair to gain viewing access, just not access into the Chasm. It's a 1.2km path following the natural creek bed, with interpretative signage along the way.
Angkerle Atwatye, the "Gap of Water" is a striking geological formation that now also provides a location for accessible bush tucker tours, art workshops and language classes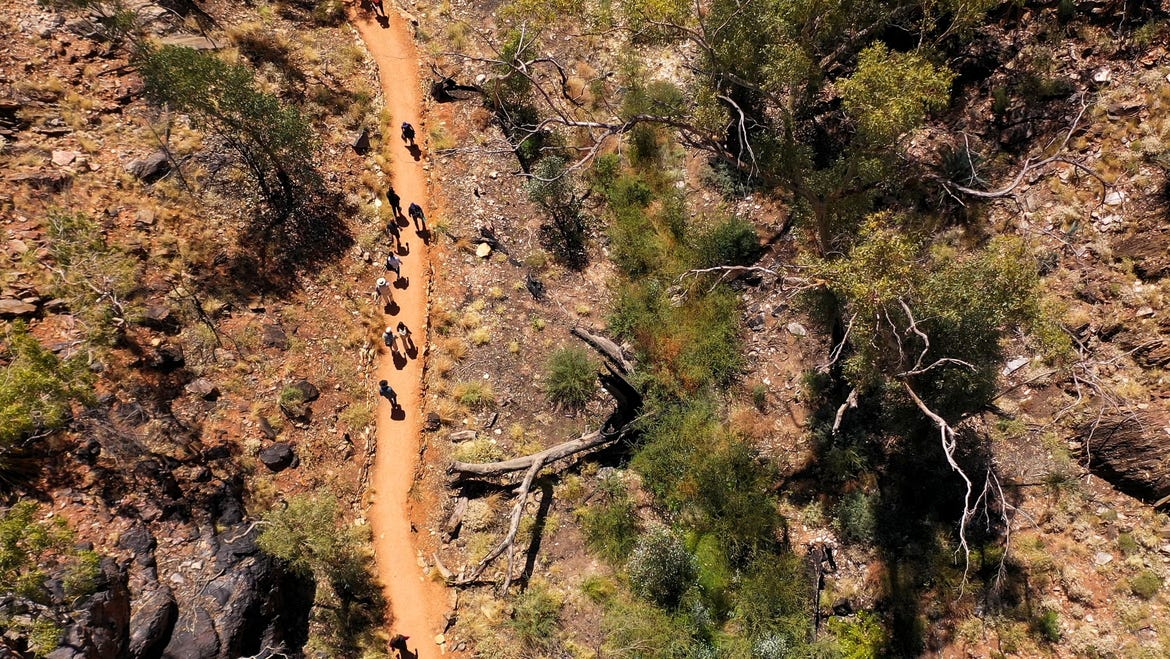 Dine at an Alice Springs favourite
End your day with a delicious meal at Tali Restaurant in the Crowne Plaza. This à la carte dining experience offers cuisine that is a blend of modern Australian fare with a hint of the Outback. The space is big with lots of room to move, which suits many access requirements, and is air-conditioned which is important in the desert to ensure you stay comfortable!
Days 3–4: Alice Springs to Uluru
When you've finished exploring Alice Springs, continue along the sealed highway to Australia's famous icon, Uluru, a must-do for all visitors to the NT.
The town of Yulara is just 15 minutes away and offers a range of accommodation from camping to 5-star resorts, as well as a variety of dining options.
Jump on board with Outback Tour Services to Uluru, on one of their fully-tailored charter tours for up to 9 people, with their purpose-built vehicle which can take one wheelchair passenger who remains in their wheelchair, as well as another who can transfer to a seat.
They'll tailor your experience to suit your needs and interests – some of which could include the following wheelchair-accessible activities:
Set off on a lap of the heart of Australia
The Uluru Base loop is one of the best ways to soak in the beauty and get up close to Uluru. You can circumnavigate the 9.4km base and relax beside tranquil waterholes, take a break under a magnificent Sheoak tree and peer into hidden caves.
Did you know that what we see today are just the tips of huge rock slabs that continue below the ground for up to 6km?
Many visitors are surprised to learn that there are more than 415 species of native plants, 21 species of mammals, 178 species of birds, 73 species of reptiles and thousands more species of ants, spiders and bugs found here.
There are plenty of trails at the base of Uluru and most are wheelchair accessible, they're either compacted paths, concrete paths or bridges.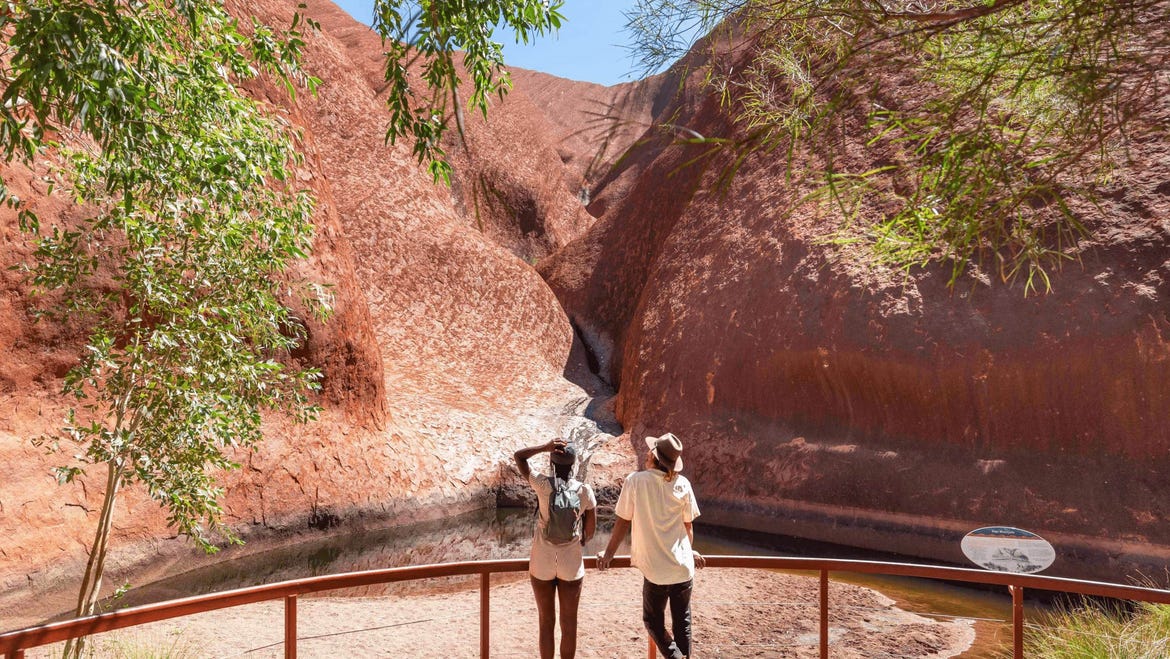 Watch the colours change at sunrise
There's also a wheelchair-accessible sunrise viewing platform, which is accessed via a gradual slope from the accessible parking area. Capture Uluru-Kata Tjuta in the same shot, and marvel at the stunning 360° view of the surrounding landscape.
Uluru Audio Guide
For those choosing to do Uluru at their own pace to ensure it meets their needs, the Uluru Audio Guide is a great accompaniment.
It provides GPS-triggered commentary for all roads within Uluru-Kata Tjuta National Park as well as all trails at Uluru and the short trail at Kata Tjuta. This allows you to explore at your own pace and not miss out on learning about the culture, history and native environment that's quintessential to Uluru.
Settle in at the Ayers Rock Resort
The Ayers Rock Resort offers accommodation to suit a range of budgets, there's an IGA Supermarket within the resort and a medical centre at Yulara.
Not all of the resort accommodation options are fully accessible. However, the Desert Gardens Hotel and Sails Resort both have wheelchair-access rooms, with Sails in the Desert having been recently renovated to feature a lot of space inside them and brand-new accessible bathrooms.
The Sails in the Desert restaurant, Ilkari, is also easily accessible and has lovely food.
Don't forget! To enter the park you'll need a park pass, which you can pre-purchase online for quick and easy entry.
Day 5: Alice Springs
If you've got time before you fly out, spend your last day enjoying some of the many other accessible activities. Justine's faves are below:
Alice Springs Telegraph Station: The Telegraph Station is a wonderful history experience in Alice Springs, and features a lovely shaded outdoor café, with tables that you can wheel up to in a wheelchair a disability access toilet, nice paved paths and the historical museum have ramped access onto all of the verandas and into the old buildings. There are also disability parking spots in close proximity to the toilets and picnic area
Standley Chasm: One of the wonderful rock formations of the West MacDonnell ranges, the Standley Chasm has an accessible café, ramp access from the car park to the kids' playground and dining area, and even an accessible compact dirt path all the way to the actual chasm… but this is best to do with others in case you get tired pushing your wheelchair!
Bella Alice: This restaurant in the mall of Alice Springs has great authentic Italian cuisine and a wood-fired pizza, and both outdoor and indoor dining areas are wheelchair accessible
Festivals & events: If you do happen to be visiting Alice Springs in April, Parrtjima is one of the best accessible events I've ever been to. If you book your attendance through the website, you can select the disability parking option, meaning you can drive into a restricted parking area for closer parking. A solid framed mat/path is laid down around the actual event site, so you can easily wheel and walk around the light installations on firm ground. Paved path access exists between the lighting installation area and the market-style food stall area that also has a live band.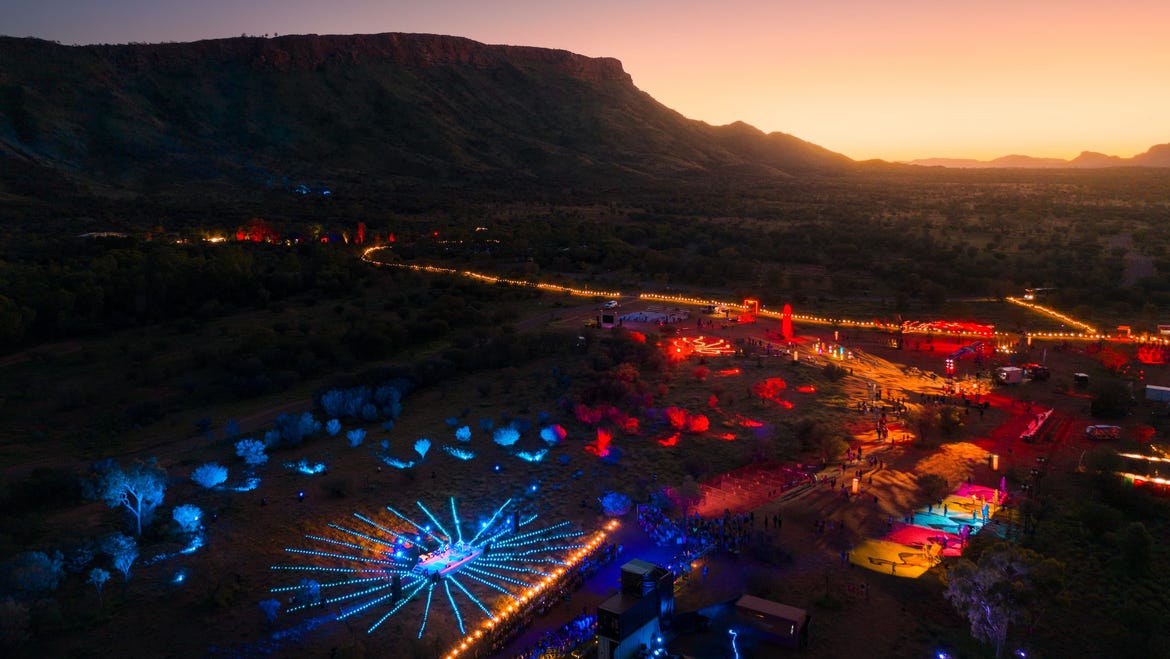 The Northern Territory continues to become more and more accessible, but since everyone has different access needs, it's a good idea to phone ahead if unsure.
For more accessibility information, please visit NT Accessible Travel.
More itineraries you might like