Nature's Way
7-day itinerary
For a drive that highlights the best of the Top End, look no further than Nature's Way. In 5 to 10 days you can have an amazing adventure that links Darwin, Australia's vibrant tropical capital city, with the ancient cultural and natural wonders of Kakadu, Nitmiluk and Litchfield National Parks.
This easy drive is completely on sealed roads. There are also some great four-wheel drive side-trips that take you to special spots in the lush northern tropics.
Day 1: Darwin to Kakadu (250km)
The rare and unspoiled beauty of Kakadu National Park is only a 3-hour drive from Darwin. On your way to the park, along the Arnhem Highway, there are several opportunities to see wildlife in its natural environment. Stop at the Adelaide River and board a cruise to see huge saltwater crocs jump for a snack from the safety of the riverboat.
Day 2 & 3: Kakadu National Park
Kakadu is a World Heritage-listed site and Australia's largest national park. Explore and cruise its waterways to see crocs and birdlife, walk through ancient Aboriginal rock art galleries, or join a guided tour. Take in the stunning view of the wetlands from above at the Ubirr lookout at sunset.
Day 4: Kakadu to Katherine via Pine Creek (300km)
Head south along Kakadu Highway to Pine Creek, a small town that experienced a rush for gold in 1871. A further 90km down the road is Katherine, a great place to base yourself and explore the region. It's the gateway to at least sixteen national parks, nature parks, reserves and conservation areas, including Katherine Gorge (Nitmiluk National Park).
Take a refreshing dip in the Katherine Hot Springs – a series of clear pools fed by a natural thermal spring located on the banks of the Katherine River.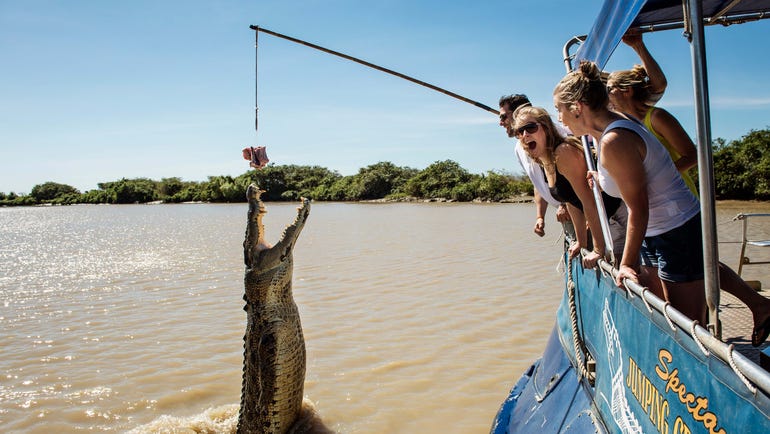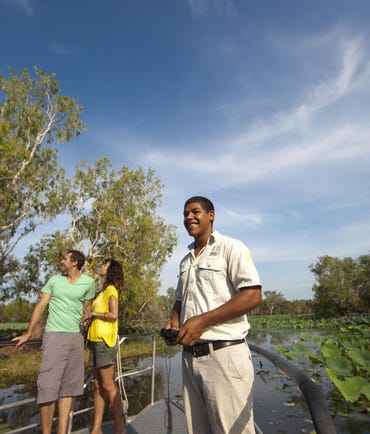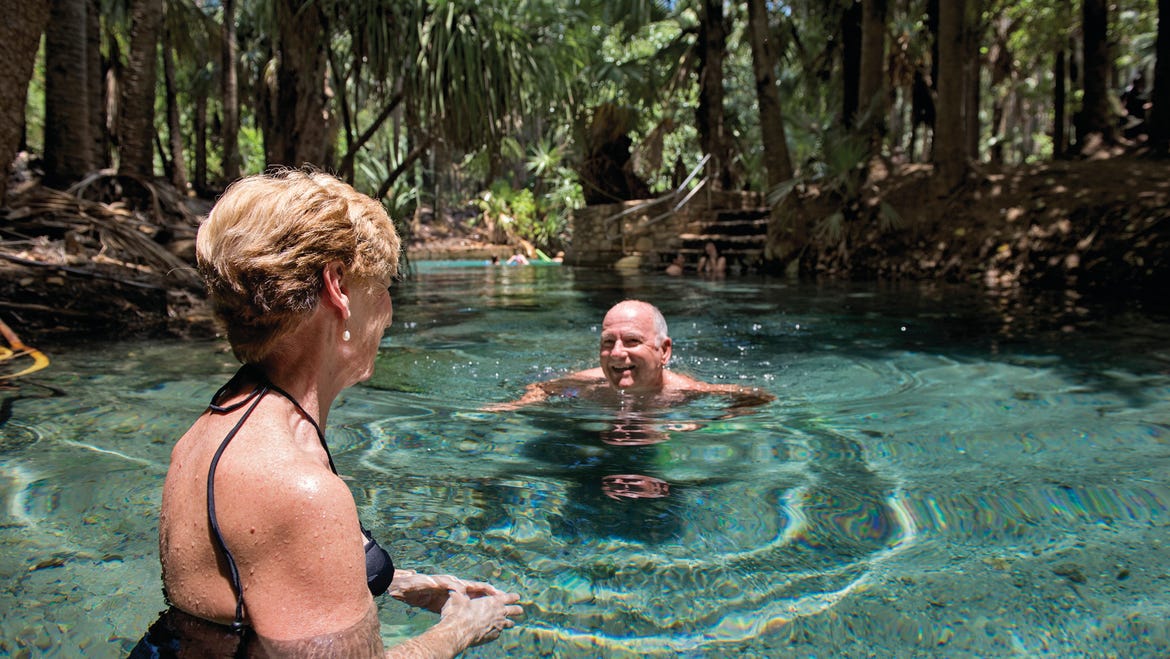 Day 5: Nitmiluk National Park
Nitmiluk National Park is a short 30km drive from Katherine. There are many options to explore the park: from the air on a helicopter flight, from the water on a guided cruise or canoe, or on foot with well-marked paths.
Day 6: Katherine to Litchfield (265km)
Why not stop in at Leliyn/Edith Falls on your journey north and enjoy a swim in the pandanus-fringed plunge pool. Just 2.5 hours' drive away, Litchfield National Park is renowned for its accessible, unspoiled wilderness of monsoon rainforests and waterfalls that flow year-round. Cool off with a swim in the plunge pool below the permanent spring-fed Florence Falls or wade through the rock pools at Buley Rockhole.
Day 7: Litchfield to Darwin (130km)
Head back to Darwin via the Territory Wildlife Park. Wander through treetop aviaries, around a natural lagoon and walk through the aquarium to see animals, including the saltwater crocodile, in their natural habitats.
Before you enter Darwin, stop at Berry Springs Nature Park. A recreation camp for armed forces personnel during the war; today it's a popular spot for a picnic and a dip in freshwater pools.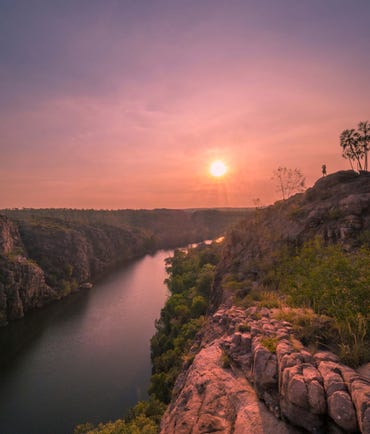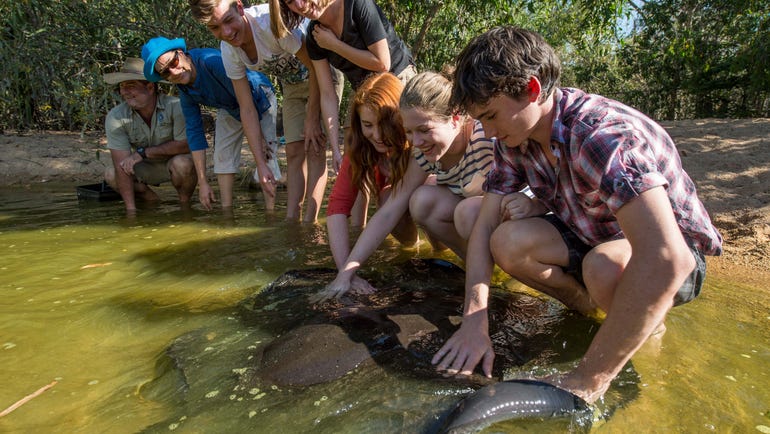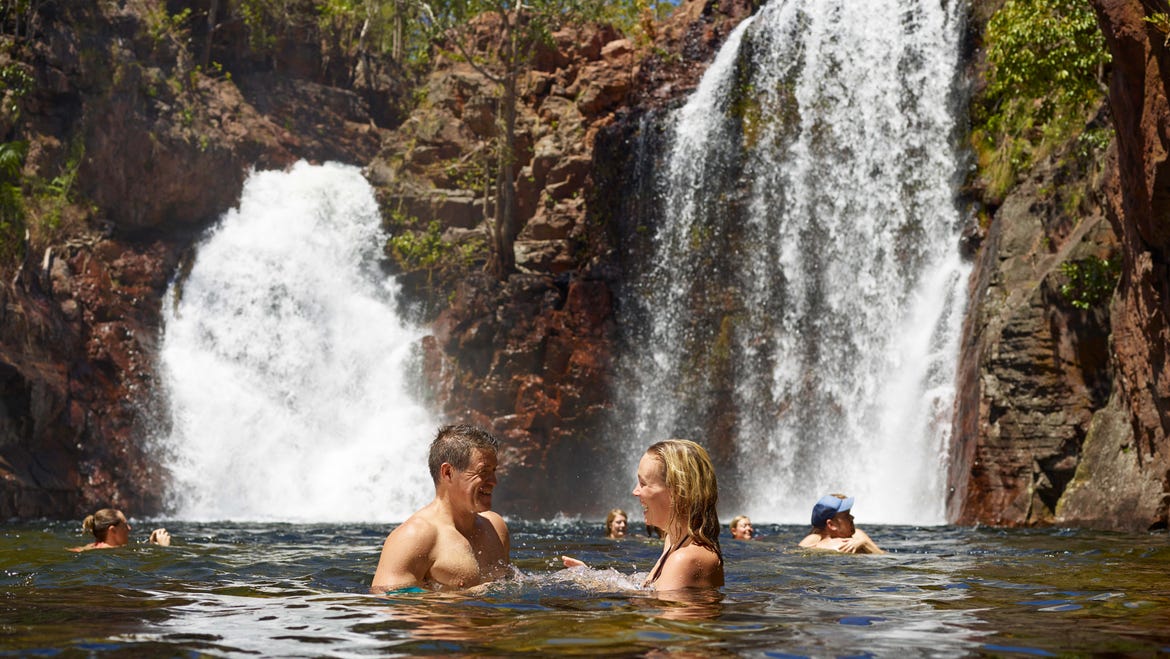 Download the Nature's Way itinerary
Continuez votre navigation
Plus d'articles comme celui-là