7 unforgettable ways to get wild
Breathtaking landscapes, epic skies, crystal clear streams, thundering waterfalls, abundant wildlife and star-lit silence.
Tropical summer (or'The Wet', as Territorians like to call it) is famous for its block-buster lightning storms, pumping waterfalls, moody escarpment country, bulging river systems teeming with fish and lush, green National Parks. It's also a slower time – perfect to connect with the oldest living culture on earth.
So leave the latte behind, disconnect to reconnect and embark on your own wild summer reality show with our jaw-dropping Territory nature as the backdrop.
1. Colours of Kakadu

Over the summer holidays while everyone is clamouring for towel space on a hectic beach, Kakadu National Park is undergoing a full on transformation into an Eden-like paradise.
There are animals everywhere. The landscape is lush and everything bursts into life. Flowers spring up in a riot of colour, and tall native spear grasses, some more than 2m high, emerge. Wild berries, plums, bush potatoes and little fruits come up – red apples and white apples – and the trees bud with green leaves.
You can drive the 253km to the world heritage site yourself with popular areas – Burrungkuy (Nourlangie) and Yellow Water - open all year round, or hire a private tour.
If you DIY, schedule your trip loosely, keeping things flexible as the weather may change suddenly, check the daily access report and buy your pass online before you leave. Do as the locals do and keep an eye on the BOM radar throughout the day.
2. Do go chasing waterfalls
With monsoonal rains draining off the Arnhem Land plateau and cascading into Kakadu's floodplains, the full-flowing waterfalls are at their dramatic best.
Book in for a scenic flight with Kakadu Air and Airborne Solutions to see Jim Jim Falls and Twin Falls in all their wet-season magnificence as you watch water surging over rugged sandstone stacks into creeks below. It's a bird's eye experience that will stay with you long after your holiday and will gain you bragging rights. Let's be honest, who wants to do what everyone else is doing?
Make sure you add Nitmiluk National Park to your bucket list and see the magnificent gorge in all its glory with a variety of scenic heli flights. One option includes a remote landing for an Insta-worthy pic along the top ridge. There is no road access to this spectacular and secluded location and with not another soul in sight you will feel a deep connection to this natural wonder. Bring a camera, sunscreen and trainers.
3. Jump into a world of wild water
One of the reasons locals love tropical summer is escaping the heat with a dip in crystal clear swimming holes. A firm favourite, Litchfield National Park is home to stunning waterfalls, scenic walks and places to swim. Best of all - Florence Falls, Buley Rockhole, Wangi Falls and the Cascades are open all year round. If you're a visitor apply for a park pass before your visit.
Moline Rockhole in the southern part of Kakadu is a beautiful place not many people know about. The perfect place to cool down and relax, it's open during the wet season and not far off the main road (Kakadu Highway). You will need a 4WD or go as part of a larger group tour.
Further afield, is the pandanus-fringed Leliyn (Edith Falls) in Nitmiluk National Park, about 290km south of Darwin, the spring-fed Mataranka thermal pools, set amongst palms and tropical woodlands in Elsey National Park, and Bitter Springs, an unexpected sweet spot, an hour's drive south of Katherine. The water has a lazy river feel as you wash away your city worries on a gentle float downstream before hopping out and doing it again. It's one of our personal faves.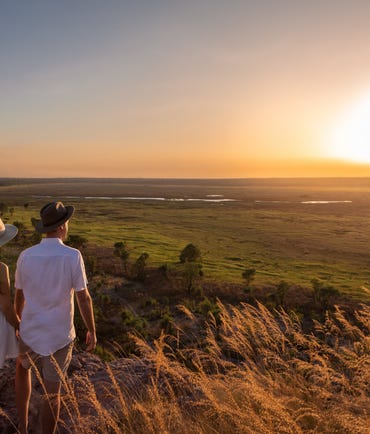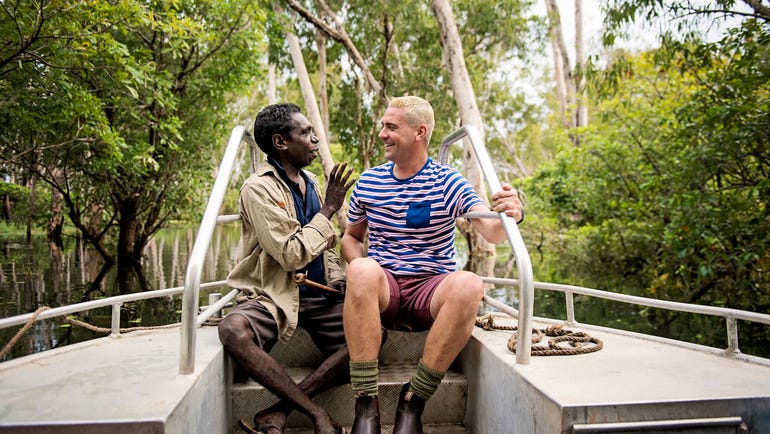 4. Take a scenic cruise in Kakadu Cruise control in country
Hopping aboard a boat and seeing Kakadu from its waterways is a phenomenal way to take in this World Heritage site during the wet season.
A handy base is Cooinda Lodge, from where you can hook up with Yellow Water Cruises to ease amongst crocodiles and a sweeping smorgasbord of birdlife at sunrise. They can also organise 4WD tours and a visit to the Warradjan Aboriginal Cultural Centre nearby.
Enjoy the spectacular scenery of the East Alligator River with the unique Guluyambi Cultural Cruise until November. At the height of the seasonal flooding, the operation moves to Magela Creek with a blink-and-you'll-miss-it window of opportunity (February to March) to glide along billabongs of water lily pads on a unique tour experience of the wetlands. Drink in the sights, sounds and smells as guides steer the boat into paperbark forest and a tangled jungle of branches, birds and nests. A bus meets you on the other side to take you to Ubirr, one of Kakadu National Park's two most famous Aboriginal rock art galleries. It's not to be missed.
5. Walk in lush landscapes
Lace up your hiking boots and head to Yurmikmik for a series of wild walks that will stop you in your tracks. Based in Kakadu's southern region, these monsoon rainforest-lined paths, with secluded swimming holes and woodland wildlife, are possibly one of the Top End's best-kept secrets.
When the creeks, plunge pools and waterfalls have been topped up by the tropical summer rains the country comes alive and what you'll see is nothing short of show stopping.
There are several trails from moderate to difficult (Boulder Creek Walk, Yurmikmik Lookout Walk, Motor Car Falls Walks, a particular favourite, and Kurrundie Creek Walk) but we promise you won't be disappointed. Be crocwise. For more info, download this pack from Parks Australia and check the Kakadu access report. Venture North Safaris offer private tours if you'd rather go with a group of mates.
6. book a summer tour and get the best of the season
Make life simple and book a green season Litchfield and Kakadu tour with Ethical Adventures or private tours with Venture North Safaris.
These tour operators embrace the Top End in tropical summer, giving you the chance to awaken your senses, feel the power of nature and witness electrifying afternoon storms without worrying about spare tyres and breaking down.
Marvel at misty mornings on floodplains and waterfalls gone wild, swim in outback creeks, try some seasonal bush tucker, spot a brolga or a regal black-necked stork (jabiru) and visit Aboriginal art centres while surrounded by ancient Indigenous culture and stories. The only thing you have to do is get amongst it and let the movie-reel of Mother Nature capture your heart and soul.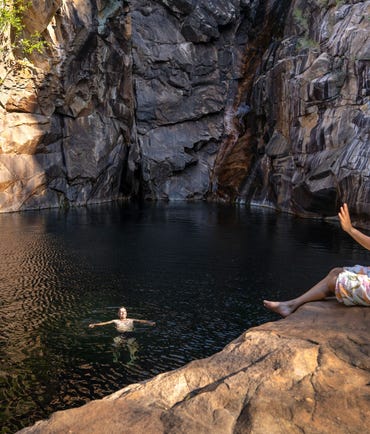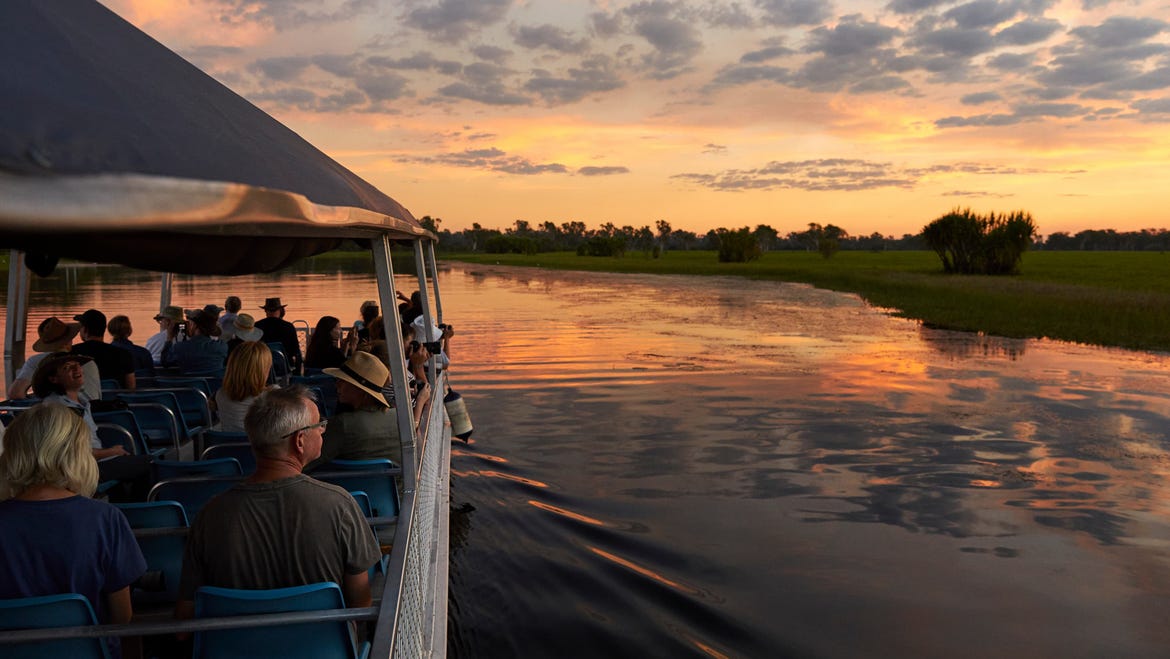 7. Have the Top End to yourself
Experience the vibrant, blooming landscape without the hustle and the bustle of crowds. This means you can take your time to explore, truly appreciate tonnes of wildlife, enjoy the tranquillity and listen to the calming sounds of a plumed whistling duck, a rainbow bee-eater or azure kingfisher.
Kakadu is home to 280 different types of birds, 120 species of reptiles and 25 species of frogs. Fogg Dam, about a 45 minute drive from Darwin, is also a bird watchers paradise with nearly 200 species. Drive slowly along the road (the dam wall) and snap away at Little Egret, Royal Spoonbill, Pied Heron, Comb-crested Jacana and others, within a few metres of your car window. You'll also see huge amount of green water lilies and other plants that start to flower.
The wet also means you'll have the chance to have some one-on-one time with local guides and rangers at all three of our Top End national parks. Make sure to take the time to ask them about the local flora and fauna, Indigenous art and cultural centres, and their favourite parts of this wild, untamed land. Buck the trend and this could be one of the best holiday decisions – ever!
More articles you might like