9 Top End waterholes that are perfect for wild swimming
Road tripping through the Top End of the Northern Territory can be a sweaty affair, but luckily our Explorer Bee can smell a freshwater swimming hole from 10k away. Strap in, she's about to share 9 of her favourite Top End waterholes where you can take a refreshing dip!
Picture a stunning oasis – unruly red cliffs, lush pandanus coves, the inviting sparkle of crystal-clear water and the peaceful hum of a running waterfall. This is how we experienced swimming in the waterholes of the Top End, and there wasn't a croc in sight! There's no such thing as a real winter in the NT; with day temperatures rarely dropping below 25°C, freshwater swims are a vibe almost year-round.
Our togs were at the top of our daypacks, and we took a dip on the daily! That said, we obeyed all crocodile safety and general wild swimming procedures to make sure we returned to our desk jobs in one piece. The best bit? Most of these Top End waterholes are only a few hours from Darwin.
Acknowledging Traditional Owners & respecting cultural sites
In the Top End, water places have sustained Aboriginal people and their livelihoods for tens of thousands of years. Whilst these swim spots are amazing to relax in and enjoy, they remain very important places culturally, spiritually and environmentally. Traditional Aboriginal owners are sharing these swimming places with us, so whilst lapping up the serenity, please respect the waters and their surrounding ecosystem.
Moline Rockhole – Kakadu National Park
Igoymarrwa – Looked after by the Jawoyn people (Bolmo, Matjba, Wurrkbarbar). Goymarr, the freshwater crocodile is associated with the creation of springs and falls in this area.
A short walk leads to this lesser-known, unmarked beauty. Eucalypts and pandanus wedge themselves in granite crevices, as dappled sunlight catches the rocks and underwater life of Moline Rockhole's crystal-clear plunge pool. The rockhole and its running waterfall are a well-kept secret, only a select number of tour guides are allowed to access this natural wonderland. Each day they keep visitor numbers to a minimum by only letting one group enjoy the spot at a time!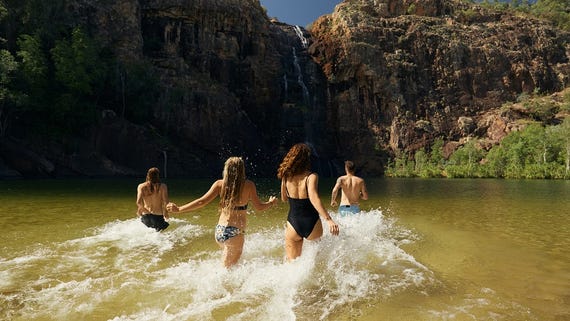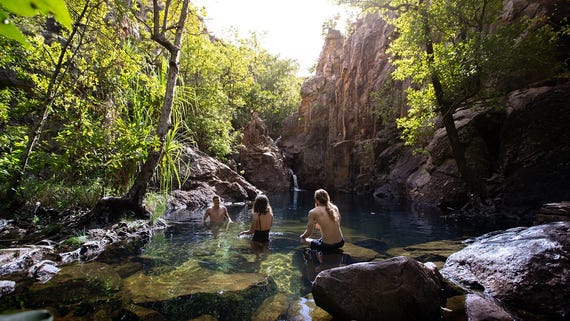 Maguk Gorge (aka Barramundi Gorge) – Kakadu National Park
Maguk – owned by the Jawoyn people (Bolmo, Matjba, Wurrkbarbar).
Towering sandstone escarpments and pandanus aplenty transport you to a tropical wonderland at this Top End plunge pool. Throw your boots on for a 1km walk to get to the swim zone, but don't rush! We suggest visiting Maguk Gorge later in the day when it's a tad quieter.
You'll get to wander through a paperbark forest, a versatile plant for local Aboriginal people who use it for bush tucker, medicine, and material. You may even be able to catch a rare sighting of the Rainbow Pitta bird, a species endemic to Northern Australia. After the stroll, your secluded paradise awaits, a delightful waterhole with strong island vibes and a running waterfall that flows year-round!
Florence Falls – Litchfield National Park
Litchfield National Park is an important place for the Kungarakan, Mak Mak Marranunggu, Werat and Warrai people who have lived in the area for thousands of years.
A hot spot for Darwin locals, Florence Falls boasts two mesmerising waterfalls that feed a refreshingly cool plunge pool. Enjoy a decent 15 minute walk from the carpark, check out an unmissable photo viewpoint of the falls, then wander through monsoon rainforest before you reach the lush bottom swimming hole.
Visually stunning, expect ochre stone cliffs topped with iridescent green trees and vines, stark white splashes of water from the running waterfalls and deep blue hues of the waterhole. We recommend rock lounging in the shade, flicking through the pages of decent book, then taking a once-in-a-lifetime swim out to Florence's waterfalls.
Buley Rockhole – Litchfield National Park
Are you a rock-lunger, a deep-sea diver or surface splasher? Open for most of the year, the cascading pools of Buley Rockhole have something for everyone. Seek your own private rock hole to cool off in, or spend a day exploring them all and taking in the surrounding bush. Buley Rockhole is an invigorating freshwater wonderland where gentle waterfalls feed crystal clear pool upon crystal clear pool. It's also a nice spot for families, with a set of picnic benches located en-route to the pools and shady zones to keep the kids out of the sun!
Wangi Falls – Litchfield National Park
We visited Wangi Falls at magic hour, and magic it was! As other swimmers packed up for the day, we were left to soak in Wangi's beauty with only a few others and the local Rainbow Bee Eaters (don't be fooled these colourful birds are bossy folk). The zone came to life as golden hour turned up the colours of the plunge pool and its two waterfalls.
A vivid reflection of the surrounding pandanus, stringybark gums and falls were cast across the pool. We made a swim dash to get a closer look and lucked out, spotting a miniature rainbow under the awe-inspiring fall's splashes! Wangi Falls is a top spot for a day picnic, with grassy areas and shade from tall gums, it's a Darwin day trip must-do.
Leilyn (Edith Falls) – Nitmiluk National Park
Leilyn – Owned by the Jawoyn people, the name of surrounding area Nitmiluk means 'Cicada Place'. Traditional Custodians, the Jawoyn people continue to hunt, gather bush tucker and practice traditional ceremonies in the park.
Edith Falls is only a short 60km drive on the Stuart Highway from Katherine. Grab a coffee in town from the Black Russian Caravan (it's a bucket list item for caffeine addicts) before heading out to Nitmiluk National Park for a day of waterhole exploring. Alive with ancient Jawoyn culture, there are plenty of waterhole options to discover around Edith Falls. Get a taste of the Jatbula Trail's magic by scheduling in the 8.6km return full day walk to Sweetwater Pool. Hike to find an inviting large pool where you can cool off; you might even spot a freshwater turtle.
There's also a short 2.6km return walk to the upper pool from Edith Falls carpark. The upper pool is set amongst raw sandstone cliffs, like something from a martian fairy-tale, where crystal-clear rockholes are fed by a picturesque waterfall (also a thrill to swim beneath!). Jump into the refreshing water or relax like a local goanna, your choice!
Otherwise, if you're keen to just put the feet up and relax without the sweat eliciting activity, head to Edith bottom pool. Laze on a noodle as you watch water tumble high from the escarpment into the large plunge pool below! Absorb the woodland as you float, taking note of paperbark and pandanus that surround the pool. If you're the type to forget your lunch or get hungry fast, don't stress, there's a true-blue Aussie café at Edith Falls carpark.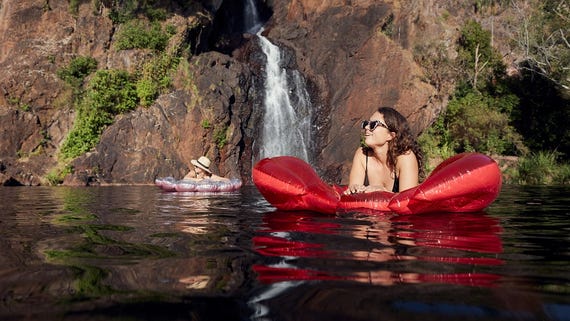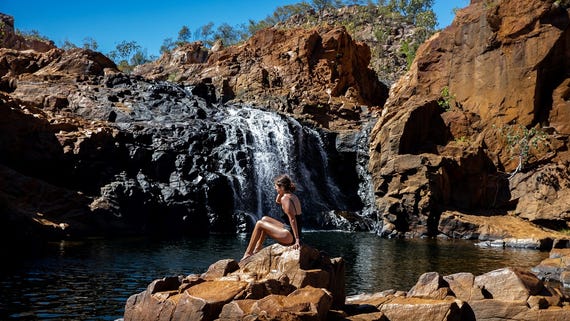 Katherine Hot Springs – Katherine
The town of Katherine is an important meeting place for the Jawoyn, Dagoman and Wardaman people.
Talk about serenity, these hot springs were a hit, and only five minutes from Katherine! Arriving early, we had the place to ourselves, and boy oh boy was it beautiful! There's a natural thermal hot spring that remains a divine 32 degrees year-round. At times it felt like we'd been transported to a Hawaiian island via a hula bus, splashing in the clearest bright blue pools between green pandanus and tropical vines. Enter flocking cockatoos calling out overhead; seriously, this spot was an unreal Top End experience.
Bring your snorkel and dive down to witness the bubbles from where the spring is being pumped from deep below the Earth's surface. Not just a stunner for the eyes, thermal pools promote natural healing. Springs are said to reduce stress, boost blood circulation, relieve muscle pain and heal skin problems.
Bitter Springs – Mataranka
Korran - For the Mangarrayi and Yangman people, Korran is a place of cultural significance.
Bring the camera for this one! Take a short walk amongst towering cabbage palms and paperbark, before you reach a lush freshwater sanctuary. Bitter Springs is Mother Nature on steroids and is the largest of the springs in the Mataranka region. The colours of this place are almost edible, with decadent turquoise blues from the springs set against the alluring green foliage of surrounding vegetation. Feel like a float? Bring your noodle then walk up from the first entry point to enjoy a short and relaxing natural ride down the springs.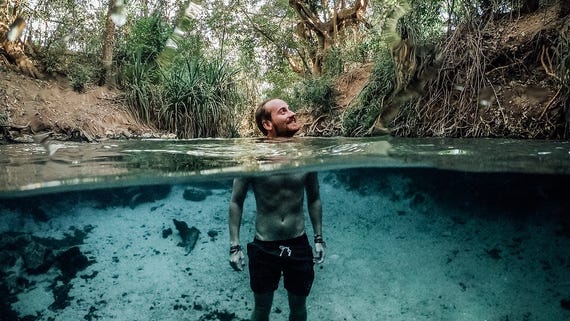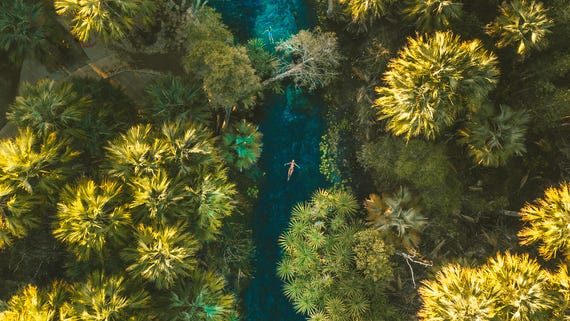 Crocodile safety
Crocodile safety is not to be taken lightly in the Top End, there's a potential that where you plan to swim could be the temporary home of a saltwater crocodile. Always obey crocodile safety signs, read up the National Parks websites before you visit each swimming spot or phone the local park ranger ahead of your visit to ask whether watering holes are open for swimming and croc-free. Swimming is at your own risk, so make sure you're making an informed judgement before you jump in!
Wild swimming safety  
It's bloody crazy that people are still diving into waterholes… if you're planning a fast entry, check the water levels before doing so and definitely don't be a kook by going in head first. There are also plenty of slippery rocks in the Top End close to high cliffs, take precautions and be extra safe while enjoying these potentially dangerous areas.
Here's our complete guide to staying safe when wild swimming. Have a read and share with your rowdy mates!

All cultural information was sourced from the official factsheets, interpretative signs or websites of  NT National Parks, Parks Australia and Katherine Council. Northern Land Council collaborated to check facts and information prior to publishing.
More articles you might like