A guide to eco tours & responsible travel experiences in the NT
Choosing an operator that promotes responsible travel practices and works with local communities sits at the core of sustainable travel.
The Northern Territory has some of the best sustainable, eco-certified and Aboriginal-owned travel experiences on offer in Australia.
Renowned for its World Heritage-listed icons, richly diverse landscapes, untamed wildlife, blue skies, starry nights and immense culturally-significant Aboriginal landscapes – the NT is nature's wonderland and has been for millions of years.
Be one with the wildlife in at a safari lodge, learn first-hand about Aboriginal cultural traditions on Country or take a guided trek through an epic national park that will enliven your spirit. These eco-friendly and authentic cultural experiences will leave you wanting more.
Eco tours in the NT
Get acquainted with the land and the million-star sky at Earth Sanctuary, 15 minutes' drive south of Alice Springs in the dramatic East MacDonnell Ranges. Created in 2000, the Falzon family operate this award-winning educational and entertainment centre which showcases ecology, culture and sustainability in action. Their day and night attractions include exciting astronomy tours, wildly stimulating education programs and special sustainability events. Take part in a tour or stay overnight in one of their newly-built eco domes.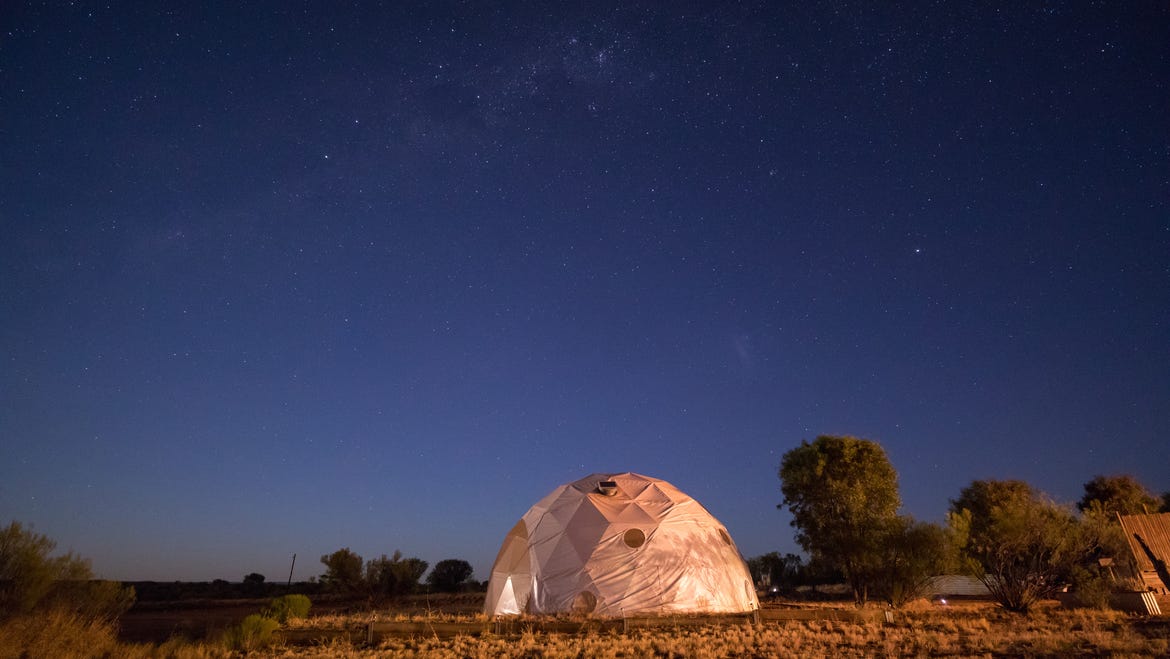 Dust off those walking shoes and hit the Red Centre's epic 223km Larapinta Trail with World Expeditions. Stretching from Alice Springs to Mt Sonder, it's part of the Great Walks of Australia collection. Multi ecotourism award winning World Expedition's professional wilderness guides not only teach you about the surrounding environment, nature, cultural heritage and wildlife, they also ensure your every step is comfortable. Carry only a day pack, sleep in architect-designed eco camps, enjoy hot showers, lounges and 3-course gourmet meals nightly – it's the ultimate way to experience this extraordinary landscape.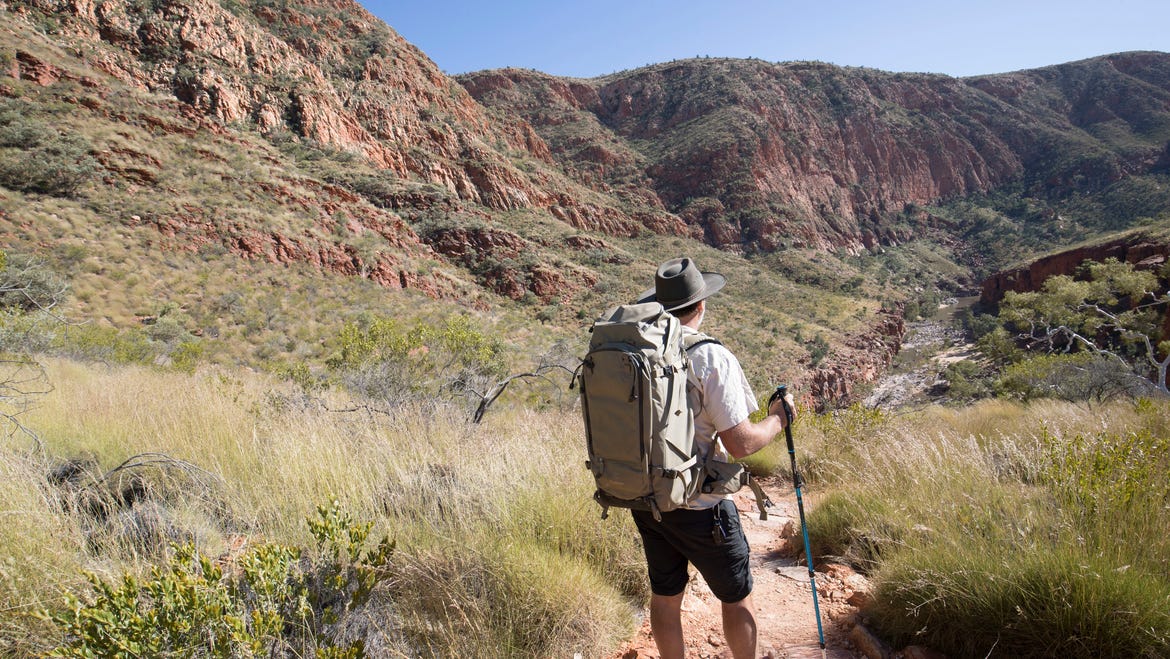 In the Top End, Ethical Adventures is renowned as the small group (6–10 max) eco specialist. Since 2007, Rob and Tracey have combined conservation and tourism to create fun-filled holidays that leave you with a deeper appreciation and understanding of the places visited. Be treated like family and enjoy homemade snacks on Darwin day tours, or bespoke, all-inclusive multi-day excursions to Kakadu, Litchfield and Arnhem Land.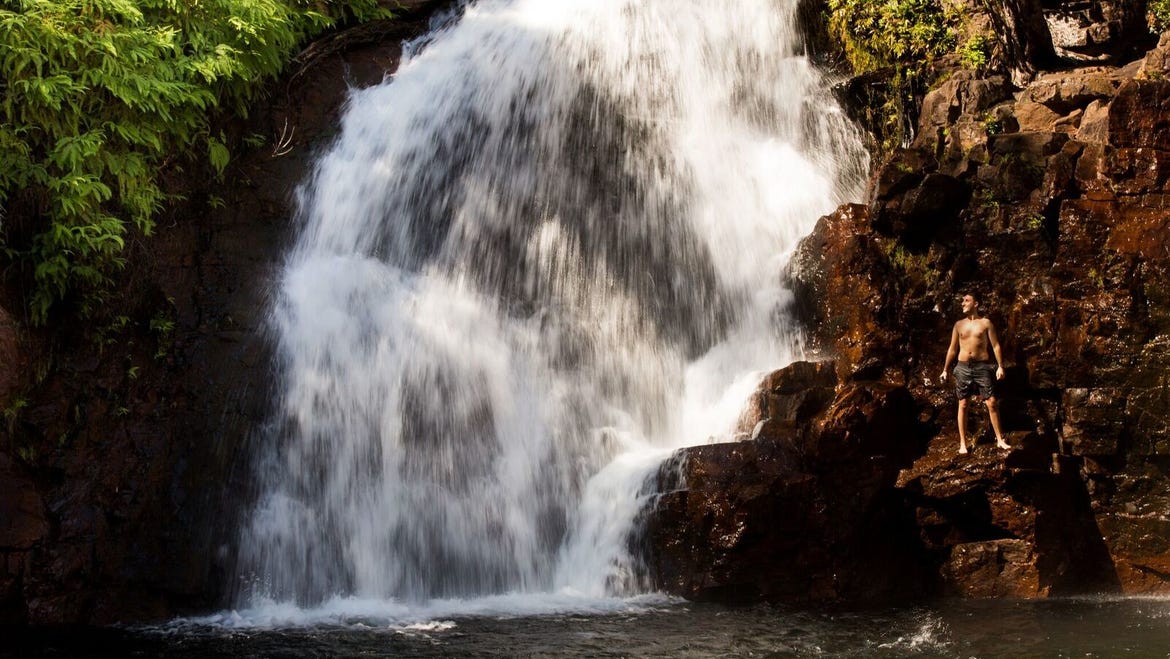 Are the pristine regions of northern Australia on your bucket list? Then Venture North Safaris, a multi-award-winning, family-owned company will satisfy. You'll get access to places you normally can't visit on your own. Visit the NT's largest marine park at their high-end safari-style camp in the Garig Gunak Barlu National Park/Cobourg Peninsula. The camp overlooks Port Essington in northern Arnhem Land – a park so precious only 20 vehicles are allowed to visit at a time.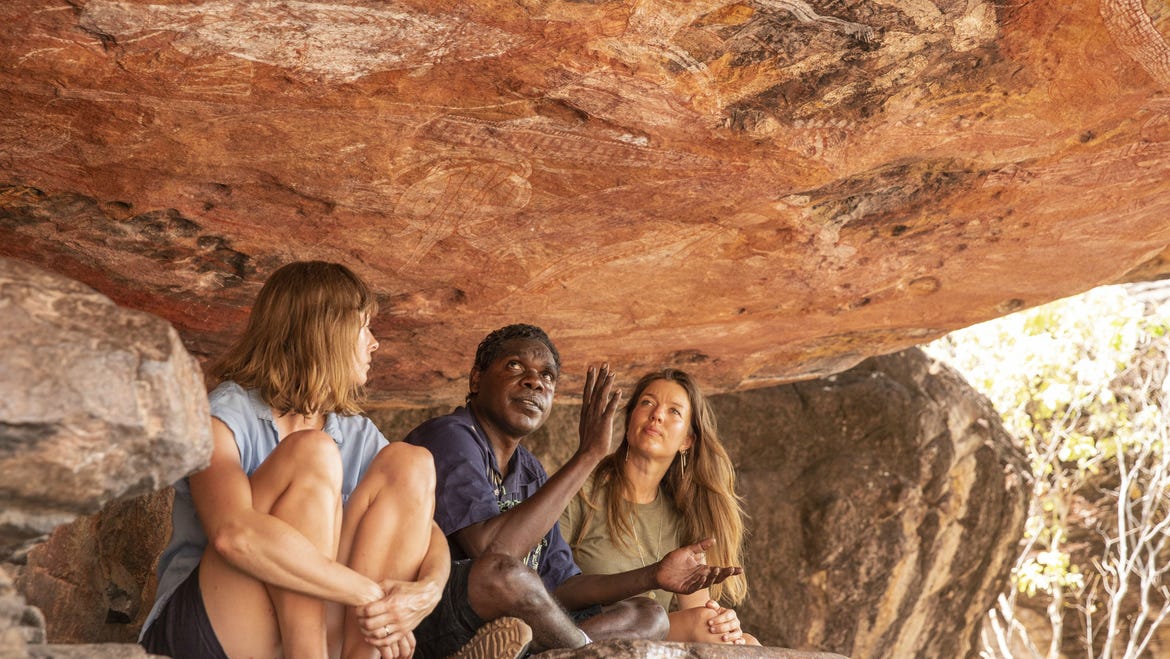 One of the most exhilarating Top End experiences is a guided, small group canoe or kayak tour with Gecko Canoeing and Trekking along the Katherine River. The local Savannah guides have been showing off the unique beauty of the region on foot or water for more than 15 years. Paddling between the sheer cliffs of the towering Nitmiluk (Katherine) Gorge is an awe-inspiring experience. Gecko offer locally guided walks throughout the region including Australia's up-and-coming five to six day Jatbula Trail, where you can experience the raw beauty of the national park on foot.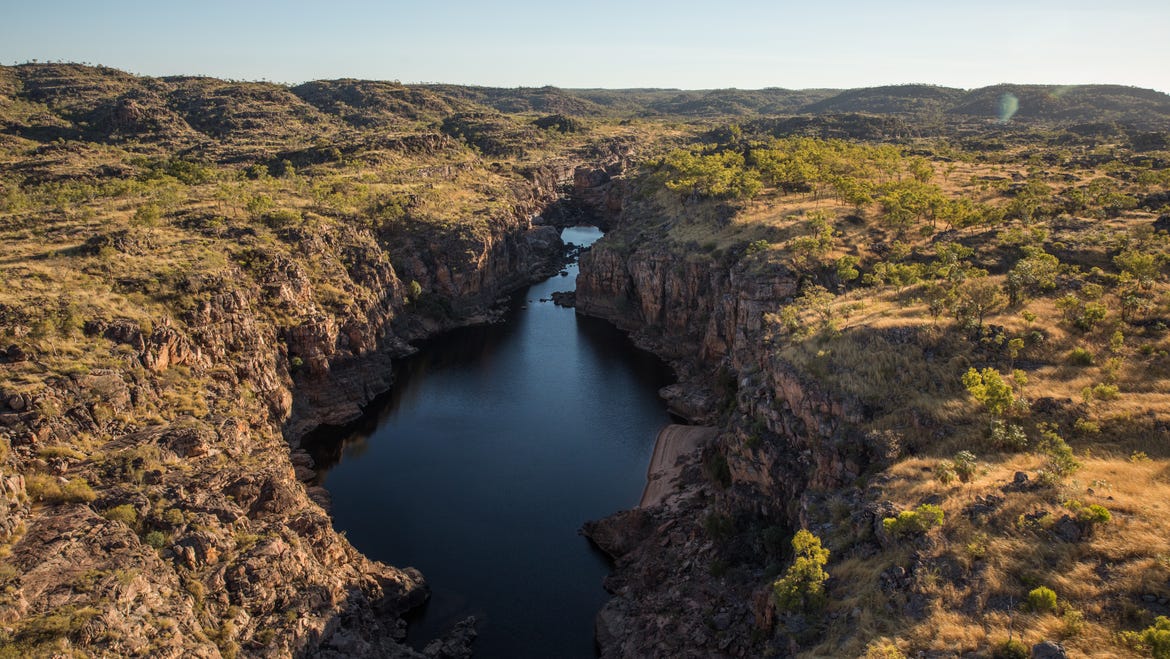 Marine-based ecotourism company Sea Darwin provides both Darwin Harbour and sea turtle tours on Bare Sand Island that allow you to view seasonal turtle nesting. Owned and operated by marine scientist Jim Smith, Heather King and their three adult children, the multi-award-winning tours also support local businesses and showcase Darwin Harbour's intriguing history and habitat. Turtle Tracks Tours send five per cent of every ticket sold and the location and identification of nesting turtles to the Austurtle research project.
Respecting Our Culture (ROC) certified tours
Respecting Our Culture (ROC) certified tourism operators respect and reinforce Aboriginal cultural heritage. They're recognised as having a sustainable business philosophy and follow cultural protocols as either an Aboriginal owned operator or by working with the traditional owners of the land throughout the Northern Territory.
Along the Arnhem Highway, you'll find Pudakul Aboriginal Cultural Tours situated next to a lush billabong connected to the Adelaide River floodplains. This experience is all about the bush tucker and traditional practices belonging to the Top End. Stay the night in one of their comfortable single or twin-share cabins with views of the water.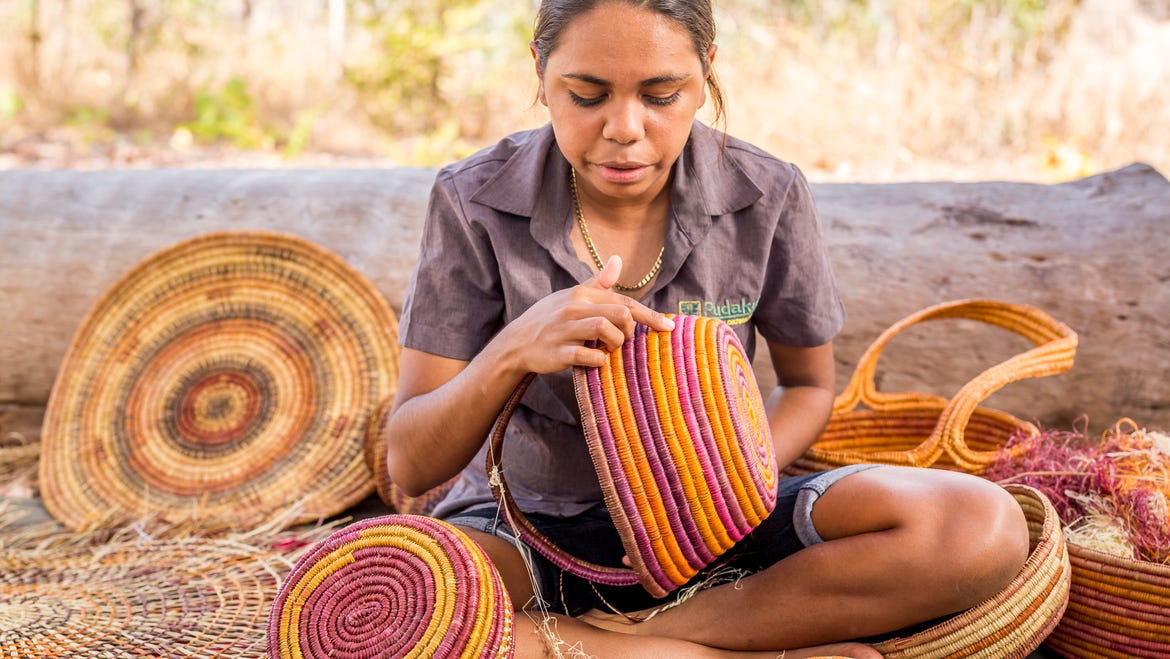 In Kakadu and limited to 25 guests, the Aboriginal-guided and owned Guluyambi Cultural Cruise departs upstream from Cahill's Crossing, the iconic Top End home to many crocodiles. Learn about traditional culture, heritage and how life continues while peacefully cruising up Kakadu's impressively scenic East Alligator River. Pass through pristine water and white sandy banks before disembarking on the Arnhem Land side of the river to partake in a display of traditional hunting.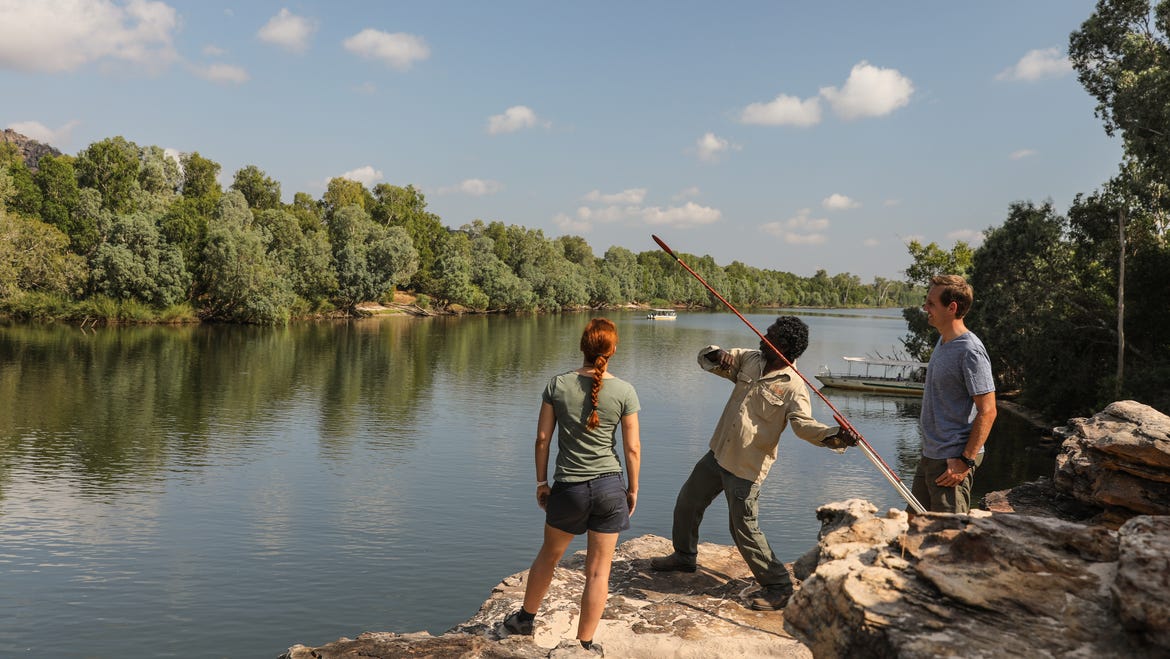 See and learn about seldom visited areas of Kakadu National Park with Aboriginal owned and operated Ayal Aboriginal Tours. Guide Victor Cooper shares his fascinating stories and cultural knowledge of traditional bushfoods, buffalo hunting, rock art and ancestral connections to the country while walking around Gabarlgu Billabong and South Alligator mangrove forests.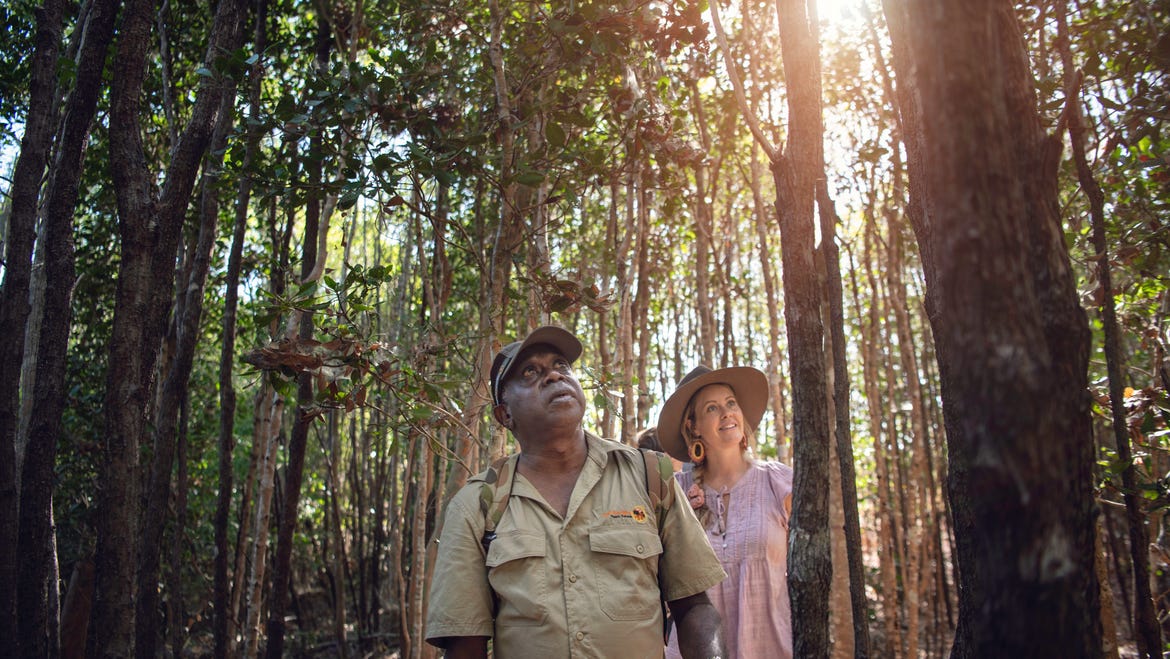 Eco resorts in the NT
Helen and Trevor invite you to escape the stresses of modern living and enjoy life's simple pleasures at Banubanu Beach Retreat, a 15-minute flight from Gove airport in East Arnhem Land. Opened in 2005 in partnership with the local Yolgnu people, the five exclusive, eco-sensitive beachfront glamping suites are set on pristine Bremer Island. They offer everything you need in locally grown seasonal food and sensational, freshly caught seafood, and nothing you don't – no television, radio or telephone. Your only neighbours are the turtles.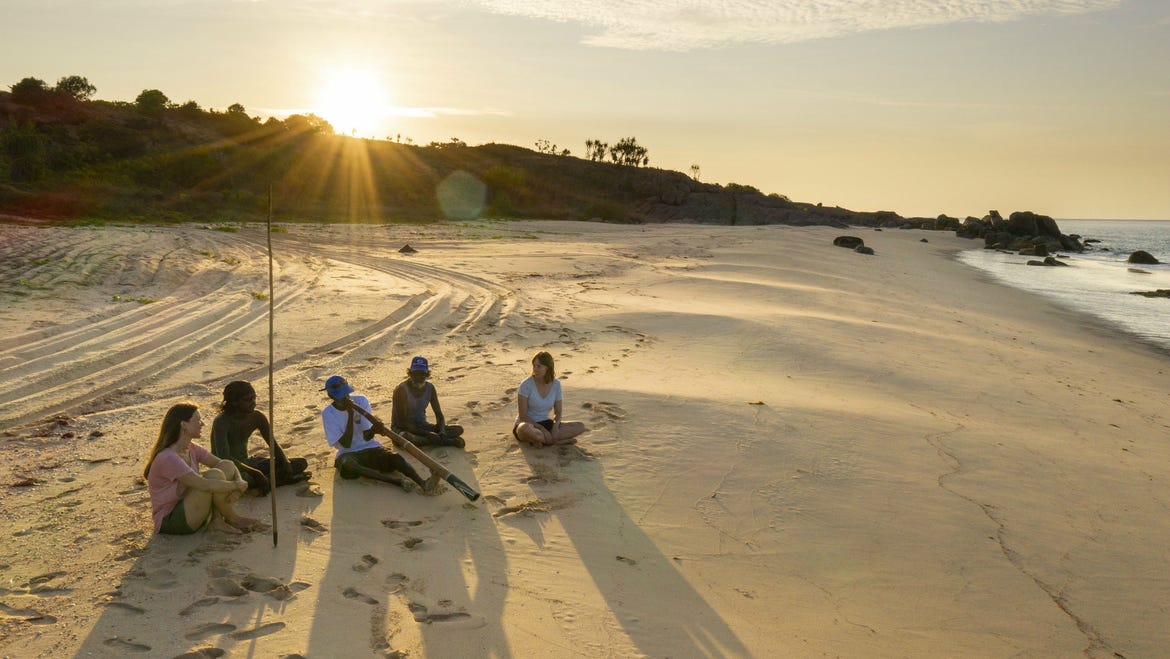 Immerse yourself in the ultimate Territory safari experience at Bamurru Plains. Set on exclusive Top End coastal floodplains on the Mary River, each individual luxury bush suite allows guests (maximum 20) to be one with nature. Wake to the loud calls of kookaburras, honking magpie geese, and whistling kites. Watch thousands of birds take flight as you relax in the prime position of the infinity pool, search for crocodiles while skimming the floodplains in an airboat, enjoy guided walks, or see buffaloes, brumbies, wallabies and dingoes from open-top game vehicles.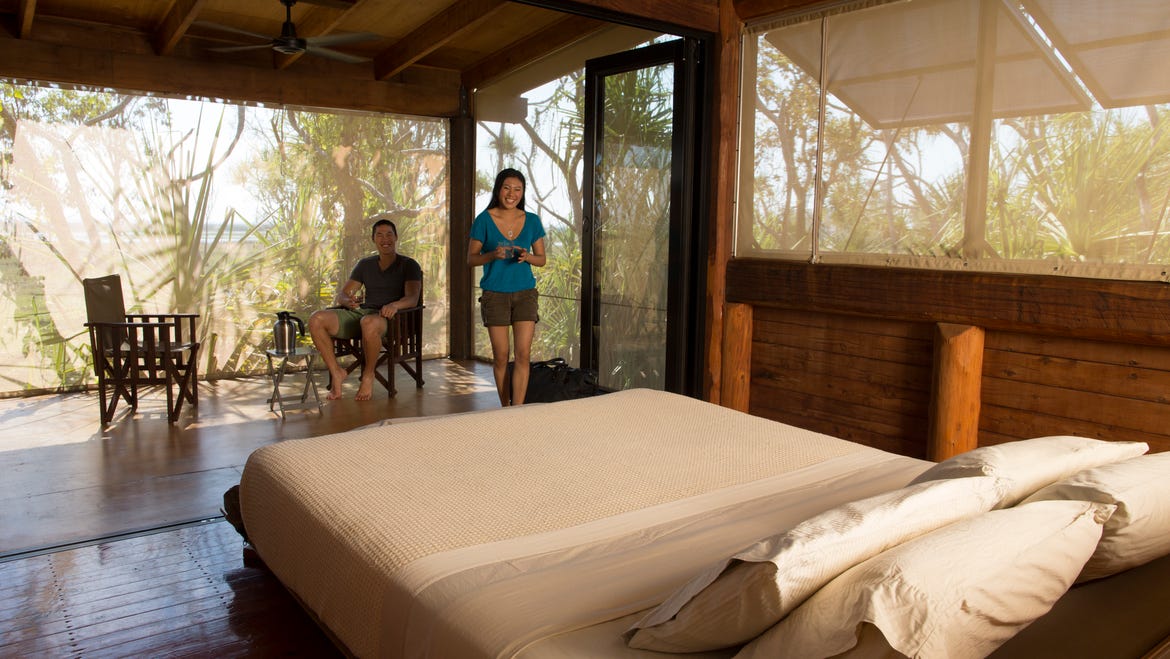 Davidson's Arnhemland Safaris' award-winning accommodation at Mt Borradaile is a registered Aboriginal sacred site. Opened in 1986, it's owned and managed by traditional custodians, the Amurdak people. Appreciate the 50,000 year culture and rock art (home to Mt Borradaile's Rainbow Serpent), connect with nature and enjoy the breathtaking landscapes. Davidson's offer guided tours of the surrounding valleys, caves, peaceful billabongs, stunning paperbark swamps, monsoonal rainforests and wildlife-filled floodplains.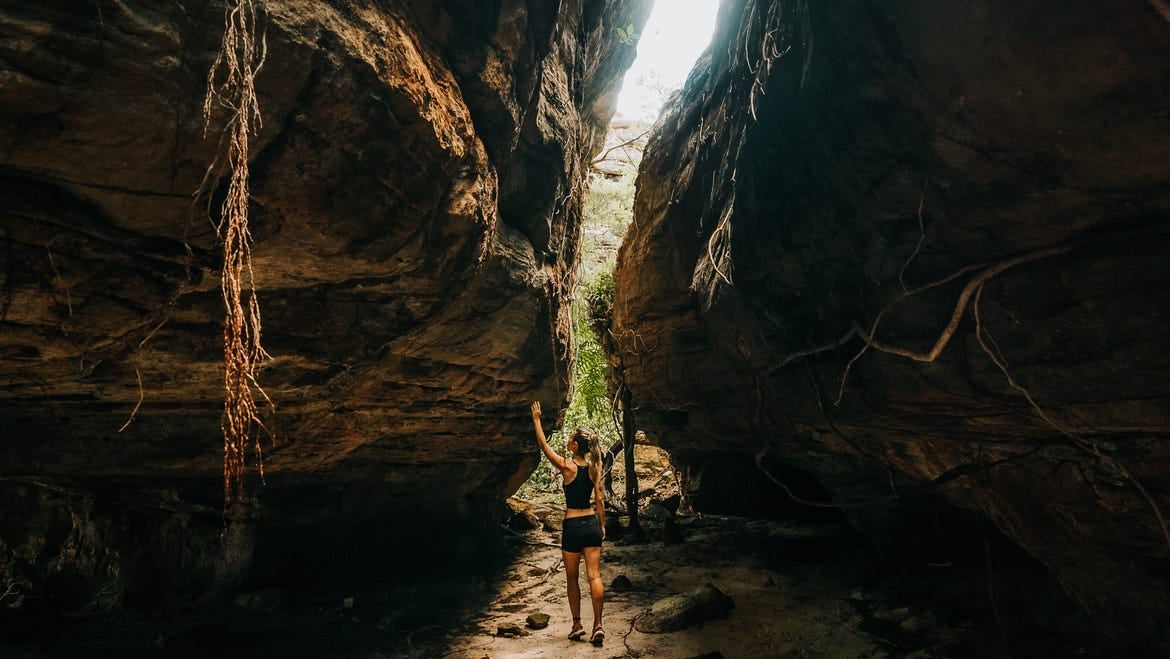 Relax at the luxurious Cicada Lodge, perched on the edge of Nitmiluk (Katherine) Gorge. Open year-round, Cicada's 18 spacious lodges offer unrivalled food, services and amenities. Traditional owners, the Jawoyn people, own and operate 100 percent of Nitmiluk Tours. They invite you to experience the spectacular beauty of the surrounding 13 gorges and cruise, canoe, swim, walk or enjoy a helicopter flight while immersing yourself in their ancient culture.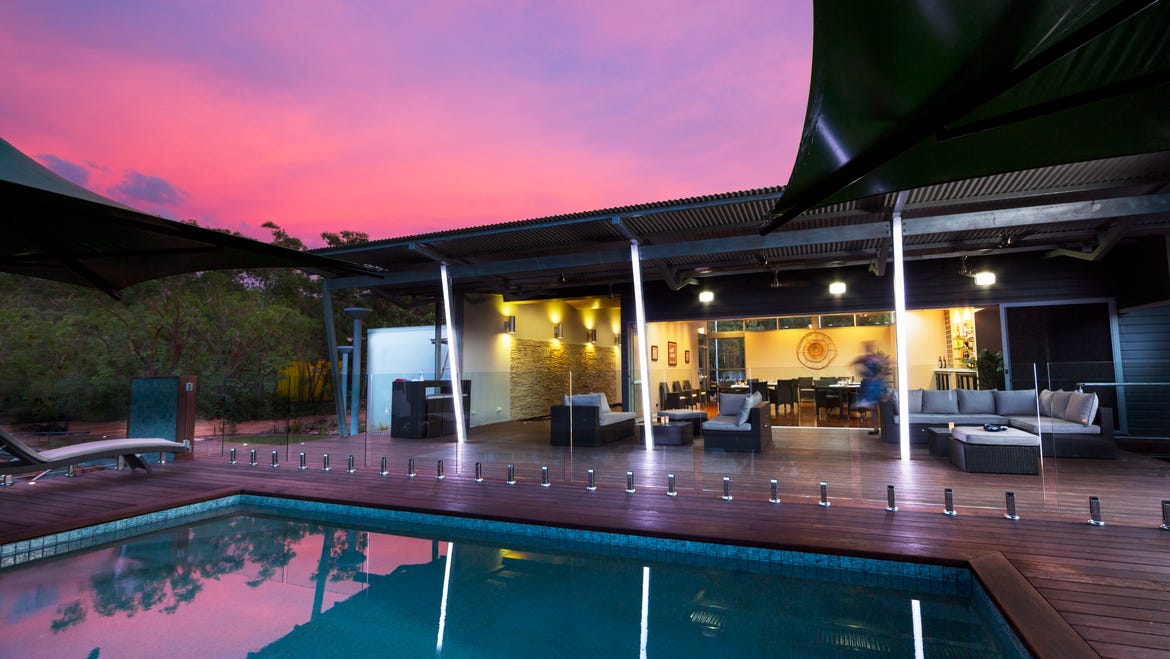 No matter which sustainable experience around the Territory's ancient landscape you choose, you'll not only find contentment and harmony, you're also guaranteed a bucket load of stories to take home with you.
More articles you might like