A local's bucket list for Katherine
While the Northern Territory's world-renowned wonders, wilderness and wildlife are significant drawcards for visitors, to truly experience its heartbeat, discover what the locals love doing.
Nestled alongside the Katherine River, 3 hours' drive south-east of Darwin on the bitumen Stuart Highway lies the Northern Territory's fourth largest town, Katherine. The township is bursting at the seams with impressive cafés, artistic delights and natural wonders.
What to see & do
Katherine's spiritual heart will capture your soul with something adventurous or relaxing around every corner.
The region's drawcard is Nitmiluk (Katherine) Gorge in Nitmiluk National Park with plenty of walking trails and stunning vistas. The Jatbula Trail is fast gaining a reputation within Australia's hiking community for its access to remote swimming holes and moderate difficulty of walking over 5 or 6 days — finishing at Lelilyn (Edith) Falls.
The most peaceful and natural way to discover the ancient gorge system is by canoe. Get away from the crowds and up close to the wildlife, admire the spectacular escarpments and relax on the sandy beaches along the way. Canoes can be hired for half-day, full-day or overnight. Guided canoe tours are also available.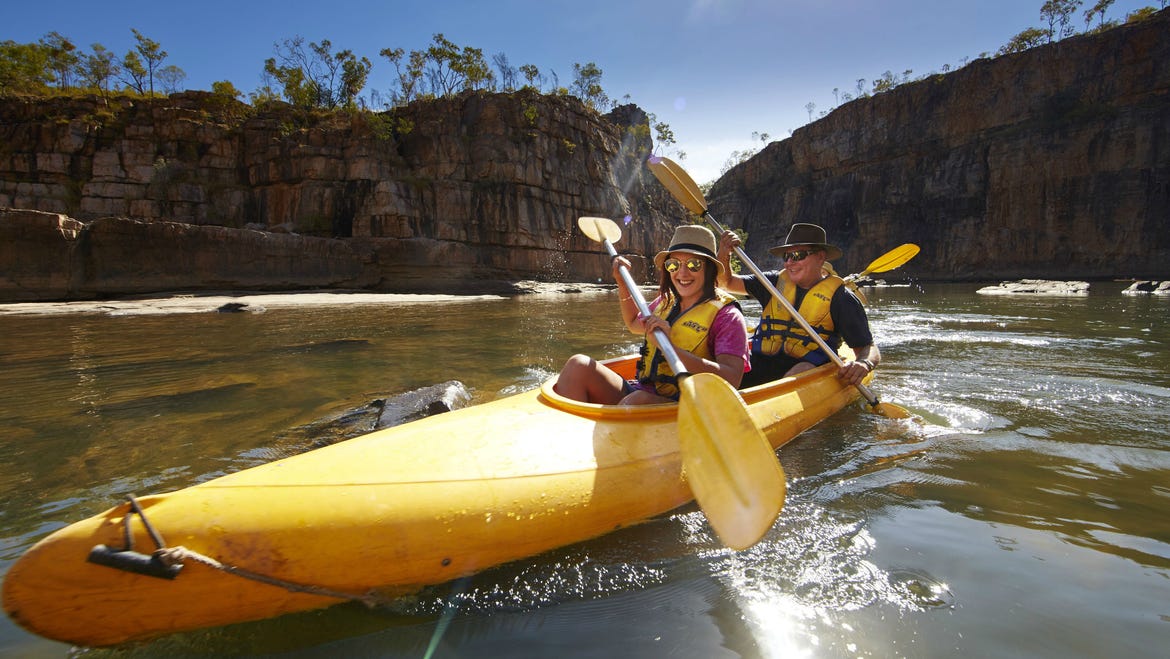 Sit back and take in the contrasts between the sheer, red, sandstone gorge cliffs and white sandy beaches. Magical encounters include the first early morning cruise starting before dawn, witnessing an early morning mist rising over the still waters with the sounds of the wildlife waking up as the sun rises, or enjoy a white tableclothed 5-star dinner on a sunset cruise.
There are also many more equally striking natural areas in and around Katherine to enjoy. Picnic and swim at Katherine Low-Level Nature Park, take a guided tour underground of Cutta Cutta and Kintore Caves, walk or hike through Elsey National Park and soothe the day's activities away in crystal-clear thermal Katherine Hot Springs, Mataranka Hot Springs and Bitter Springs.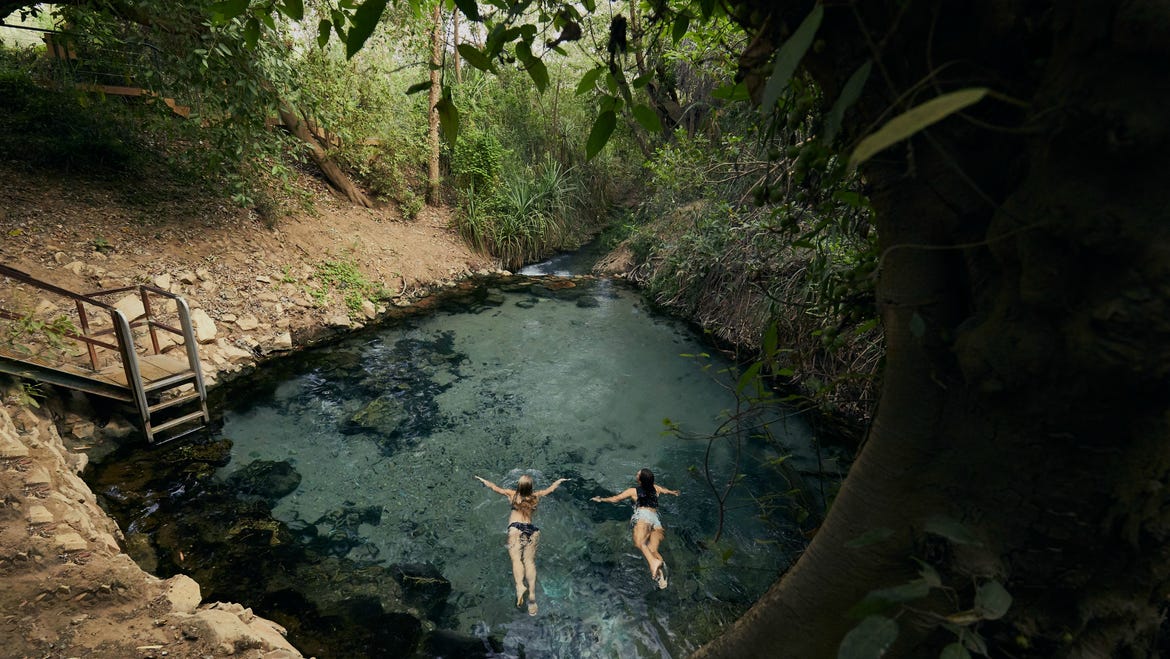 On the drive between Darwin and Katherine Umbrawarra Gorge is a hidden gem with striking red cliffs overshadowing its rocky freshwater swimming holes. Its peace and tranquillity is well worth the 1km walk.
Delve into Katherine's regional Aboriginal culture and discover your creative side producing a Rarrk painting, learn fire-lighting with a stick and spear-throwing and meet the orphan wallabies at Top Didj Cultural Experience and Art Gallery.
Learn what life's like on a station and meet the family at Katherine Outback Experience. See real horse starting and working dogs being trained for life on the land, pat some farm animals, take riding lessons or enjoy a short, guided trail ride. You'll be treated to a country music show too by multi Tamworth Golden Guitar winner singer/songwriter Tom Curtain (he sings while standing on his horse during the daily shows).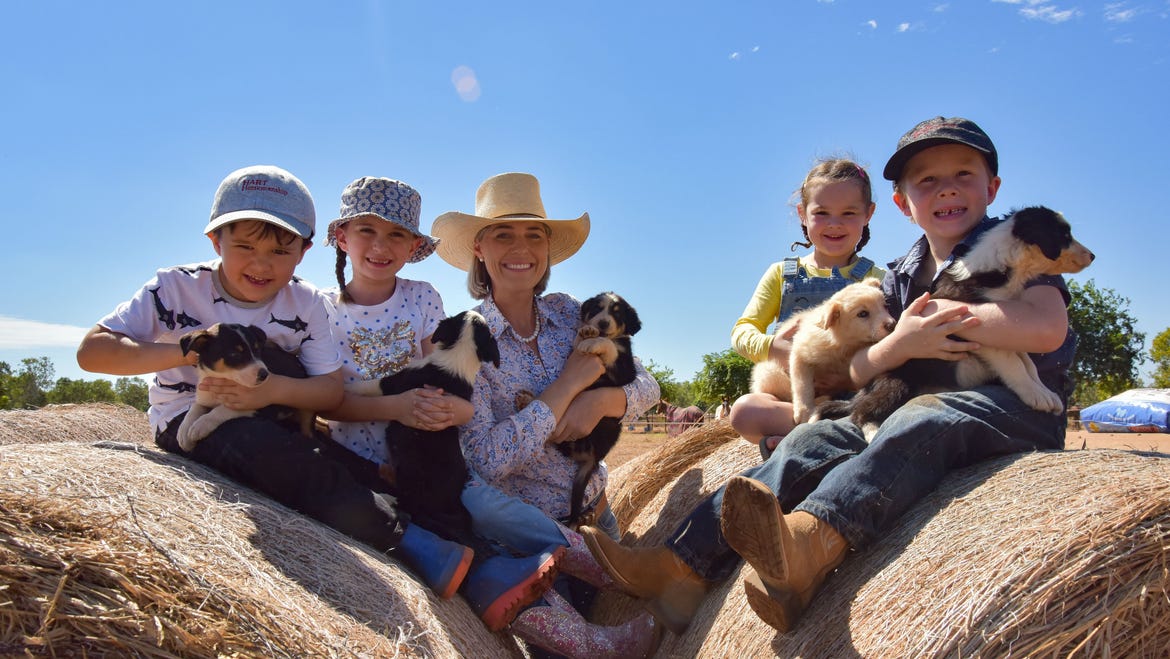 To learn more about the region's history and its people drop into the Katherine Museum — housed in an original WWII air terminal. Inside you'll also find the first flying doctor, Dr Clyde Fenton's 1030s Gypsy Moth plane.
Don't forget to stroll Katherine's arts trail, connecting the culture and history of the area. The giant vibrant new street art on the buildings celebrates significant events and the inspirational people around the region. The trail links Godinymayin Yijard Arts and Culture Centre and Mimi Arts and Crafts. Be sure to check out these local galleries plus Djilpin Arts Centre, The Stockyard Gallery and Gallop Thru & Framing and take home a local masterpiece.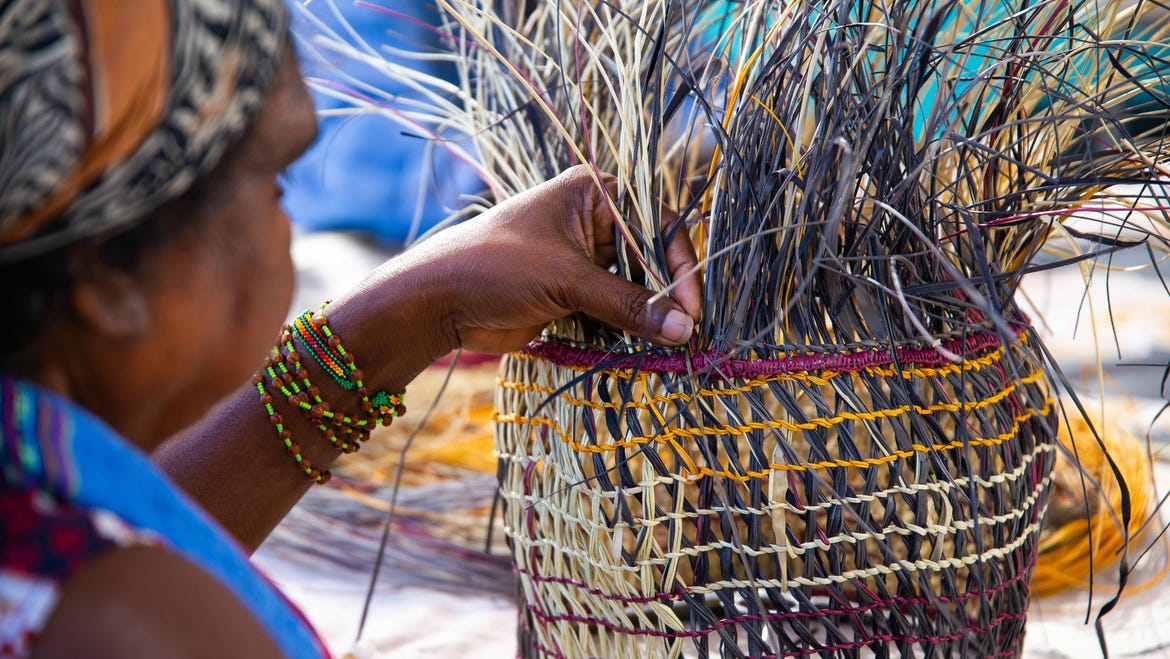 Where to eat
With all this activity, it's no wonder Katherine's foodie scene is so abundant (and healthy!). Start your day with a massive, oozingly fresh toasted sandwich at Black Russian Caravan (yes, they're housed a little old-fashioned caravan) next to the Katherine Visitor Information Centre. If you wait 'til lunch, you can bet the favourites will be all gone.
Enjoy good coffee and fresh homemade cakes in Finch Café's relaxing tropical garden, or a famous salmon stack at Pop Rocket Café above Katherine Hot Springs after your swim there.
Locally owned and operated Barrel & Cruise Bistro and Savannah Bar and Restaurant are also popular dining options offering deliciously hearty, fresh meals and exceptional service. Jatti Poolside Restaurant at Nitmiluk (Katherine) Gorge is also another culinary dinner delight in stunning surrounds.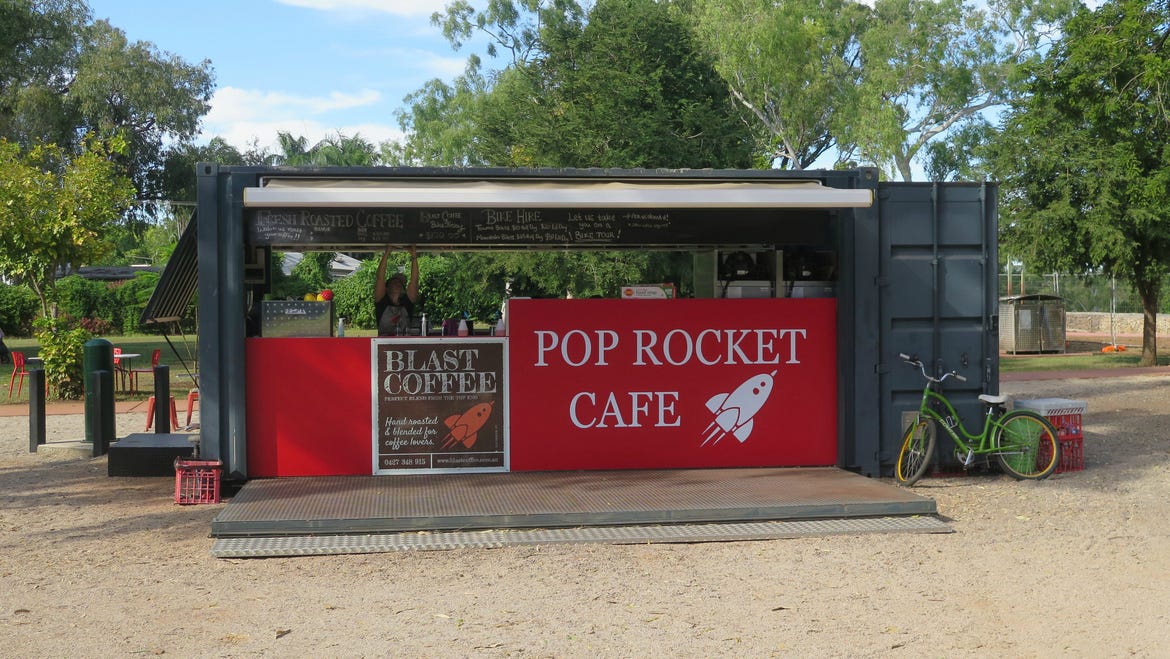 The best camp oven meal under the stars is at Marksie's Stockman's Camp, a traditional, but comfortable back-to-the-bush outback dining experience.
Need a beautifully serene, water-lily rimmed dam-side environment with fantastic food and beverages? Then locally owned and operated Kumbidgee Restaurant on Gorge Road is your perfect location with its modern menu of Australian fine-dining infused with native Indigenous influences.
Another divine 5-star dining option is on a Nabilil Dreaming Sunset Dinner Cruise on Nitmiluk (Katherine) Gorge. And the perfect nourishment stop along the Darwin and Katherine drive is Lazy Lizard Tavern and Caravan Park at Pine Creek. While the food is good, its unique outback design of wildlife images carved into local ironwood and termite mound mud bricks is a must-see.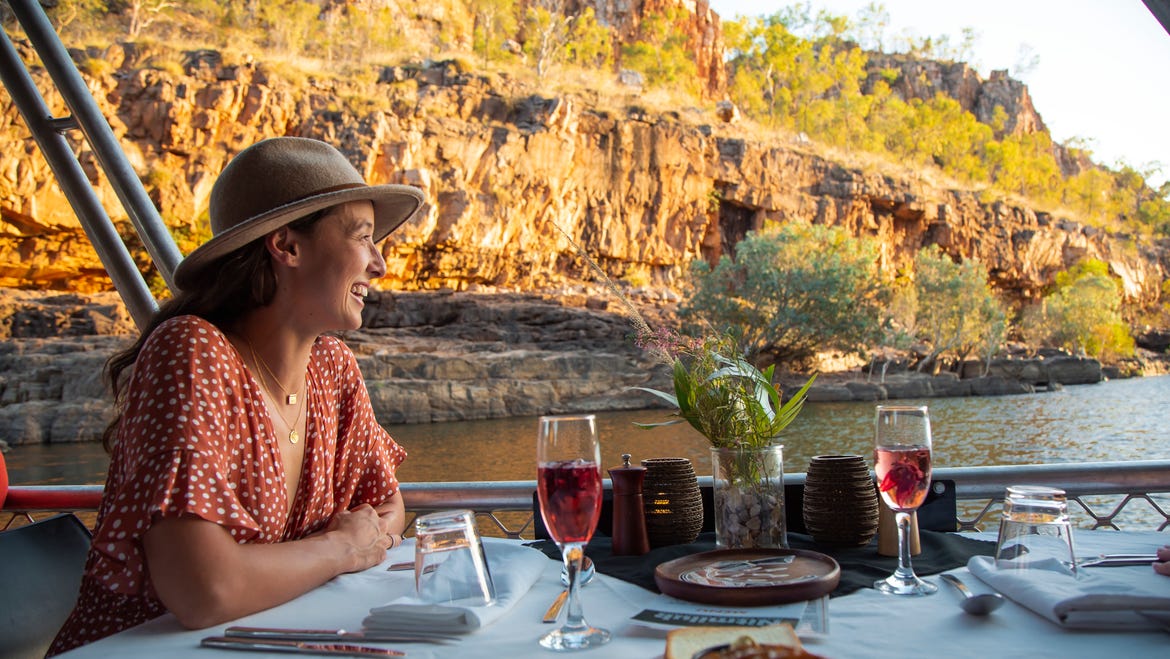 Fabulous festivals & local events
The Barunga Festival, 80km south-east of Katherine is the longest-running NT festival. Since 1985 it has celebrated music, sport, traditional arts and cultural activities over the 3-day long weekend annually in June, with the community's Traditional Owners welcoming an audience of more than 4,000 people.
The Katherine Bird Festival attracts an ever-growing amount of bird watchers worldwide. Held every September its cruising and bird-watching events are centred around activities to educate the vulnerable Gouldian Finch.
The region's most prestigious social calendar day is the Katherine Cup Carnival. Attracting over 3,000 racegoers every August, it's a day when everyone dresses to impress and even though many win, or lose, each enjoys the excitement, enchantment, fun and food of the day's activities.
Check out Katherine and Surrounds for more things to see and do in the region.
More articles you might like