10 unique foodie escapes in the Northern Territory
The Northern Territory is a tantalising feast for the senses. From the Top End down to the Red Centre, tropical coastlines and expansive deserts offer one-of-a-kind experiences and ancient culture.
Among all that vibrant wildlife, natural beauty and endless skies you'll find an authentic and innovative foodie world, where chefs, producers, winemakers and distillers continually step up to the plate.
1. Book a gourmet dinner tour
Darwin's foodie scene has been steadily growing with a thriving café culture, urban beer gardens and modern waterfront dining. But where do you go when you're not a local and short on time? Book lunch or dinner or both and see the sights with Darwin Gourmet Tours.
Led by locals, you'll get to enjoy Darwin's best food in a delicious 3.5-hour easy walking tour or a 3.5-hour taking in the sights and sounds of the best city bars and fabulous street art.
Packed to the brim with a variety of tasting plates, local produce and culture, savour a diverse range of Aboriginal bush foods and regional delicacies like barramundi, crocodile, banana prawns, gold band snapper, exotic tropical fruits and vegetables, native spices and more.
You can even venture off the beaten track to uncover your own oh-so-cool bars, each with their own distinct character and charm, and walk off a few calories while you're at it.
2. Have a laksa for brekkie, lunch, and dinner
Laksa's a food cult here in Darwin. Everyone's obsessed with who does the best. With a bit of insider knowledge and an app (available year-round) to locate Darwin's finest noodle bowls, you're all set for your own taste sensation adventure.
Swap out your smashed avocado on sourdough for a laksa from Mary's Laksa at the Parap Markets. Here, you can spend a Saturday morning working up an appetite browsing hundreds of stalls selling all manner of local wares, arts, crafts, clothing, souvenir and food stalls.
Head straight to Chok's Place for its soup-reme signature dish, which won the Golden Bowl and People's Choice at the 2022 Darwin International Laksa Festival. This month-long event is held in November each year with venues in Katherine, Alice Springs, and Nhulunbuy all getting in on the act to compete for the title of Best Regional Laksa.
A Darwin favourite for coffee, the Kopi Stop does a mean laksa as does Lazy Susan's Eating House & Yum Cha. Do not go home before sampling the crackling pork laksa from BBQ Lady at the Rapid Creek Markets. You will be a convert forever. 
3. Experience Darwin's multi-cultural dining scene
Darwin offers a mind-blowing array of international culinary styles where chefs squeeze the best out of seasonal ingredients and blend exciting flavours.
Check out the award winning Hanuman for its sensational menu of Thai and Indian cuisine. The Hanuman dining room with it dramatic high ceilings, mood lighting and Hindu iconography peppered around the room, also plays its part in making the entire experience special.
Be transported to lands far away at Moorish with an international menu of small tapas bites and larger plates that include daily Moroccan tagines, Portuguese seafood hot-pot or dukkah-crusted steak.
Combing ancient cooking techniques from the hill country of Sri Lanka with bold, modern flavours, diners at Ella by Minoli can expect decadent curries, cheeky salsas, sensational spice mixes and creative cocktails.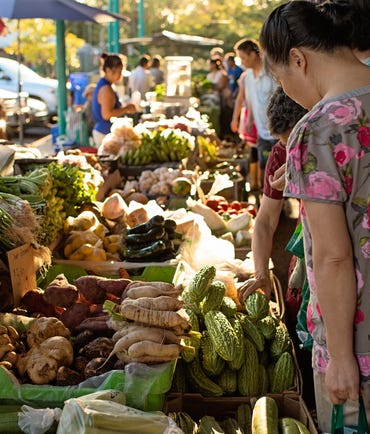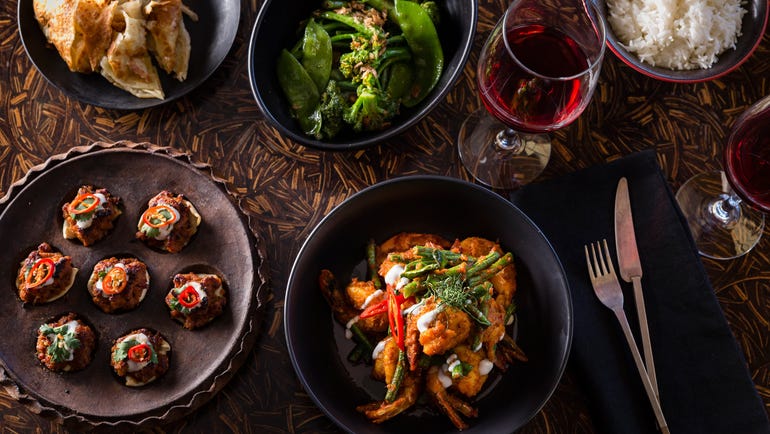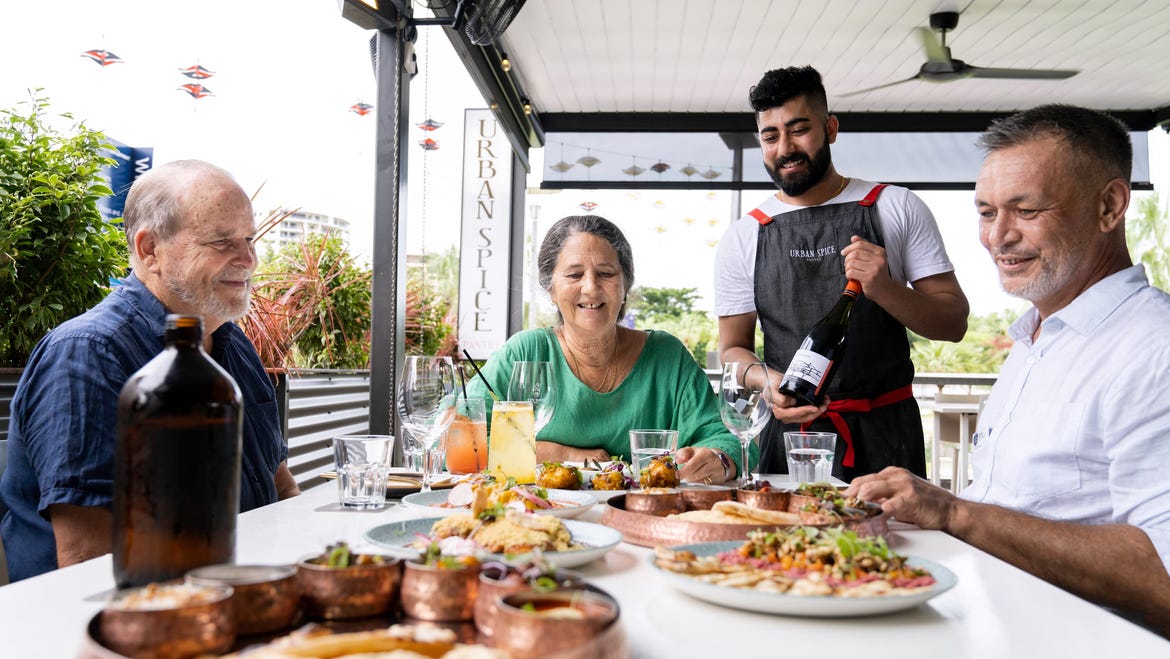 4. Try a bushfood inspired brunch
Bush tucker is a delicious part of everyday life. Start your journey learning and tasting your way through Indigenous cuisine and culture in the Territory.
At the Aboriginal Bush Traders café, opposite Tourism Top End in Darwin's CBD, the unique characteristics of locally sourced native ingredients transform an ordinary café toastie into a foodie's definition of heaven.
Tuck into something next level with their breakfast and lunch plate experiences. With dishes like buffalo and egg wrap with bush tomato relish and native fruit-infused granola with yoghurt for breakfast and roasted kangaroo with bush spices and Pavlova nest with rosella cream and flower on offer at lunch, it's better for your waistline to go on different days.
Down in Alice Springs learn first-hand how to cook kangaroo tail with a local Arrernte guide on a Cultural Immersion Experience at Standley Chasm Angkerle Atwatye.  You can also gain insight into bush tucker and bush medicine and the Arrernte culture, along with morning tea and lunch and a dot painting workshop, in the Cultural Experience and Aboriginal Art Tour. Call 08 8956 7440 to check availability. 
5. Enjoy a strong café culture
Right across the Territory funky venues have been popping up all over the place, reflecting the style and sophistication of our southern cousins. Don't worry … you can still get a bacon and egg sanga, up here. It may just come on organic sourdough.
Check out the Darwin city hipster hangouts The Rabbithole and Laneway Specialty Coffee with its industrial chic vibe in Parap. Relive the best of the 80s and test your friendships with board games at the funky Mad Snake Café, or get some respite from the heat and a very fine brownie at Eva's Botanical Gardens Café.
Enjoy a slice of café life in Alice Springs. Some of the best options include the industrial themed Watertank Cafe, Epilogue Lounge, which doubles up as a bar at night, and Page 27 Café with an emphasis on fresh, flavour filled ingredients in all of their dishes.
Sink your teeth into a smokey bean jaffle or ham toastie dripping with cheese, washed down with a latte, at the quirky and cute Black Russian Caravan Bar. It's the perfect place for a road trip stopover with tasty treats served hot from a retro pop-up van in the grounds of the Katherine Visitor Information Centre. You can also sit outdoors at Finch Café, a popular spot on the main street.
6. Sip your way through the best bars
Whether you want a fine wine, cocktail concoction or gin blending experience to rival that of Melbourne, we've got you covered with some of our coolest and hip laid-back bars.
Feeling like a mad scientist? Treat yourself to an evening of unbridled fun as you taste, create and blend your own gin recipe at Charlie's of Darwin - a restaurant, bar and on-site distillery all rolled into one and conveniently located in the heart of Darwin.
Learn about the ingredients in the spirit you're drinking, like punchy desert lime, at Willing Distillery, a chic artisan distillery, cellar door and cocktail bar in Darwin's trendy industrial district.
Nestled in Darwin's backstreets and laneways are the Loading Bay, Babylon Bar, Stone House, a cute little wine bar that oozes Parisian charm, and the moody 1920s prohibition themed Hanky Panky Lounge, which serves cocktails, top-shelf wines, champagnes and spirits.
It's all about the vibe in Alice Springs. Take your pick of tapas and gin at The Locals, or drink and dance the night away on the rooftop at Epilogue Lounge.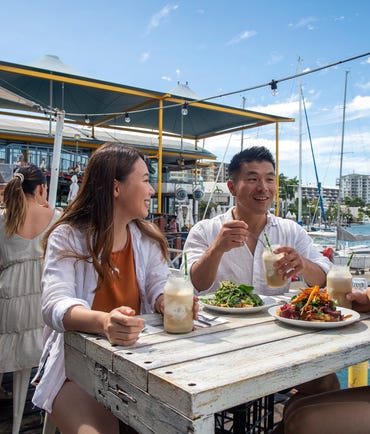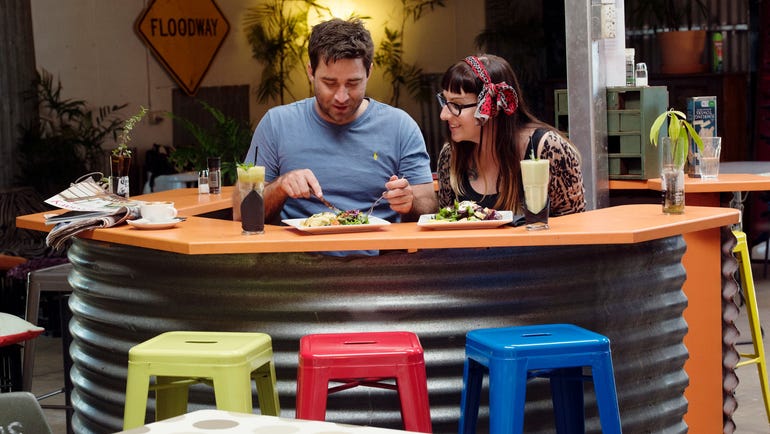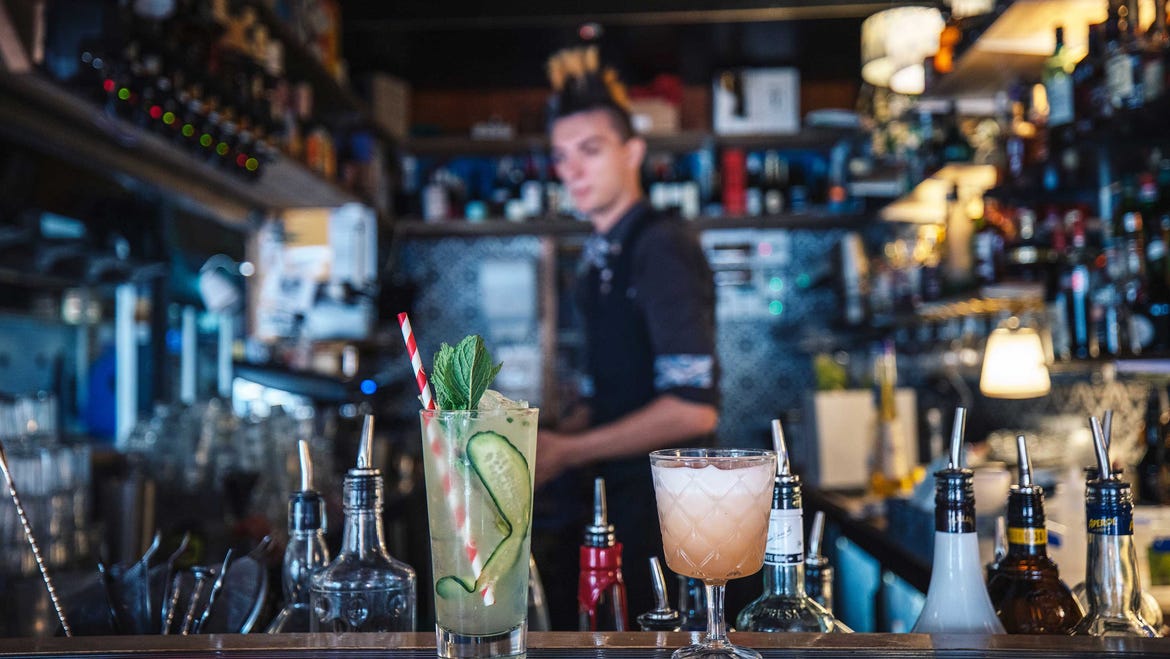 7. Celebrate with a craft beer
Quench your thirst the Territory way with a slew of locally-made light, crisp and refreshing ales that are deliciously juicy and easy to drink on a tropical summer day. 
You'll find craft beer, cider and ginger beer at the Territory's oldest brewery, One Mile Brewery. With Oktoberfest celebrations to rival that of Germany, plate tastings, cider slushies on Saturday and pizza made to order when the cellar door is open, this is the place to toast your decision to come to the Territory.
Right in the heart of the Darwin CBD, Six Tanks Brew Pub is a micro-brewery, bar, and kitchen that serves regular Aussie beers and their own hand-crafted brews directly from the six onsite beer tanks.
Grab a craft beer in the bush at the Purple Mango Café and Brewery, on the outskirts of Darwin. The wood-fired pizzas are out of this world.
You'll even find craft beer at the remote Daly Waters Pub, just off the Stuart Highway, about 589km south of Darwin. Brimming with character with bras of all shapes and sizes adorning the bar and other treasures left behind by visitors, it is a welcoming outback waterhole and place to stay after a long drive.  Unroll a swag, pitch a tent or book a room. 
8. Dine under the stars
We don't like to brag but the Territory does dining under the stars better than anywhere else. With a host of pre-dawn and night-time culinary options the Red Centre is being transformed into a foodie destination. Best of all they're open all year round!
Considered the first under-the-stars dining and touring experience in Australia (and perhaps the world), the Sounds of Silence al fresco dinner under a sparkling outback sky has become a tourist attraction in its own right. It's certainly one of the most unique dining destinations. You can also add on a self-guided walk through the Field of Light art installation to your dining adventure in the once-in-a-lifetime 'A Night at Field of Light'.
Experience the tranquillity of the pre-dawn land under a canopy of stars with the Desert Awakenings tour. As you watch Uluru and the distant domes of Kata Tjuta come into view, you'll enjoy a traditional Aussie breakfast of bacon and egg rolls, tea, coffee and homemade damper with golden bush honey in the open air. 
Experience the spirit of the outback at Alice Springs Earth Sanctuary's award winning dinner and show. As the sun slips over Eastern MacDonnell Ranges and the stars come out one by one, your hosts will captivate you with stories ranging from local ecology, culture and astronomy. This tour is only available for group bookings (minimum 15) or events only.
9. Catch and cook your own barra
Fish all day and feast all night like a Territorian. You can do it yourself or better still book a package with Wildman Fishing Tours in the Top End. 
Enjoy a day's fishing chasing wild barramundi, and drop in a few mud crab pots for luck. One of Wildman Fishing's expert guides will ensure you have a great time on the water at either the Mary, Finniss or Adelaide rivers or Darwin Harbour. 
After a day's fishing, you will have worked up an appetite. Luckily, a table has been reserved at one of Darwin's top restaurants, where you will enjoy a delicious spread, including your barra or the sweet, rich flesh of a Territory mud crab if you were lucky enough to catch one.
If you're keen to do your own cook-up after a hard day's fishing, join Airborne Solutions for their half or full day Heli Fishing packages. Accessing remote fishing spots in a helicopter, this is your chance to land a big one. The guides might even reel in a tasty fish recipe for you, too.
Explore more hot spot destinations that offer great fishing. They're well serviced by a full range of tourist facilities along with expert fishing guides and unique accommodation with fishing services such as fuel, food, repairs and supplies.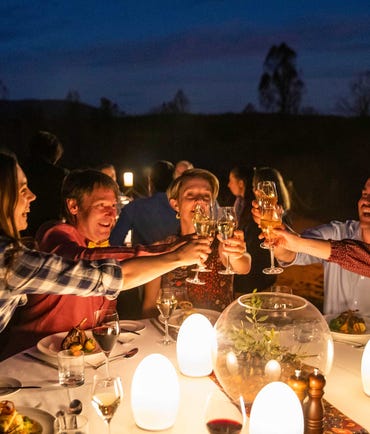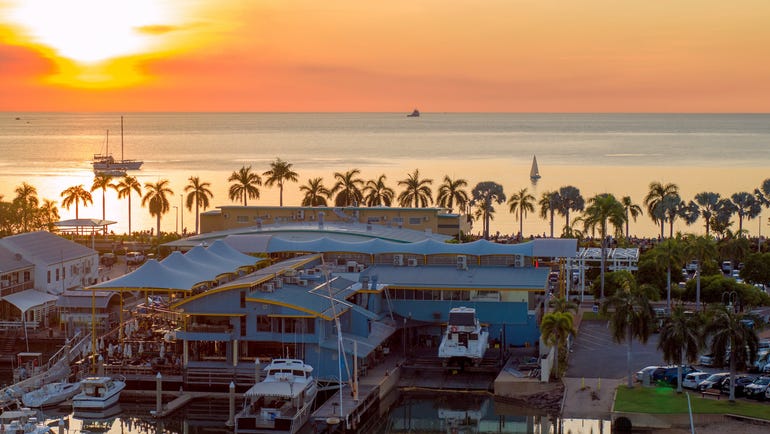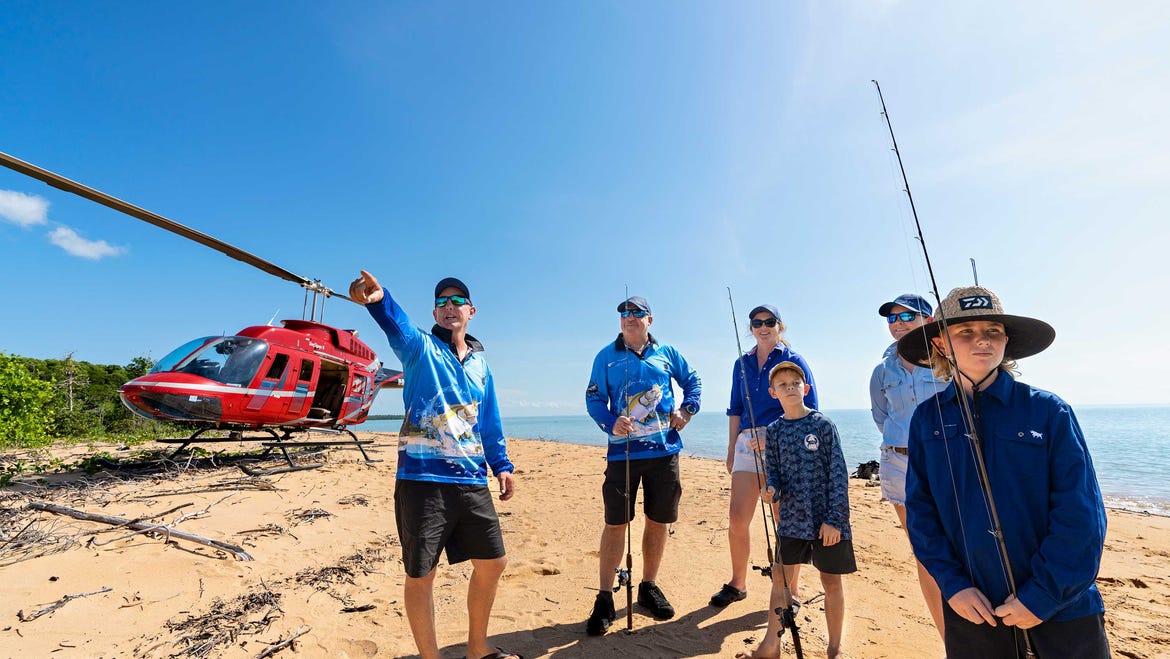 10. Dine out with a scenic waterfront view
Darwin turns the dining style up to sizzling with top experiences and restaurants that know how to be indoor and outdoor, depending on the time of the year.
With its sweeping views across Fannie Bay to Darwin, Pee Wees at the Point is the ideal place to make the most of the balmy, tropical weather. Sitting at tables on the water's edge under native fig trees, this upmarket restaurant serves innovative Top End favourites like buffalo carpaccio, tempeh bao buns, crocodile wrapped in betel leaf.
Wharf One Food and Wine Restaurant's demonstration kitchen at the Darwin Waterfront is a hands-on foodie experience, explaining how to cook and eat the iconic barramundi. Specialising in Modern Australian cuisine, the wood-fired king prawns are to die for.
Reserve an outside table in the beautifully refined setting of il Piatto, tucked away in Mindil Beach Casino Resort, and watch the sky over the Arafura Sea turn from dusky pink to vermillion red while enjoying a little taste of Italy.
It's not fine dining but you'll get million dollar views while sipping a glass of bubbly as the sun dips below the horizon on an all-inclusive sunset tour with Darwin Harbour Cruises. Tours close from 1 December 2023 to 12 February 2024. 
More articles you might like