Beaches
in the Northern Territory
Discover the Northern Territory's vast coastline and remote beaches, and some of Australia's best boating, fishing and beach-combing opportunities.
The Northern Territory has some of the most pristine coastlines in the Australia. Almost 11,000km of them.
With much of the coastline away from the population centres, the expansive shores and beautiful wildlife offers an unspoilt paradise perfect for exploring.
While the beaches are incredibly beautiful, it's not always safe to swim or surf. Crocodiles, Irukandji (box jellyfish) and other marine threats frequent our waters from October to May, so make sure you follow all signs and only swim where it's safe to do so.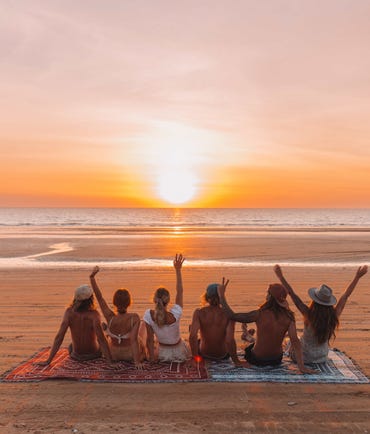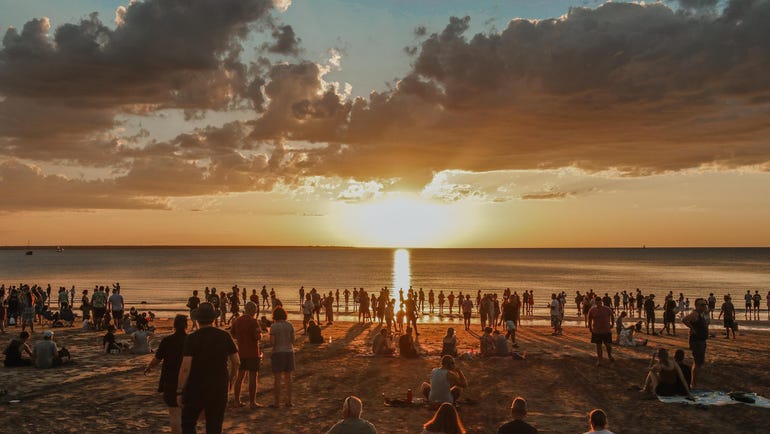 Beaches in Darwin
Lameroo Beach
Darwin City is one of the few capital cities in the world with a beach just a short walking distance from the CBD. Lameroo Beach is accessible by stairs from Bicentennial Park on the Esplanade that take you through tropical rainforest to a rocky tidal zone. It's the original home of the ocean baths that operated between 1922 and 1974 and a significant part of Darwin's wartime history. Swimming is not recommended here as there's no lifeguard on duty and crocodiles and Irukandji (box jellyfish) are common.
Darwin Waterfront
For safe swimming year-round, the recreation lagoon and beach at the Darwin Waterfront is a family-friendly spot to enjoy a dip on a hot day. The beach is patrolled by lifeguards 7 days a week and is protected from crocodile visitors and stingers by a seawall.
If you prefer waves with your beach, the Waterfront Wave Pool is a great option. Go for a swim, float in an inflatable tyre, ride a wave on a boogie board or just laze under a beach umbrella. There's also a toddler play area for smaller swimmers to enjoy the water. Waves cycle through a 10 minutes on – 20 minutes off.
When you're done swimming, try one of the many restaurants and cafes at the Waterfront Precinct or nearby at Stokes Hill Wharf.
Cullen Beach
Located in Cullen Bay, Cullen Beach is a hugely popular beach for families to enjoy a picnic. Grab some fish and chips, or treat yourself and organise a prepared picnic with an assortment of platters. With a large-grassed area bordered by palm trees and around 250m long, it's small, but the view is spectacular. This beach isn't patrolled so it's safest to stay out of the water.
Finish your night off with a stroll along the canal boardwalk and pose for a picture with the big bronze crocodile.
Mindil Beach
Just outside of the city, Mindil Beach is most famously known for the sunset markets that run between April and October. It's common for visitors to grab a bite to eat, find a spot on the beach and watch the spectacular sunset over Fannie Bay. It's also a common spot for swimming between June and September when it's patrolled by lifeguards from 2pm and 6pm each day (Monday to Wednesday on incoming tides only).
When you're done, wander over to the Mindil Beach Casino, the George Brown Botanic Gardens or even the Gardens Park Golf Course. All have food and drink options available.
Bundilla Beach (Vesteys Beach)
Further along from Mindil Beach is Bundilla Beach – formerly known as Vesteys Beach – a great spot for a beach walk and to watch the world go by. Bundilla Beach isn't patrolled by lifeguards so it's best not to swim here.
Instead, why not wander down to the Museum and Art Gallery of the Northern Territory or grab a beer at the Darwin Ski Club, Darwin Sailing Club or Darwin Trailer Boat Club? All three clubs offer brilliant sunsets, great meals and regular live music that you can enjoy near the shore.
East Point Reserve
East Point Beach is the most frequently visited part of the East Point Reserve and is great for a dip during the Dry Season. It's patrolled on Sundays during the Dry and is surrounded by walking and cycling paths, playgrounds, fitness equipment, picnic tables and BBQs, water fountains and toilet facilities. A food van sets up in the main carpark during the dry season for your coffee and toastie start to the day.
Just behind the beach is Lake Alexander, a popular spot for swimming, canoeing and kayaking. The Mangrove Boardwalk is nearby, giving visitors the chance to explore a section of natural mangroves on a steel walkway. Stay quiet and still to see birds, fish, crabs and other animals going about their day.
Nightcliff Beach
The Nightcliff Foreshore is one of the most popular picnic spots in Darwin. With full walking and cycling tracks, the Nightcliff Pool, outdoor exercise stations, playgrounds and the beautiful Nightcliff Jetty, the whole family can stay entertained.
Food vans are regular visitors to the foreshore with 5 different regular spots set up from the jetty through to Rapid Creek. Pasta, coffee, crepes, ice cream, potatoes, Thai food and fish and chips are all on the menu. Grab a bite to eat, put down your picnic blanket and watch the sunset.
Casuarina Coastal Reserve
Casuarina Coastal Reserve is an 8km section of beach between Rapid Creek and Buffalo Creek with plenty of spots for swimming, picnicking and checking out nature. The reserve boasts many different natural habitats including beaches, mangroves, monsoon thickets and paperbark forests and sandstone cliffs with walking and biking trails and picnic areas dotted throughout.
The Casuarina Beach Dog Park is an expansive off-leash area for your furry friends. Come at low tide and it seems like the beach is endless. From the dog beach, you can head towards the Dripstone Cliffs, a rocky outcrop which makes a stunning backdrop for family photos.
Next to Dripstone Cliffs, you'll find the Casuarina Surf Life Saving Club. The club is surrounded by a grassed area great for picnics and is a popular spot for weddings and celebrations. A small café operates daily offering cuisine from around the world, fantastic coffee and regular entertainment. The beach itself is patrolled for swimming on Saturdays and Sundays during the dry season.
There are hiking tracks, mountain bike tracks and military relics across the reserve right through to Lee Point Beach, where you'll find a picnic area, BBQs and toilet facilities. The beach is great at low tide when the rock pools come alive with crabs, fish and unique sea creatures. Lee Point Beach is not patrolled so it's best to stay out of the water here.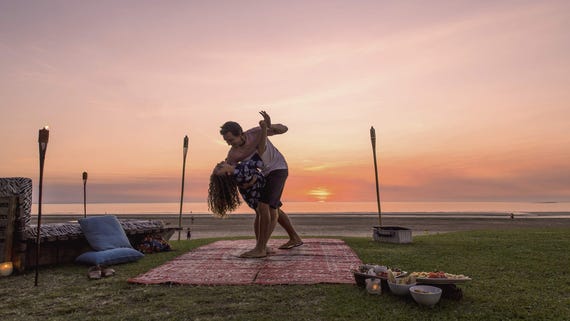 Beaches near Darwin
If you want to get away from the hustle and bustle, there are plenty of great beaches to enjoy outside of Darwin.
Check before departing if you need a permit to access your destination.
Bare Sand Island (Ngulbitjik)
Bare Sand Island, located a short boat ride from Darwin, is the nesting place of flatback and Olive Ridley turtles. This is a protected marine area and a delicate ecosystem so only approved boat tours can take passengers. Turtle Tracks offers tours to Bare Sand Island where you can learn about turtles, the wartime history of the area and Aboriginal culture. Go at the right time and you can see turtles laying eggs or hatchlings making their way out to sea. These tours are very popular so book early to avoid disappointment.
Tiwi Islands
Just like the other islands off the Territory's coast, the Tiwi Islands are home to some spectacular beaches. They're the ultimate spot for a sunset after a hard day of relaxing. Swimming at the beaches on the Tiwi Islands is not recommended so staying safe at the Tiwi Island Retreat is a good option. You can swim in safety while still enjoying the beach view.
Just a short flight or a 2-hour ferry ride from Darwin, the Tiwi Islands is great for a short getaway. There are plenty of fishing and scenic flight options on the Tiwis too, as well as Aboriginal art and cultural activities.
Make sure you grab a permit from the Northern Land Council before travelling.
Gunn Point
Gunn Point is a favourite spot of many Darwin locals accessible by road. Camping on Murrumujuk Beach is no longer allowed, so the best spots are 10m back from the cliff edge to the area from erosion. Camper trailers and caravans are not permitted on the beach or the cliff edge. Driving is allowed on the beach for registered vehicles at your own risk.
You have to be completely self-contained at Gunn Point as there are no facilities. That means you have to bring all your food and drinking water and take away all your rubbish and human waste.
Swimming is not recommended here but if you have a boat, you can take advantage of Saltwater Arm and Leaders Creek boat ramps just a short drive away.
Wagait Beach
Wagait Beach is located on the Cox Peninsula and is a 90-minute drive from Darwin or a 20-minute ferry ride from Cullen Bay. Beachfront Beauty offers basic beach camping spots. Pay $10 for swags right through to campervans. The on-site facilities include a communal kitchen, shower, laundry, swimming pool and a boat ramp. Book fast to secure your spot.
You can go exploring along the coastline, watch the sunset or go further inland and check out some of the wartime relics. There's plenty of history to see in this area. Fishing on the Mandorah Jetty is popular and accessible all year round and gives a brilliant view back to Darwin, particularly at night.
Crab Claw Resort
Crab Claw Island Resort is a family-friendly resort offering camping and cabins less than 100m from the water's edge. Getting to Crab Claw is the fun part – it's just an hours' drive from Darwin, or you can take a scenic flight or skipper your boat straight to the resort.
There's plenty to do at Crab Claw. Take advantage of the swimming pool, go bush walking, fishing, bird watching or just relax by the beach. If you don't have your own boat, hire one on-site and explore the area. There's a restaurant and bar in the resort so there's no rush to head home.
Dundee Beach
Just a 90-minute drive from Darwin is Dundee Beach where some of the Territory's best fishing and camping awaits. Explore the beach for yourself, drop a line and stay at one of the local accommodation spots including the Dundee Beach Holiday Park and Sholly Shack.
If you don't have your own boat, you can hire one and go fishing or let the experts guide you with a full-day barramundi or reef fishing charter, or even a week-long extended charter. If that doesn't suit you, how about a fish and feast charter that brings you back to Darwin and has one of our best restaurants cook your catch?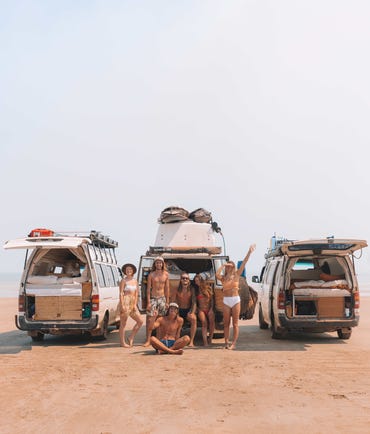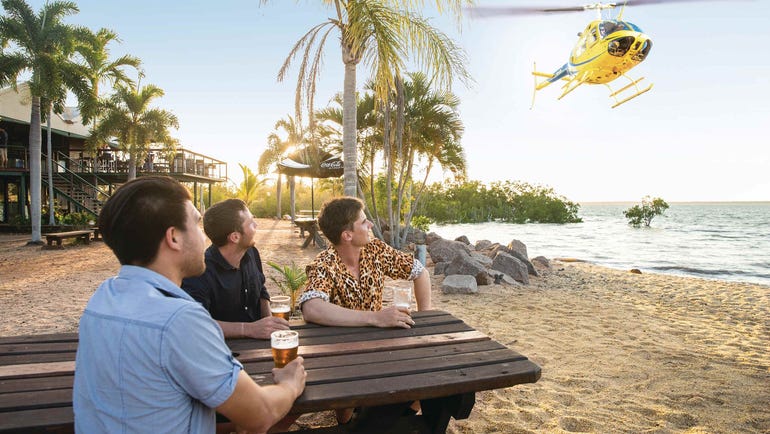 Beaches in Arnhem Land
Nhulunbuy
The closest beach to town, Gadalathami (Town Beach) is the only patrolled beach in Arnhem Land. Between May and October, local lifeguards are on-site so you can swim and surf.
There are plenty of other beaches to explore in Nhulunbuy including Garanhan (Macassan Beach) where Yolngu people traded trepang and turtle shells in the early 20th century. Camping is allowed here with a permit and there are picnic tables, fire pits and composting toilets.
Banambarrna (Rainbow Cliffs) is another magnificent beachside location with 40m-high sheer cliffs to see. The top of the cliffs is a sacred site so stick to the beach. Both Wirrwawuy (Cape Wirrawoi), Middle Beach and Galuru (East Woody Beach) are great for a stroll along the white sand.
You don't need a permit to access the Nhulunbuy township, but you do need a permit to visit these beaches (except Gadalathami).
Bremer Island
To see some of the most sparkling blue water, a trip to Bremer Island is a must. Take a day tour from Nhulunbuy and within 45 minutes, you'll be beachside. A licensed restaurant at the Banubanu Beach Retreat will make your relaxing day even better.
Want to make the trip last longer? Enjoy some ocean-side glamping at the retreat. Guest numbers are limited to 12 people at any one time so you'll need to book ahead.
Seven Spirit Bay
In the most remote national park in Australia, you'll find Seven Spirit Bay – a wilderness lodge only accessible by boat or air. You'll travel through tropic forest to get to the lodge located right on the beach, overlooking the reefs of Coral Bay.
From the lodge you can arrange marine wildlife spotting cruises, 4WD wilderness safaris, historical tours, half-day fishing charters and guided nature walks. You'll need to book ahead to experience this magnificent hidden gem.
Groote Eylandt
Groote Eylandt is the largest of a 60-island archipelago located about 600km from Darwin. It's home to a host of protected species including the northern quoll, a nesting site for Green and Hawksbill turtles and has Aboriginal rock art sites that many people never get to see.
The beaches are spectacular on Groote but they're not safe for swimming so stick to the Groote Eylandt Lodge pool or one of the inland swimming spots such as Leske Pools or Naked Pools. You'll need to get a permit from the Anindilyakwa Land Council before heading to Groote Eylandt.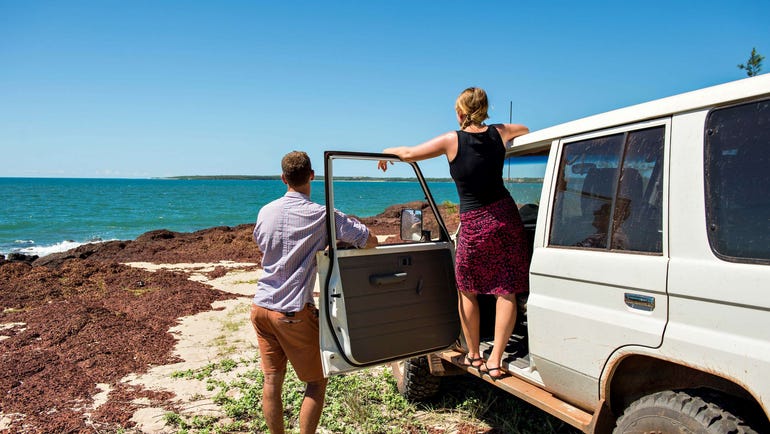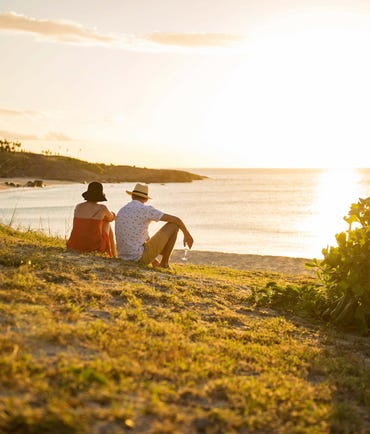 Safety information
While the Territory's beaches are incredible, they're not like beaches in the rest of Australia.
Crocodiles
We have a thriving population of crocodiles who make themselves home at our beaches. They're stealth hunters, so stay aware when swimming and remember to stay CrocWise.
Jellyfish
Irukandji (box jellyfish) are often found in Top End waters during the wet season between October and May. These jellyfish are deadly so it's best to avoid the water during these times.
Tides
If you're inexperienced in the ocean, it's best to swim at beaches patrolled by lifeguards. Oceans can be unpredictable and riptides and strong currents can take swimmers by surprise so stay between the red and yellow flags.
Sun Safety
The Territory sun is hot and it's easy to get sunburnt. Follow the Cancer Council's recommended Slip, Slop, Slap, Seek and Slide to protect yourself.