​Top things kids can learn while travelling in the NT
Travis Godfredson leaves the kids' Beanie Boos behind to discover some real-life creatures in the Northern Territory
We're sitting around the Parker family dinner table in our comfortable Northern Beaches home in Sydney. In the middle, I place a globe. I spin it and say to the kids: "Now, who can find Darwin? That's where we're going for our next holiday." And so begins our trip to the Top End — a journey of new people and places, amazing creatures and other special things.
Nothing connects better with kids than furry creatures. Hell, if Mum ever has to buy another Beanie Boo, she will surely lose her mind! So imagine the kids' surprise (and Mum's relief) when they get to cuddle some real creatures of the wild. At the Territory Wildlife Park, just under an hour south of Darwin, the kids pat bush rats and a baby wallaby. A gorgeous spotted bush quoll gets cosy under six-year-old William's T-shirt. Discovering quolls are endangered by habitat loss and cane toad poisoning, he wants to bring it home.
The Territory is a tapestry of ancient stories, but there are more recent tales to be told. Down at Darwin Wharf, we learn about the bombing of Darwin and the formation of the Royal Flying Doctor Service (RFDS). The kids are captivated by interactive displays, theatrettes, holograms and virtual tours.
I'm uncertain about visiting the Museum and Art Gallery of the Northern Territory in Darwin. "Just another museum," I muse, but there is colour and movement everywhere. The displays are lifelike and there is a craft centre for the kids to play. All over Darwin we experience fun and informative learning centres. These places are practically theme parks — the perfect way to share some amazing Australian history with the kids.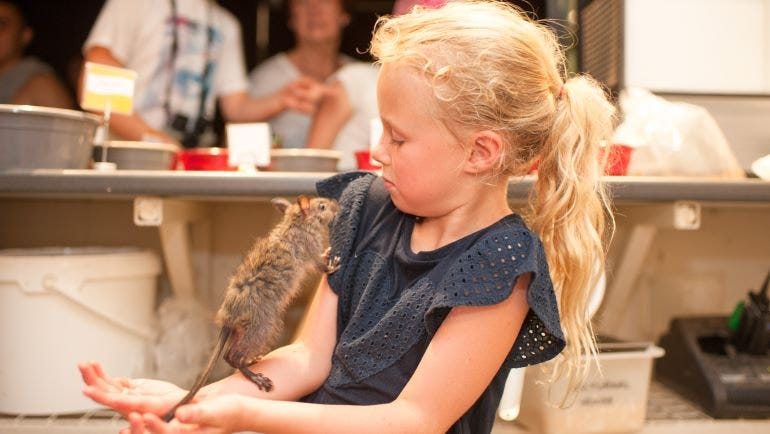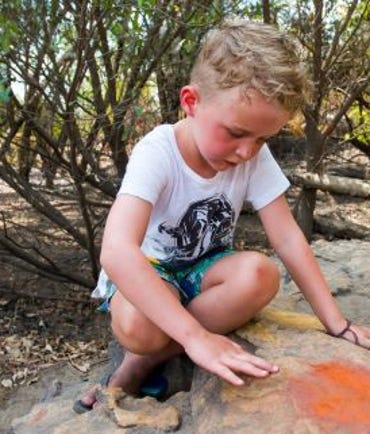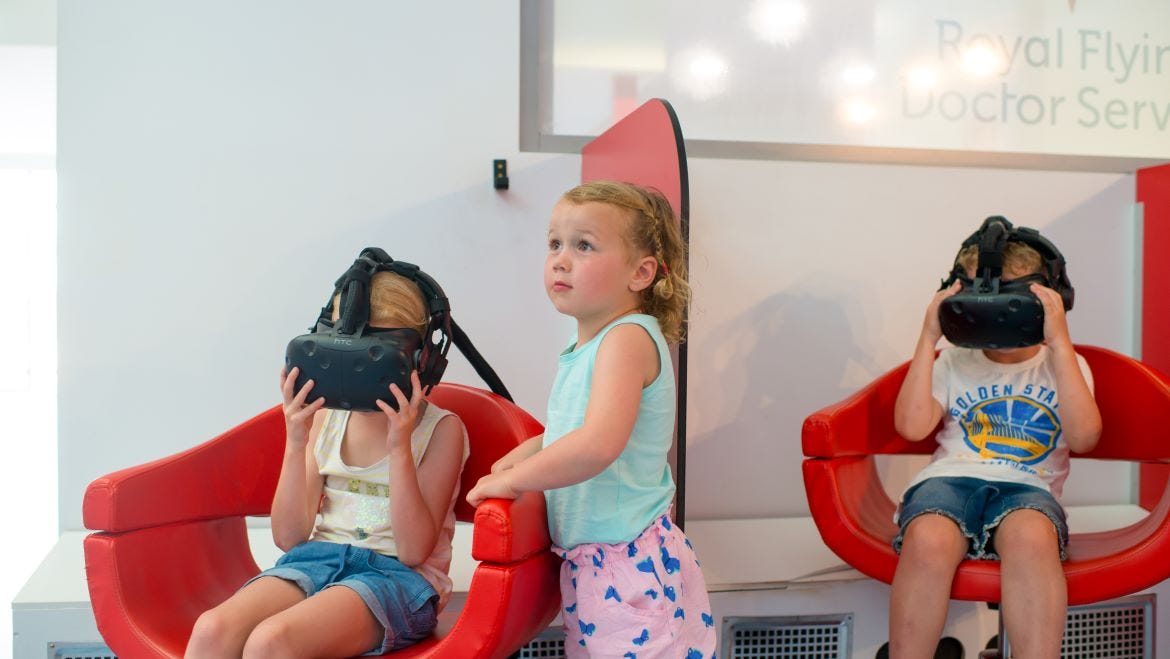 Seven-year-old Abbey is enamoured with a baby crocodile at Darwin's Crocodylus Park, cradling the soft-skinned creature in her hands and staring into its slit pupil. When I tell her crocodiles are one of the most ancient species on the planet — more than 200 million years old — she demands to know how long everything else has been here. Erm, better leave that question to the experts Crocodylus Park!
Down in Katherine at the School of the Air, we discovered how kids in remote areas have been learning for 67 years. Abbey gets behind a computer and talks with Sarah from Tenant Creek about a school assignment about her vegetable garden.
After checking out some rock art, William is fascinated to learn about early Australians hunting with spears for kangaroo and birds. He later tries his hand by spear-throwing at a target at the Top Didj Cultural Experience and Art Gallery at Katherine. The kids also learn how traditional stories of hunting and the Dreamtime are told through painting. Using the traditional rarrk style, the kids paint lotus leaf, yams and goannas in stripes of white, black and brown. Mum gets into the spirit — and I confess, her brolga is mighty impressive! Our teacher, Manuel explains how traditional stories of hunting and the Dreamtime were told through painting, pausing briefly to help the kids correct a shaky hand or wobbly line. Their artworks now sit proudly on their bedside tables. Learning to paint in the local style is just one of many memories we collect in the NT.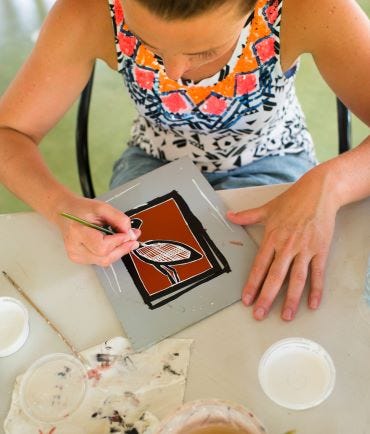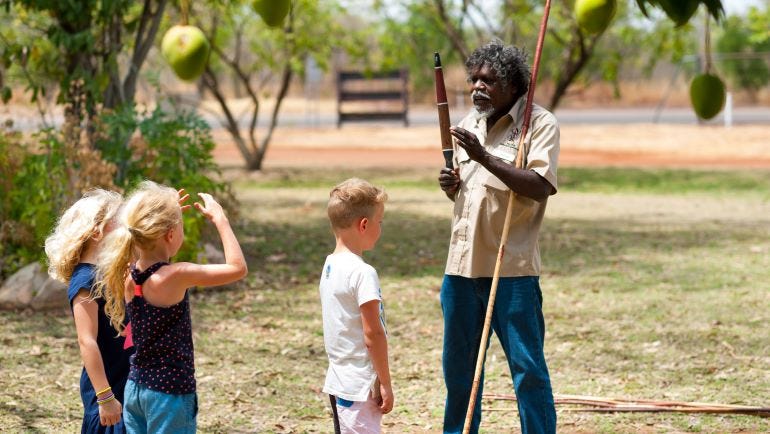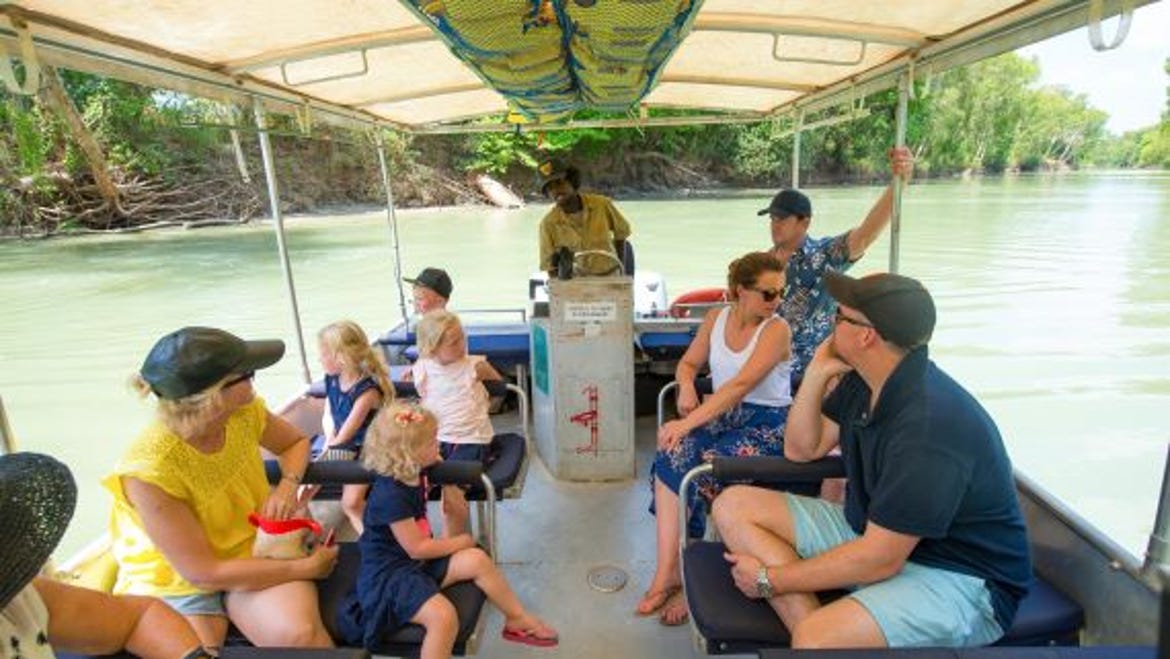 A few short hours drive to Kakadu and we're are soaking up Guluyambi Cultural Cruise drfiting slowly down the East Alligator River. Birdlife is everywhere – from magpie geese to kingfishers and galahs. Kakadu is home to a third of Australia's bird species. We play spotto for crocodiles, but that doesn't prove much of a challenge as there are just so many to be seen, some lurking on the riverbank, others floating with just their eyes showing above the surface.
The kids still sleep with their Beanie Boos, but on bedside tables sit their rarrk paintings and spear-throwing certificates, a reminder of the early Australians and real-life creatures of the NT. I'm sure they also think about the kids on cattle stations and the planes of the RFDS soaring overhead.
With so much to learn, it's time for little minds to rest. Off to sleep, now.
Top 5 things to learn in the NT
Australia's early history
Crocs, critters and other creatures
Arts and crafts, Aboriginal style
Discovering how kids from the Outback go to school
The Royal Flying Doctor Service/Bombing of Darwin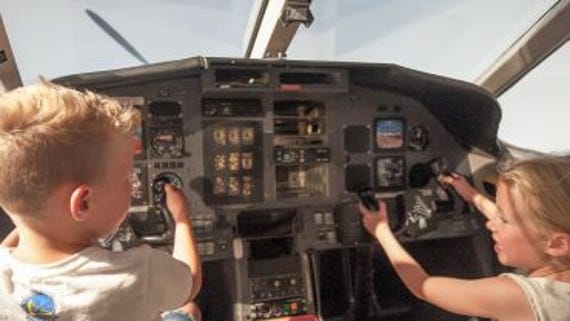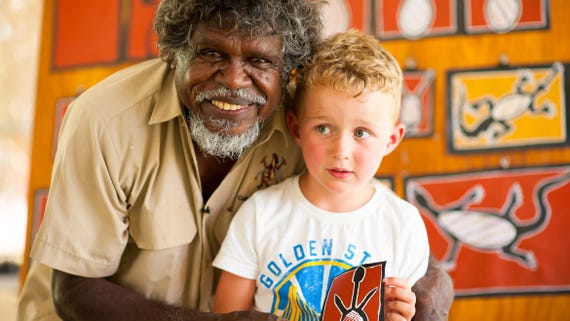 More articles you might like