Meet the Territory artists of the Red Centre
Explore the "world's biggest art gallery" when you book a trip to the unforgettable Outback. The Northern Territory, or the "NT" as locals call it, is the premier destination to visit for art and cultural experiences. The calibre of artists living in the Red Centre, both indigenous and non-indigenous is astounding, making Australia's remote interior a hotbed of artistic talent.
Marlene Panankga Rubuntja, Artist
Location: Yarrenyty Arltere Artists, Yarrenyty Arltere (Larapinta) Town Camp, Alice Springs
Indigenous Australian art can usually be identified by specific visual markers unique to each community and its surrounds, Marlene Rubuntja and the artists from Yarrenyty Arltere Town Camp are so unique because their style is in stark contrast to the dot paintings popularised by the artists of Papunya Tula or the realist watercolours of the Hermannsburg School, both from the Central Desert region. Bright, three-dimensional and innovative, Rubuntja's art is defined through fabric and thread rather than paint and canvas, offering an alternative view of Australia's remote interior.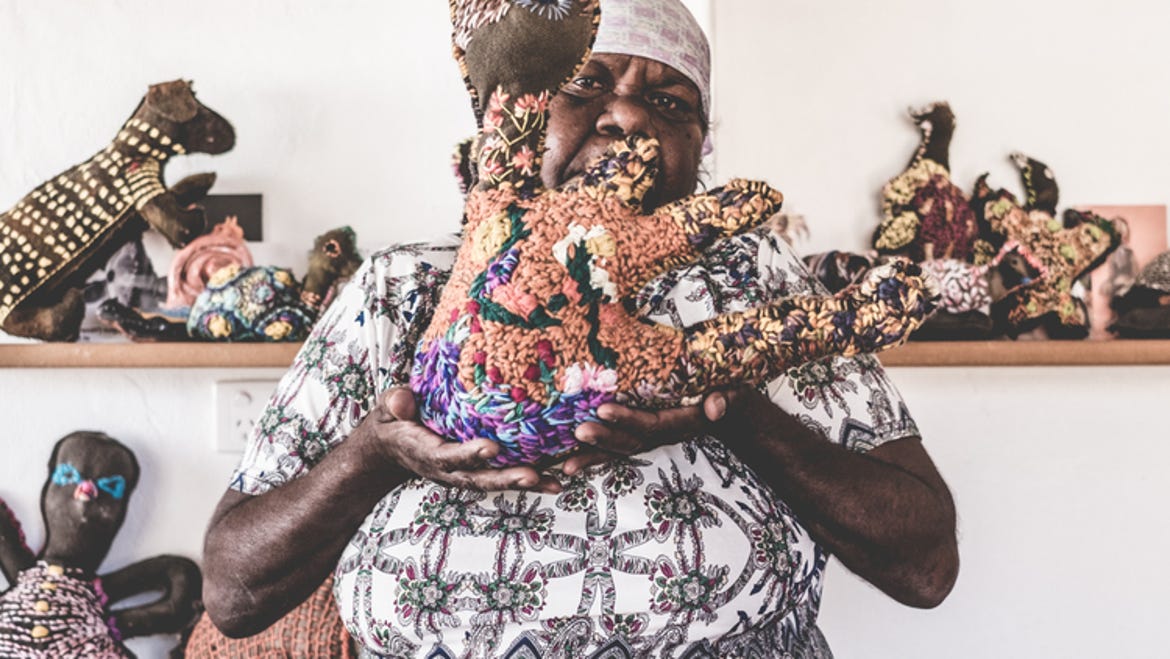 Rubuntja is one of the many sewing creatives working at Yarrenyty Arltere Artists. The artist corporation was established as an arts training project 20 years ago in response to chronic social issues faced by the town camp. Now a vibrant and dynamic hub, Yarrenyty Arltere Artists is an important resource for the community and enables economic access for people not previously engaged in the workforce. The art centre is a vehicle for social inclusiveness, sharing culture and celebrating creativity.
Rubuntja was born in Mparntwe (Alice Springs) but grew up at Amoonguna to its east. Her father was the famed artist and activist Wenten Rubuntja, a key figure in the land rights movement in Central Australia. The Rubuntjas, along with the Ebatarinjas and Lynches, were the first to permanently settle in Yarrenyty Arltere town camp.
Rubuntja has been sewing since she was in kindergarten and 'always has a needle in her hand and wool in her bag'. She is proud to be from Alice Springs and lives behind Mount Gillen, which she says, 'always calls me – it's where I belong'.
Karen Napaljarri Barnes, Artist
Location: Warlukurlangu Artists, Yuendumu
Wildly contemporary, Karen Napaljarri Barnes's paintings represent the next generation of indigenous artists. Napaljarri Barnes is one of Warlukurlangu's most famed artists; she caught the attention of the art world some years ago when she showcased her depictions of Ngatijirri Jukurrpa (Budgerigar Dreaming) using a naive portrayal of the birds and an abstract representation of the landscape, favouring bold and contrasting colours.
The name of the art centre, Warlukurlangu, means 'belonging to fire' in the local Warlpiri language and is named after the Fire Dreaming site west of Yuendumu. Warlukurlangu is one of the longest running and most successful Aboriginal-owned art centres in Central Australia, representing more than 500 artists from the communities of Yuendumu and Nyippiri. It has a national and international profile and its art has been featured in hundreds of exhibitions and publications in Australia and around the world.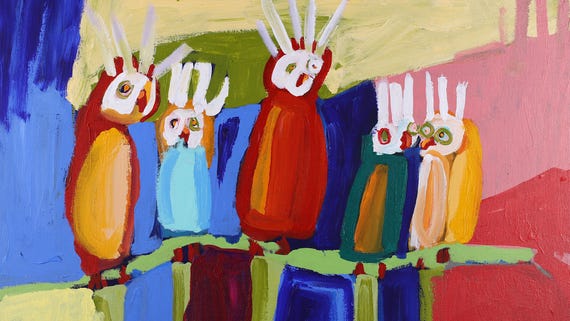 Napaljarri Barnes depicts her surroundings in colours that pop off the canvas, featuring animals that live around Yuendumu. Her distinctive style is innovative and expressive, her bold use of colour inspired by that of her grandmother's, the great Judy Napangardi Watson. In fact, when Napaljarri Barnes first started painting at Warlukurlangu she could be found sitting next to her grandmother, who would encourage her practice. Napaljarri Barnes paints the dreaming stories handed down to her, stories that come from Mina Mina country west of Yuendumu of which her family are the custodians.
Beth Sometimes, Artist
Location: Watch This Space, Alice Springs
Art comes in many forms and inspirations. Watch This Space, a bustling arts venue in Alice Springs that supports a creative community of artists is a contemporary artist-run space. It has a long history of creating unique content in the Central Desert Region, often bringing together Aboriginal and non-Aboriginal artists, with a focus on contemporary and experimental multi-disciplinary art.
Beth Sometimes is an artist whose work is multi-faceted, varying across scales and mediums. Her work includes sculpture, drawing, painting, photography, sound, performance and music. She has been involved in multiple exhibitions, performances, installations and recording projects in addition to publishing comics and books. Sometimes was the gallery manager of Watch This Space in 2011 and currently sits on the curatorial committee.
One of Sometimes's most admired works is the collaborative Apmere angkentye-kenhe, which she produced with local Arrernte people. The artist-led social project explored local language, power and place. Sometimes often works with Pitjantjatjara and Arrernte languages and custodians as an interpreter, translator and facilitator.
'I embrace artistic practices as a vital method by which to build and reshape communities, construct and challenge identities and rearrange social imaginaries,' Sometimes says. Expect to be inspired.
Check out a list of Red Centre galleries and art centres to explore along the Territory Arts Trail.
More articles you might like