7 myths about the Northern Territory... busted!
Have you ever thought of visiting the Northern Territory, but something gets in the way? Maybe you tell yourself that it's too hot, or it's too far, or it's too expensive. Well, we're here to tell you that the NT really does have something for everyone.
It's time to bust the top seven myths about the NT!
Myth 1: The Northern Territory is too hot
Australia is just about as hot as it gets, so a trip to the NT must be a mercury-busting experience, right?
Wrong! Whether you're in the Top End, the Red Centre or anywhere in-between, the NT is in fact one of the coolest places you've never been!
Darwin is famed for its waterholes and swimming lagoons – many of which are in and around the city itself. Darwin's waterfront Wave Lagoon generates artificial swell year round, while the Leanyer Swimming Pool has waterslides and aquatic fun for the whole family.
There are beautiful waterholes where you can cool down all over the NT. In the Top End you can visit Gunlom Plunge Pool or Jim Jim Falls at Kakadu National Park, and both the Litchfield National Park (1.5 hours from Darwin) and Berry Springs (45 minutes from Darwin) will let you cool down in natural surroundings. If you're going swimming in the Top End, always check the signs and Be Crocwise.
Even in the Red Centre you'll find natural waterholes all year round which are perfect for a swim. The Tjoritja / West McDonnell region is home to Ellery Creek, Ormiston Gorge, Glen Helen and many more refreshing places to cool off.
And for residents from Australia's east or south coasts, the NT's temperate winter – which coincides with the Northern Territory's dry season – provides an excellent escape in the cooler months. Just imagine sitting back with a cocktail in June while all your friends are shivering away down south!
Myth 2: The Northern Territory is too far away
This is a total misconception – the NT is actually much closer than you think. Qantas, Virgin Australia, Tigerair and Jetstar all operate regular domestic flights into the NT from most major Australian capital cities. You could be in Darwin, Alice Springs or Uluru in just a bit longer than the time you waste during your average Sydney traffic jam.
If you're travelling from Europe or Asia, Darwin is your gateway to Australia. No trip Down Under would be complete without a visit to the Outback, and Darwin is the perfect launchpad for your adventure.
If you have a bit more time, the Ghan Railway is internationally renowned for both its scenery and its luxury, while self-driving experiences let you combine getting there with the fun of actually being there.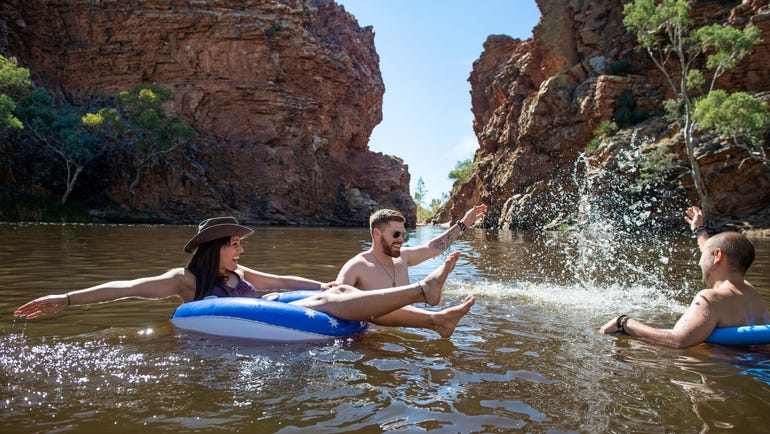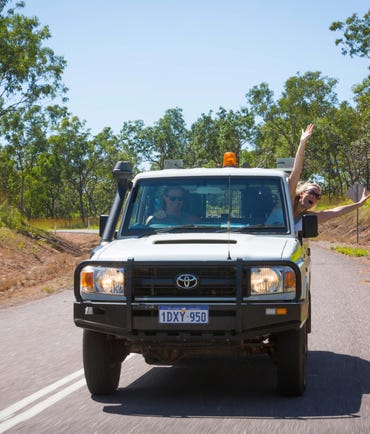 Myth 3: The Northern Territory is too rugged
We know that the NT has a reputation for being rough and rugged, and if you're looking for your modern day Crocodile Dundee then the NT has its fair share of characters. In fact, for many tourists, this is the appeal of a trip to the Territory.
But a trip to the Territory doesn't mean you have to rough it. You can do the NT in style, whether you're in the city or in the heart of the Outback. In recent years, the luxury accommodation scene in the Northern Territory has exploded.
In the Red Centre, go glamping in a luxury Dreamtime Escarpment tent near Kings Canyon, rest and recuperate in Longitude 131 at Uluru, or relax in style at Squeakywindmill in Alice Springs. Or try fine-dining under the stars at Tali Wiru in Uluru.
In Katherine, the Cicada Lodge is an Aboriginal owned-and-operated 5-star resort, situated right alongside Nitmiluk (Katherine) Gorge in Nitmiluk National Park. You can experience a range of relaxing activities, from canoeing down the pristine gorge to enjoying a Nabilil Dreaming Sunset Dinner Cruise.
Just two hours east of Darwin and on the door-step of Kakadu National Park lies Wildman Wilderness Lodge, a frontier-like experience with all the creature comforts you're accustomed to. Just west of Kakadu National Park on the Mary River floodplains you will find Bamurru Lodge, a stunning retreat that combines luxury and natural beauty.
Myth 4: The Northern Territory is too dry
Look at a map or a postcard and you might think the Territory is one big, long desert. But look a little closer and you'll see that the NT possesses some of the most pristine and secluded waterholes on the planet.
In the Red Centre, there are plenty of waterholes just a short drive from Alice Springs, including Ellery Creek – which has its own gorgeous picnic area – and Redbank Gorge, where you can go tubing through ancient rock formations and tree-lined creeks.
Myth 5: The Northern Territory is too wet
OK, so we convinced you that the NT is not too dry – but is it too wet? The famous Northern Territory wet season sees monsoonal rain each year, but that's certainly not a reason to stay home!
The Top End bursts to life in the wet season (November–April), when the waterfalls and natural landscape come alive with colour and vibrancy. If you want to really experience the Top End's luscious beauty, why don't you try a helicopter tour, a river cruise or an airboat ride? The wet season gives you access to some stunning natural wonders that you simply couldn't see if the rivers weren't flowing. Meanwhile, further south, you can watch dry river beds become full of energy following an afternoon downpour.
There's nothing more 'Top End' than sitting back on the patio and watching afternoon storms roll in – preferably with a cold beer in hand!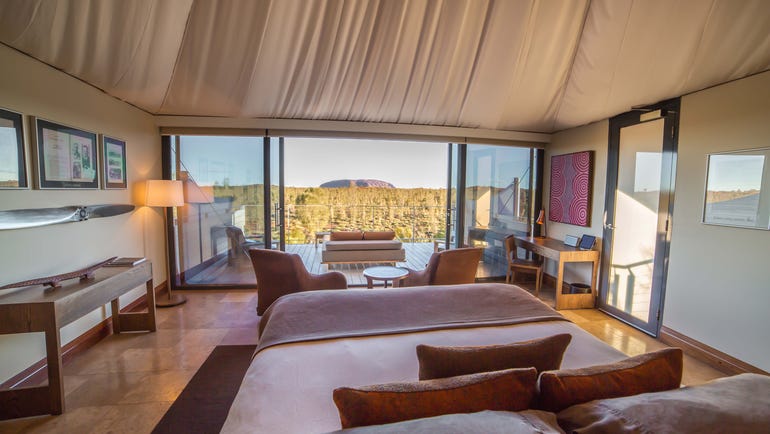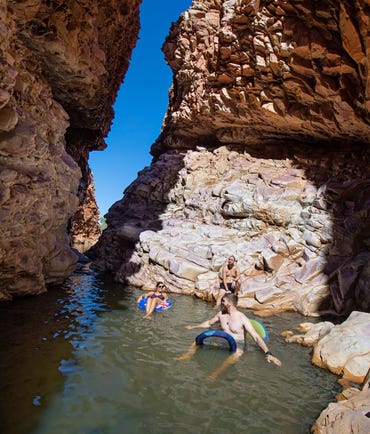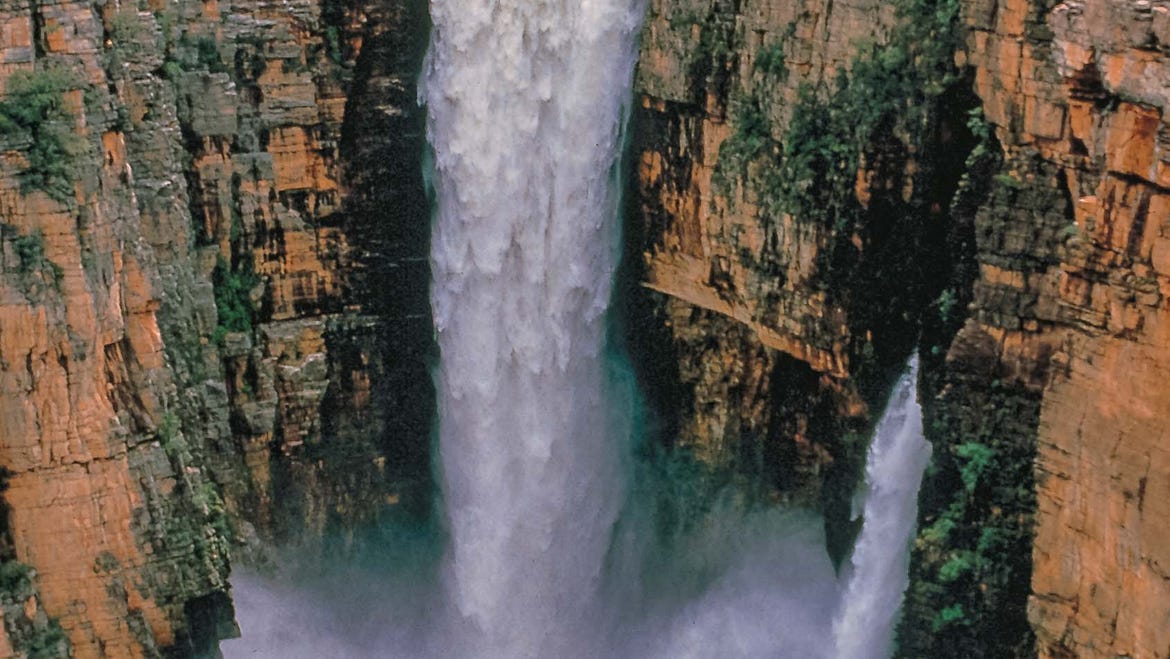 Myth 6: The Northern Territory is too expensive
Earlier we mentioned that the NT is luxurious and modern – so does that mean it's expensive? Hardly. The NT has something for travellers on any budget. The temperate climate means camping is a cheap yet comfortable option, while the popularity of the Territory among Australian and international backpackers means that hostel accommodation is very affordable. What's more, an NT holiday is a unique experience like no other - the benefits will easily outweigh any costs.
Not sold yet? Remember that the best parts of the NT are free – the stunning natural beauty doesn't cost a cent. Whether it is a sunset walk around the Darwin Waterfront and a swim in the free lagoon, or visiting one of the local museums or art galleries, you can have a memorable time on a shoestring while in the Top End.
In the Red Centre, all you need is a car, a tank of petrol and a full picnic basket to enjoy the natural wonders of the East and West MacDonnell Ranges. Don't forget to bring your swimmers, because you'll need them for the Ellery Creek Big Hole, one of Australia's prettiest and most secluded swimming spots.
If you prefer bushwalking, you can head to Kings Canyon for some breathtaking outdoor experiences. Hike along the Kings Canyon's Rim Walk, or take the easier Kings Creek Walk through the creek bed, all the while observing the native wildlife and natural scenery. Cost of entry? Free!
And of course bring your camera – pictures don't cost a thing!
Myth 7: I just don't have enough time to visit the NT
The NT is big, broad and beautiful, but the distances in the Northern Territory are not prohibitive. You don't need months to explore it – although that would be a great way to spend a few months, we have to say.
No matter where you live, a long-weekend trip to either the Top End or the Red Centre is a great option.
In the Red Centre, a number of tour operators such as AAT Kings provide one, two or three-day tours that pack in all the highlights.
In the Top End, a long weekend in Darwin is a great option, including a day trip to swim in the waterfalls and explore the beauty of Litchfield National Park.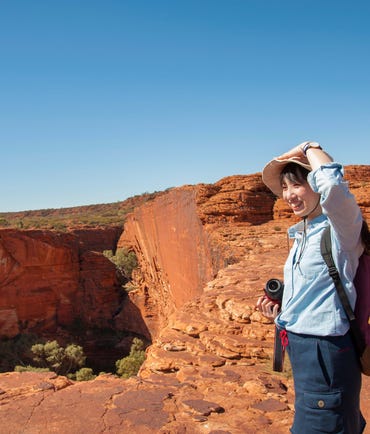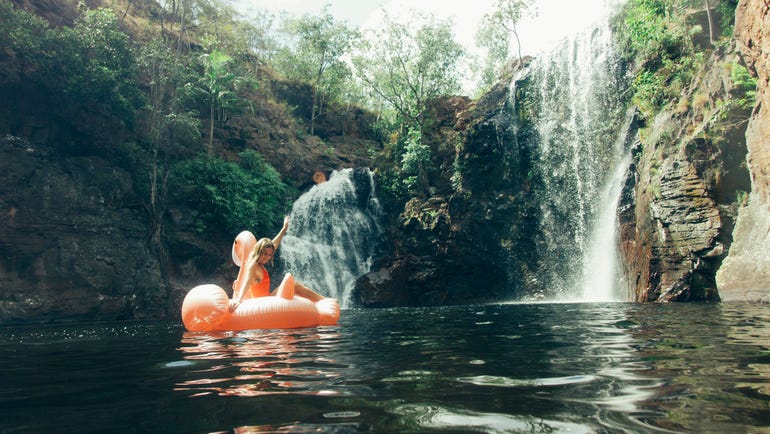 More articles you might like