Camp under the desert stars near the World Heritage-listed Uluru-Kata Tjuta National Park. Watch the stunning colour changes of sunrise and sunset, feel the fresh crisp air on a winter's night and explore the natural wonders of the Red Centre.
[carousel hero="true" rotateheadings="true" smallheight="false"][slide image="/-/media/images/articles/camping/hero-image/milky-way-and-a-starry-sky-over-uluru-at-night.jpg" imagealt="Uluru under the night's sky. One of the great natural wonders of the world, Uluru towers above the surrounding landscape. Uluru is not only a spectacular natural formation, but its a deeply spiritual place. You can feel a powerful presence the moment you first set eyes on it." butttontext="" buttontarget="" buttonurl="" video="" slidecontentoverride="" heading="Camping near Uluru & Surrounds" subtitle="" introtext="" captionlink="" captionlinktext="" darkenimage="false" headingoverride="" renderh1="true"][/carousel]
Enjoy these incredible rock formations by day with a guided walk or a helicopter ride, or jump on a Segway tour of Uluru. Bask in the stunning glow of the Field of Light exhibition, or lay back on your swag and contemplate the universe under a sky full of stars.
If you really want to experience desert living, a camping trip to the heart of Australia has to be on your bucket list.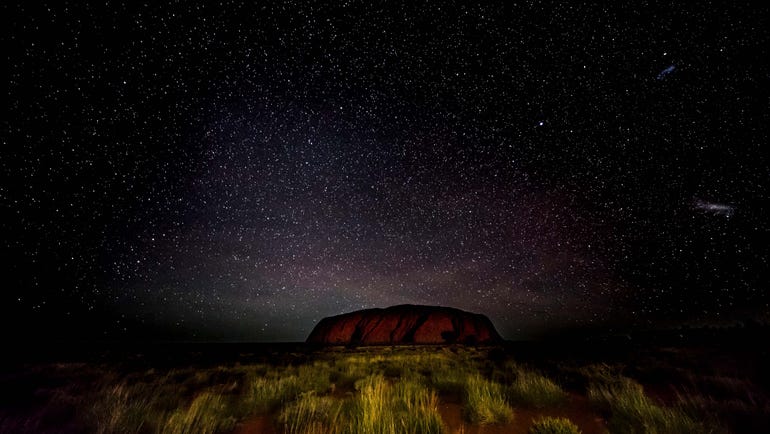 Can I camp for free near Uluru?
Camping is available near the Uluru-Kata Tjuta National Park, but not within the park itself. Free camping is available on unpowered sites at the Curtin Springs Campground.
Camping is only permitted in designated campgrounds. It's illegal to camp on the side of highways, at rest stops or visitor amenities areas. The park closes at different times depending on the time of year for your safety and comfort.
The perfect time to camp at Uluru
The best time to visit Uluru for camping is between April and September. Days are milder, reaching the low to mid 20 °Cs, with low humidity and infrequent rain. The desert can get cold at night (sometimes dipping below zero), so make sure you have plenty of clothes and blankets to keep warm.
Visiting in the warmer months of October to March is great if you want to keep away from the cold. Sun protection and plenty of water is a must.
The Uluru & Surrounds region has a desert climate with four distinct seasons: summer, autumn, winter and spring.
Camping at Uluru during autumn and spring
Camping during the cooler months – March to May and September to November – is a great option for sleeping out in your swag or tent.
Camping at Uluru during winter
From June to August in Uluru it can be quite chilly with temperatures dropping below freezing. Make sure you have sufficient warm clothing, blankets and ground cover considering there might be frost.
Camping at Uluru during summer
Between December to February temperatures can rise to over 35°C during the day and stay quite warm during the night. It's more likely to rain during these months so it's best to make sure you have some shelter.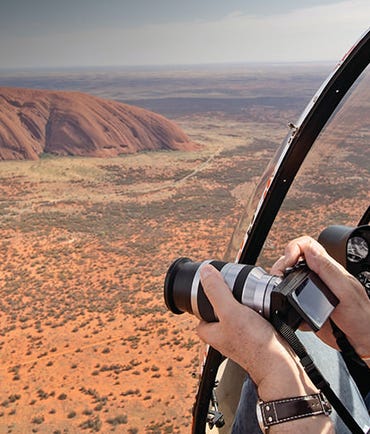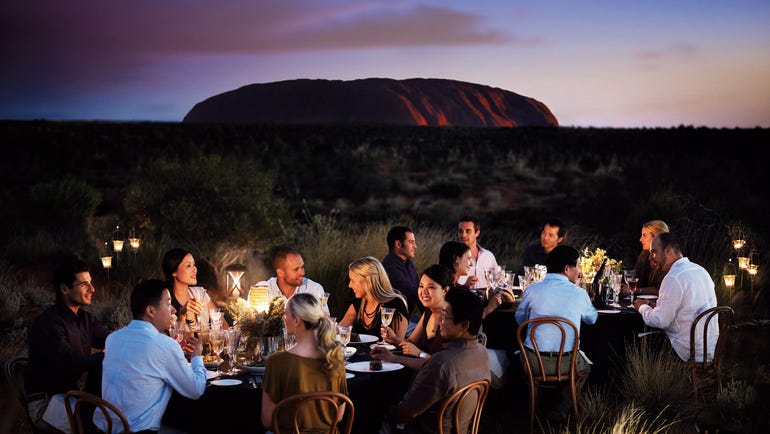 Where to camp near Uluru/Ayers Rock
While camping is not permitted in the national park itself, the nearby resort town of Yulara and the Wayside Inn at Curtin Springs offer welcoming, comfortable and well-appointed campgrounds and facilities.
There are a few different camping options depending on your preferences: roll out your swag, pitch a tent, or park your motorhome in the designated campgrounds close to amenities.
If you're keen to spend a night under the stars, Ayers Rock Campground and Curtin Springs Station are your two main options.
Ayers Rock Campground
20km from Uluru lies the Ayers Rock Campground. The campground includes powered sites for your caravan, campervan, motor home or camper trailer, or unpowered sites for your tent or swag.
Prices start from $43 per night for an unpowered tent site and $52 per night for a powered site (for tents and vehicles). If you want to upgrade from the tent for the night, a 2-bedroom cabin is available from $185 per night which will sleep up to 6 people.
All sites have access to the swimming pool, playground, BBQ facilities and outdoor kitchen as well as self-serve laundry and wi-fi. There's also a supermarket, petrol station, tourist information centre and a shuttle service available to get you to your day's activity. Ayers Rock Campground also offers free daily guided garden walks and Aboriginal bush yarns.
To secure your spot, you should book a site as soon as you know your travel dates.
Curtin Springs Wayside Inn Campground
A 1-hour drive from Uluru-Kata Tjuta National Park, and located on a million-acre cattle station, the Curtin Springs Campground is an affordable and well-serviced option for travellers.
The campground has a small number of powered sites starting at $45 per night, and unlimited unpowered sites available at no cost and which don't need a reservation. If you want to upgrade to a room, they start at $190 per night.
All guests have access to a range of facilities including shared bathroom facilities, coin-operated laundry, BBQ area, free wi-fi, store, bar, petrol station and a licensed restaurant that uses local beef from the station. The campground is pet-friendly and you're welcome to bring firewood or run a generator.
Curtin Springs Campground is ideally located near a number of stunning landmarks including Mt Conner (40km), Kings Canyon (200km) and Uluru (100km). Curtin Springs Wayside Inn runs a number of local walks giving you the opportunity to see the cattle station, the nearby salt lakes and Mt Conner.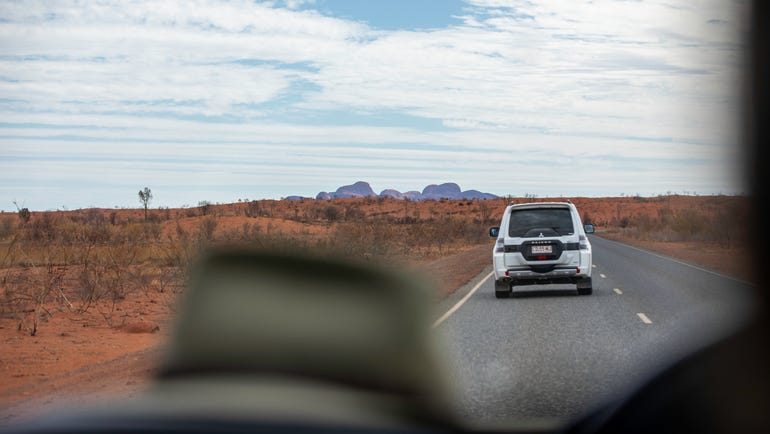 Roadside sunset & sunrise stops near Uluru
There are a number of roadside stops within the national park that make for great viewing of Uluru and Kata Tjuta at sunrise and sunset.
Uluru sunset viewing area
This area gives spectacular unobstructed views of the rock as it changes colour with each minute. The sunrise viewing platform has shelters and access to walking tracks with drinking water and toilet facilities.
Talinguru Nyakunytjaku sunrise viewing
Talinguru Nyakunytjaku viewing area is one of the favourites within the region. It has three shelter options with 360 degree views of the landscape and walking tracks close by.
Bus sunset viewing
The bus tour sunset viewing area gives views of Uluru and Kata Tjuta from the car park and atop a nearby sand dune.
Kata Tjuta dune sunset viewing
The dune viewing area at Kata Tjuta gives a panoramic view of the stunning rock formation with a glimpse of Uluru on the horizon. This is a great spot for sunrise with accessible shelters and picnic tables available a short walk from the car park.
Kata Tjuta sunset viewing
The sunset Kata Tjuta viewing area gives unhindered views of Kata Tjuta as the sun slowly disappears for the day. The picnic area is a great spot but can get crowded, so instead you might like to drive to Walpa Gorge – just a 1-minute drive down the road to find a bench and enjoy a less common but equally stunning view.
Camping for special events at Uluru
There are plenty of local events in Uluru-Kata Tjuta and surrounding areas. The Field of Light spectacular, the stunning Sounds of Silence dinner, NT Travelling Film Festival and Uluru Camel Cup take advantage of the stunning backdrop and cool weather, bringing new experiences to the small resort town of Yulara.
Camping during these events is available at Ayers Rock Resort Campground or Curtin Springs Station Wayside Inn.
Where to camp near Kings Canyon & Watarrka National Park
Venture out to Kings Canyon and Watarrka National Park to see some amazing country. There's a couple of accommodation options close by that'll suit you whether you're in a tent or driving a motorhome. No camping is allowed within the national park.
Kings Canyon Campground
Kings Canyon Resort offers a range of accommodation options with uninterrupted views of Kings Canyon and the surrounding landscape.
The campground has powered sites from $30 per person per night, and unpowered sites from $25 per person per night. Children aged 6–12 years of age are $10 each per night, with family rates available. Day passes are available for $20 per person so you can rest, use the facilities and get moving again.
Unpowered tent sites can host up to 100 campers with nearby shared bathroom facilities, communal BBQs and laundry, as well as restaurants and bars, a mini supermarket and petrol station.
For backpackers, lodge rooms are available at an affordable rate with all the amenities you'd expect.
For a more luxury camping adventure, glamping tents are available with air-conditioning, private ensuites and a deck to sit and enjoy the fresh air.
Kings Canyon Resort offers plenty of activities that can be booked 7 days a week at the onsite Bush Centre. Try a scenic helicopter tour, Segway tour, the Karrke Aboriginal experience, a guided tour of Kings Canyon, or just grab a spot on the sunset viewing platform and enjoy the view.
Kings Creek Station
Located just 36km from Kings Canyon and based on a working cattle station, Kings Creek Station has powered and unpowered sites available no matter your camping style.
Sites are available from $28 per adult per night (powered) or $23 per adult per night unpowered. Children from 6–16 are $12 and there are family packages available. Swags, tents, campervans and caravans are all welcome. Shared toilet, shower and kitchen facilities are available and meals and BBQ packs are available from the on-site café.
If you don't want to unroll your swag for the night, you can stay in a permanent air-conditioned bush tent or go a step further and stay in one of the luxury glamping tents to enjoy the sunset from the escarpment in comfort.
Kings Creek Station offers a range of activities to visitors including buggy tours, cultural tours, helicopter flights and swimming – perfect for a hot day in the Outback!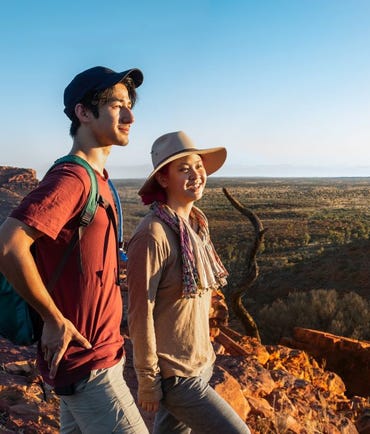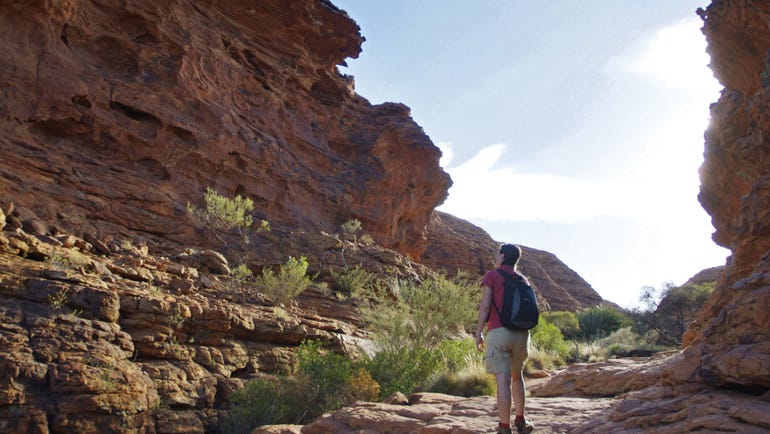 Camping options near Kata Tjuta / The Olgas
Kata Tjuta is a 40-minute drive from Uluru and within the same park, so the accommodation options are the same (see above). Camping is not allowed within the national park itself and only available in designated campgrounds.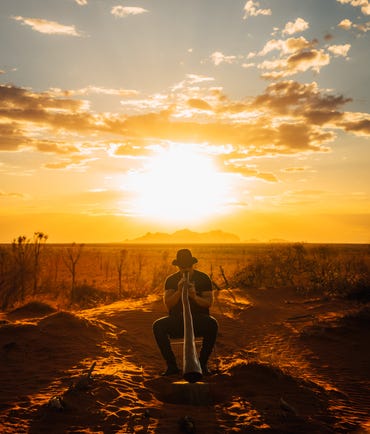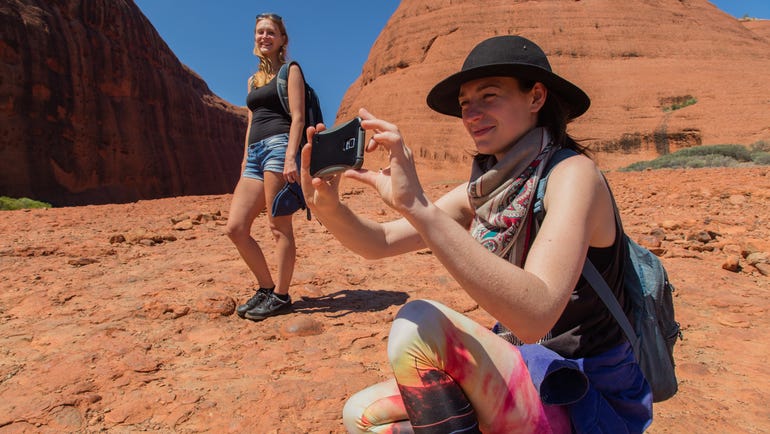 Camping near Uluru & Surrounds – at a glance
| | | | | |
| --- | --- | --- | --- | --- |
| | Ayers Rock Resort Campground | Curtin Springs Wayside Inn Campground | Kings Canyon Resort Campground | Kings Creek Station Campground |
| Powered sites | Y | Y | Y | Y |
| Unpowered sites | Y | Y | Y | Y |
| Swags and tents | Y | Y | Y | Y |
| Campervans, caravans and rooftop tents | Y | Y | Y | Y |
| Glamping options | N | N | Y | Y |
| Bathroom facilities | Y | Y | Y | Y |
| Kitchen facilities | Y | Y | Y | Y |
| On-site meals | Y | Y | Y | Y |
| On-site activities | Y | Y | Y | Y |
| Pet friendly | Y | Y | Y | Y |
| Wi-Fi | Y | Y | Y | Y |
| Shuttle bus | Y | N | N | N |
| Booking centre | Y | N | Y | N |
Where to hire camping equipment near Uluru & Surrounds
There's no camping equipment available to hire at Uluru, so if you're looking for a camping experience and don't want to bring your own gear, there are some other options:
A number of tour packages are available through camping and car hire companies in Alice Springs (5 hours' drive from Uluru) that provide you with the necessary camping equipment
Nomadic Camping Hire in Alice Springs have equipment hire packages
Hire a camper trailer in Alice Springs from Outback Camper Trailer Hire
Join a camping tour near Uluru & Surrounds
There are plenty of camping tours available if you want to relax and let someone else do the planning for you. Choose the type of tour that suits you and what kind of camping you want to do.
Tours start from Alice Springs or Yulara Airport and often include guided walking tours, cultural tours, Australian bush tucker, camel rides and visits to nearby attractions including Kings Canyon and Mt Conner. You can also access other activities like Segway and helicopter tours.
Camping guidelines
Uluru and its surrounding country is stunning and we'd love it to stay that way. When camping, make sure you leave your site as you found it.
Rubbish
Make use of the bins provided at your campsite. If there are none, take the rubbish with you and find a roadside stop or shelter with bins provided.
Firewood
Fires are not permitted in the National Park and each campground has specific rules about the lighting of fires. Fires should only be lit during the winter months and must be contained within designated areas.
Firewood must not be collected from inside the National Park and can be purchased from hardware stores or camping supply stores in Alice Springs.
Pets
Pets are not allowed in Uluru-Kata Tjuta National Park and are allowed only in the car park area of Kings Canyon. Exemptions are available for guide dogs, hearing dogs and assistance dogs kept on a leash of no more than 3m long.
Pets are not permitted in any accommodation rooms but are permitted to stay in the campgrounds of Ayers Rock Resort, Curtin Springs Campground, Kings Creek Resort and Kings Creek Station. There's a local dog minder who can look after your pooch while you're out for the day, or you can negotiate with a fellow camper to swap dog-minding duties. Dogs should not be left in campgrounds on their own.
Road safety
When driving, make sure you understand the challenges of driving in remote locations and check our road safety page for more information.
Your search returned no results. Please try again.