Mountain biking & cycling
in the Northern Territory
The hype is real. There's no Instagram filter needed on these trails – engaging MTB trails built by mountain bikers for mountain bikers.
From the lushness of the Top End (Darwin) to the desert of the Red Centre (Alice Springs), you can get off-road and get on-track and immerse in the diverse environments of Australia's Northern Territory. National Park managers are working hard to get mountain bikers more access to some of the nation's most iconic locations. So come riding with us and check them out.
Alice Springs
With hundreds of kilometres of hand-built singletrack, Alice Springs offers more singletrack smiles during the winter months than anywhere else in Australia. If you want generic, forgettable machine-built flow trails, this isn't it. Berm, berm, huck and repeat? No thanks. How about trails that surgically slot you through rocky outcrops? Or trails that leave the world behind, relentlessly snaking around rolling hills without a sign of civilisation? It isn't a slog fest. The trails have flow, allowing you to hold speed but demand skill and your attention as you round yet another terraced hand-built corner over sweeping vistas. With numerous trail networks surrounding Alice, you don't even need a car to access singletrack, just ride from your hotel front door.
Many trailheads start and finish at the Telegraph Station where the café offers a great place to replenish your energy levels after a morning of slaying the trails. The local mountain biking association, Central Australian Rough Riders, often has social rides to join and can provide sound advice for the desert conditions, which can be quite unforgiving on your body, not to mention your tyres.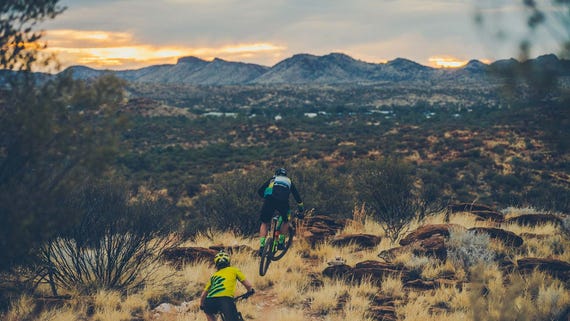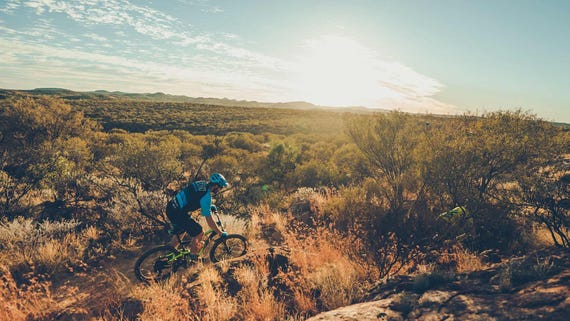 Uluru
Perhaps one of the best ways to appreciate the enormous monolith of Uluru is on a bike, as you use the same trail used by walkers to get up close to the rock. It's pancake flat so you can leave your climbing gears at home and cruise around the base at your own pace, enjoying the many vistas and the rich cultural heritage explained on interpretive signs along the way. You don't even need to bring your own bike, with hire bikes available at the Cultural Centre from Outback Cycling.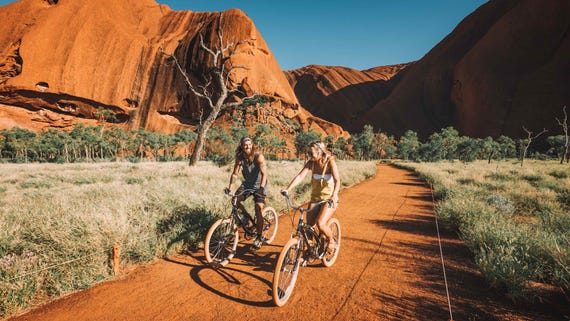 Darwin
A variety of experiences await cyclists in Australia's northernmost capital, from triathlons all the way through to mountain biking. Darwin is home to Australia's best MTB acronym, the DORCs (Darwin Off-Road Cyclists). The local club is a friendly mob and always busy running their program of social rides and events.
Local favourites Casuarina Coastal Reserve and Charles Darwin National Park are close to the CBD. Mother Nature works at keeping the singletrack single, with lush regrowth every season narrowing the trail corridor (and your personal space). It can be tight and confined at times but the park managers work hard to ensure that you get a year-round quality trail experience.
In the tropical summer, DORC runs events at Howard Springs, about 30km east of the city, which handles the wet conditions very well. For those who have more time to explore, head to Nitmiluk National Park in the Katherine region, to try the Territory's most newly opened trails. Take on the 20km network next to the iconic Nitmiluk Gorge with the option to add on a hike to seasonal swimming locations. Think world-class appeal to both mountain bikers and cyclers alike.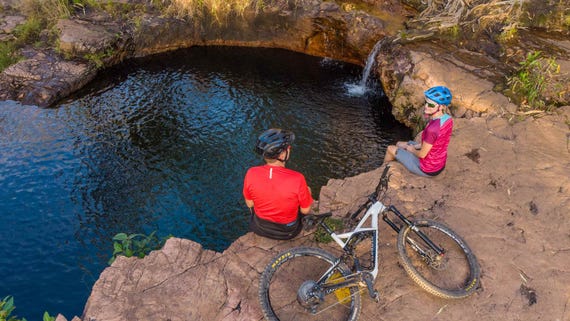 Future trails – watch this space!
The Northern Territory is investing a considerable amount of funding towards improving existing trail networks and developing some awesome new trails in Central Australia and the Top End. Litchfield National Park will host new mountain bike trails which will link to previously inaccessible swimming holes. In Central Australia preliminary work is underway for the epic 200km Red Centre Adventure Ride – a new, multi-day adventure cycling experience that traverses through the Tjoiritja / West MacDonnell National Park from Alice Springs to Glen Helen and Redbank Gorge.
It's an exciting time for biking in the Territory! 
Further information
For more information download the latest mountain bike trail maps for Alice Springs and Darwin or chat with a friendly Territorian when you arrive.
Other useful links include:
Trail users should always keep to the signed official MTB trail network and approach unsanctioned trails with caution. Be aware that trespassing on private property is a punishable offence.