Tennant Creek region guide
Tennant Creek, situated right in the middle of the Barkly Tablelands, is a real slice of Outback Australia.
Tennant Creek's location in between many of the Territory's best-known sights means it's a common overnight stopover point.
There are plenty of comfortable lodgings, and heaps of day trips and tours on offer to explore this history-rich region.
A few fast facts
Created around 1860 in part as a station for the Overland Telegraph Line, Tennant Creek's population exploded in the 1930s during the gold rush. These days Tennant Creek's main industry is tourism.
Tennant Creek was an important site during World War II, serving as the base for troops, supplies and a crucial military hospital.
Daly Waters, 4 hours north of Tennant Creek, boasts the world's most isolated traffic lights – there isn't another set for 500 kilometres.
Tennant Creek – nicknamed Australia's 'Heart of Gold' – was once the site of the third richest gold mine in Australia.
Tennant Creek is the site of Australia's largest earthquake ever recorded, at 6.6 on the Richter Scale in 1988. Don't worry, earthquakes are incredibly rare in Australia due to our perfect location in the middle of the Australian tectonic plate.
Here are 4 must-sees, along with some top tours and DIY trips with plenty of info about things to do in Tennant Creek.Four must-sees
Karlu Karlu (The Devils Marbles)
The Devils Marbles are a must-see rock formation in the Territory. Known as Karlu Karlu in the local Warumungu Aboriginal language, they are believed to be the fossilised eggs of the Rainbow Serpent – an important deity in Aboriginal Dreamtime traditions. Sitting up to 6 metres high, the granite boulders glow red in the sun but change colour during sunrise and sunset.
Where are the Devils Marbles? The Devils Marbles' location is perfectly accessible from Tennant Creek – just 1 hour south
Lake Mary Ann
Tingkkarli/Lake Mary Ann is a large oasis 5 kilometres north of Tennant Creek. Tingkkarli is a great place to get to know locals, with an opportunity to share your picnic and, of course, the view. Tingkkarli is a man-made lake, meaning swimming, fishing and canoeing are perfectly safe all year round – but don't forget to bring your sunscreen and hat.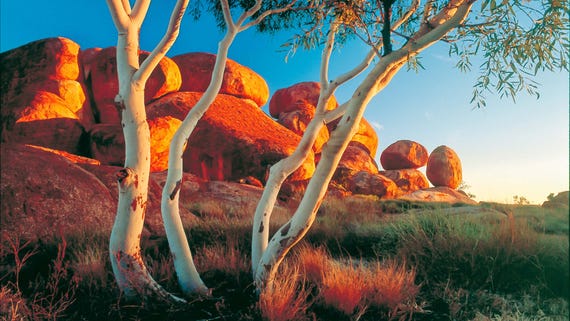 Kunjarra/The Pebbles
Just 15 kilometres north of Tennant Creek sits Kunjarra/The Pebbles, a natural rock formation surrounded by myth and legend. Kunjarra/The Pebbles are believed by the Warumungu Aboriginal people to be related to the Devils Marbles and are a sacred site where a number of dancing and healing rituals have been traditionally carried out.
Due to the significance of the site, visitors are asked not to climb on the rocks, although there are plenty of places from which to get an excellent view. The journey is suitable for two-wheel drive cars, although there is a 6-kilometre stretch of unsealed road so four-wheel drives are recommended.
Nyinkka Nyunyu Art and Culture Centre
A trip to Tennant Creek would not be complete without finding out more about the local Aboriginal culture, at the Nyinkka Nyunyu Art & Culture Centre. Open since 2003, Nyinkka Nyunyu is owned and operated by local Aboriginal people, running tours and teaching visitors about Warumungu culture - both ancient and modern. Situated right in the middle of the town, you'll be captivated by the interactive displays, the unique artwork and the traditional storytelling.
Top tours
Battery Hill Mining Centre
Less than 2 kilometres from Tennant Creek town centre is the Battery Hill Mining Centre, a converted former mine from the 1930s which is also a visitor information centre. There are a number of tours, including the Underground Mine Tour and the Gold Stamp Battery Tour, giving an insight into life in an industry that built Tennant Creek.
Battery Hill has beautiful views of the surrounding countryside and the rolling Honeymoon Ranges, while the gold panning station – where you keep whatever you find – gives you a chance to strike it rich in the Territory's 'heart of gold'.
Tennant Creek Telegraph Station
The town of Tennant Creek began its life as a telegraph station in the mid-1800s and some of the original station buildings are still standing today. Around 12 kilometres north of town is the Tennant Creek Telegraph Station, which has been an integral part of life in the town until the present day.
The self-guided walk takes you through the essential role played by the station in Australian Outback history. Believe it or not, such is the trustworthy nature of the Territory and its inhabitants, that the key to the Telegraph Station is available at the Battery Hill Mining Centre – you just have to pick it up!
Kelly's Ranch
When you return from the NT, you'll bring pictures, souvenirs and stories to last a lifetime – but what about bringing back some real Outback skills while you're at it? Kelly's Ranch gives you a chance to brush up on your pastoral talents, including horse riding, cattle handling and other essential Outback skills.
Owner Jerry Kelly, an Aboriginal Australian and traditional owner, has lived the life on the land and knows everything about pastoral living. Already able to wrangle it with the best of them? Then just sit back and enjoy the local bush tucker with a billy tea while trading true Territory tales.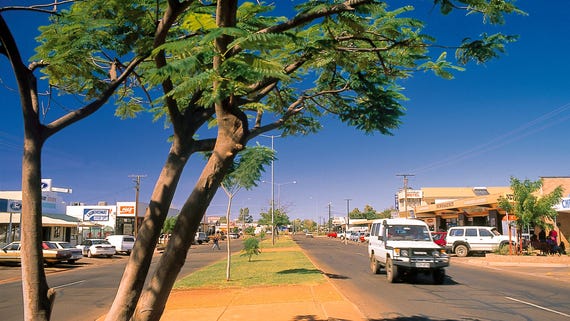 Do it yourself
The tour operators in the NT are some of the best in the business, but we all know the thrill of carving your own path. Tennant Creek's central location means that there are several do-it-yourself options in the surrounding area.
Iytwelepenty/Davenport Range National Park
If you're heading southeast from Tennant Creek, a visit to Davenport Range National Park is an absolute must.
Once there, you can experience the secluded waterholes, winding bush tracks and brilliantly starry nights that exist only in the Territory.
Davenport Range – although tranquil and beautiful – is a rugged part of the Territory, meaning you'll need a 4WD. But that's half the fun! There are a number of different tracks, but be sure to check with locals if your 4WD can go the distance – particularly on the Frew River Loop, which requires a high degree of driving skill.
Once you're there, you'll find a number of important sites which indicate the role this region played in Australia's pastoral heritage, while Old Police Station Waterhole is a secluded swimming hole that is cool all year around.
Part of Davenport Range National Park's appeal is its isolation, meaning it is essential that you bring everything you are likely to need with you, including a full tank of fuel, plenty of water and food, along with all your camping gear. A communication device such as a satellite phone is also strongly advised – you won't have much mobile phone reception out here.
Mataranka Thermal Pool
This road trip is perfect on your way north towards the Top End from Tennant Creek. Pack a picnic lunch and head up the Stuart Highway. First stop? The Daly Waters Pub is 4 hours north of Tennant Creek, and is the perfect watering hole to take a break on your journey. Originally built in 1930, the Daly Waters Pub has served generations of hungry, sleepy and thirsty travellers. While the pub is now a lot more modern – with wifi all year round and live music every night during dry season – you're guaranteed to be greeted with good old-fashioned Territory hospitality. If you feel like sticking around, there are plenty of accommodation options whether or not you've brought your own caravan or tent.
Around 2 hours north of Daly Waters is the Elsey National Park, which includes the famous Mataranka Thermal Pool and Bitter Springs. Both offer a number of secluded swimming spots, including the underground thermal hot springs. Take a long soak in the hot water and feel the stresses of modern life melt away, before checking out the little surprises you packed in the picnic basket.
There's also a supermarket and a handful of cafes handy, just in case you need to top up. From here, it's only an hour north to Katherine – but if you'd like to stay and soak, don't worry, there are a number of camping and accommodation options.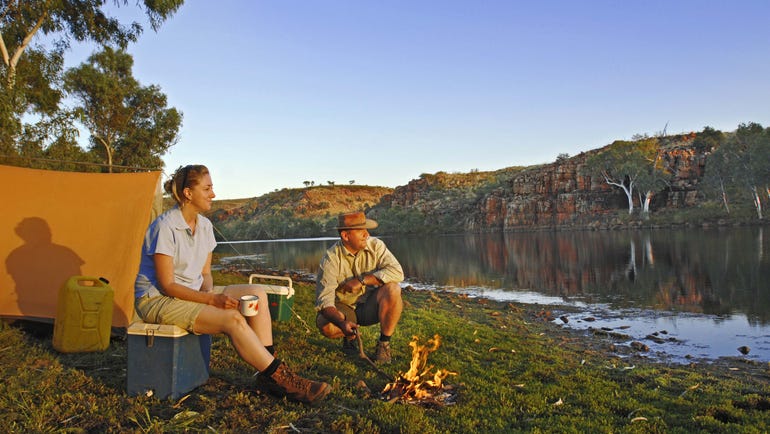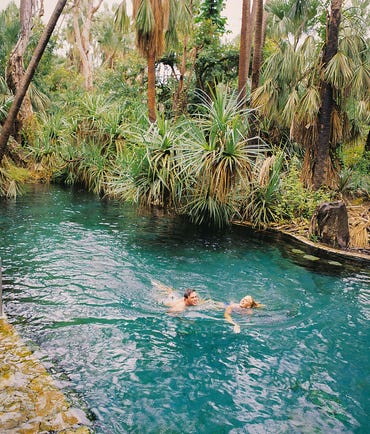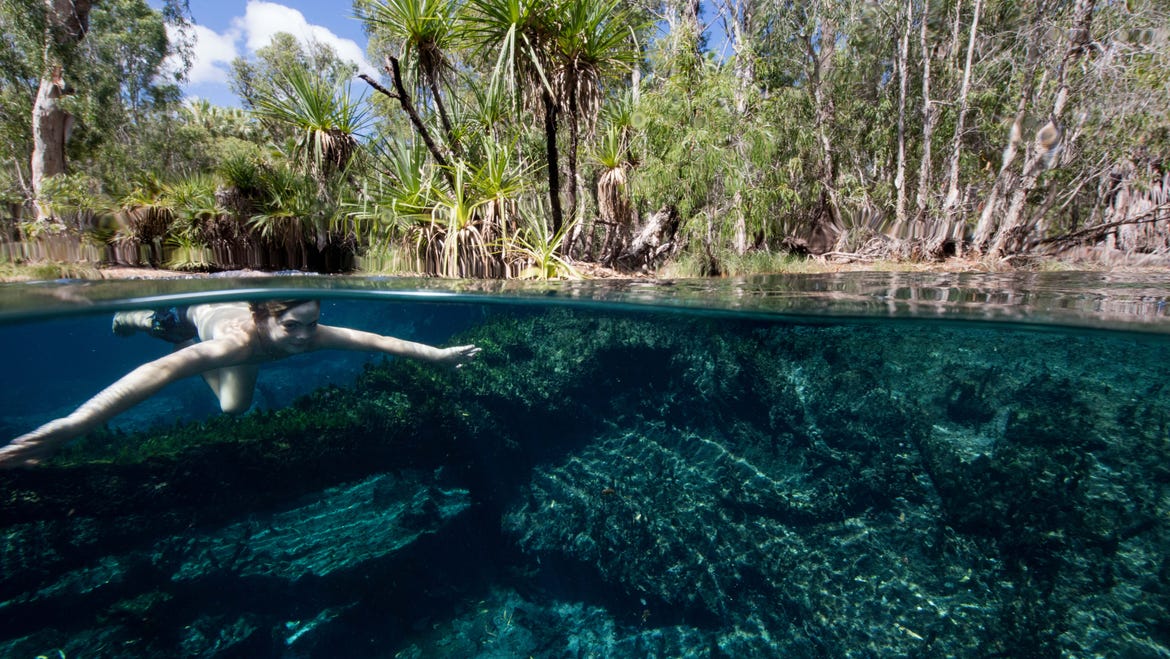 Need to know
Best time to visit: Tennant Creek has both a wet and a dry season. The wet season however is not as wet as it would be further north, meaning that there's likely to be blue skies and starry nights all year round. November to March will have hotter days and a greater chance of rain, while April to October will have cooler days and nights, so pack warm clothes if you visit during winter.

How to get here: Most Tennant Creek visitors arrive by car due to the town's central location, but there are other options. Greyhound bus services between Alice Springs and Darwin stop in Tennant Creek for just over an hour, while The Ghan railway passes through and will stop on request – however this tends to be around midnight, with the next train coming a few days later. Air North run flights from Darwin, Katherine and Alice Springs, although these are infrequent.

Getting around: Tennant Creek itself is walkable, however to see most of the sights you'll need your own car.

Passes and permits: As with much of the Territory, check whether a permit is required to enter particular areas or to canoe or camp. Go to the Central Land Council site for more information.

Plan ahead: If you set out on a long journey, take plenty of water and a communication device like a satellite phone – your mobile phone is not going to have reception outside the town. When you set out, particularly if you are not taking main roads, tell your last accommodation provider of your plans.

Safety: Tennant Creek's weather is much dryer than that of the Top End, meaning there are fewer chances of flooding and disrupted travel.

Where to go next: Tennant Creek is a junction between Alice Springs and Darwin, meaning there are several possibilities to continue your journey. Katherine, Katherine Gorge and Nitmiluk National Park are 7 hours north of Tennant Creek and a perfect place to stop on your way to Darwin. Alice Springs is 4 hours south – meaning Australia's Red Centre is an afternoon's drive away.