Wedding planners in the Northern Territory
Planning your wedding is a busy and exciting time of your life when (even for the most organised couple) getting a little help can go a long way.
We sat down with the dynamic duo, Mellie and Bec from Territory Nights, to give you a few tips on planning your Territory wedding. Based in Darwin, Territory Nights has grown its business quickly; starting out as event stylists specialising in portable glamping tents and picnic set-ups for parties, which naturally moved into providing tailored wedding planning services.
When is the peak season for weddings? 
"The busiest time of year for weddings in the Top End is from May – September," say Mellie and Bec. "We styled and choreographed 23 weddings in our first season." 
How would you describe Territory Nights? 
"We strive to bring out the best in the Territory's stunning locations with five sheds full of goodies to capture the essence of the day," Mellie says. Their services are described as being fresh and truly inspirational – holding an extensive inventory of fabrics, rugs, arbours, native and floral arrangements, candles, lighting, macramé, tailored signage, umbrellas, and bespoke furniture such as cane chairs and rust-coloured velvet lounges to bring out the design vision of the couple. "We have a style that mainly incorporates a rustic, boho, and vintage essence."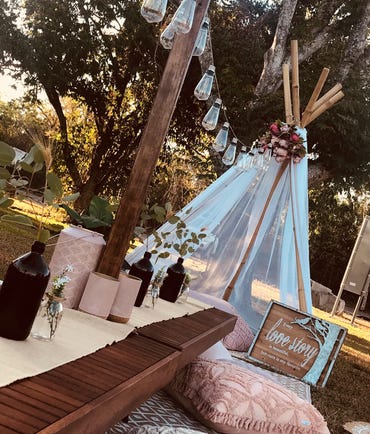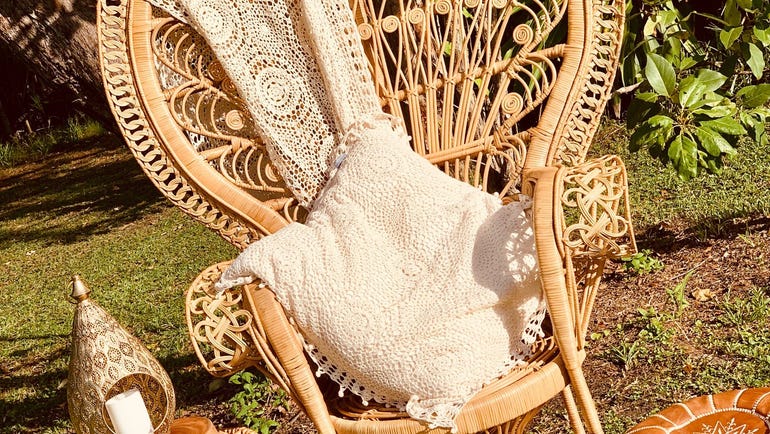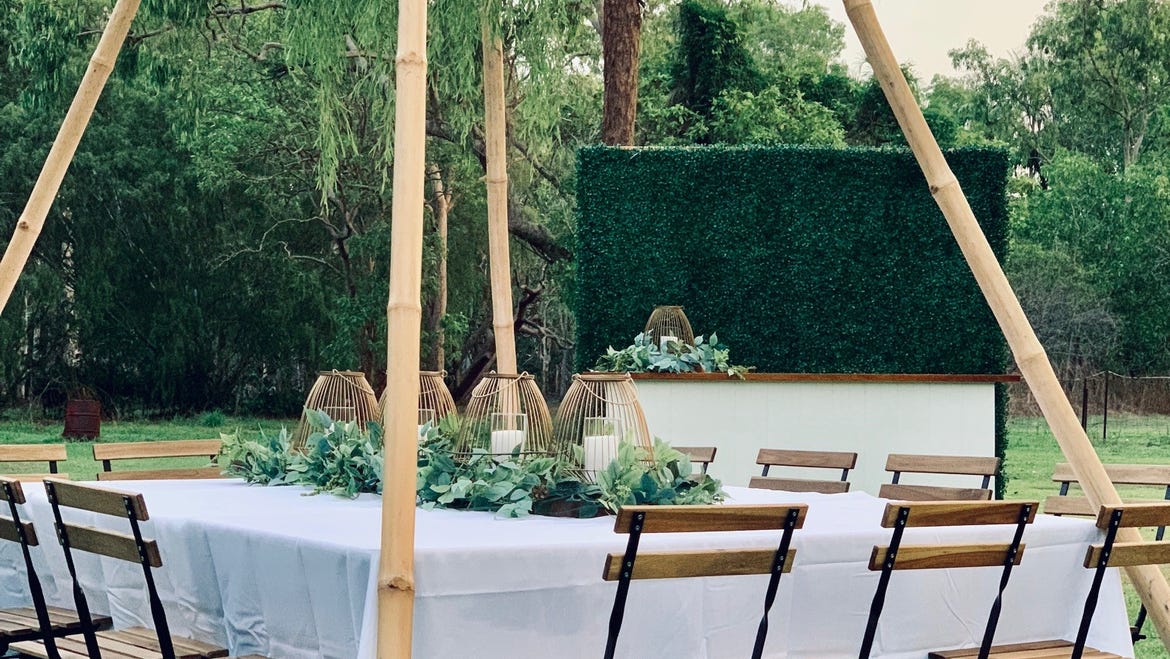 Do you have any wedding highlights? 
"Eva's Cafe, situated within the George Brown Darwin Botanic Gardens," Mellie says. "The entire wedding was unique with the guests being served drinks before the ceremony, mingling with the couple pre-wedding. After the marriage ceremony the happy couple wanted a circular setup for guests of which they were the central focus." Mellie mentioned this was a little bit unusual, but it was effective and intimate. After the ceremony, Territory Nights organised a quick change of setup to prepare for the reception – discreetly bringing in lounges and rugs, and styling the dance floor inside. The result was a gorgeous, intimate ceremony and reception at the beautiful Eva's Cafe.
Another memorable wedding was for a couple who had their wedding on a vacant block of land in Rapid Creek. The creativity and effort was second to none. They crafted their own dance floor, bar set-up, and even built outdoor bathrooms. The role of Territory Nights was to be the 'accommodation fairies', styling the location with glamping tents, day beds, and fire pits.
Where would you recommend to get married? 
Wedding locations that are gaining momentum in and around Darwin include: Casuarina Surf Life Saving Club, Mt Bundy Station and Mary River Wilderness Retreat. What do these locations have in common? Space! Mellie says she loves Casuarina Surf Life Saving Club because it provides a 'clean slate' with a massive deck overlooking the ocean and the evening sea breeze makes it magical. The styling options are endless, add in some lighting and a long table that takes up to 30+ guests and everyone is happy. Some couples choose to get married on the beach or the grassed area above the dunes before heading up to the surf club for the reception.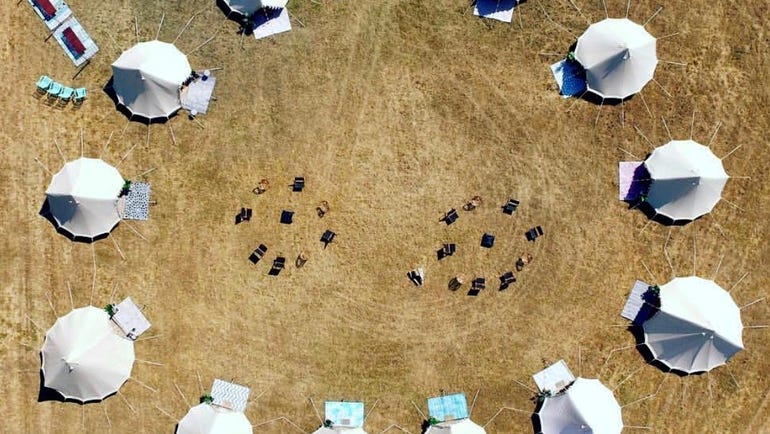 Where would you recommend to go for an outback wedding? 
Mt Bundy Station is a fantastic venue for a unique 'country' wedding. This is quickly becoming a popular wedding venue for both locals and interstate couples. The onsite accommodation means guests can enjoy the celebrations without needing to drive anywhere afterwards. Territory Nights supply beautifully arranged bell tents so wedding guests can encounter that true Northern Territory experience.
What advice would you give to a couple planning their wedding? 
"Have faith in the person who's doing it, build that relationship," says Mellie. "It may seem overwhelming, but remember the wedding planner has done it all before." 
Follow these hashtags across Instagram, Facebook andPinterest for wedding inspiration:#darwinweddings #darwinwedding #darwinbride #topendwedding #territoryweddings
Looking for a full list of Territory wedding planners? Check out our handy guide to planning a Northern Territory wedding.
More articles you might like