Alice Springs mountain biking trails
A first timer's view
There's a bit of a funny saying in Alice Springs, that you're as far away as you can possibly get from Australia's beaches, but you're equally close to every one of them. Well there might not be any waves to catch but you'll be so captivated by the beauty of the Outback you'd never notice.
Here's Flow Mountain Bike with their take on riding in the Red Centre. 
It was the first time Paul and Jac had visited Alice Springs, and like most first-timers, the reality and their expectations were two completely different things.
Ridgelines, rocks, and stunning views. Alice Springs isn't the pancake flat dust bowl that many people seem to envisage!
Travelling from Hobart I couldn't get much more of a contrast arriving in Alice, the traditional land of the Arrernte (pronounced Arunda) people. Mountains make way to sandy rolling flats; dense rain forests are replaced with a sky that never seems to end. The warmth of the sun and air hit as you step off the plane, which was only surpassed by the friendliness of the locals as you roll into town.
There's 200km of trail around Alice Springs, with plenty of rock features to keep it technical.
I was here to catch up with Paul Van der Ploeg and the Flow crew to explore the vast network of singletrack that Alice Springs has to offer, and get amongst what has become a must do on the race calendar, the Lasseters 'Easter in the Alice', now known as Outback Cycling Easter. This three-day stage race weaves riders through a huge chunk of the 200km of single track that can be found less than 10 minutes from the centre of town.
Before I got down to racing it was off to experience just a tiny snippet of what the Northern Territory is so famous for, so we bundled into our 4WD and headed to the West MacDonnell ranges. Apparently, when these ranges were in their infancy they were taller than Mt Everest. Today they still create a dramatic scene climbing out of the flats, so distinct in their form from anywhere else in Australia. Our boxes to tick for the day were Ellery Creek Big Hole and Ormiston Gorge. Both of these beautiful swimming holes are less than a couple of hours from town, a perfect way to wind down after a day on the bike or just as a great day trip for the family.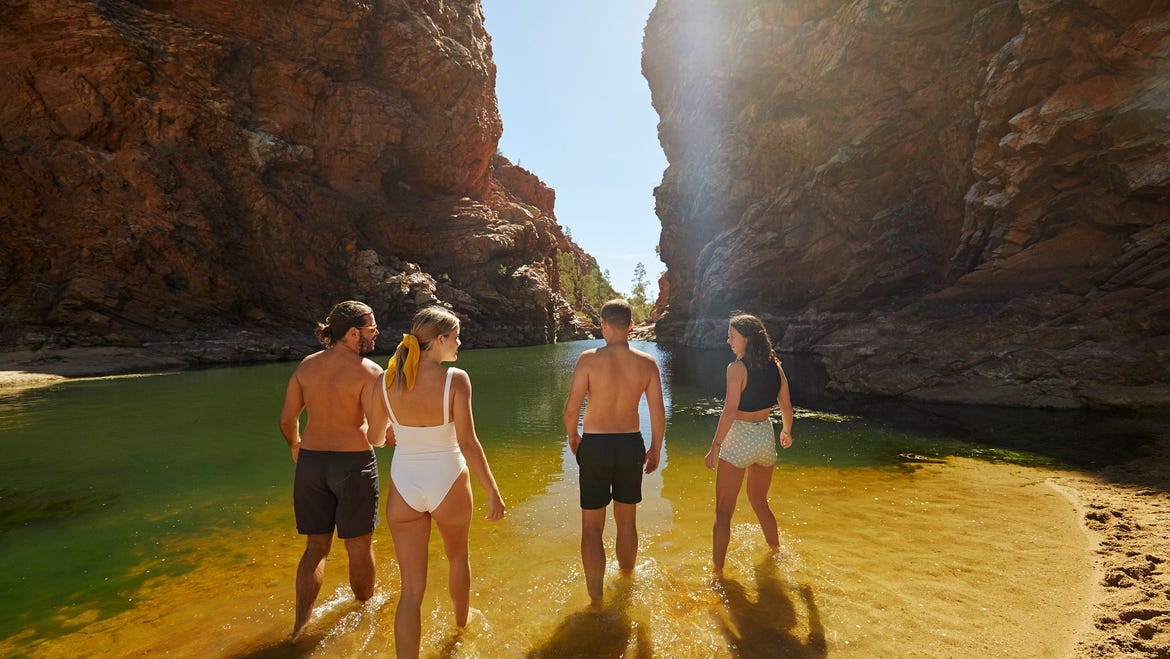 Both of these spots were just breathtaking, there is something about the outback that makes you somehow 'feel' just how old it is. The colours of the rock change with the sun, from a vibrant red to a blue as the evening creeps in. The calmness of the swimming holes with the wildlife just as relaxed was a great way for us to take stock of just how beautiful it was. To keep things nice and Australian I was also informed by a local that the crocodiles were 'only small', and would only bite 'a bit' – followed by the biggest grin you've seen. Classic. [By the way, there are no wild crocodiles in Central Australia.]
Making our way back to Alice we got to see the sky put on a show for us. People will tell you that the sunsets here are some of the most spectacular in the world but from experience, it's probably best to witness it with your own eyes, as photos will never do it justice. It's like every colour has been painted in the sky and the darkness is slowly consuming the light to keep it safe for the night.
Even though it was getting towards winter, the midday sun still packed punch so morning and evenings were the best time to ride. It was hard to not get stoked on riding at sunrise, between shredding the awesome trails and watching the sky go through almost every colour in a pack of Derwent pencils it was just incredible. One evening we got to hang out with some of the local MTB club members, the Central Australian Rough Riders and scope out some more of the trails that were to be used in the race.
Making our way out from the Telegraph Station, the rock slabs and technical features kept us on your toes, and it was easy to see how those with an affinity for holding power through rolling hills would do well in a place like this. Helmet, Kym's and Hell Line were just some of the trails that were standouts, not just for how fun they were to ride but also the view of Alice and beyond they offered.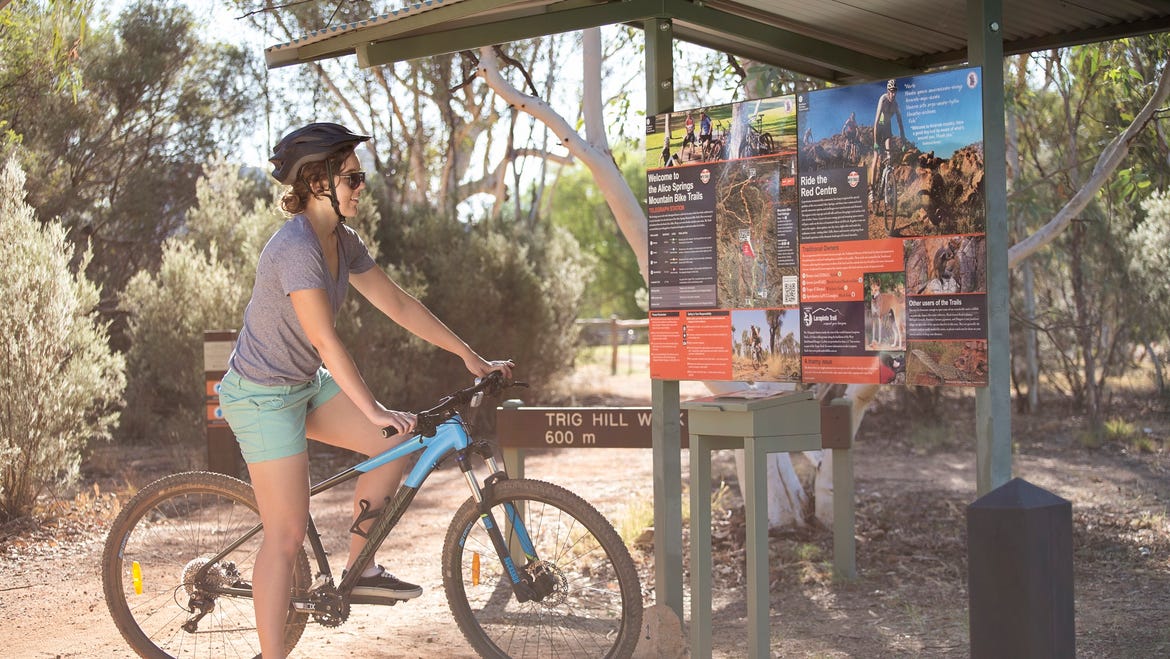 The race itself is more of a slightly painful way to experience the trails and surrounding outback, but a great opportunity to compete in something quite unique. There was an opportunity to race the third stage of Outback Cycling Easter, and I use that term loosely but race I did. XC racing is more of a distant memory these days and whilst it's common knowledge that the best Enduro riders are just as fit as XC athletes, my current fitness sits in neither of those categories. So sat astride my trusty Roubion I got swept up in the dusty peloton and ended having a nice chat to riders as we played leapfrog across the trails. As an added bonus I even got to see a Dingo trot past the trail, which was the icing on the cake.
True to form the race finished in what might be the most Alice Springs way ever, by riding through the sandy banks of the Todd River through the finish line and to a sausage sizzle. Huzzah! Success! And what a great way to spend a morning mountain biking!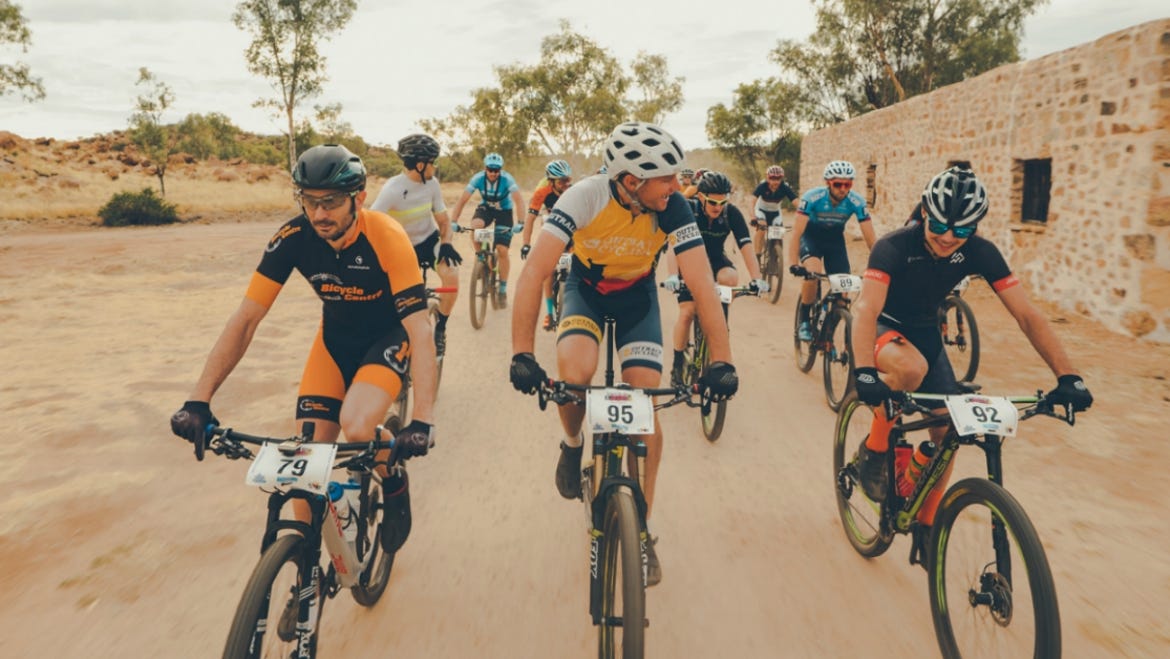 Unfortunately for me, that was the end of my Alice Springs adventure. Time to pack my bike and put on all my clothes at once and start my travels back south to frosty Hobart.
Flying away from Alice Springs over the vastness of central Australia it was easy to know that I'd be coming back to ride more of the trails and travel further into the outback. One visit isn't nearly enough, so see you again soon Alice Springs!
This article was originally published by Flow Mountain Bike
Find out more about mountain biking around Alice Springs.
More articles you might like